2020 Election: Kamala Harris Endorses Communism
URGENT: I CAN'T POST FAST ENOUGH ABOUT THE ELECTION. ONE OF THE BEST SOURCE TO KEEP YOU UP TODAY IS GATEWAYPUNDIT.COM THIS IS A COUP ATTEMPT TO TAKE DOWN THE UNITED STATES AND TURN THE NATION INTO A COMMUNIST DICTATORSHIP. THERE IS NO TURNING BACK. ALL I WARNED ABOUT IS NOW HERE.
Verse of the Day
John 3:19,20 And this is the condemnation, that light is come into the world, and men loved darkness rather than light, because their deeds were evil. For every one that doeth evil hateth the light, neither cometh to the light, lest his deeds should be reproved.
Commentary
For a long time, I stopped using the term "socialism." What we are dealing with now is outright, hardcore Communism. There goal is to destroy America as we know it, and rebuild it like they did in Venezuela! The more they destroy America, the better they think it is getting better.
May the Holy God of Israel bless and protect you.
John 3:21 But he that doeth truth cometh to the light, that his deeds may be made manifest, that they are wrought in God.
"Kamala Harris on Sunday endorsed Communism, "Equitable treatment means we all end up in the same place," she said.
Translation: "Equitable treatment means you all end up a pile of skulls." "Equality and equity are not the same thing," Harris said.

Kamala Harris said that equality is not enough because "not everybody's starting out from the same place." "Equitable treatment means we all end up at the same place," she said. This is literal Communism."
"Joe Biden had spent the entire election hiding the names of his bundlers, the big money fundraisers who fueled his campaign, until releasing them right before Election Day. What did he have to hide?

Whatever is against America, whatever is evil, Biden flocks to it. He is really evil to his core. Like flies drawn to manure, Biden is drawn to whatever is corrupt and he can take bribes. God is exposing Biden's corruption along with his family.
The list of bundlers who managed to raise at least $100,000 for Biden includes some of the usual Democrat politicians and big party donors, along with some other names. Like that of Jamal Abdi. Abdi is the executive director of NIAC Action and the former policy director of the National Iranian American Council, often referred to as the Iran Lobby.
NIAC Action is the lobbying arm of NIAC and despite claiming to represent the Persian diaspora in America, Iranian-Americans have accused it of echoing the talking points of Iran's regime. Members of the democratic opposition to the Islamist regime have even helped spread the #niaclobbies4mullahs hashtag across Twitter which was tweeted as much as 300,000 times."
AMERICAN CHURCH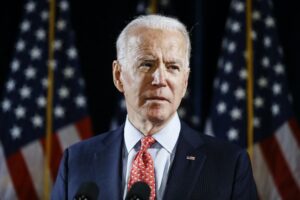 "Why Biden Is a Threat to Traditional Christians and Religious Freedom"
With the political and social power of the Hard Left, there is great danger for the church in America. They loath and hate us and many of them has said so. Always remember, they hate us as much as the Nazis did the Jews, and will act on this hatred is they have the power and the population behind them.
"How could this be? Biden's rhetoric and policies single out those who adhere to traditional religious beliefs and moral convictions, aiming to limit their ability to live by their consciences and ostracizing them from polite society. The Democrat may outwardly campaign on a platform of unity and diversity, but his candidacy truly represents a threat to traditional religious believers.
The most recent evidence of this insidious threat came last week, when a Biden staffer suggested that traditional religious beliefs that homosexual acts are sinful and that marriage is between one man and one woman should be so "taboo" as to disqualify someone from serving on the Supreme Court."
HARD LEFT ARROGANCE ON STEROIDS!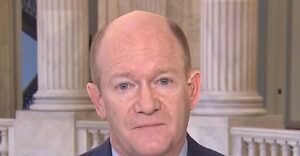 "Senator Coons: 'Hundreds' of Trump's Lower Court Judges Shouldn't 'Be Allowed to Sit Peaceably'"
The arrogance of the Hard Left is now oozing out of them. God is exposing exactly what is in them! They can't stand we won through President Trump, and he appointed judges who support the Constitution and NOT the Hard Left agenda. They want to defeat these judges by changing the court structure. He said many are too far "right". If you follow the Constitution, how you a judge be too far right!!! He is declaring war on us and the Constitution.
"Coons said, "[W]e've got to have a wide-open conversation about how do we rebalance our courts. Yes, the two Supreme Court [seats] that have been stolen through these processes that are just wildly hypocritical have been used to jam through partisan nominees. But we've got to look at our federal courts as a whole, Rachel. Because we've seen hundreds of conservative judges put on circuit courts and district courts all over this country in the last four years, in many cases, too young, too unqualified, and too far right to be allowed to sit peaceably without our re-examining the process, the results, and the consequences."
ISLAM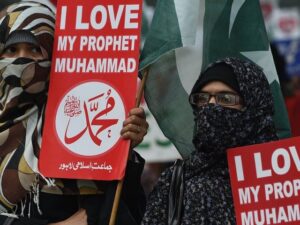 "Muslim World Rises Against French Crackdown on Radical Islam"
The Muslims have a death grip on France because there are so many of them. This could degenerate into a bloodbath of the French. When Islam advances this far in a nation, they go for the kill. The French have no one to blame but themselves.
"France's largest employers' federation on Monday urged companies to "resist the blackmail" over a product boycott by Arab countries as a backlash widens over Paris's hardened stance against radical Islam.
French President Emmanuel Macron has vowed to take the fight to Islamic radicals after the October 16 beheading of a history teacher who had shown cartoons of the Prophet Mohamed to pupils in a class discussion on free speech."
STATE TAKING OVER CHURCH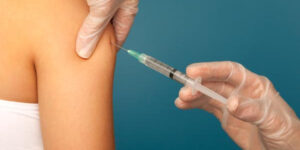 "Health officials 'interpret Bible' for vaccine-objecting employee"
This has to do with vaccines which contains aborted baby tissue! I agree and anything with aborted baby in any way needs to be rejected and on grounds of faith!
"A dispute has erupted over a mandatory vaccine program for employees of the University of Virginia Health System because officials are requiring a worker to follow their interpretation of the Bible's requirements.
The worker would rather follow his own beliefs, not theirs. The employee, whose name was not released, has submitted four requests for a religious accommodation to his bosses' order to be vaccinated for the flu. He says his Christian beliefs don't allow it, citing biblical instructions not to be defiled with "harmful" substances.
He "cannot accept any vaccination that is derived from aborted fetal tissue, nor contribute to the bottom line of a manufacturer who sells vaccines that are derived from aborted fetal cells."
PEDOPHILIA UPDATE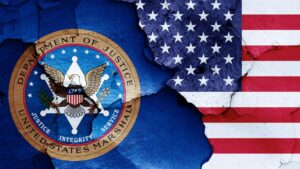 "'Rescued From Evil': 45 Missing Children Found, 109 Trafficking Survivors Recovered in Ohio"
We need victories like this until all children are safe from these pedophiles!
"The U.S. Marshals service in Ohio has just completed the largest anti-human trafficking operation in state history.
Ohio Attorney General David Yost said more than 50 agencies were involved in the operation "Autumn Hope" which recovered 45 missing children, 109 human trafficking survivors and resulted in 177 arrests."
ABORTION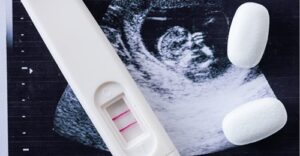 "There Is No 'International Right to Abortion,' U.S. and 31 Other Countries Declare"
God bless President Trump for doing this. He has done all he can as President for the babies. I wonder who were the other nations?
"The declaration involves three primary issues: promotion of equal rights for women, opposition to abortion for family planning, and the recognition of the need for universal health coverage.
"Under President Trump's leadership, the United States has defended the dignity of human life everywhere and always," Secretary of State Michael R. Pompeo said in a statement. "He's done it like no other President in history. We've also mounted an unprecedented defense of the unborn abroad."
The Geneva Consensus Declaration, Pompeo said, "protects women's health, defends the unborn, and reiterates the vital importance of the family as the foundation of society."
THE 666 SURVEILLANCE SYSTEM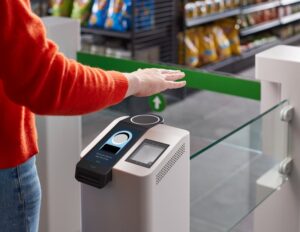 "Amazon sees broad audience for its palm recognition tech"
This is more technology progress towards the technology to implement the 666 Surveillance System.
"Amazon has introduced new palm recognition technology in a pair of Seattle stores and sees a broader potential audience in stadiums, offices and other gated or secured locations.
Customers at the stores near Amazon's campus in Washington can flash a palm for entry into secured areas and buy goods.
The company chose palm recognition, according to Dilip Kumar, vice president of Physical Retail & Technology, because it's more private than other biometric technology, and a person would be required to purposefully flash a palm at the Amazon One device to engage."
RUSH LIMBAUGH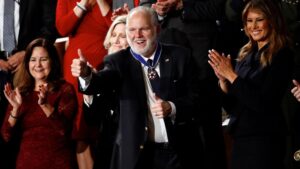 "Rush Limbaugh Speaks Passionately About 'Personal Relationship with Jesus' While Giving Health Update"
This was great news to hear that Rush has faith in Jesus Christ as his Savior.
"Conservative talk radio icon Rush Limbaugh opened up about his personal faith in Jesus while sharing an update Monday on his health.
"I have a personal relationship with Jesus Christ," he said. "It is of immense value, strength, confidence. That's why I'm able to remain fully committed to the idea that what is supposed to happen will happen when it's meant to."Limbaugh also thanked those who have extended their prayers and well wishes, calling their support "a series of blessings."
VIDEO: TRUMP TRAIN ISRAEL!
This was exciting to watch.
THE BIDEN CRIME CARTEL
Meme: Chinese Communist Bribe Money
This is so good and says it all! This Crime Cartel has committed so many crimes against the American people and humanity with the young females. The crimes and evidence against the young females is coming for the world to see.
Biden mocked God and his word by promoting "homosexual marriage" and bragging about it, and now we see the curses which has come upon him and is family.
Remember, five years ago he mocked the Lord and now look at him: his sin has found him out!
If you like our ministry, please consider making a donation to keep us going. May the Holy God of Israel bless you!
Revelation 22:20 He which testifieth these things saith, Surely I come quickly. Amen. Even so, come, Lord Jesus.