Sin Going Virtual Reality!
Verse of the Day
2Timothy 3:1 This know also, that in the last days perilous times shall come. For men shall be lovers of their own selves, covetous, boasters, proud, blasphemers, disobedient to parents, unthankful, unholy, Without natural affection, trucebreakers, false accusers, incontinent, fierce, despisers of those that are good, Traitors, heady, highminded, lovers of pleasures more than lovers of God;

Commentary
I posted this article by itself because it is so important. Sinful man is using high technology to take sin to a new level. Pornography is very addictive; however, this particular form is way beyond anything before. What it does is make the viewer fell that he is participating in the act! I see this as extremely dangerous and is going to turn viewer's minds into being totally under the control of this sin. An analogy for this is old fashion pornography is like marijuana while the new form is crack cocaine.
Revelation 9:21 Neither repented they of their murders, nor of their sorceries, nor of their fornication, nor of their thefts.
HARD LEFT: SINFUL DELUSIONS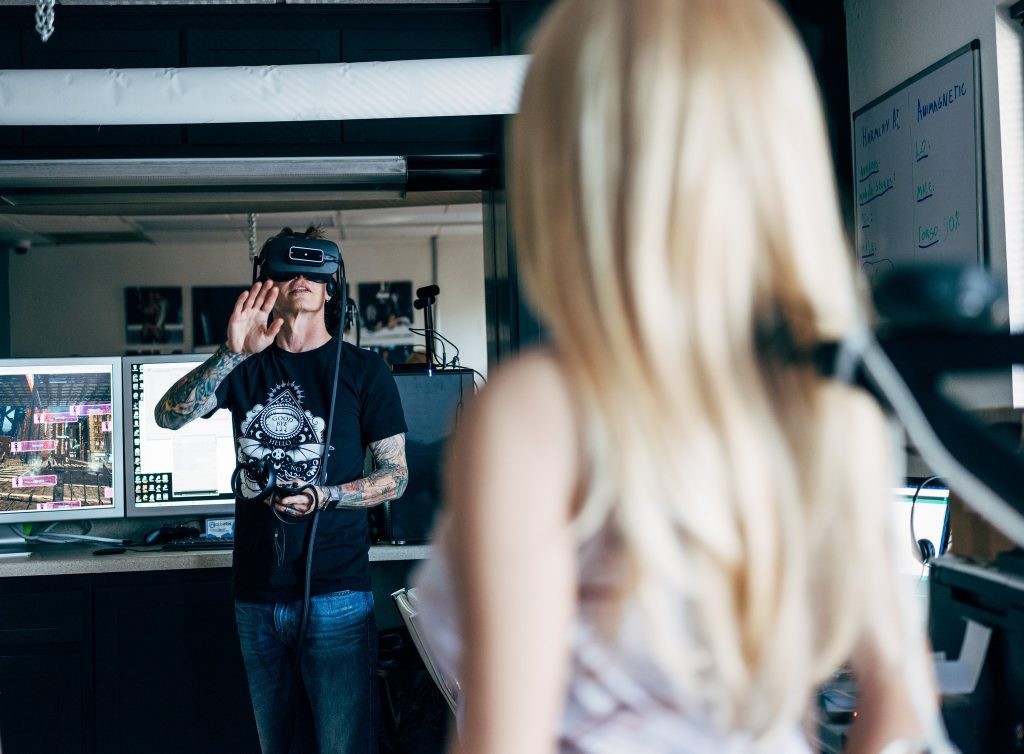 "Virtual Reality Gets Naughty" (NOTE: This article contains some pornographic related words. There are no pornographic pictures.)
This technology has created a new and extremely powerful form of pornography. Those who view it will be overwhelmed by this form, because technology is used to make the viewer feel he is part of the act! It is virtual reality porn! This could completely take over a person's heart and mind.
Pornography actually changes the thinking process and rewires the brain for sin! This will also breakdown the normal male-female relations and may even take away the desire for marriage and normal sexual relations. A person addicted will think sin 24/7-365!
This is yet another attack on the way God made us. It is part of people living in a delusion such as a person can be whatever sex he feels like. Now, this is living with a delusion in the mind of sex whenever you want or all day long! It is not real.
Sin will totally consume these people. It will destroy marriage and a man's dealing with women! Men will live in a sexual fantasy that will destroy them as men. I can see this making powerful narcissists by the millions with minds beyond natural affections. Minds that are totally seared by sin without human emotions. These men are so in hardened in sin that children mean nothing so they are worthless as father and will encourage aboriton.
This technology is in operation right now, so it is just a matter of time until 10s of millions are watching it, and the destruction begins overwhelm society. This must of been the mind of Sodom just prior to the Lord destroying the people!
Genesis 2:24 Therefore shall a man leave his father and his mother, and shall cleave unto his wife: and they shall be one flesh.

From the article: "This time, though, was different. Virtual reality uses many camera lenses to record the same scene from hundreds of angles. When the takes are stitched together, the viewer gets a 180- or 240-degree view of the room and the feeling that he or she is there, participating. As soon as Ms. Darling viewed the scene she recorded, she knew virtual reality would be a sea change to her job and the adult-entertainment industry. "You can pretend like you are in the bedroom with me, and it is someone you have a crush on," she said. "You are in the experience."

While virtual-reality pornography may feel like something out of a science fiction movie, it already has a formidable, if underground, presence. According to website Pornhub, views of VR porn are up 275 percent since it debuted in the summer of 2016. Now the site is averaging about 500,000 views (on Christmas Day in 2016, this number shot up to 900,000.)"
Colossians 3:5,6 Mortify therefore your members which are upon the earth; fornication, uncleanness, inordinate affection, evil concupiscence (desires), and covetousness, which is idolatry: For which things' sake the wrath of God cometh on the children of disobedience: