John McTernan's Daily Insights Special Health Blog Post: January 28, 2022
Verse
Galatians 5:19-21 Now the works of the flesh are manifest, which are these; Adultery, fornication, uncleanness, lasciviousness, Idolatry, witchcraft, hatred, variance, emulations, wrath, strife, seditions, heresies, Envyings, murders, drunkenness, revellings, and such like: of the which I tell you before, as I have also told you in time past, that they which do such things shall not inherit the kingdom of God. 
This blog's focus is on medical issues to keep you on the cutting edge of critical information.
Update of people who died from the death shot until January 14, 2022: The latest VAERS results of deaths for Covid 19 "vaccinations" are 22,193 while the total for all other vaccine deaths since 1990 are 10,162. In Europe, there were 37,927 deaths related to the Covid 19 "vaccines" as of January 15, 2022.
Above all, no matter what happens keep focused on the Blessed Hope, Jesus coming for his people, and this can get you through all trouble.
Revelation 3:10 Because thou hast kept the word of my patience, I also will keep thee from the hour of temptation, which shall come upon all the world, to try them that dwell upon the earth.

Medical Articles (Outstanding red highlighted)
P100 respirators (and above) are the only face coverings that have a chance to protect you from COVID
Dr. Peter McCullough on Omicron Realities and VAERS Reports on Vaccine Injuries and Deaths (Video) I highly recommend you watch anything with Dr. McCullough because he is the best in field and is out front leading the charge against the death shot.
Israel, One of Most Vaccinated Countries in the World, Sets New COVID-19 Case Record
Vaccinee Autopsies: Killer Lymphocytes Invade Vital Organs, Drs Sucharit Bhakdi & Michael Palmer
COVID vaccines and pregnancy: 172,000 spontaneous abortions due to the vaccine This is exactly what Fauci and the NWO want and the proof is they "vaccinated" pregnant women who were not in danger to dying from Covid 19 without first testing the death shot.
The reason is the NWO knew the death shot would kill the babies. This is all part of their depopulation agenda. They want to kill off the population from every angle they can.  I think the NWO are no longer human, but, so full of murdering demons, they are no longer human.
"I've Never Seen as Many Deaths.. It's Around a 500 or 600% Increase" – Funeral Director in UK Reveals Increasing Number of Thrombosis Death in Vaccinated Young Adults (VIDEO) We know this is true because we've seen soccer player running on the field and keel over dead! This is Fauci's death shot doing the job it was designed to do. I believe it was designed as a depopulation bio weapon bomb to murder millions of people. Some it murders quickly while others are over the long time. This is the plan of the NWO. Who is Fauci's master in the NWO. Who is giving him the orders?
'No Clear Benefit' – Sweden Will NOT Recommend Covid Vaccines For Children Ages 5 to 11 Finally, finally, finally, some of these insane medical professionals are coming out of their coma. I think the criminals under Fauci will continue until they are forced to stop. They are like the Nazis doctors who continued to murder after Germany surrendered!
More Good News on Ivermectin The benefits of Ivermectin was proven over and over, and yet, the Babylonian system still promotes the death shot which is proof they want to destroy massive amounts of people and start their depopulation of nations.
Bhakdi/Burkhardt pathology results show 93% of people who died after being vaccinated were killed by the vaccine
Physician Assistant Who Saved Hundreds Of COVID Patients From 'Needlessly Dying In Hospitals' Reveals Exactly Why His Medical License Is Suspended This show depth the NWO controls the Babylonian Medical Institutions! The hospitals have become death camps.
Dr. Zelenko On Endless Boosters And Warnings About Vaccine-Induced AIDS It is so easy to see, the death shots plus the boosters are weakening the immune system or create AIDS type systems. When anything like the flu comes massive amounts of these people will die, plus they will die of disorders like cancers. All those who didn't resist the death shot are going to die because this is a bio weapon of death. The NWO is on the move.
Brazil: Child Vaccination Suspended After 10-Year-Old Girl Suffers Cardiac Arrest Hours After Receiving Pfizer Vaccine
Professor Who Identified Unique Characteristics in COVID-19 Indicating It Was Built in a Lab Says He Was a Victim of a "Disgusting Whitewash"
British Medical Journal Demands Immediate Release of All COVID-19 Vaccine, Treatment Data Very slowly the NWO's hold seems to be weakening. They can't allow what these psychopaths did go public, so there is NO doubt in my mind they will unleash another bio weapon or even a war. These are real gangsters who will commit any crime to advance their evil agenda against the world population.
More Than 150 Comparative Studies and Articles on Mask Ineffectiveness and Harms
Frightening Updated UK Data – What Have They Done To Our Immune Systems? [VIDEO] This was all planned and the death shot is doing exactly what it was designed to do. It kills outright, destroys the health, and then in the long term it destroys the immune system so people die from diseases connected to the Vaccine Acquired Immune Deficiency Syndrome (VAIDS) immune system. This was all planned by the NWO's megalomaniac, murderous, psychopaths.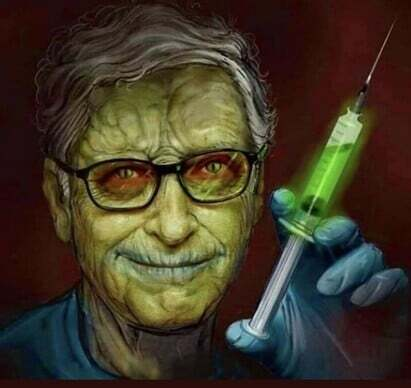 Three New Studies: Vaccinated At Greater Risk For Hospitalization From Covid Than Unvaxxed
Pfizer to Roll Out Omicron Shot in March
Senior Israeli immunologist blasts mass vaccination, COVID restrictions in powerful letter Notice that no matter what evidence the ineffectiveness of the death shot, Fauci and rest of his criminals refuse to back down! This is the death shot of the NWO and to them it is full speed ahead!
Official data suggests the Triple Vaccinated are developing Acquired Immunodeficiency Syndrome at an alarming rate
IRREFUTABLE EVIDENCE: The COVID-19 Vaccines Are Killing People! (Video)
America's Food Supply Fertilized With Human Remains And Coated With Nanoparticles (Foods)
Autopsy Reveals Death of 26-Year-Old Man Who Developed Myocarditis was Due to Pfizer Vaccine This is what the death shot does. It kills some very quickly while others over a longer time, but in the end it is a killer and destroyer of people lives. This is a "gift" from the NWO.
Thousands of Miscarriages Following COVID-19 Injections Reported in VAERS are Being Censored as an Entire Generation is Being Sterilized
Dr. Robert Malone Warns Of 'Ebola-Like Hemorrhagic Fever' Super Virus In China Caused By Mutations Due To Mass Vaccination Build up your immune system to fight all of the coming bioweapons of the NWO. Everything from the Babylonian medical institutions is now for death; therefore, we need to stay away for it. This is very sad, but the NWO is now in control and turning everything to death.
Doctor forced to undergo psych exam after losing license for COVID 'misinformation' This is exactly what the Russian Soviet Union did to dissidents! The Nazi/Communists are manifesting right before our eyes.
Ivermectin 'Works Throughout All Phases' Of COVID According To Leaked Military Documents This is truly turning into a wonder drug like penicillin was. It is inexpensive so big pharma wants to suppress it.
Zelenko Protocols for America – Live Like you Were Dying
Clot shot warning: Here's what a blood clot looks like when LIQUID blood turns into a semi-solid gelatinous mass inside your body
From article:"The reason professional soccer players are collapsing on the field and suffering heart attacks is because their blood turns into a semi-solid gelatinous mass due to the spike protein "vaccine" injections. This is also why covid vaccines are increasingly known as "clot shots."

Obviously, when your blood ceases to function as a liquid and begins to turn into a solid, it can no longer flow through your circulatory system. Within seconds, your brain loses oxygen and you lose consciousness. This is why so many people who take the covid "clot shot" injections are dying or passing out.
Revelation 22:20 He which testifieth these things saith, Surely I come quickly. Amen. Even so, come, Lord Jesus.
Commentary
The truth is very clear that the American people are under a biological warfare attack from a totally malevolent medical institutions who lied, blocked and tried to intimidate anyone that promoted the cure for Covid-19, while at the same time promoting a dangerous genetic experiment as a vaccine! This action fits a Nazi war crime.
There is something diabolical about their fanatic zeal to get masses of people vaccinated while ignoring the cure! The death rate is very low for Covid-19, yet they use political pressure to force vaccinations on the people. Already severe side affects are manifesting, yet the Babylonians are actually trying to suppress this. What is going to happen one year from now to people who were vaccinated? The American people just can't believe the medical institutions, politicians and media could be so evil, but they are.
I've come to realize these death shots are staged, so some kill or seriously injure right away while others are more long term. The long term death shots slowly reduce the immune system until it is the same as AIDS. Then any infection can finish off the weakened person. We are really dealing with monsters who want to exterminate the human race. What the next move will be is mass starvation and war which really kill in super mass numbers. The world will soon be heading into the Tribulation Period with incredible mass deaths as recorded in the Bible.
Revelation 6:8 And I looked, and behold a pale horse: and his name that sat on him was Death, and Hell followed with him. And power was given unto them over the fourth part of the earth, to kill with sword, and with hunger, and with death, and with the beasts of the earth.

Revelation 9:18 By these three was the third part of men killed, by the fire, and by the smoke, and by the brimstone, which issued out of their mouths.
The Following is a list of doctors to contact for Covid 19 related medicine and to stay out of hospitals.
FRONTLINE MDs with Dr. Stella Immanuel We are swamped with patients and doing our best to take care of the American people. We are adding providers daily. Please bear with us. We will get to you. God bless you. ~DR. IMMANUEL.
Welcome to MyFreeDoctor.com This link is to a real doctor group which will prescribe the real medicine for the cure. Please don't go the hospital for anything which could be connected to Covid 19 or the death shot. The hospitals have become heartless death camps where the "doctors" give medicine which destroys the kidneys, thus sending  fluid into the lungs. The next stage is the ventilator to destroy the lungs and kill the person.
Speak With A MD This another medical group of real doctors who can assist you obtaining the medicine needed to heal from Covid.
Medici (When all your doctors are a text away) This another medical group of real doctors who can assist you obtaining the medicine needed to heal from Covid.