Abba Father International Fellowship: Kenya
Daniel 12:3

And they that be wise shall shine as the brightness of the firmament; and they that turn many to righteousness as the stars for ever and ever.
Commentary
We had a wonderful event in Bondo, Kenya. I preached live through Skype with great results on the hearts of the people. I taught on "Jesus came to heal the brokenhearted" from Luke 4:18.
Pastor Zaphania and others preached several times a day for three days. Several thousand people came to the Lord, including over 300 Muslims. He also passed out over 10,000 brokenhearted brochures. The people were hungry for the word.
In Kenya Part Two, you can see the Muslims coming to the Lord and the women dancing with joy for their salvation! This is a real move of God in Africa.
 Kenya: Part One
Email from Pastor Zaphania:
Luke 4;18
The Spirit of the Lord is on me, because he has anointed me to preach the gospel to the poor; he has sent me to heal the brokenhearted, to preach deliverance to the captives, and recovering of sight to the blind, to set at liberty them that are bruised,

we have seen Jesus healing many people in the crusade and  pastors conference for three days what wonderful God we are serving ,
In this world, broken things are despised and thrown out. Anything we no longer need, we throw away. Damaged goods are rejected, and that includes people. In marriage, when relationships break down, the tendency is to walk away and find someone new rather than work at reconciliation. The world is full of people with broken hearts, broken spirits and broken relationships.
"The Lord is close to the broken-heated and saves those who are crushed in spirit" psalm 34;18 There is something about reaching a breaking point that causes us to seek the Lord more sincerely. King David was once a broken man, and he prayed, "Create in me a pure heart, O God, and renew a steadfast spirit within me… The sacrifices of God are a broken spirit; a broken and contrite heart, O God, you will not despise" psalms 51;10.17. There are some things in our lives that need to be broken: pride, self-will, stubbornness, and sinful habits, for example. When we feel our brokenness, God compensates: "I live in a high and holy place, but also with him who is contrite and lowly in spirit" Isaiah 57 ;15

The Bible says that God breaks those who are proud and rebellious. The mighty Pharaoh set himself against God, but God broke him and freed His people from bondage and shame. "I am the Lord your God, who brought you out of Egypt so that you would no longer be slaves to the Egyptians; I broke the bars of your yoke and enabled you to walk with heads held high" Leviticus 26 ;13  God punishes all those who proudly resist Him. "My servants will sing out of the joy of their hearts, but you will cry out from anguish of heart and wail in brokenness of spirit" Isaiah 65;14
As you can see the crowd down how I had wonderful  preaching and I am happy that you joined me in preaching about broken hearted message for two days  people were crying even I got tears coming out
of my eyes for the powerful message you shared to us   Praising report more than 300 Muslims received Jesus and 100 attended the church on Sunday, so keep praying for this great movement that is going to win as many  Muslims  as we can and our  target is mosques must be closed  
Keep praying and supporting the work of God in East Africa  Abba Father International Fellowship 

PROPHECY PACKET: Update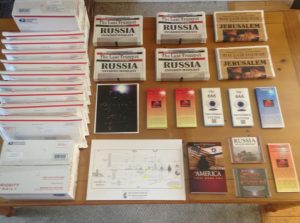 The Prophecy Packet continues to have a big impact for the Lord in many countries throughout the world. The Last Trumpet prophetic newspaper is opening the spiritual eyes of many people to the hour in which we are living. Hundreds of thousands have been printed. Pastors are starting to preach the coming of the Lord Jesus for His bride, and this message is winning souls to Jesus Christ.
The ministry in Pakistan and India also is being greatly blessed by God. Right now 1,300,000 brokenhearted brochures have been printed and distributed in India and 1,000,000 in Pakistan! It seems this is the hour of God's visitation to these nations.
When you are reading this, please remember that all of this happened because pastors received a copy of the Prophecy Packet! The Prophecy Packet is touching lives and ministries all over the world!
Kenya: Part Two
Pastor  zaphania  and John what wonderful work you are doing with us in East Africa.  we received your materials pastor Zephaniah and it helped us a lot more than 200 museums received Jesus through the broken hearth   our prayer pastor zaphania support the work here brother , much is needed here in Ajumani



End-Time Witness for the Lord Jesus – Time is Running Out!



As events in the Middle East with Israel are exploding right before our eyes, now is the time to use God's prophetic scriptures to win souls to Jesus. World events are opening hearts to God. It is now easy to use God's prophetic word to share the gospel. Please do not miss this opportunity to witness for the Lord.
We offer the Prophecy Packet  free of charge. If you want one, email Dave at: [email protected]  Make sure to give your name and mailing address.
The packet contains The Last Trumpet Newspaper, 666 Surveillance System brochure, Jesus Came to Heal the Brokenhearted brochure, prophecy timeline chart, CD about the Last Trumpet and a CD titled: Sinners in the Hands of an Angry God.
If you are involved in a prison ministry, we will provide a copy of the book When Jesus Sets You Free.
God is opening doors for the Prophecy Packet all over the world. The request for our information now is staggering, and we thank the Lord for this. Most of the foreign contacts are very poor and cannot afford to pay. If we do not send the material for free, then it never will be sent. Sending the Prophecy Packet free to Pakistan is what opened this tremendous door.
To continue to send the material, we need your help. It costs $65.00 to send a box overseas. Please consider sponsoring one box a month on a regular basis.
God is opening Pakistan and many other countries. NOW is the time to act. If we get the material into their hands, they use it!