Abba Father International Fellowship: Kenya
                             Act 1:8
But ye shall receive power, after that the Holy Ghost is come upon you: and ye shall be witnesses unto me both in Jerusalem, and in all Judaea, and in Samaria, and unto the uttermost part of the earth.
Commentary
Last year Pastor Jamil joined Pastor Zaphania in Nairobi, Kenya for street preaching. The preached the brokenhearted message along with the Second Coming of Jesus Christ with great results. The following is a letter from Pastor Zaphania giving details of the results of what happened along with pictures.
Make sure that you go to the end of this post as you'll find the information on how to order a Prophecy Packet.
God bless you
Report from Kenya
"Greetings Pastor John and Dov 
Let me thank the lord for allowing my brother Jamil to come and help me preaching  here in the slums ,Surely it has not been very easy but we thank the lord for his care and provision  our God is perfect Matthew 5;48 God is correct and accurate  Why saying this  many people received Jesus in three days the first  30 people received Jesus  and six people received healing on the same day  the second Day  60 people received Jesus and  15 received healing  the  third  day  120 people received Jesus  and 24 received healing  total people received Jesus 210 those whom were healed 45 as you can see me on photo 10 praying for one person whom was possessed with demons  for 14 years but she  was healed and we thank God for what he did.
we distributed  broken  hearth ed  more than 5000 pc  of Swahili.
photo 11 you can see people surrendering their life to Jesus ,  It was not easy to get the gathering permit  
But i am happy because they provided us with the permit  of preaching in the crusade for three day and they helped us with security one thing the government asked me is the certificate of being a pastor and i gave them that is why the issued me with permit    after seen my pastor  certificate , we  are still getting  a lot of good news  of how people are still getting healed, on the second Day pastor Jamil  preached about brokenhearted and many people cried to the lord  and many got saved.
the third day  he preached about the second coming of Jesus Christ and many people raised their hands up and  cried to the lord to rescue them it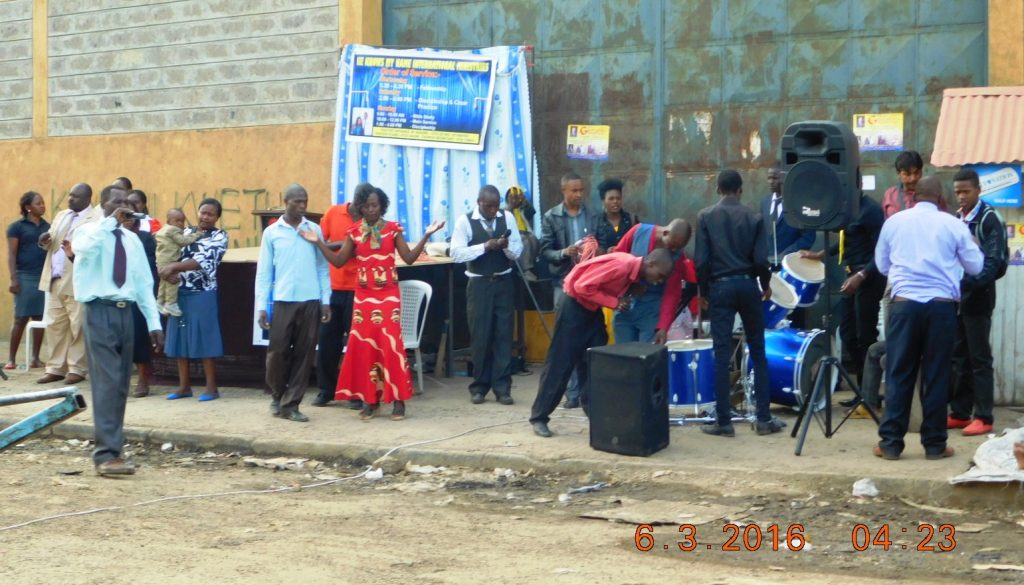 was very powerful message from the lord.
this is great work  that God has done in Africa  mostly in Kenya you can check the photos and i will be sending more and more of what the lord is doing here  with pastor jamil from Pakistan  our church is full and full and even we have no space  keep praying for the work of God here in Africa

we love you and we do keep praying for you 
End-Time Witness for the Lord Jesus -Time is Running Out!

As events in the Middle East with Israel are exploding right before our eyes, now is the time to use God's prophetic scriptures to win souls to Jesus. World events are opening hearts to God. It is now easy to use God's prophetic word to share the gospel. Please do not miss this opportunity to witness for the Lord.
We offer the Prophecy Packet  free of charge. If you want one, email Dave at: [email protected]  Make sure to give your name and mailing address.
The packet contains The Last Trumpet Newspaper, 666 Surveillance System brochure, Jesus Came to Heal the Brokenhearted brochure, prophecy timeline chart, CD about the Last Trumpet and a CD titled: Sinners in the Hands of an Angry God.
If you are involved in a prison ministry, we will provide a copy of the book When Jesus Sets You Free.
God is opening doors for the Prophecy Packet all over the world. The request for our information is now staggering and we thank the Lord for this. Most of the foreign contacts are very poor and cannot afford to pay. If we do not send the material free, then it will never be sent. Sending the Prophecy Packet free to Pakistan is what opened this tremendous door.
To continue to send the material, we need your help. It cost $65.00 to send a box overseas. Please consider sponsoring one box a month on a regular basis.
God is opening Pakistan and many other countries. NOW is the time to act. If we get the material in their hands, they use it!
Daniel 12:3 And they that be wise shall shine as the brightness of the firmament; and they that turn many to righteousness as the stars for ever and ever.