Abba Father International Preaching and Teaching Event to: Maasai People of Kenya
Acts 1:8
But ye shall receive power, after that the Holy Ghost is come upon you: and ye shall be witnesses unto me both in Jerusalem, and in all Judaea, and in Samaria, and unto the uttermost part of the earth.
Commentary
In April 6-9, I'll be preaching to the Maasai people of Kenya. These are "brush people" who are nomads and live in tents. They dress very colorful and are a unique people. Many of them love the Lord Jesus Christ.
Through the ministry of Pastor Zaphania they obtained a copy of my brochure Jesus Christ Came to Heal the Brokenhearted. The Maasai were so touched by it they invited me to speak. Through Skype, I will preach live for three days, and the hope is huge numbers will confess Christ as their Savior and multitudes will have their hearts healed.
My message is based on John 3:16 and Luke 4:18. This message has won huge numbers to the Lord including many, many Muslims. We can see each other as I preach, which makes it very exciting. I am trying to get this live on FaceBook. If I can, I'll announce it. We need help with the printing of material for the event.

Luke 4:18 The Spirit of the Lord is upon me, because he hath anointed me to preach the gospel to the poor; he hath sent me to heal the brokenhearted, to preach deliverance to the captives, and recovering of sight to the blind, to set at liberty them that are bruised, (KJV)
Letter from Pastor Zaphania
Let me thank Our Almighty God for his care and love towards us. Our God is at work all the time. we give him praises. let me encourage you my dear beloved brother let us serve Our Master whom is coming soon to take us home.
My brother God has opened a door for us to minister to the Masai community. most of them their hearts are broken. they have faced rejection for so long. but this is the best time to reach them with the gospel.
My prayer request pray God to provide for this kingdom work .pray for many souls to receive Jesus Christ. Stand with us to reach unreached with gospel. Pastor John McTernan will be ministering online. stand with us brother you can check the poster below. The conference will be on date 6 to 8 April 2018
Yours beloved brother

Pastor Zaphania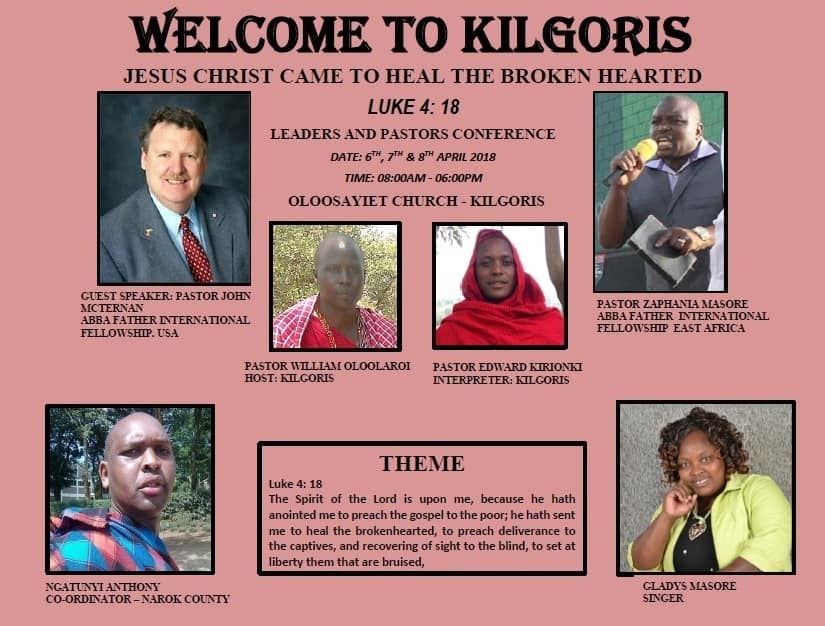 End-Time Witness for the Lord Jesus -Time is Running Out!
As events in the Middle East with Israel are exploding right before our eyes, now is the time to use God's prophetic scriptures to win souls to Jesus. World events are opening hearts to God. It is now easy to use God's prophetic word to share the gospel. Please do not miss this opportunity to witness for the Lord.
The packet contains The Last TrumpetNewspaper, 666 Surveillance System brochure, Jesus Came to Heal the Brokenhearted brochure, prophecy timeline chart, CD about the Last Trumpet and a CD titled: Sinners in the Hands of an Angry God.
We offer the Prophecy Packet  free of charge. If you want one, email Dave at: [email protected]  Make sure to give your name and mailing address. To continue to send the materials, we need your help. It costs $65.00 to send a box overseas. Please consider sponsoring one box a month on a regular basis. God is opening doors for the Prophecy Packet all over the world. The requests for our information are now staggering, and we thank the Lord for this. Most of the foreign contacts are very poor and cannot afford to pay. If we do not send the materials for free, then they never will be sent. Sending the Prophecy Packet for free to Pakistan is what opened this tremendous door.