Abba Father's International Fellowship: Kenya and Water Ministry
Acts 1:8
But ye shall receive power, after that the Holy Ghost is come upon you: and ye shall be witnesses unto me both in Jerusalem, and in all Judaea, and in Samaria, and unto the uttermost part of the earth.
Commentary
Email from Pastor Z in Kenya. This is a very exciting update!
Greetings and blessings from East Africa
I am happy and praising the lord for three days conference and crusade in Kenyenya God did great and wonderful work in Kenyenya for three days meeting where chaplain John spoke for three days. many people came to the lord including Muslims many people received healing others were healed their brokenhearted as you can see through the photos God touched many people others as John was speaking Muslims were falling down.
God also helped us with water filters 10 of them, and I shared to our sister churches you can see some pastors holding them
Also let me thank you for your prayers and support God bless you all.
Yours pastor Z
Preaching in Kenyanya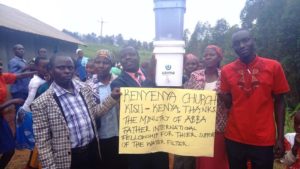 End-Time Witness for the Lord Jesus -Time is Running Out!
As events in the Middle East with Israel are exploding right before our eyes, now is the time to use God's prophetic scriptures to win souls to Jesus. World events are opening hearts to God. It is now easy to use God's prophetic word to share the gospel. Please do not miss this opportunity to witness for the Lord.
The packet contains The Last TrumpetNewspaper, 666 Surveillance System brochure, Jesus Came to Heal the Brokenhearted brochure, prophecy timeline chart, CD about the Last Trumpet and a CD titled: Sinners in the Hands of an Angry God.
We offer the Prophecy Packet  free of charge. If you want one, email Dave at: [email protected]  Make sure to give your name and mailing address. To continue to send the materials, we need your help. It costs $65.00 to send a box overseas. Please consider sponsoring one box a month on a regular basis. God is opening doors for the Prophecy Packet all over the world. The requests for our information are now staggering, and we thank the Lord for this. Most of the foreign contacts are very poor and cannot afford to pay. If we do not send the materials for free, then they never will be sent. Sending the Prophecy Packet for free to Pakistan is what opened this tremendous door.