Activists Gather in Times Square to Condemn Antisemitism: Omar 'Would Like to Repeat History
Verse of the Day
Revelation 22:20 He which testifieth these things saith, Surely I come quickly. Amen. Even so, come, Lord Jesus.
Commentary
I am full of joy to watch Americans stand against evil! We just can't let this group of American and Israeli haters set up shop in America as a base to spread a murdering spirit in the nation.
Looking for the Blessed Hope, the coming of the Lord Jesus for his bride:
Philippians 3:20,21 For our (citizenship) is in heaven; from whence also we look for the Saviour, the Lord Jesus Christ: Who shall change our vile body, that it may be fashioned like unto his glorious body, according to the working whereby he is able even to subdue all things unto himself.
Standing Against Evil (Part 1)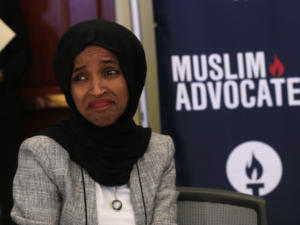 "Activists Gather in Times Square to Condemn Antisemitism: Omar 'Would Like to Repeat History'"
"American and Jewish American activists gathered in Times Square on Monday afternoon to advocate for the removal of Rep. Ilhan Omar (D-MN) from the House Foreign Affairs Committee.The event, titled Ilhan Omar Must Go, examined Omar's "gross anti-Semitism, her cavalier dismissal of the murdered victims of 9/11, her blaming the criminal socialist debacle and collapse of Venezuela on America," and her "disdain for our nation, which saved her from Islamist terror in the non-nation of Somalia."

In addition to the event, organizers unveiled a new mobile billboard, which displayed a powerful video recounting Omar's vile behavior."
Standing Against Evil(Part 2 the video of event)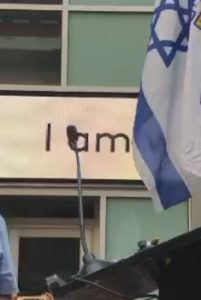 "Activists Gather in Times Square to Condemn Antisemitism: Omar 'Would Like to Repeat History'"
Patriots Rising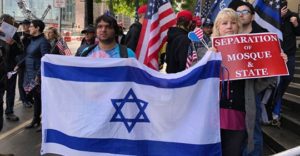 "Hundreds of Patriots Protest Ilhan Omar at CAIR Fundraiser In Bellevue, Washington (VIDEO)" What is needed is We The People to rise and confront these people at all times. If the politicians won't do their job, then we have to. We are face to face with real evil and everyone of us must take a stand against it.
"The Only Thing Necessary for the Triumph of Evil is that Good Men Do Nothing" Sir Edmund Burke

"Outspoken Muslim congresswoman Ilhan Omar was the keynote speaker at a fundraiser for the Washington chapter of the Council On American Islamic Relations (CAIR) on Saturday, May 25th. Yes, Memorial Day weekend. Despite the rain that persisted into the evening, a group of pro Trump patriots organized a protest out front of the Meydenbauer Center in Bellevue, just across the street from Microsoft headquarters, across a lake from Seattle.

Their protest was countered by a small group of low energy, burned out hippies, who were mostly all white, screaming "RACIST" and all of the other usual rhetoric at the pro Trump side, which featured several Jews, blacks, Asians, young and old, straight and gay.

The event was titled "Un-Apologetically US: Building MUSLIM POWER For 2020 & Beyond"
Rising of the Real Believers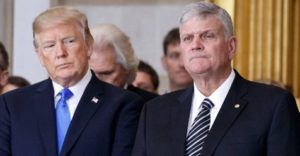 "Franklin Graham calls Christians to ask God to embolden President Trump against foes" This is wonderful news and just what I've been waiting for. This ministry will join in the prayer. If the church rises and calls out to the Lord and repents, God will move in a mighty way. What a chance we have now with the Lord! This could be the last chance to cry out to the Lord before disaster strikes the nation.
When you read this verses, think of the massive destruction of floods, fires and tornadoes which have struck the nation in the last few years! Can you make the connection of the national sins of abortion, homosexuality, witchcraft and bring in the Muslims!
2 Chronicles 7:13,14 If I shut up heaven that there be no rain, or if I command the locusts to devour the land, or if I send pestilence among my people; If my people, which are called by my name, shall humble themselves, and pray, and seek my face, and turn from their wicked ways; then will I hear from heaven, and will forgive their sin, and will heal their land. (15) Now mine eyes shall be open, and mine ears attent unto the prayer that is made in this place.

"Graham and 250 other Christian leaders are calling for Sunday, June 2, to be a "Special Day of Prayer for the President" in hopes God will "protect, strengthen, embolden and direct" Trump against his political foes.

"President Trump's enemies continue to try everything to destroy him, his family, and the presidency," Graham posted Sunday on Facebook.

"In the history of our country, no president has been attacked as he has. I believe the only hope for him, and this nation, is God. This is a critical time for America. We're on the edge of a precipice. Time is short. We need to pray for God to intervene. We need to ask God to protect, strengthen, encourage, and guide the President," said his post.

Among the organizers is Dr. Richard Land, president of the Southern Evangelical Seminary in Charlotte, and Clarence Henderson, president of the North Carolina-based Frederick Douglass Foundation."
Hard Left in Your Face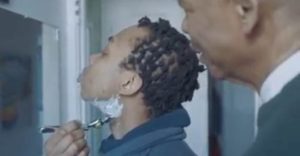 "WOKE: New Gillette Ad Features Dad Teaching Transgender Son How to Shave (VIDEO)" I have used Gillette blades for most of my life. I have a supply that I used and it is almost gone. I can't want to get new blades from anyone but Gillette. I hope we can put them out of business.
Earthquake and Volcano Update

Extremely Large M8.0 Earthquake strikes Peru — Biggest on planet"
This is from Dutchsinse. With an earthquake of this magnitude it is time for an update.
Psalm 104:32 He looketh on the earth, and it trembleth: he toucheth the hills, and they smoke.
Real Funny Meme
President Trump and AG Barr are about to apply the modern day Nuremberg Trials to these criminals!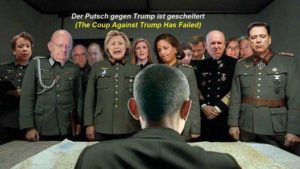 Abba Father's International Fellowship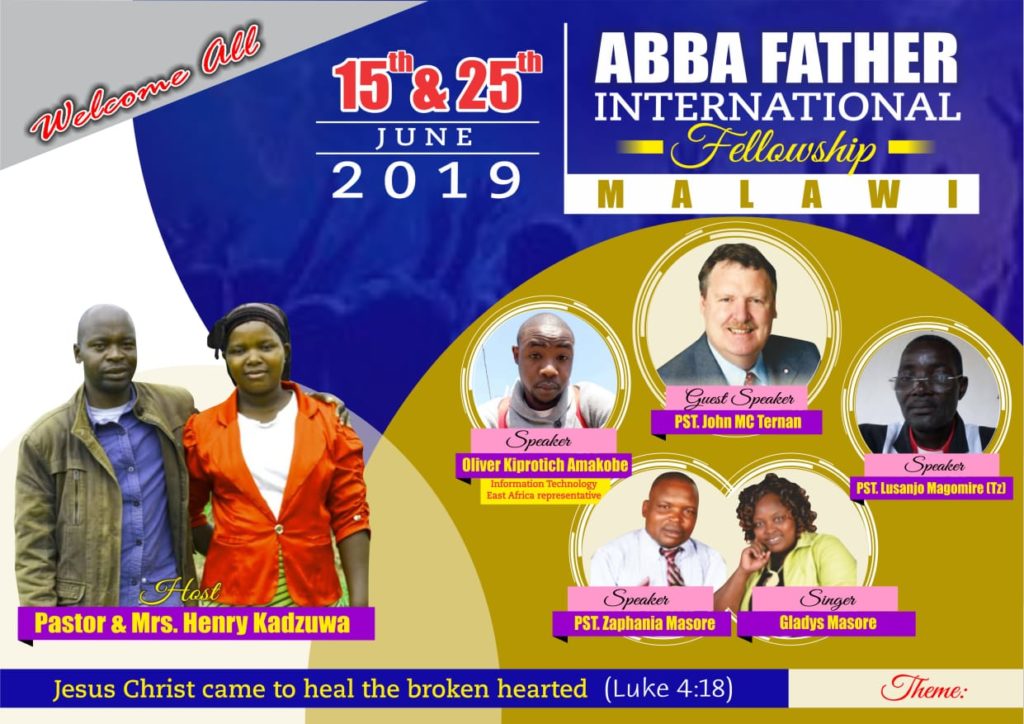 Shalom  my dear  beloved  servants of God. Daddy John McTernan and brother Greg K

Let me  praise  the lord  for what is happening  in East Africa  now extending central  Africa  and west Africa.
Praising  report  many  people  have come to the  lord including  Muslims. as you can see the  photo  of the  mosque  near our church  where  John McTernan  preached  and the voice  was  entering  the mosque  direct.
This only the opportunity  God has given  us to  share  the gospel  as we have never  shared because  he is coming  very soon.
I asked  today about  printing  the magazine  in the printing  company  of Kenya in Nairobi  they said they  are ready  and  they  will print  for  us the  they said the best price  they can give us  the best  is 80 kenya shillings  because  it is large  and the sheets  must be  large  the same size .
About  the mission  in Malawi  it is  costly  they way I never  expected. because  I thought  their  is bus going  to Malawi  but it is not their. It has forced  us to use air  if God provides  air ticket. also I went to the embassy  today of Malawi  they  said one person must pay $75 for the visa.
I will  send you the quotation  of the  funds  needed  so  that  we can  join  hands in prayer  so that  our Abba  father  will provide. because  this is his work. pastor Henry  is very happy  as John McTernan is going to  preach  live  they have never  seen this. this will be  the fast time in Malawi  .
My prayer  is that  what is happening  in East Africa  will happen  in Malawi  .
If you like our ministry, please consider making a donation to keep us going. May the Holy God of Israel bless you!
Revelation 22:20 He which testifieth these things saith, Surely I come quickly. Amen. Even so, come, Lord Jesus.