America Has a Loneliness Problem
 Verse of the Day



Matthew 11:28 Come unto me, all ye that labour and are heavy laden, and I will give you rest. (29) Take my yoke upon you, and learn of me; for I am meek and lowly in heart: and ye shall find rest unto your souls. (30) For my yoke is easy, and my burden is light.
Commentary
In my ministry that "Jesus Christ Came to Heal the Brokenhearted" I pray for many people who have broken hearts that are filled with loneliness. This is very serious because loneliness can damage us both physically and emotionally.
If you are suffering from loneliness and would like prayer, please email me at [email protected] You can also listen to my live Facebook shows about healing the brokenhearted on Wednesdays and Thursdays. This is at 9:00 PM EST.
May the Holy God of Israel bless and protect you.
Revelation 21:7 He that overcometh shall inherit all things; and I will be his God, and he shall be my son.
Healing the Brokenhearted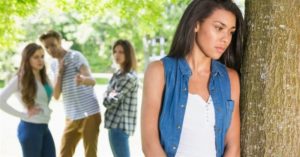 "America Has a Loneliness Problem, Especially among Young People"
Genesis 2:18 And the LORD God said, It is not good that the man should be alone; I will make him an help meet for him.

 " The health insurer Cigna recently conducted a survey on loneliness in the United States. In the final report, about half of the 20,000 respondents said that they struggle with loneliness—specifically, "sometimes or always" feeling alone or left out. The study also found that two out of every five respondents felt isolation, a lack of companionship, or a lack of meaning in their relationships.

According an NPR article on the survey, these results echo past reports on loneliness in America. Other reports have found that "20 to 43 percent of Americans report feeling lonely or socially isolated." Some of these studies have also found loneliness to be linked directly with physical health problems. As NPR reports, this includes "a higher risk of coronary heart disease and stroke" as well as effects on the immune system and "recovery from breast cancer." On top of that, lonely people are also at greater risk of "premature mortality."
Hard Left Israel Hating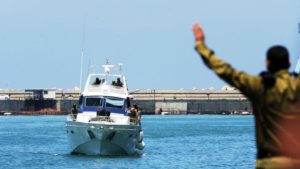 "'Multicultural" Anti-Israel Swedish Flotilla Sets Sail for the Gaza Strip" The hardening of the Europeans against the Lord and his prophetic people Israel continues at an amazing pace.
The Hard Left in Europe simply hate Israel, while at the very same time God is turning them over to the Muslims for judgment!
The more the Europeans come against Israel, the faster the Lord turns them over to Islam for judgment.
Proverbs 28:5 Evil men understand not judgment: but they that seek the LORD understand all things.
"Sweden is also home to the Freedom Flotilla Coalition, which makes no effort to hide its pro-Palestinian/anti-Israel agenda. The group has been hard at work since January planning its 2018 "freedom flotilla." On April 30, Norway launched three vessels that will join the flotilla.

Israel's naval blockade of the Gaza Strip has prevented Iran – or any other country – from delivering weapons and ammunition to Hamas terrorists by sea.

Meanwhile on Tuesday, as Hamas sent thousands of men, women and children to breach the security fence at the border with Israel, their supporters in Sweden held a "solidarity ceremony" to mark the following day's launch. Both groups chose the day Palestinians mark the "nakba," the "catastrophe" they say befell them when Israel was re-established in 1948.

The Freedom Flotilla Coalition holds Israel – not Hamas – responsible for the deteriorating situation in Gaza. According to the group's website, the 'Palestine' will be the fourth boat to join the flotilla, with planned stops in Denmark, Germany and the Netherlands and crewed by "activists" from 20 countries."
Hard Left Hardening Against Israel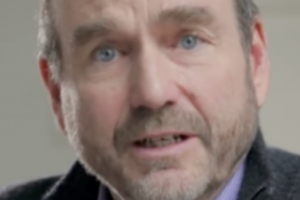 "Pennsylvania Democratic Congressional Candidate's Fund Has Donated Hundreds of Thousands to Anti-Jewish Groups"
I have been saying for a while that the Dems will turn from Israel to support the Muslims because they both hate God at their core, and in the end the Muslims will give them way more votes then the Jews.
This article shows what is going on behind he scene, and how the Dems in Pennsylvania are funding anti Israel groups! Whatever is evil the Dems flock to, whether it is killing babies, destroying marriage and gender and now against Israel.
 "The Forward reports Wallace ran the Wallace Global Fund from 2003 until this year, when he made his run for Congress, and the organization has dispensed more than $300,000 to anti-Israel groups in support of BDS. The Anti-Defamation League has condemned BDS as a movement to delegitimize Israel and "rampant with misinformation and distortion."

The support for BDS could be damaging to Wallace, given the district's relatively high Jewish population.

According to tax filings analyzed by The Forward, the Wallace Global Fund gave $25,000 to the anti-war group Code Pink in 2009, the year it endorsed BDS. It gave $25,000 in 2010 and another $25,000 in 2011 to Jewish Voice for Peace, which The Forward describes as "the most prominent American Jewish pro-BDS group."

It earmarked $150,000 to left-wing publishing company Haymarket Books in 2011, which published a pro-BDS manifesto, and it's also donated to left-wing legal advocacy group Center for Constitutional Rights, another pro-BDS group:

That same year, Haymarket published "BDS: Boycott, Divestment, Sanctions: The Global Struggle For Palestinian Rights," a manifesto of the movement by one of its main leaders, Omar Barghouti. The book's copyright page notes that it was published "with the generous support of Lannan Foundation and the Wallace Global Fund." Haymarket has gone on to publish several more books on the issue by controversial Palestinian-American activists like Ali Abunimah and Steven Salaita."
Reality with Turkey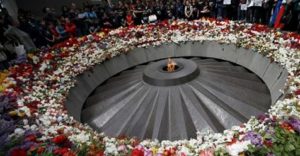 "Israeli lawmakers move to recognize Armenian genocide amid Turkey row" The 20th Century was known as the century of genocide. It all started in 1915 with Turkey when the killed 1.5 million Armenian Christians. The Armenians were killed by every method imaginable. The slaughter was so vicious and violent.
This was Muslim genocide of Christians simply because they were Christians.
"Bills to recognize the Armenian Genocide by the Turks were back on the Knesset's agenda on Wednesday, after Turkey and Israel expelled each other's envoys.

Zionist Union MK Itzik Shmuly and Likud MK Amir Ohana both said they would submit legislation to make Israel the 30th country to recognize the genocide of 1915, in which the Ottoman Empire took the lives of 1.5 million Armenians.

The move came as Turkish President Recep Tayyip Erdogan lashed out at Israel for defending its border with the Gaza Strip from Palestinian rioters. Erdogan recalled his ambassador from Israel and, on Twitter, called Israel "an apartheid state that has occupied a defenseless people's lands for 60+ years," thus saying the Jewish state's existence is not legitimate, as opposed to just its presence in the disputed West Bank since 1967."
Defunding the Swamp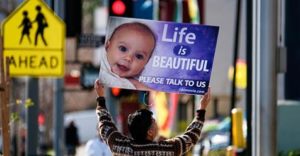 "Trump administration reportedly to cut federal funding to Planned Parenthood" This is wonderful news that PP will NOT receive $500 million in federal funds. PP kills 330,000 babies a year and goes into schools to corrupt our children. It is a curse on America.
May the Lord curse PP and bring it down bankrupt. There is big money in sin.
Proverbs 8:36 But he that sinneth against me wrongeth his own soul: all they that hate me love death.
 "The Trump administration will announce Friday long-sought cuts in federal funding to Planned Parenthood, multiple news outlets reported.

The proposed rule change in Title X, a $260 million federal program for contraception and "family planning," will interpret the 1970 law as requiring absolute separation between contraception and abortion activities, effectively making Planned Parenthood ineligible.

"The proposal would require a bright line of physical as well as financial separation between Title X programs and any program (or facility) where abortion is performed, supported, or referred for as a method of family planning," a Trump administration official said in an email to the Weekly Standard. The law says that "None of the funds appropriated under this title shall be used in programs where abortion is a method of family planning."

However, except for a brief period in the Reagan administration, federal bureaucrats have interpreted that as merely requiring that federal money not directly fund abortions, a stance pro-lifers have criticized as defanging the policy because, among other reasons, money is fungible."
 Hard Left Take Over Pro Sports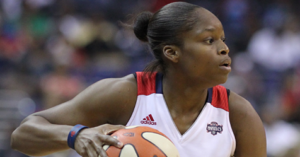 "WNBA Partners With Planned Parenthood Abortion Biz for "Women's Empowerment" Event" One by one the professional sports in America are being corrupted. PP is the worst of the worst that actually kills 330,000 babies a year and corrupts our children into fornicating.
The fact is league offers support to PP shows how corrupt professional basketball has become.
"Women's basketball is teaming up with Planned Parenthood in the name of "women" – even though millions of women are missing today because of the abortion giant.

On Wednesday, the Women's National Basketball Association (WNBA) announced a "new women and girls empowerment program" for the 2018 season called, "Take a Seat, Take a Stand." When fans purchase tickets, they will "have the chance to support several organizations that are changing the game for women and girls." One of which just happens to be Planned Parenthood.

The WNBA promises to donate $5 to one of six left-wing organizations for every ticket purchased – and fans have the option to specify which one."
Revelation 22:20 He which testifieth these things saith, Surely I come quickly. Amen. Even so, come, Lord Jesus.