As America Has Done to Israel
                                         Obadiah 1:15
For the day of the LORD is near upon all the heathen: as thou hast done (To Israel), it shall be done unto thee: thy reward shall return upon thine own head.
As America Has Done to Israel
Out of nowhere, the Houston, Texas area was hit with massive record-breaking floods. Events like usually are connected to some sinful national or state event, or to interfering with God's prophetic plan for Israel.
Sure enough, the US was bullying Israel over the Golan Heights, and Secretary Kerry proclaimed the US would pressure Israel to divide the land until the end of the Obama administration! At this very time, East Texas was hit with record flooding. From the following articles you can see the link between touching the land of Israel and the disaster hitting America.
Biden Blasts Bibi: 'Overwhelming Frustration' With Israel's Government 04/18/16
"Although he said both Israelis and Palestinians shared blame for undermining trust and shirking responsibility, he was emphatic in his critique of Netanyahu's government, suggested his approach raised "profound questions" about how Israel could remain both Jewish and democratic. "I firmly believe that the actions that Israel's government has taken over the past the past several years — the steady and systematic expansion of settlements, the legalization of outposts, land seizures — they're moving us and more importantly they're moving Israel in the wrong direction," Biden said. He said those policies were moving Israel toward a "one-state reality" — meaning a single state for Palestinians and Israelis in which eventually, Israeli Jews will no longer be the majority. "That reality is dangerous," Biden added."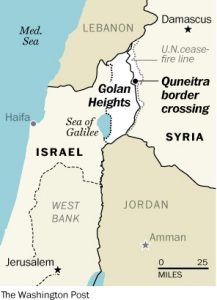 United States 'doesn't consider the Golan a part of Israel' 04/18/16
"The United States does not consider the Golan Heights to be a part of Israel, State Department spokesperson John Kirby stressed on Monday, a day after Prime Minister Binyamin Netanyahu vowed the Golan Heights "will forever remain under Israeli sovereignty." "The U.S. position on the issue is unchanged," Kirby told reporters during a daily briefing at the State Department in Washington, according to Haaretz. "This position was maintained by both Democratic and Republican administrations. Those territories are not part of Israel and the status of those territories should be determined through negotiations. The current situation in Syria does not allow this," he added.  On Sunday, the Israeli cabinet held a special meeting on the Golan Heights and Netanyahu opened the meeting with a declaration that "the Golan Heights will always remain under Israeli control." The Prime Minister also called upon the international community to recognize Israel's control of the territory."
Five dead, homes destroyed, and horses floundering in Houston's historic floods yesterday as more heavy rain is predicted today  04/18/16 This article is worth viewing because there are numerous (44) pictures that clearly reveal the devastation for people, and the amazing attempts  to rescue animals like horses that also have been impacted by this deluge.
At least five people are recorded dead amid the historic floods swamping Houston, Texas, on Monday 
The city saw 15 inches of rain on Sunday. Normally, Houston sees just 4 inches of rain in the entire month of April
More than 1,200 residents were rescued from floods Monday while 1,000 homes were flooded in Harris County alone
Forecaster warn more heavy rain is predicted for today while rising floodwaters have caused further evacuations 
Officials are assessing two dams rated as 'extremely high risk' which are expected to reach 50 percent capacity
Families have been pictured wading through waist-deep water with belongings in plastic bags, kids on shoulders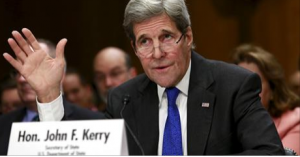 Kerry vows to continue pushing for 'two-state solution' 04/19/16
"The United States will push for a two-state peace deal between Israel and the Palestinians until the end of President Barack Obama's mandate, Secretary of State John Kerry announced on Monday, according to AFP. Speaking in Washington to a conference held by J Street, Kerry said attacks like Monday's on an Israeli bus in Jerusalem only underlined the need for a negotiated solution."Despite the fact that we have spent time and effort to try to get there for these past few years I can tell you that for these next nine months we will not stop working to find a way," Kerry was quoted as having said. He insisted that pro-peace factions among both populations understand the importance of a viable Palestine alongside a secure Israel as the only basis for peace and democracy in the region. "And so we will continue to advance the two-state solution as the only solution, because anything else will not be Jewish and it will not be democratic," he declared, to applause from J Street invitees.

Genesis 12:3 And I will bless them that bless thee, and curse him that curseth thee: and in thee shall all families of the earth be blessed.