Barr Warns of Erosion of Religion, Centralization of Government, 'Monolithic' Media
Verse of the Day
Proverbs 1:23 Turn you at my reproof: behold, I will pour out my spirit unto you, I will make known my words unto you.
Commentary
This is a great speech. He really nailed what is happening in America as the nation is being destroyed by the Hard Left reprobates who hate God, his word and believers. There is no political remedy for this, but what is needed is an outpouring of the Holy Spirit and a spiritual revival.
2 Chronicles 7:14 If my people, which are called by my name, shall humble themselves, and pray, and seek my face, and turn from their wicked ways; then will I hear from heaven, and will forgive their sin, and will heal their land. 
HARD LEFT VS BELIEVERS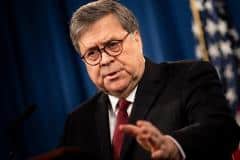 "Barr Warns of Erosion of Religion, Centralization of Government, 'Monolithic' Media"
"We live at a time when religion, long an essential pillar of our society, is being driven from the public square," Attorney General William Barr told the National Religious Broadcasters Convention in Nashville on Wednesday.

"Thank God we have the National Religious Broadcasters to counter that effort. You have boldly shown that media can serve higher ends: the safeguarding of faith as well as the cultivation of the classical virtues of the mind and heart that maintain our republican experiment in self-governance."

In his speech, Barr said religion, decentralized government, and the free press once protected us against majoritarian tyranny, but those three moderating forces have declined in recent decades, resulting in political acrimony and a move toward despotism."
HARD LEFT VS CHRISTIANS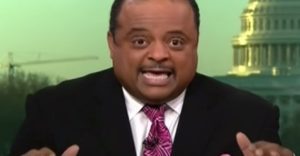 "White Evangelicals Are 'Frauds' — Trump Is a 'Fake Christian'" You can sense the hatred for us in this man. It is all over homosexuality and killing babies. These phonies love these sins. He also blames white evangelicals for the Jim Crow laws, when in reality it was Democrats in South which was the cause! These people we say anything to advance their agenda. They know we are in the way, therefore, there these people will say and do anything to try and destroy us.
"Journalist Roland Martin said white evangelical Christianity was a "fraud," and President Donald Trump "is a fake Christian" Saturday on MSNBC.

Martin said, "First and foremost, look, I'm a Christian author. My wife is an ordained minister. The reality is this here; white conservative evangelicals are Christian frauds. Let me say it again: they're frauds. If you look at the Moral Majority from the Jerry Falwells and the Pat Robertsons of the world, all we heard from them since the late '70s and '80s, character, values, morals, and all those things. Yet, what they did is they embraced Donald Trump, who is immoral, has no values, has no principles, and, frankly, is a fake Christian, okay."
PRESIDENT ON THE ATTACK!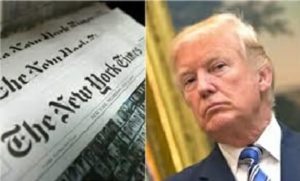 "Trump Campaign Sues New York Times For Libel Over Garbage Russia Article" This is exciting as the President is on the offensive. I hope he wins and drains these rags of all their money!!!
"The article named in the lawsuit was authored by Max Frankel on March 27, 2019 titled, "The Real Trump-Russia Quid Pro Quo" which claimed the Trump campaign had an "overarching deal" with Russian President Vladimir Putin — "the quid of help in the campaign against Hillary Clinton for the quo of a new pro-Russian foreign policy." The lawsuit states The Times had no proof of its claims of a "quid pro quo" or a "deal" with Russia.

Trump's campaign is seeking millions of dollars in damages and asserted "The Times knowingly published false and defamatory statements of and concerning plaintiff Donald J. Trump for President, Inc. (the "Campaign"), claiming it had an "overarching deal" with "Vladimir Putin's oligarchy" to "help in the campaign against Hillary Clinton" in exchange for "a new pro-Russian foreign policy, starting with relief from the Obama administration's burdensome economic sanctions."

The lawsuit accused The Times of engaging in a systematic pattern of bias against the Trump campaign "designed to maliciously interfere with and damage its reputation…"
WAR: TURKEY VS SYRIA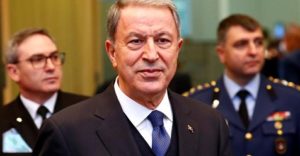 "Turkey strikes Syrian planes and airports, escalating Idlib fight" It appears that Syria and Turkey are near all-out war! What is Russia going to do?
"Turkey shot down two Syrian warplanes over Idlib on Sunday and struck a military airport well beyond its frontlines in a sharp escalation of its military operations following the death of dozens of Turkish soldiers last week.

Ankara has ramped up its attacks, including drone strikes, against the Russian-backed Syrian forces since Thursday, when 33 Turkish soldiers were killed in an air strike by Damascus."
UPDATE: CORNAVIRUS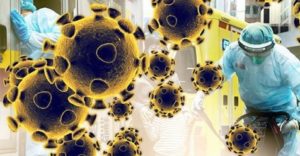 "New England Journal of Medicine: Scientific Study Reports NO CASES of Coronavirus in Children Under Age 15" If this holds, it is great news the youngsters are protected from this disease!
"The New England Journal of Medicine published a report by Dr. Anthony S. Fauci, M.D., H. Clifford Lane, M.D., and Robert R. Redfield, M.D.

In the article the three experts on contagious disease report that there has been no known cases of Covid-19 in children under the age of 15."
SPECIAL SIN TARGETING CHILDREN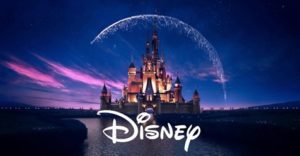 "Disney-Pixar featuring first LGBT character in 'Onward'" The entire culture is now on the road to promoting and protecting the special sin. These vectors of sin are targeting the children to turn them into reprobates as young as possible.
Without a massive revival, it will not be too long before we are like Sodom. We can watch it happening step by step.
"The upcoming film "Onward," which will be in theaters on March 6, will feature a self-identified lesbian heroine with a girlfriend, the first-ever animated LGBT character in the Disney-Pixar universe.

The character, named Officer Specter, will be a Cyclops cop, voiced by openly gay screenwriter and actress Lena Waithe, Yahoo Entertainment reported.

"It just kind of happened," the film's producer, Kori Rae, was quoted as saying. "The scene, when we wrote it, was kind of fitting and it opens up the world a little bit, and that's what we wanted."
POLICE INSANITY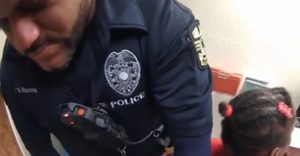 "6-year-old begs for help during arrest at Florida school: video" I was traumatized just watching this. What idiot in the school called the police! This person should be fired along with the police officer! This little girl needed to loved and not arrested!
"A sobbing 6-year-old Florida girl begged Orlando cops to let her go as she was arrested at school for hitting three employees, disturbing police bodycam video shows.

The footage, released by the family of Kaia Rolle late Monday, shows the first-grader breaking down as she is restrained with zip ties on Sept. 19 at Lucious and Emma Nixon Academy Charter School."
PEDOPHILIA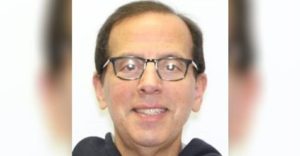 "Dayton doctor charged with 145 felonies related to child porn" I hope that everyone of these pedophiles are caught and sent to jail.
"A well-known Dayton psychologist who for years was a leading voice on issues of child endangerment and exploitation was arrested Thursday on 145 charges related to child pornography.

Dr. Greg Ramey, a former long-time Dayton Children's Hospital employee, was charged with 145 criminal counts, according to a grand jury indictment unsealed in Greene County. Ramey, 70, of Beavercreek, turned himself into the Greene County Jail on Thursday morning, according to the AG's office. Bond was set at $500,000, according to the Greene County Clerk of Courts."
THE SLOW DEATH OF THE WEST
"Italy May Be Dying: 'Lowest' Birth Rate 'Ever Recorded'" The entire Western countries are dying a slow death from no children! Some nations are past the point of NO return. God is sending the Muslims into Europe in judgment for their lifestyle and touching Israel.
"Italy's incredibly low number of births in 2019, the "lowest level ever recorded," indicates a serious problem that "concerns the very existence of our country," said Italian President Sergio Mattarella on Tuesday, as reported by Reuters.

Data from Italy's national statistics agency, ISTAT, show there were 435,000 births in 2019, which was 5,000 lower than in 2018, "the lowest level ever recorded in Italy" since records started in 1861."
FREEDOM VS SOCIALISM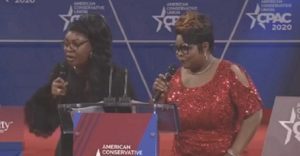 "Fiery Diamond & Silk Speech: Blacks Don't Need Reparations, They Need Liberation from Dems" I love to listen to them. They are very entertaining, but at the same time, speak wonderful truth.
"Diamond and Silk are not playing games. "First of all, we want to say thank you to CPAC for giving two conservative black chicks who are down with politics the opportunity to be here," said Diamond (Hardaway). "I'm not gonna be here long — but I just came here to talk about what makes America great."

And talk about making America great they did."
Prophecy Update
Bible Prophecy of the Week 2/29/20
https://youtu.be/RQYFCuUUpKA
Abba Father's International Fellowship
Preaching in Rwanda in December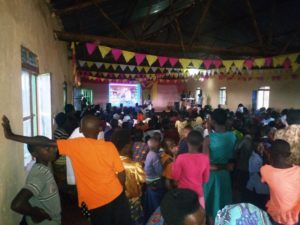 Shalom chaplin John  and Greg.  I am so grateful for this privilege. I'm excited to see so many faithful men and women achieving great things for God, often in the face of major challenges. We are grateful for the way Abba Father is continuing to expand our influence and impact. Our  ministry Abba Father international Fellowship East Africa   continues to grow and this year we are poised to welcome many brothers  and sisters  from more countries as well as several leaders in countries where we are already working  for the great mission this year.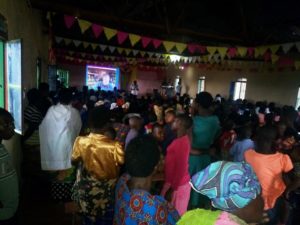 We are believing for a powerful year of increase and enlargement. As the world battles with so many issues this is a tremendous time for the Church to be all she is called to be, shining as lights in a dark world. Praying the Lord will help us all to achieve everything He desires in the coming months. kindly this is the year we need your special prayers  and support we have got the land where we are going to  purchase  and build  our new church Abba father international fellowship, we have been in the slum for so long  and now this is the year we need your mercful support to buy the land and the place to take kids in good place .
we had wonderful time in Rwanda  many people came to the lord  great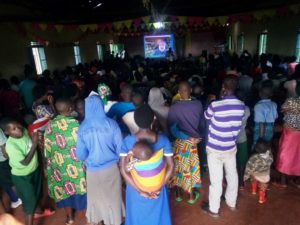 things happend  in Rwanda  as  you can see through the photos  many people were healed  many  people were healed thier broken hearted,
kindly we need your support to print more materials kinyarwanda, and keep praying for us to buy the land , that we have got so that  chaplin John will be preaching every sunday .
kindly keep praying for us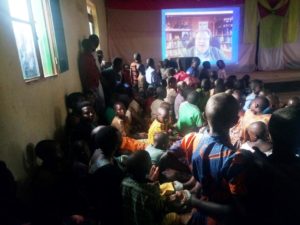 If you like our ministry, please consider making a donation to keep us going. May the Holy God of Israel bless you!
Revelation 22:20 He which testifieth these things saith, Surely I come quickly. Amen. Even so, come, Lord Jesus.