Calls Grow to Use National Guard to Protect Coulter, Free Speech at Berkeley
Verse of the Day
 Proverbs 10:6  Blessings are upon the head of the just: but violence covereth the mouth of the wicked.
Commentary
The President really needs to do this or people are going to get hurt. These thugs need to be confronted with force to make them pay the price for the rioting. The actions of the Hard Left Fascists on campuses are now reaching the red zone. If they are not stopped, this rioting and violence will end up at the doors of the Church. In the end, they hate everything we stand for, so if left unchecked they will head to the Church.

May the God of Israel bless and protect you.
Amos 3:7 Surely the Lord GOD will do nothing, but he revealeth his secret unto his servants the prophets.
Hard Left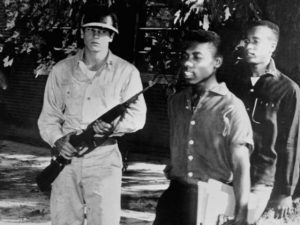 Calls Grow to Use National Guard to Protect Coulter, Free Speech at Berkeley 04/21/17

"A growing number of conservative commentators are calling on President Donald Trump to use the California National Guard to escort author Ann Coulter onto the University of California, Berkeley campus when she speaks next week.
Though California Governor Jerry Brown commands the California National Guard, President Trump has the power to federalize it — just as President Dwight D. Eisenhower federalized the Arkansas National Guard in 1957 to integrate public schools. (The same Arkansas troops who had once blocked black students then escorted the students to school.)
Coulter was invited by the Berkeley College Republicans to speak on April 27. When Berkeley administrators balked, citing security concerns, critics noted the ironic suppression of free speech on a campus that prides itself on that ideal."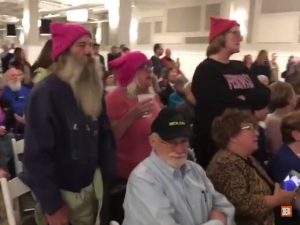 'Separation of Church and State!': Leftist Activists Disrupt Michigan Town Hall 04/21/17
To the reprobate mind, listening to a prayer in the name of Jesus is like a fire in the mind. The demons just can't stand to hear a prayer in the name of Jesus. It stirs up the demons and they react. The reprobate minds in America are now deeply under the control of demons, to the point of violence.
John 14:13  And whatsoever ye shall ask in my name, that will I do, that the Father may be glorified in the Son.

"A group of leftist activists wearing pink pussy hats disrupted a Christian opening prayer at Rep. Jack Bergman's (R-MI) Thursday evening town hall in Gaylord, Michigan, shouting, "Separation of church and state!" as other constituents stood with their heads bowed in respect.
Dr. Derek Hagland, the assistant pastor at Grace Baptist Church in Michigan's First District, had just taken the stage to recite an invocation when activists began chanting, "Separation of church and state!" to disrupt him:
"This guy was giving invocation," Rep. Bergman's communication director Farahn Morgan told Breitbart News. "He was not necessarily party affiliated in any way. That kind of reaction to him? It was the most aggressive that the crowd got during the entire event which was, quite honestly, shocking."
Hard Left/ Homosexuality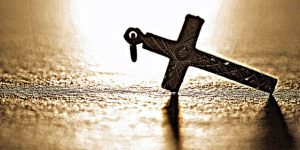 LGBT-promoting teacher bans cross necklaces in class 04/21/17  Notice how aggressive the reprobates are becoming. They can barely control themselves. They are on a mission and society is so weak, along with the church, that there is very little stopping them.
As you see them trying to do away with anything Christian, keep in mind that this also means YOU. They loath us because deep in their hearts they hate God. Their problem is God and his word. Their hatred is building steam, and they will take the fight to us at every place and on every occasion they can. The reprobate genie is out of the bottle, and the end is not going to be pretty.
Jude 1:7  Even as Sodom and Gomorrha, and the cities about them in like manner, giving themselves over to fornication, and going after strange flesh, are set forth for an example, suffering the vengeance of eternal fire.

"Officials at Hillsborough County Public Schools in Tampa, Florida are being asked to stop the bullying by a math teacher who is an open advocate for the LGBT lifestyle and has, among other things, banned students from wearing cross necklaces in her classroom.
The nonprofit legal group Liberty Counsel said it would prefer for the district to rein in the teacher, Lora Jane Riedas, without the necessity of a court case.
But Liberty Counsel is ready to take action – through a federal lawsuit – if it is needed "to vindicate the parental and student rights." Liberty Counsel said the teacher, known for being an LGBTQ "ally" and a member of the Gay, Lesbian and Straight Education Network's Leadership Institute, has gone overboard in her advocacy for her chosen lifestyle.
"Outlasting the Gay Revolution" spells out eight principles to help Americans with conservative moral values counter attacks on our freedoms of religion, speech and conscience by homosexual activists
She features classroom décor that "blatantly promotes a pro-LGBT agenda," reportedly retweeted during the school day "favorite queer web series for kids" and prohibited "at least three students from wearing Christian cross necklaces because she views them as 'gang symbols.'"
Further, she put LGBT stickers on the notebooks her class uses. Her lesbian partner, also a teacher, "dressed as a nun for a school spirit week, complete with a 'cross necklace' made of skulls,' and she singled out students for "false 'misbehavior' allegations" after they removed the LGBT stickers."
Jerusalem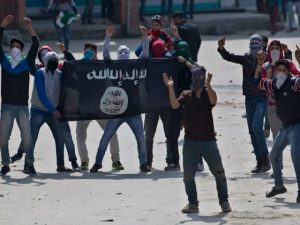 Palestinian Jihadist Claims Islamic State Planning to Encircle Israel's Borders 04/21/17  This is a fantastic article. The jihadist who was interviewed actually laid out the Psalm 83/Obadiah war!!! The talk is about the fact that with all the fighting going on, the terrorists are keeping their eyes on Jerusalem and the Temple Mount!
It is just like the Bible states: the nations are going insane over Jerusalem. This city is going to be the doom of Islam. God is behind Israel, and he will see to it that allah is crushed and the Muslim armies completely defeated, maybe even annihilated over Jerusalem.
Zechariah 12:6  In that day will I make the governors of Judah like an hearth of fire among the wood, and like a torch of fire in a sheaf; and they shall devour all the people round about, on the right hand and on the left: and Jerusalem shall be inhabited again in her own place, even in Jerusalem.

"Addressing a recent attack against a monastery in Sinai in which an Egyptian police officer was killed, Almaqdesi said, "It's clear that the goal of the brothers is to close in on all sides in the direction of occupied Palestine and fight the Jews with the intent of expelling them from Islamic lands."
Almaqdesi refers to the entire state of Israel as "occupied Palestine."
According to Almaqdesi, despite IS's fronts in Syria, Iraq, Egypt, Libya and Afghanistan, "our guiding compass is still the liberation of Jerusalem. The Jews have benefited from the abandonment of Islam's holy places; they did so because of the estrangement of Muslims from their faith."
Almaqdesi also addressed the attempts of the Islamic State group to continue firing rockets from Sinai and the Gaza Strip toward Israel. "We will continue firing at the Jews and we will continue in our attempts to commit attacks with the goal of harming Jews and their government in Palestine and in all the holy places."
According to Almaqdesi, "The war in Sinai, the consolidation in the Gaza Strip, the attempt to gain a serious hold in Jordan and of course the war in Syria, will end with the control of the Caliphate and Sharia, and will end with the liberation of the al-Aqsa Mosque and Palestine."
Pedophilia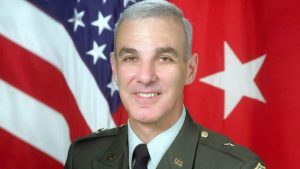 Ex US General & VP Of Military Contractor With Ties To Child Sex Trafficking Charged With Rape Of A Child 04/21/17  I hope this case leads to dozens more, so the entire swamp could be cleared out.
"Retired Army General James Grazioplene, who worked in the Pentagon and as the Vice President of DynCorp, is currently facing six rape charges. If the name DynCorp rings a bell, it's could be because we've reported on the private military contractor's international child sex scandals before.
Sexual Abuse Allegations Against DynCorp and Grazioplene
James Grazioplene joined the army in 1972 as an armour officer and he graduated from the US Military Academy in West Point, New York. Forty years later, on Friday, April 14th, the Military District of Washington announced that General Grazioplene (Ret.) was being charged with six cases of rape of a minor on numerous occasions between 1983 and 1989.
The U.S. Army is charging Grazioplene and, if convicted, he faces life imprisonment and loss of pension. Although Grazioplene retired from the military, he is still subject to the Uniform Code of Military Justice. The U.S. Army did not provide any further details on why he's only being charged now, only stating that the investigation remains open."
American Politics
Confirmed: John Brennan Colluded With Foreign Spies to Defeat Trump 04/21/17  I believe every word of this article is true. The question is, will this nest of vipers from the Washington swamp go to jail? They have to, so that fear will come upon the other snakes.
We can dream about the Clintons, Obama, Brennan, Reid, and the IRS officials, along with State Department liars all in jail. How about Bill and Hillary in the same cell! It could be a death sentence for Bill! God is so good to uncover all that is going in Washington.
"An article in the Guardian last week provides more confirmation that John Brennan was the American progenitor of political espionage aimed at defeating Donald Trump. One side did collude with foreign powers to tip the election — Hillary's.
Seeking to retain his position as CIA director under Hillary, Brennan teamed up with British spies and Estonian spies to cripple Trump's candidacy. He used their phony intelligence as a pretext for a multi-agency investigation into Trump, which led the FBI to probe a computer server connected to Trump Tower and gave cover to Susan Rice, among other Hillary supporters, to spy on Trump and his people.
John Brennan's CIA operated like a branch office of the Hillary campaign, leaking out mentions of this bogus investigation to the press in the hopes of inflicting maximum political damage on Trump. An official in the intelligence community tells TAS that Brennan's retinue of political radicals didn't even bother to hide their activism, decorating offices with "Hillary for president cups" and other campaign paraphernalia.
A supporter of the American Communist Party at the height of the Cold War, Brennan brought into the CIA a raft of subversives and gave them plum positions from which to gather and leak political espionage on Trump. He bastardized standards so that these left-wing activists could burrow in and take career positions. Under the patina of that phony professionalism, they could then present their politicized judgments as "non-partisan."
Islam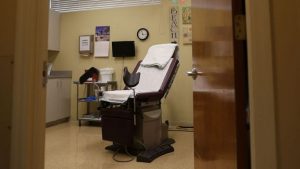 Michigan doctor, wife arrested for allegedly conspiring to perform female genital mutilation 04/21/17  I hope that the government gets every one of them. There was no such thing in America until the Muslims arrived.
"A Michigan doctor and his wife were arrested and charged Friday morning for allegedly conspiring to perform female genital mutilation on minors, according to the U.S. Department of Justice.
Dr. Fakhruddin Attar and his wife, Farida Attar, were arrested just one week after officials arrested another Michigan-based doctor, Jumama Nagarwala, for performing FGM. Nagarwala is an emergency room doctor in Detroit.
The Attars allegedly arranged and assisted Nagarwala in performing FGM out of a medical clinic that Dr. Attar owns in Livonia, Mich. Attar's wife works at the clinic as office manager. The three are believed to be the first people charged under a federal law that criminalizes female genital mutilation (FGM).
According to the criminal complaint, some of Attar's victims, ranging from ages 6 to 8, are believed to have traveled interstate to have the procedure performed."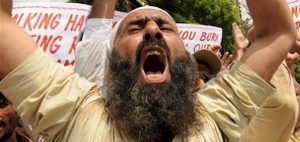 Muslims wants 'blasphemers' prosecuted … worldwide! 04/20/17  This is not as far fetched as you think. Europe has already succumbed to Islam and putting itself voluntarily under Sharia law. Canada is in the process of succumbing and probably Australia and New Zealand are also. The Hard Left is ready in America to succumb, so this is not a wild idea.
Islam has to do this because it can't be defended out in the open. To survive, the Muslims have to crush all opposition, either by force or by blocking the information. This attempted action shows me that the Muslims are desperate and reeling from the outside truth that they can't defend against.
2 Thessalonians 2:10 And with all deceivableness of unrighteousness in them that perish; because they received not the love of the truth, that they might be saved.

"The aim is not simply to remove anything posted on the Internet deemed offensive to Islam, but to find out who posted it and prosecute them," says the non-profit charity Barnabas Aid, which assists persecuted Christians globally.
Pakistan's interior minister, Chaudhry Nisar Ali Khan, has already said he wants to extradite anyone overseas accused of Islamic blasphemy, the group said. "In fact, the Pakistan government is asking Internet providers to tell them the names of people posting such material."
Reuters reported Khan has boasted that his nation is getting cooperation from Facebook to have such material on social media "removed or blocked – and that anyone posting such material be punished."
Kahn said Facebook and other service providers "should share all information about the people behind this blasphemous content with us."
Barnabas Aid said it's alarming that Pakistan, historically a U.S. ally, "is seeking to introduce what is in effect a global Islamic blasphemy law that prohibits any Internet material critical of Islam."
Pakistan aims to get other Islamic nations to pledge to prosecute anyone posting material to which Muslims object and to pressure Internet companies."
Science:  666 Surveillance System/ Image of the Beast
The high-tech future of fighting crime 04/21/17  There is no way to stop the 666 System because it is already here! They are just fine-tuning it right now and tying it all together. I sure am glad that Jesus is my Savior.
Revelation 13:16-18  And he causeth all, both small and great, rich and poor, free and bond, to receive a mark in their right hand, or in their foreheads: And that no man might buy or sell, save he that had the mark, or the name of the beast, or the number of his name. Here is wisdom. Let him that hath understanding count the number of the beast: for it is the number of a man; and his number is Six hundred threescore and six.

"We have been using technology and robotics for years, but the technology improves almost on a daily basis, so we use it more now than we ever have before. The robots are better; they function better; they do more things that they couldn't do in the past. The costs have actually come down, and they're indispensable," Ewell said.
One of the newest types of technologies the LA County Sherriff's Department has been deploying is unmanned aerial vehicles equipped with cameras, customized by drone company DJI. These remote-control aerial vehicles give law enforcement eyes from above to help with everything from bomb threats to search-and-rescue, hazmat spills and active-shooter situations.
It's not just about eyes in the sky; they use robotic land cameras from Robotext to navigate into dangerous situations — they can even open doors — to send real-time video back to law enforcement a safe distance away. There are even underwater robots to help find lost divers or assist with chemical spills."
Christianity
Oldest Living Woman Reveals the Biblical Secret Behind Her Longevity 04/21/17
Exodus 20:12  Honour thy father and thy mother: that thy days may be long upon the land which the LORD thy God giveth thee.

"Violet Mosse-Brown, affectionately known as "Aunt V," has now been declared the oldest living person in the world. Born on March 10, 1900, the 117-year-old Jamaican says her Christian faith is the secret to her longevity.
"Thank God for what he has given to me. This what God has given me, so I have to take it, long life," Brown said. "I've done nearly everything at the church. I spent all my time in the church."
According to the Violet Mosse Foundation, Brown was raised in the Christian faith. She was baptized over 100 years ago at the age of 13 in the Trittonville Baptist Church in the Duanvale district of Trelawny.
Whenever she is asked about what has contributed to her longevity Brown proudly says, "My faith in serving God, and believing strongly in the teaching of the Bible." She is especially fond of the part of the Scripture in the Bible that says, "Honor your father and your mother, that your days may be long in the land which the Lord your God is giving you" (Ex. 20:12)."

John 8:36  If therefore the Son shall make you free, ye shall be free indeed.