Chinese Media: North Korea Will "Cross the Point Of No Return" with Sixth Nuclear Test
Verse of the Day
Matthew 24:6-7 And ye shall hear of wars and rumours of wars: see that ye be not troubled: for all these things must come to pass, but the end is not yet. For nation shall rise against nation, and kingdom against kingdom:

Commentary
I've posted a few articles to keep you on the cutting edge of what is happening with North Korea. Right now, it looks like war, but it is all in God's timing. This could simmer down, but at some point there has to be war. I hope that God breaks the back of North Korea, so people are free and the gospel goes across the nation!
Remember, if WW3 does start do not take your eyes off the coming of the Lord Jesus for his bride! No matter what, stay focused on him: otherwise fear could overtake you.
May the Holy God of Israel bless and protect you.
 Micah 4:3 And he shall judge among many people, and rebuke strong nations afar off; and they shall beat their swords into plowshares, and their spears into pruninghooks: nation shall not lift up a sword against nation, neither shall they learn war any more. 
World War 3/ North Korea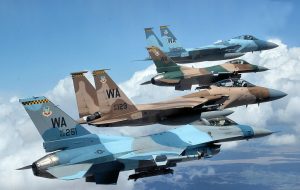 Chinese Media: North Korea Will "Cross the Point Of No Return" with Sixth Nuclear Test 04/26/17  This is a warning from China about the coming war.
"North Korea is nearing the "point of no return" as the reclusive regime prepares for a possible sixth nuclear test, Chinese media reports.
"The game of chicken between Washington and Pyongyang has come to a breaking point," the Global Times, a nationalist Chinese newspaper managed by the state-run People's Daily, writes. "If North Korea carries out a sixth nuclear test as expected, it is more likely than ever that the situation will cross the point of no return."
"All stakeholders will bear the consequences, with Pyongyang sure to suffer the greatest losses," the outlet warns."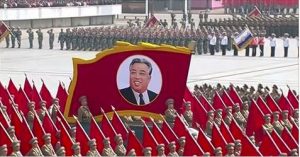 North Korea puts out new video showing the White House in crosshairs and carriers exploding (Video) 04/27/17  This more of the war type rhetoric. Kim Jong Un is backing himself into a corner with his rhetoric, to where he can't back down.
Isaiah 2:4  And he shall judge among the nations, and shall rebuke many people: and they shall beat their swords into plowshares, and their spears into pruninghooks: nation shall not lift up sword against nation, neither shall they learn war any more.

"A North Korean propaganda outlet released a video clip on Thursday showing a simulated attack on the White House and declaring that "the enemy to be destroyed is in our sights."
The video comes at a particularly tense time in relations between North Korea and the United States, with the Trump administration sending warships to the region in a show of force against Kim Jong Un's regime.
This week, North Korea conducted large-scale artillery drills, showing off conventional weaponry that can easily reach South Korea's capital, Seoul, the center of a metropolitan region that is home to about 25 million people.
President Trump, who has been urging China to apply pressure on North Korea and has warned that his administration will act if Beijing doesn't, convened members of the U.S. Congress Wednesday to brief them on the "very grave threat" posed by Pyongyang."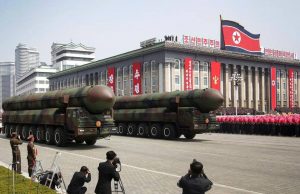 Hawaii threatened by North Korea now, U.S. commander tells Congress 04/26/17  The nuclear threat is getting closer to the US. Right now, the threat has reached Hawaii. Kim Jong Un will use these weapons. There is no doubt of this. My prayer is that God will take this man out and open NK to the gospel before the world heads into the Tribulation.
Revelation 1:7  Behold, he cometh with clouds; and every eye shall see him, and they also which pierced him: and all kindreds of the earth shall wail because of him. Even so, Amen.

"The Pentagon needs to consider deploying new anti-ballistic missile systems and a defensive radar to Hawaii to protect against a growing threat from North Korea, the top U.S. military officer in the Pacific told Congress on Wednesday.
"Kim Jong-Un is clearly in a position to threaten Hawaii today, in my opinion," Adm. Harry Harris, the chief of U.S. Pacific Command, told the House Armed Services Committee. "I have suggested that we consider putting interceptors in Hawaii that . . . defend (it) directly, and that we look at a defensive Hawaii radar."
The U.S. currently has anti-missile interceptors at Vandenberg Air Force Base in California and in Fort Greely, Alaska.
Harris was repeatedly questioned by lawmakers from Hawaii on the threat posed to their state. The current defense architecture "is sufficient to protect Hawaii today, but it can be overwhelmed," he cautioned. "Somewhere, we would have to make a decision about which missiles to take out, and that's a hard decision."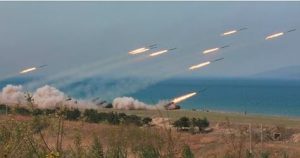 North Korea threat: Top admiral calls on more missile interceptors in Hawaii 04/27/17  More articles about Hawaii coming within range of of NK's missiles are coming out daily! This is the exact rhetoric that transpires before war. The rhetoric is so strong that I am getting the feeling it is reaching the point of no return.
With the amount of weapons we are sending to the area, it means all-out war. This war is NOT Armageddon but a war the precedes it and actually lights the fuse to it.
Matthew 24:6-7  And ye shall hear of wars and rumours of wars: see that ye be not troubled: for all these things must come to pass, but the end is not yet. For nation shall rise against nation, and kingdom against kingdom: and there shall be famines, and pestilences, and earthquakes, in divers places.

"A top U.S. commander in the Pacific on Wednesday said he believes Hawaii needs more missile interceptors in response to the growing threat on North Korea and Pyongyang's capability to launch a rocket.
Adm. Harry Harris told the House Armed Services Committee that Hawaii's defenses were sufficient for now, but could one day be overwhelmed in an onslaught.
"I don't share your confidence that North Korea is not going to attack either South Korea, or Japan, or the United States … once they have the capability," Harris said.
He could not comment on the precise capability of the U.S.' defenses, but he said, "I do believe that the numbers could be improved. In other words, we need more interceptors."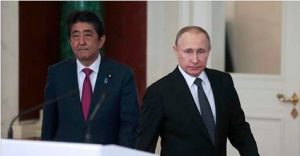 Putin Warns North Korea Situation Has 'Seriously Deteriorated' 04/27/17
"Russian President Vladimir Putin warned that the crisis over North Korea's nuclear program is deepening after the issue dominated talks with Japanese Prime Minister Shinzo Abe in Moscow.
He and Abe believe the situation on the Korean peninsula has "seriously deteriorated," Putin said Thursday after the Kremlin meeting. "We call on all states involved in the region's affairs to refrain from military rhetoric and seek peaceful, constructive dialogue."
The 17th meeting between the two leaders took place after Russia warned on Wednesday that the Korean peninsula is "on the brink of war." Japan has sent warships to join drills with the U.S. aircraft carrier Carl Vinson, which is leading a battle group ordered to the region by President Donald Trump."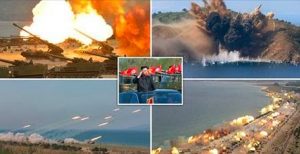 North Korean leader takes the salute as his army fires rockets and torpedoes at mock enemy warships during country's 'largest ever' live-fire artillery drills 04/26/17  This is all useless propaganda by NK. One B-1 Bomber could take out all of these artillery pieces. There are special bombs designed to take out artillery and when they are massed it makes it easier. It's worth reading the article to view the pictures, which are great.
"Kim Jong-Un's army readied for war as they fired rockets and torpedoes at mock enemy warships during North Korea's 'largest ever' live-fire artillery drills on Tuesday.
Hundreds of tanks were lined up along the eastern coastal town of Wonsan in a show of military strength to celebrate 85 years since the North Korean army was created.
Kim saluted the military as he watched the exercises on Tuesday, which involved the firing of more than 300 large-calibre artillery pieces and included submarine torpedo-attacks.
Just one day later, South Korea conducted joint military live-fire drills with the US at Seungjin fire training field in Pocheon, South Korea, near the border with North Korea."
Israel/ The Coming Middle East War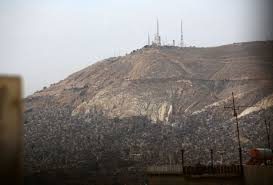 Israel strikes arms depot near Damascus airport -sources 04/27/17  Syria had warned Israel about any additional attacks and Israel just attacked. Israel is right about Syria, but Iran and Russia are not backing down.
Colossians 3:4  When Christ, who is our life, shall appear, then shall ye also appear with him in glory.

"Israeli warplanes struck a weapons supply hub operated by Lebanese group Hezbollah near Damascus airport on Thursday, targeting arms sent from Iran in commercial and military cargo aircraft, Syrian rebel and regional intelligence sources said.

The Israeli military said later that one of its Patriot anti-aircraft missile batteries intercepted a target over the Golan Heights that Israeli media descriebd as an unmanned drone. It was the second Israeli interception of a target coming from Syria in the past few weeks.

In a sign of the heightened tensions surrounding a conflict that has already caught up regional and international powers, Damascus' ally Russia criticised the Israeli strike and said Syrian sovereignty should be respected.

Israel does not usually comment on action it takes in Syria. But Intelligence Minister Israel Katz, speaking to Army Radio from the United States, appeared to confirm involvement.

"The incident in Syria corresponds completely with Israel's policy to act to prevent Iran's smuggling of advanced weapons via Syria to Hezbollah," he said."
Hard Left
Jones Responds To Chobani / Soros Backed Lawsuit 04/25/17  You MUST watch this video. It shows a concerted effort by the Hard Left to sue Jones for telling the truth about Islam. Islam is at the core of this, and the Globalists are using the Muslims as the tip of the spear to take down America. Chobani is an Islamic-owned company.
Wow, the battle is now out in the open. They have declared war on the free media the real news.
Everyone boycott Chobani yogurt!
American Politics/ Christianity
Trump Cabinet Members Praying, Studying the Bible Together 04/26/17  I wish the following verse was true for America.
Psalm 144:15  Happy is that people, that is in such a case: yea, happy is that people, whose God is the LORD.

"Members of President Donald Trump's cabinet are gathering for prayer weekly. Vice President Mike Pence and eight Cabinet secretaries sponsor the sessions, which occur weekly in Washington.
It's led by the founder of Capitol Ministries, Ralph Drollinger, who started working on arranging the Bible study during the Trump team's transition to the White House.
Sponsors include Vice President Pence; Secretaries Betsy DeVos, Ben Carson, Sonny Perdue, Rick Perry, Tom Price and Jeff Sessions; EPA Administrator Scott Pruitt and CIA Director Mike Pompeo. These are some of the most influential people in the U.S. government gathering weekly to grow themselves spiritually."
Science: 666 Surveillance System
New human rights to protect against 'mind hacking' and brain data theft proposed 04/26/17  I have preached for years that an integral part of the coming surveillance system is going to be mind control. The ability to control minds is here now, but it is not on a mass scale. This is what I look for; the technology to use mind control on a mass scale.
Once people join the 666 System through the Mark of the Beast, their minds are sealed through mind control. At this point, there is no way out and they are damned for eternity.
Revelation 14:9-11  And the third angel followed them, saying with a loud voice, If any man worship the beast and his image, and receive his mark in his forehead, or in his hand, The same shall drink of the wine of the wrath of God, which is poured out without mixture into the cup of his indignation; and he shall be tormented with fire and brimstone in the presence of the holy angels, and in the presence of the Lamb: And the smoke of their torment ascendeth up for ever and ever: and they have no rest day nor night, who worship the beast and his image, and whosoever receiveth the mark of his name.

"New human rights that would protect people from having their thoughts and other brain information stolen, abused or hacked have been proposed by researchers.
The move is a response to the rapid advances being made with technologies that read or alter brain activity and which many expect to bring enormous benefits to people's lives in the coming years.
Much of the technology has been developed for hospitals to diagnose or treat medical conditions, but some of the tools – such as brainwave monitoring devices that allow people to play video games with their minds, or brain stimulators that claim to boost mental performance – are finding their way into shops.
Facebook has 60 people working on how to read your mind
But these and other advances in neurotechnology raise fresh threats to privacy and personal freedom, according to Marcello Ienca, a neuroethicist at the University of Basel, and Roberto Andorno, a human rights lawyer at the University of Zurich. Writing in the journal Life Sciences, Society and Policy, the pair put forward four new human rights that are intended to preserve the brain as the last refuge for human privacy."

Isaiah 25:8  He will swallow up death in victory; and the Lord God will wipe away tears from off all faces; and the rebuke of his people shall he take away from off all the earth: for the Lord hath spoken it.