Clinton Arkancide Strikes Again
          Verse of the Day
John 8:44 Ye are of your father the devil, and the lusts of your father ye will do. He was a murderer from the beginning, and abode not in the truth, because there is no truth in him. When he speaketh a lie, he speaketh of his own: for he is a liar, and the father of it.

Commentary
If people have followed my reporting on all of the Clinton Arkancide deaths and have had any doubts, this article should cure the doubts.
There is a professional hit team that kills these people. Notice how there are never any witnesses, along with no arrests! This fits a pattern now for 25 years. I think that it is a professional hit team trained by the CIA or some other government agency.
When I looked at this current Arkancide victim, he had that same young, boyish look of Seth Rich. The Clinton's are not ones to fool around with. I think that Hillary is the one that oversees the Arkancide.
May the Holy God of Israel bless and protect you.
Revelation 21:8 But the fearful, and unbelieving, and the abominable, and murderers, and whoremongers, and sorcerers, and idolaters, and all liars, shall have their part in the lake which burneth with fire and brimstone: which is the second death.
American Politics
Wall Street Journal Reporter Asks Russia For "Clinton Information" —-Turns Up DEAD 2 Days Later 07/23/17  For more information, see "The Clinton Body Count"

"A Wall Street Journal Editor who was investigating how a Russian Pharmaceutical firm could have been purchased in 2014 by an American Pharmaceutical firm while Sanctions against Russia existed against such business transactions, has been found dead in his New York City apartment. The crux of the dead journalists investigation was how then-Secretary of State Hillary Clinton influenced the transaction to be finalized, but only AFTER her husband Bill was paid $500,000 for giving a speech in Moscow.
The Russia Consulate General's office in New York City was contacted by Wall Street Journal reporter/editor Joseph Rago who requested a Thursday (20 July) in person interview with consular officials regarding an upcoming article he was preparing on Hillary Clinton and her links to Russia. Rago failed to attend the meeting and was later discovered dead in his apartment of as yet "unknown causes" just hours prior to this meeting occurring.
Joseph Rago was a Pulitzer Prize winning reporter whose expertise was in the health care field. His stated purpose for this meeting was his investigating Hillary Clinton's links to the 2014 sale of Veropharm (one of Russia's largest medical companies) to the American medical giant Abbott Laboratories."
World War 3
Military Just Warned Americans To Expect WAR With North Korea 07/23/17  The warnings are coming about WW3. We are out of time and NK and Iran will take the war to the US and Israel. There is no stopping it, and you need to be in prayer because once it starts the world will never be the same. It will change everything as you know it. The freedoms we have might come to a fast end.
If you are going to work for the Lord, NOW is the time. I have "Jesus came to heal the brokenhearted" brochures that you can hand out. Please do something for the Lord because there is not much time left.
1 Thessalonians 5:2-4 For yourselves know perfectly that the day of the Lord so cometh as a thief in the night. For when they shall say, Peace and safety; then sudden destruction cometh upon them, as travail upon a woman with child; and they shall not escape. But ye, brethren, are not in darkness, that that day should overtake you as a thief.

"Although most Americans are aware of the ever increasing tensions between North Korea and the United States, the military is no longer pulling any punches. Marine Gen. Joseph Dunford, the chairman of the Joint Chiefs of Staff, suggested Saturday that Americans must be "prepared for the possibility of a military confrontation with North Korea."
The United States is now declaring the rogue country's nuclear program an "urgent threat" by Dunford as well. While speaking at the Aspen Security Forum, a gathering of national security officials in Colorado, Dunford said:
"Many people have talked about military options with words like 'unimaginable. I would probably shift that slightly and say it would be horrific, and it would be a loss of life unlike any we have experienced in our lifetimes, and I mean anyone who's been alive since World War II has never seen the loss of life that could occur if there's a conflict on the Korean Peninsula. But as I've told my counterparts, both friend and foe, it is not unimaginable to have military options to respond to North Korean nuclear capability. What's unimaginable to me is allowing a capability that would allow a nuclear weapon to land in Denver, Colorado. That's unimaginable to me. So my job will be to develop military options to make sure that doesn't happen."
World War 3/ The Coming Middle East War
Iran will soon have ICBMs armed with nukes by way of North Korea 07/23/17  WW3 could start very suddenly because Israel might attack Iran without warning, or the USA might attack North Korea. We are reaching the point of no return with Iran and NK, so sudden action might be taken. The lead-up to the wars already has happened, so the gun is loaded and ready to be fired.
There will be no peace until the Second Coming of Jesus Christ, when he establishes his reign on earth. This coming war will light the fuse to Armageddon.
Daniel 7:14  And there was given him dominion, and glory, and a kingdom, that all people, nations, and languages, should serve him: his dominion is an everlasting dominion, which shall not pass away, and his kingdom that which shall not be destroyed.

"Jeffrey Lewis, an expert at the Middlebury Institute of International Studies at Monterey explained that "the very first missiles we saw in Iran were simply copies of North Korean missiles." He also noted that "over the years, we've seen photographs of North Korean and Iranian officials in each other's countries, and we've seen all kinds of common hardware."
Many experts have been warning for years now that Tehran and Pyongyang have been trading missile technology. If the Trump administration doesn't act fast it won't be just the hermit kingdom that has nukes that can strike at targets thousands of miles away—but it will also be the only nation on planet Earth that has turned chanting "death to America" into a national pastime.
Now, to be fair, there are those who downplay the linkages between Iran and North Korea. But if history tells us one thing it is that to never, ever, dismiss the power of a common threat. And both of these countries seek to offset U.S. military might—at any price. Clearly long-range missiles armed with nuclear payloads do that quite nicely."
The Coming Middle East War
Israel refuses to remove metal detectors from mosque despite rising violence 07/23/17  This information is to keep you on the cutting edge of what is happening with Jerusalem and the Temple Mount. This needs to be watched because it could start the Obadiah/Psalm 83 war.
Joel 3:16  The LORD also shall roar out of Zion, and utter his voice from Jerusalem; and the heavens and the earth shall shake: but the LORD will be the hope of his people, and the strength of the children of Israel.

"Israeli officials have said they will not remove metal detectors from outside a Jerusalem mosque, despite their installation triggering rapidly escalating confrontations with Palestinians.
Amid a mounting toll of deaths and injuries in the crisis, Israelis and Palestinians are braced for weeks of confrontation, as both sides appeared to dig in to their positions.
In addition to the metal detectors, Israel has also began installing sophisticated security cameras at one of the entrances to the compound housing the al-Aqsa mosque, known to Muslims as the Haram al-Sharif and revered by Jews as the Temple Mount.
Security officials told Israeli media the cameras were intended to complement the metal detectors, not replace them."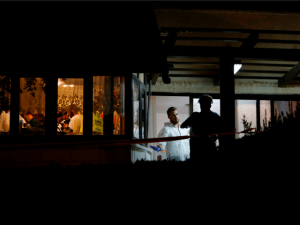 Palestinian Social Media Users Hail 'Heroic' Slaying of Jewish Family 07/23/17  The Prophet Obadiah wrote that just prior to the Second Coming of Jesus Christ, their would be an all-out war between the Palestinians (Edom) and the Israelis. It would result in the complete destruction of the Palestinians! I believe that we are now looking at this war.
Obadiah 1:18  And the house of Jacob shall be a fire, and the house of Joseph a flame, and the house of Esau for stubble, and they shall kindle in them, and devour them; and there shall not be any remaining of the house of Esau; for the LORD hath spoken it.

"Palestinian social media users, along with some in the larger Arab world, praised the brutal Palestinian terrorist attack in which three members of an Israeli family were murdered on Friday night during a Sabbath meal in the town of Halamish west of Ramallah.
Palestinian journalist Yasser Zaatreh wrote, "Yesterday was one of Palestine's biggest days, starting with a day of rage that boasted the blood of three martyrs and ended with a heroic act that hurt the invaders. This is the land that Allah blessed."
The Coming Middle East War/ Jerusalem
VIDEO: Muslims in Gaza CELEBRATE Slaughter of Jewish Family #savages 07/24/17  When you watch the video on the linked page, you will see a murdering bloodlust in action. How can there ever be peace with these people? They act just like ISIS, and they are here in America.
Proverbs 8:36  But he that sinneth against me wrongeth his own soul: all they that hate me love death.

"Three Israelis were murdered by a Palestinian terrorist on Friday night as they were eating their Shabbat meal.
Omar Al-Abed,a 19-year old Palestinian, broke into a home in the West Bank settlement of Halamish carrying a large knife, stabbing members of the Salamon family, who had gathered together to celebrate the birth of a grandchild that morning.
Al-Abed killed Yosef Salamon, 70, and his daughter Chaya, 46, and son Elad, 36. Yosef Salamon's wife, Chaya Salamon, was seriously wounded and underwent surgery at Jerusalem's Shaarei Tzedek hospital on Saturday morning.
Prior to carrying out the killings, Al-Abed posted a message on Facebook urging others to follow his example. "I only have a knife", he wrote.
"Where are the others who had guns to use only at wedding?", he continued, a reference to the practice by Arabs to fire guns into the air at wedding celebrations. "I ask my family to forgive me. I know I will not return and will go to heaven. "Put in my grave Arafat's keffiyeh [head-scarf] and the ribbon of Al-Aqsa brigades"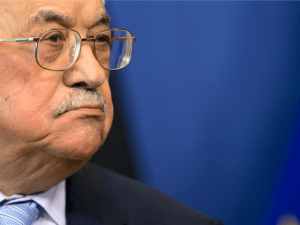 Abbas' Fatah Faction: Campaign For Jerusalem Has Begun, We Won't Stop Until Palestinian Victory 07/24/17  This is the rhetoric for the all-out war. The battle is over the Temple Mount, so this could be beginning of that war.
Zechariah 8:3  Thus saith the LORD; I am returned unto Zion, and will dwell in the midst of Jerusalem: and Jerusalem shall be called a city of truth; and the mountain of the LORD of hosts the holy mountain.

Palestinian Authority President Mahmoud Abbas' ruling Fatah party on Saturday called for a campaign "to take control of the Al-Aqsa mosque."
In a statement, the party said the "campaign for Jerusalem has effectively begun, and will not stop until a Palestinian victory and the release of the holy sites from Israeli occupation."
Fatah praised Palestinian rioters who took to the streets of Jerusalem over the past week to protest the installation of metal detectors at the Temple Mount compound following a deadly terror attack at the holy site. Three Palestinians were killed in clashes with Israeli police. Fatah called for three days of mourning and a general strike for the dead rioters and added that they were engaging in "initifada (armed struggle) against the enemy."
"Their acts were for the protection of Al-Aqsa and their struggle against the Israeli plans, while sacrificing souls and blood," the faction said."
Christian Apostasy/ Jerusalem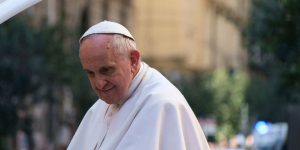 Catholic Churches in Jerusalem Blame Israel for Muslim Violence, Deny Biblical Roots of Temple Mount 07/23/17  In the last week or so, the Pope has blamed Christians in America as the source of all evil and now the focus is on the Israelis. Muslim terrorists murdered two Israeli policemen on the Temple Mount and Israel instituted safety measures. The Pope then blamed Israel for the trouble and violence.
I really do believe that this Jesuit Pope is setting up the Vatican to usher in the False Prophet of Revelation 13 and 19. There is no doubt in my mind, that Rome is going to be deeply involved with end time prophetic events regarding the antichrist. I don't think that this Pope is the false prophet, but he is positioning the Vatican to usher him in.
Revelation 19:20  And the beast was taken, and with him the false prophet that wrought miracles before him, with which he deceived them that had received the mark of the beast, and them that worshipped his image. These both were cast alive into a lake of fire burning with brimstone.

"Amid the intensifying battles surrounding the Temple Mount, the Catholic Church expressed its concerns in terms that placed the blame entirely on Israel while referring to the site exclusively by its Muslim name. One bishop stated in an interview on Vatican Radio that there has, in fact, been no Palestinian violence.
On Sunday, Pope Francis addressed the crowd gathered in the Vatican's St. Peter's Square, telling them that he viewed "with trepidation the grave tensions and violence" surrounding the Temple Mount in Jerusalem.
"I feel the need to express a distressed appeal for moderation and dialogue," the Pope said, calling on the people to pray for the sake of Jerusalem."
Christianity/ American Politics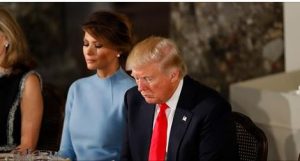 Trump's White House Has Evangelicals 'On Speed Dial,' Says Activist Who Prayed Over President 07/24/17  I hope that true believers are close to him and give him guidance according to the word of God. He can be a real force to beat back hell!
Proverbs 25:5 Take away the wicked from before the king, and his throne shall be established in righteousness.

"Evangelical Christians have unprecedented access to President Donald Trump's White House and are "on speed dial" with the administration, according to an activist who prayed over the president in the Oval Office.
The evangelical community overwhelmingly backed the Republican in November's election, and Trump has been quick to repay it. The president has signed an executive order on religious liberty and cut funding to abortion providers overseas.
Now, it appears that the president is rewarding one of his most important support bases with a hotline to the White House and some of the most senior officials in the administration."
Hard Left/ Transgendered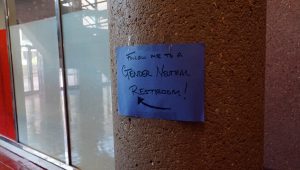 School Guide: Segregate Students Uncomfortable With Transgender Bathrooms 07/23/17  There is no end to the depth of the Hard left delusions. What delusion are they going to act on next?
Because they reject the truth, God is setting them up for ultimate delusion, which is believing in the antichrist! If they believe the delusion that a man is a woman, they will believe anything.
2 Thessalonians 2:10  And with all deceivableness of unrighteousness in them that perish; because they received not the love of the truth, that they might be saved. And for this cause God shall send them strong delusion, that they should believe a lie: That they all might be damned who believed not the truth, but had pleasure in unrighteousness.

"The Minnesota Department of Education approved a transgender guide earlier this week that suggests segregating students who are uncomfortable with transgender bathrooms.
The transgender toolkit, approved by an advisory council for the state's education department, offers Minnesota schools suggestions on how to accommodate transgender and gender non-conforming students, reports KSTOP.
The resource guide emphasizes ensuring that trans students can use the bathroom that matches their gender identity and encourages schools to make sure these students aren't "stigmatized," a suggestion that comes at the price of the comfort of other students.
"Schools should work with transgender and gender nonconforming students to ensure that they are able to access needed facilities in a manner that is safe, consistent with their gender identity and does not stigmatize them," the resource guide reads."

Mark 7:21  For from within, out of the heart of men, proceed evil thoughts, adulteries, fornications, murders…