CNN Spreads Deadly Lies About Vitamin D3 for COVID-19
Verse of the Day
3 John 1:2 Beloved, I wish above all things that thou mayest prosper and be in health, even as thy soul prospereth.
Commentary
Why is it that the medical experts seem always wrong with key issues involving our health? They are wrong about Vit D3 which is basic to many health issues. I believe they are wrong on purpose for political reasons and the greed of the drug industry. These are ruthless people which has clearly manifested for us to see.

2 Timothy 3:7 Ever learning, and never able to come to the knowledge of the truth.
HARD LEFT KILLING THE DEPLORABLES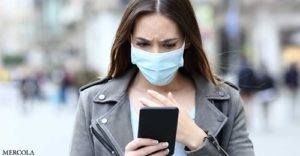 "CNN Spreads Deadly Lies About Vitamin D for COVID-19"
"May 27, CNN published an article that could have deadly consequences if believed. It claims taking vitamin D supplements "can hurt a lot," as "too much vitamin D3 can lead to a toxic buildup of calcium in your blood, causing confusion, disorientation and problems with heart rhythm, as well as bone pain, kidney damage and painful kidney stones." CNN does not specify what "too much" vitamin D3 actually is

Hypercalcemia (calcium buildup) is caused by insufficient vitamin K2 in relation to vitamin D3, not vitamin D3 per se. Vitamin K2 deficiency is what causes "vitamin D3 toxicity" symptoms, but CNN does not explain this known fact

Reviews of published trials have demonstrated there are no toxicity symptoms — including hypercalcemia — at dosages up to 10,000 IU of vitamin D3 per day, even when used long-term

Case histories of patients with hypercalcemia and vitamin D3 toxicity reveal they were taking between 3.6 million IUs and 210 million IUs over the course of one to four months. That means taking 30,000 IUs of vitamin D per day for 120 days on the lowest end, or 7 million IUs a day for 30 days on the extreme upper end

CNN also cites a British expert saying "there's no evidence that very high vitamin D3 levels are protective against COVID-19." This, despite several recent reports showing vitamin D3 levels appear to play an important role in your risk of testing positive for COVID-19, as well as your risk of severe infection and death."
DEMON-DEMS IRONY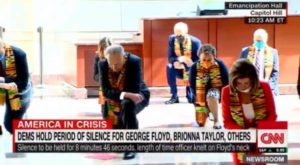 "Democrats Wore the Kente Cloth to Honor George Floyd – The Same Fabric of the Ashanti Slave Traders"
This is just perfect for this pack of hypocrites. They rail about slavery in America and then wear a scarf by one of the largest black trading tribes in Africa: perfect for them.
"On Monday House Speaker Nancy Pelosi, Senate Minority Leader Chuck Schumer and other Democrat members of Congress knelt down for 8 minutes and 46 seconds to honor George Floyd.
The Democrats donned African Kente cloth scarves as they gathered in Emancipation Hall on Capitol Hill. It should come as no surprise that the Kente Cloth was worn by Ashanti tribal leaders who practiced slavery.

…While Kente cloth was a product of a global trade route which stretched from Asia through Europe to Africa, this cloth and the people also came to be associated with another global trade route—the slave trade. In fact, the history of the Ashanti people, who lived on the West Coast of Africa, is strongly tied to the history of the slave trade.
As was true of many pre-modern societies in Africa, Asia and Europe, the Ashanti practiced slavery. When Europeans, specifically the Portuguese, came into contact with the Ashanti during the sixteenth century, both Europeans and the Ashanti traded gold, ivory, and slaves."
ANSWERING HARD LEFT HYPOCRITES
This is so good, I had to listen to her response twice! Oh, how enjoyed this!!!
"White House Press Secretary Kayleigh McEnany destroyed the liberal press pool pushing for renaming military bases named for Civil War generals who fought for the Confederacy.
The campaign to rename the military bases gained momentum this week as radical leftists toppled statues in their push for a Marxist revolution. The left wants to erase our history.
Kayleigh MeEnany asked the liberal press pool if "segregationist" Joe Biden should be cancelled because of his past."
THE SPECIAL SIN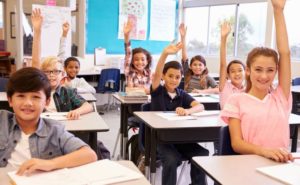 "New sex ed teaches New Jersey minors about sodomy and how to consent to it"
God destroys nations for such sin and especially corrupting the youth. Where is the church calling out to the Lord with such sin being taught to the youth? Does anyone care anymore? If the church does not care, why should the Lord care about the nation, but move in judgment?
No wonder our cities are burning, and the nation is being turned over to Communists/anarchists!!!
Isaiah 1:6

From the sole of the foot even unto the head there is no soundness in it; but wounds, and bruises, and putrifying sores: they have not been closed, neither bound up, neither mollified with ointment. (7) Your country is desolate, your cities are burned with fire: your land, strangers devour it in your presence, and it is desolate, as overthrown by strangers.
"WARNING: The following article contains sexually explicit language and material.
"The new standards for sex education in public schools of New Jersey push homosexuality and gender ideology, as well as abortion and contraception. Children are taught about giving "consent" and how to decide "whether and when to engage in sexual behaviors" such as "oral" and "anal sex."
Abortion giant Planned Parenthood was one of the organizations that had worked with the state's Department of Education to prepare the new standards."
"The Only Thing Necessary for the Triumph of Evil is that Good Men Do Nothing" Edmund Burke 1797
This is exactly the type of sin which brings the wrath of God on any nation. This is aimed at youngsters to soften their minds to be reprobates. The schools and media are now breeding grounds to turn the children into reprobates!
Is God about to spew us out of America? The religious game is over in America. We will soon know who is real with the Lord and a real pastor not a hireling.
Leviticus 18:20 Moreover thou shalt not lie carnally with thy neighbour's wife, to defile thyself with her.
Lev 18:21 And thou shalt not let any of thy seed pass through the fire to Molech, neither shalt thou profane the name of thy God: I am the LORD.
Lev 18:22 Thou shalt not lie with mankind, as with womankind: it is abomination.
Lev 18:23 Neither shalt thou lie with any beast to defile thyself therewith: neither shall any woman stand before a beast to lie down thereto: it is confusion.
Lev 18:24,25 Defile not ye yourselves in any of these things: for in all these the nations are defiled which I cast out before you: And the land is defiled: therefore I do visit the iniquity thereof upon it, and the land itself vomiteth out her inhabitants.
"The latest film in Pixar Animation Studios' SparkShorts series, Out, highlights a gay man named Greg, who plans to move in with his boyfriend, Manuel. Out features Pixar's first LGBTQ main character who goes to drastic lengths to hide his sexual secret.
The nine-minute animated film, which debuted on Disney+ last Friday, starts out with Greg struggling over how to tell his parents that he's gay. One clip, which can be seen in the trailer on the Disney+ Facebook page, shows Greg holding a framed photo of him hugging his gay partner Manuel."
ANARCHISM IN AMERICA: NEW JERSEY
The Hard Left is out in the open for all to see just what they are. All the crazed governors are demon-dems and there seems to be no restraint on them. Remember, they hate real Americans like you me and are trying to keep us captive while they let the rioters go free!
"Democratic New Jersey Gov. Phil Murphy said he "can't imagine" telling protestors to stay home during the coronavirus pandemic during a press conference Monday, Politico reported.
The governor, who along with other leaders have warned residents to avoid large gatherings to slow the spread of COVID-19, said he could not advise protestors to "ignore systemic racism" and stay in their homes.
"I can't imagine what it would look like if we said to people, 'Actually, you have to stay in. You have to ignore systemic racism — I'm sorry, just ignore it. Stay in,'" the governor said, according to Politico. "I can't imagine what that looks like as it relates to public safety."
ANARCHY IN AMERICA: MICHIGAN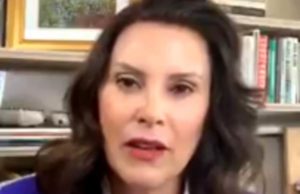 "After Imposing Authoritarian Lockdown Orders, Michigan Governor Whitmer Joins Radical Call to "Defund the Police" (VIDEO)"
Michigan is in chaos! The governor is a crazed Hard Left Communist, American hater, Christian hater. What are the people of Michigan going to do? Several states are now taken over anarchist which are in the process of destroying their states and America.
This is for real. This is an attempted take down of America. Where is the church, where are the pastors? Your mettle is being tested for the entire nation to see.
"Michigan Governor Gretchen Whitmer (D) continues to prove herself to be the greatest hypocrite in the nation. Whitmer took to the streets last week and marched with Black Lives Matter while Michigan was still under a Coronavirus lockdown order.
She encouraged leftists to protest in the streets while telling small businesses and churches they must remain closed because of the Coronavirus. On Wednesday, the tyrannical governor joined the radical call to "defund the police."You don't need all that money going to police departments, so yeah, the spirit of it, I do support that," said Whitmer."
REAL AMERICANS HONORING THE DEAD POLICE CAPT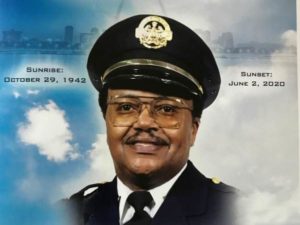 "Patriot Guard Riders Turn Out at Retired Police Captain David Dorn's Wake Today in St. Louis–AMAZING VIDEO"
What was such a blessing was the honor guard were all white. This is the way it should honoring the person without the color being an issue. This was touching.
"Hundreds of people including some political leaders and police officers were among the mourners who attended David Dorn's public visitation at Hopewell Missionary Baptist Church on Taylor Avenue today.
Patriot Guard Riders turned out to offer respect to the retired police captain who was gunned down last week during the leftist riots and looting in St. Louis."
Abba Father's International Fellowship
Participants of on going seminar on Jesus Christ came to heal the brokenhearted and the last trumpet (Tanzania before Corona Virus lock down)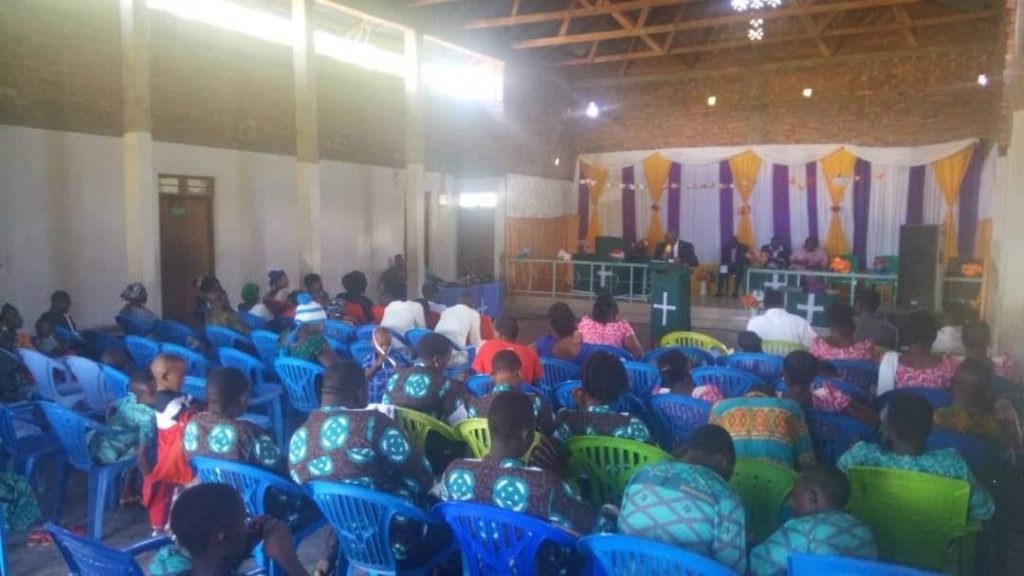 If you like our ministry, please consider making a
donation
to keep us going. May the Holy God of Israel bless you!
Revelation 22:20 He which testifieth these things saith, Surely I come quickly. Amen. Even so, come, Lord Jesus.