Senator Cory Booker: The Hard Left Evangelist

Verse of the Day
Romans 1:18 For the wrath of God is revealed from heaven against all ungodliness and unrighteousness of men, who hold the truth in unrighteousness
Commentary
The moral problem in America is shown by Cory Booker as a US Senator and Pete Buttigieg running for president. Booker is a full blown Hard Left reprobate and Buttigieg is a homosexual who campaigns with his "husband"! They both claim to be Christians and quote the Bible! They both attack real believers in the Lord and his word!
Wow, the reprobates by using the Bible are turning this election into a circus! Will they preach repentance from sin! How about the reality of hell? How about Jesus Christ is the only way to salvation and not through Islam?
When Booker speaks watch his eyes because they look demonic!
Philippians 4:13  I can do all things through Christ which strengtheneth me.
Hard Left Evangelists!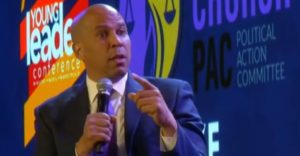 "Cory Booker: 'I Can Do All Things Through Christ Who Strengtheneth Me'"
"Sen. Cory Booker (D.-N.J.), speaking Friday at the Young Leaders Conference sponsored by the Black Church PAC, focused his opening remarks on a verse from St. Paul's Epistle to the Philippians which says: "I can do all things through Christ who strengtheneth me."

"And I believe, as Phillippians 4:13 says, I can do all things, all things, but y'all, I gotta call it out," said Booker. "It says I can do all things through Christ who strengtheneth me. Now, Christ does not strengthen you to sit on the sidelines. Christ does not strengthen you to sit on the couch. This is not a spectator sport."

Booker said this after telling the audience that America is in "a time of moral crisis."
Hard Left and Islam
"Congressman: Islam fueling anti-Israel bent in Democratic Party"
This is another great reason to keep them out of America. By turning against Israel, they will bring the curse of God on America.
""Usually, there is not much controversy with respect to Israel," Brooks observed on "The Jeff Poor Show" on Wednesday. "Usually, the United States Congress is overwhelmingly close to 100 percent, if not 100 percent, in support of recognizing Israel as a long-term American ally, and that we have a mutual defense relationship.

"Unfortunately, we now have people in the United States Congress who view Israel as an enemy, and that makes for an entirely different mix of conversation."

Leading the overtures against Israel – including support for the Boycott, Divest, Sanction, or BDS, movement – are Muslim freshmen Reps. Ilhan Omar, D-Minn.; and Rashida Tlaib, D-Mich.

Brooks said the shift is "based on the growing influence of the Islamic religion in the Democratic Party ranks."
Epstein Arkancide
"Footage from camera outside Epstein's cell deemed unusable"To me, there is no proof that this wasn't a clear cut case of Arkancide!
"At least one camera in the hallway outside the cell where authorities say registered sex offender Jeffrey Epstein hanged himself earlier this month had footage that is unusable, although other, clearer footage was captured in the area, according to three people briefed on the evidence gathered earlier this month.

It was not immediately clear why some video footage outside Epstein's cell is too flawed for investigators to use or what is visible in the other, usable footage. The incident is being investigated by the FBI and the Justice Department's inspector general's office, which are attempting to determine what happened and how to assess whether any policies were violated or crimes committed."
Fascism From the Hard Left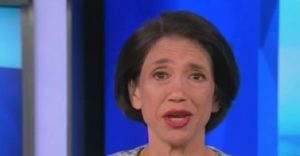 "Washington Post's Rubin: We Have to 'Burn Down the Republican Party'" The rhetoric of the Hard Left is getting stronger all the time. We needed to be shunned and shame and the party destroyed. Who do they think they are! This rhetoric is crossing the line to violence. What if we won't submit to their shaming and trying to burn down our political beliefs? Their arrogance is just oozing out of them like slime.
Proverbs 14:3 In the mouth of the foolish is a rod of pride: but the lips of the wise shall preserve them.

"Sunday on MSNBC's "AM Joy," Washington Post columnist Jennifer Rubin called for the shunning and shaming of the supporters of President Donald Trump, which she argued was part of a plan to "burn down" the GOP and start from new.

"It's not only that Trump has to lose, but that all his enablers have to lose," she said. "We have to collectively, in essence, burn down the Republican Party. We have to level them because if there are survivors — if there are people who weather this storm, they will do it again. They will take this as confirmation that, 'Hey, it just pays to ride the wave — look at me, I've made it through.' Up and down the ticket — federal, state and local offices — the country has to repudiate this."
Hard Left Meltdown ?
"Ruth Bader Ginsburg Treated for Cancer on Pancreas" The Supreme Court is the Hard Left's God. This news must have caused meltdowns because it is possible the President will soon be appointing a third judge to the Supreme Court! This is their worst nightmare.
"U.S. Supreme Court Justice Ruth Bader Ginsburg recently underwent three weeks of radiation treatment following the discovery of a cancerous tumor on her pancreas, a court spokesperson announced Friday.

Ginsburg, 86, began radiation therapy at Memorial Sloan Kettering Cancer Center in New York City on August 5th, according to the court. Doctors from the hospital said tests show that the rest of the justice's body is cancer-free. As part of Ginsburg's treatment, doctors inserted a stent into her bile duct."
Reprobate Minds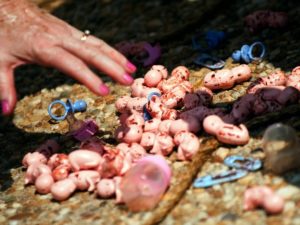 "Art Gallery Features 'Normalizing Abortion' Exhibit" The reprobate mind does everything possible to protect and promote the killing of babies. It is in their DNA to kill.
"Mayet, who once worked for Planned Parenthood, said the exhibit is "decidedly pro-Roe v. Wade," referring to the 1973 Supreme Court decision in which the Court invented a right to abortion, though none ever existed in the Constitution.

"I would like to provide a forum for people to talk about abortion and their experience with abortion in a way that normalizes it," Mayet said, according to seacoastonline.com. She added she rejects the concept of "pro-life versus pro-choice" because both terms "ignore the complexity of an individual's decision."

Mayet is seeking submissions for the exhibit that range from "a cellphone selfie to an abstract photograph featuring personal items," the report notes."
Death of America as We Know It
"Millennials care less about patriotism, religion and family than previous generations, study says" This drop in the polls shows why sin and hatred of America is advancing. What is their goal in life: money and wealth? The family unit is dying, and this is why the homosexual agenda is advancing.
Proverbs 23:5 Wilt thou set thine eyes upon that which is not? for riches certainly make themselves wings; they fly away as an eagle toward heaven.

"Millennials don't value patriotism, family and religion as passionately as previous generations, according to a new survey.

"The values that Americans say define the national character are changing, as younger generations rate patriotism, religion and having children as less important to them than did young people two decades ago," Wall Street Journal reporter Chad Day wrote about the results.

The survey, conducted by Wall Street Journal/NBC News, began 21 years ago when Americans were asked which values were most important to them and the majority responded that "principles of hard work, patriotism, commitment to religion and the goal of having children" were critical."
Full Blown Trump Derangement Syndrome (TDS)
"CNN Guest Claims Trump 'May be Responsible for Many More Million Deaths' Than Hitler, Stalin, and Mao" This doctor is supposed to be the top in his field of psychiatry, but he is manifesting a full blown case of TDS. He is really deranged, living in a delusion and unable to grasp truth. He is a dangerous man and his medical license should be pulled.
This is what a reprobate mind can do to someone!
"The former chairman of the Psychiatry Department at Duke University said some absolutely shocking things about President Donald Trump while appearing on Brian Stelter's CNN show 'Reliable Sources' this week, including saying that he "may be responsible for many more million deaths" than Adolf Hitler, Joseph Stalin and Mao Zedong.

The wild segment was supposed to be about the trend of having psychiatrists who have never met the president making psychological evaluations on him, but it went way off the rails.

The insanity began when Stelter allowed Dr. Allen Frances to go on a rant about how it is an "insult" to the mentally ill to compare them to the president, but that the nation is mentally ill for electing him."
The 666 Surveillance System
"Amazon, Microsoft, 'putting world at risk of killer AI'" This is all part of the coming 666 System which shall completely control and dominate mankind. This is coming real fast and matches what is happening in other prophetic issues like the world economy!
Wow, the prophetic picture is really coming together for the Second Coming of Jesus Christ!
1 Thess 1:10 And to wait for his Son from heaven, whom he raised from the dead, even Jesus, which delivered us from the wrath to come.

"Amazon, Microsoft and Intel are among leading tech companies putting the world at risk through killer robot development, according to a report that surveyed major players from the sector about their stance on lethal autonomous weapons.

Dutch NGO Pax ranked 50 companies by three criteria: whether they were developing technology that could be relevant to deadly AI, whether they were working on related military projects, and if they had committed to abstaining from contributing in the future.

"Why are companies like Microsoft and Amazon not denying that they're currently developing these highly controversial weapons, which could decide to kill people without direct human involvement?" said Frank Slijper, lead author of the report published this week."
Economic War: USA vs China
"TRUMP IS RIGHT! China Is In Terrible Economic Condition; Cannot Afford to Lose the US Market" This is a fantastic article about reality of the Chinese economy. I learned so much from this article. China is in big trouble.
"President Trump yesterday announced that the US will increase tariffs on China and then ordered all US firms to begin seeking alternatives to doing business with China!
The Chinese regime is in a lethal position and has only two choices. The regime can either give the US what it wants or perish.

President Trump recognizes that China is in an all out war with the US in regards to information and economics. For years Western leaders have done nothing but negotiate into weak positions, never standing up to the Communist regime. Former US Presidents treated China like they did Russia 50 years ago, as their superior always giving them what they wanted and never standing up to their abuse and criminal acts.

It is different with President Trump. The President knows he has the authority and ability to inflict a fatal blow to the Chinese economy. The US is arguably in its best economic period in history while China's economy is its weakest in 30 years."
Abba Father's International Fellowship
Chaplin John preaching in Kenya last week end. Many people came to the Lord for salvation in Jesus and to have him heal their broken hearts!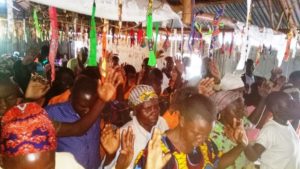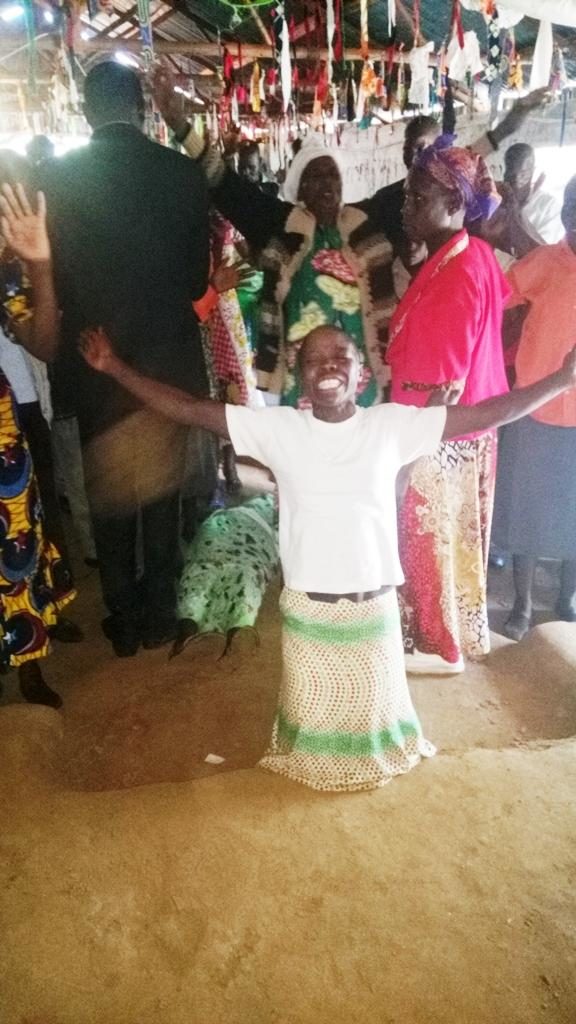 If you like our ministry, please consider making a donation to keep us going. May the Holy God of Israel bless you!
Revelation 22:20 He which testifieth these things saith, Surely I come quickly. Amen. Even so, come, Lord Jesus.