Daily Digest: Floods, Famines, Fires, Etc.
Luke 21:11
And great earthquakes shall be in divers places, and famines, and pestilences; and fearful sights and great signs shall there be from heaven.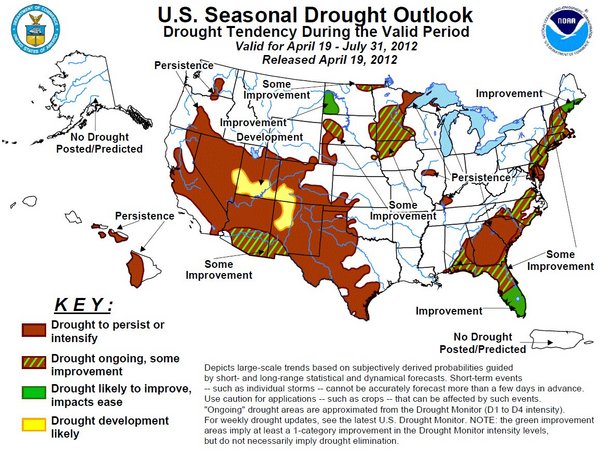 Drought forecast for Southwest, California 'not optimistic' 04/19/12 There is no end in sight for the drought in Western America. It is expanding and along with that is the chance of huge forest fires later this summer.
Arizona and New Mexico, both states in drought, last year saw their worst wildfire seasons on record.  Parts of both states should see some improvement along their southern borders, the forecast stated, but most of their areas will see continued or even worsening drought. Most of California and Nevada, as well as parts of Colorado, Oregon, Texas, Utah and Washington state, are also forecast to see drought persisting or intensifying.
Drought Sparks Water Fight with Texas, Mexico 04/18/12 The drought is getting very serious and causing tension with Mexico.
U.K. Joins Spain in Worst Drought for Decades as Crops Emerge 04/19/12 The unrelenting drought in Europe continues but it is now expanding.
Is Fukushima's Doomsday Machine About To Blow? 04/20/12 Both the Japanese and US governments lied from the beginning about the magnitude of this disaster. They deliberately hid from the public the reactor was damaged and leaking radiation. This reactor is still very dangerous and could throw even more radiation into the atmosphere that could seriously affect life on earth. One more large earthquake in that area could do it.
Tsunami simulations scare Japan 04/17/12
Mexican Volcano Hurls Hot Rock Half-Mile Into Sky 04/19/12 This is the volcano that could wipe out Mexico City. The eruption is happening in conjunction with the massive earthquakes that have been hitting Mexico.
Long-term tsunami risk rises after Indonesia quake 04/19/12 Indonesia has all the earthquakes, volcanoes and now tsunami warnings! This is the world's largest Muslim country and it is anti Christian and Israel. It appears this country is going to be hit with severe judgments from the Holy God of Israel. All the warnings are in place.
Scientists: Fish Are Sick Where BP's Oil Spill Hit 04/19/12
EarthQuake & Volcano Update for April 22nd, And It Isn't Good 04/22/12
Quadri-Polar sun = last occurred 300 years ago (per Japanese) 04/23/12 (Video) This is interesting to follow as it might indicate signs in sun. The event is believed to occur this May.