Dems: Communists and Muslims who hate Israel and America
Verse of the Day
Psalm 33:12 Blessed is the nation whose God is the LORD; and the people whom he hath chosen for his own inheritance.

Commentary
These are Communists and Muslims who hate Israel and most likely America! This is what the Dems are turning into as the Party is now homosexuals, abortionists, Communists, Muslims and whatever else is against the Lord and his word.
The Dems are now in the fight of their lives because their base is from hell. The Dems want no part of the Lord, so now they have the devil and all that comes with him!
This group hates us, so they are taking the fight to us. There is no escaping this battle, Just think, we are Jews and they are Nazis, and you can see the future for America.
We need revival for survival: NOW!!!
Proverbs 1:23 Turn you at my reproof: behold, I will pour out my spirit unto you, I will make known my words unto you.
Dems: Hard Left Getting Worse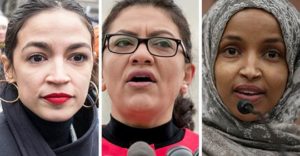 "Frosh Dems rock Capitol boat with brash, confrontational style"
"New York Rep. Alexandria Ocasio-Cortez, Michigan Rep. Rashida Tlaib and Minnesota Rep. Ilhan Omar are not trying to avoid the spotlight.

Unlike other freshman lawmakers trying to learn the ropes of Congress first, the three high-profile House Democrats are attracting immense media attention for their embrace of left-wing politics and, in the case of Tlaib and Omar, for being the first female Muslims elected to Congress.

They're also stoking controversy with inflammatory comments they often have to walk back, clarify or defend from fact-checkers. And, in some cases, they are rankling party leadership."
The Real Hard Left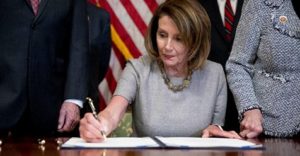 "Dems to strike 'so help you God' from oath taken in front of key House committee, draft shows" 
This is to be expected because they are liars and don't believe in God. God is an offense to them.
"A key committee in the Democrat-controlled House of Representatives is moving to eliminate the God reference from the oath administered to witnesses testifying before the panel, as part of a new rules package expected to be approved this week, according to a draft obtained exclusively by Fox News.

The draft shows that the House Committee on Natural Resources would ask witnesses to recite only, "Do you solemnly swear or affirm, under penalty of law, that the testimony that you are about to give is the truth, the whole truth, and nothing but the truth?"

The rules proposal places the words "so help you God" in red brackets, indicating they are slated to be cut. The words "under penalty of law" are in red text, indicating that Democrats propose to add that phrasing to the oath.

The draft rules also remove the phrase "his or her" throughout the document, changing those two pronouns to "their." The rules additionally modify all references to the committee's "Chairman" to instead refer only to the committee's "Chair."
Hard Left Murdering Spirit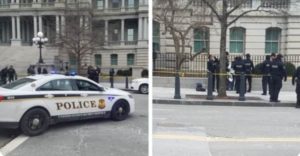 "Unhinged Protester Leaps at Presidential Motorcade – Gets Taken Down by Secret Service, Arrested" I hope this is not a trend. The Hard Left's minds are now damaged by all the hate and lies, so to kill the President might seem the right thing to do.
We are in a battle with them and it is very clear that this is heading to a fight to the finish!
We need a revival for survival: NOW. I have prayer every Saturday night at 9:00 PM EST. You are welcome to attend and pray. We are almost out of time.
Proverbs 1:23 Turn you at my reproof: behold, I will pour out my spirit unto you, I will make known my words unto you.

"A protester was injured on Wednesday after jumping in front of an official government motorcade outside of the White House. According to reports, the protester leaped in front of the DC motorcade and was brought down by the Secret Service, then arrested. A Secret Service agent was also injured — neither injured parties were taken away by ambulance.

It is unclear who was inside of the official motorcade at the time of the incident."
Hard Left and Killing Babies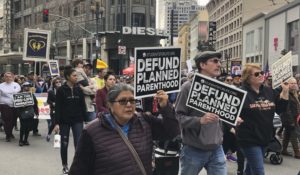 "Democrats hit with pro-life backlash in bid to 'codify' Roe v. Wade" I hope the horror of legalized infanticide will get the church into action. The reprobates will not stop until they are stopped. It is up to every one of us to standup against this murdering spirit. We need prayer and action.
This is testing the mettle of all Christians. We can not let the workers of iniquity destroy America, because the Lord is ready to move on our behalf!
This now is a huge test of the pastors and church leaders. If they fail, the Lord is going to hold them accountable.
Psalm 94:16 Who will rise up for me against the evildoers? or who will stand up for me against the workers of iniquity?

"New York Gov. Andrew Cuomo has reawakened the abortion debate with the sweeping Reproductive Health Act, lending momentum to similar bills in other states — and igniting a backlash from the pro-life movement.

Legislation in New Mexico, Rhode Island, Vermont and Virginia to loosen abortion restrictions are advancing as Democrats take advantage of their state legislative gains to "codify" the 1973 Roe v. Wade decision, citing fears about a looming threat from a judicial branch increasingly being shaped by President Trump.

The New York bill became a perfect example: Senate Republicans had for years held off aggressive pro-choice legislation, but after they lost the majority in November, Democrats swooped in with warnings that Roe's days were numbered."
Iran vs Israel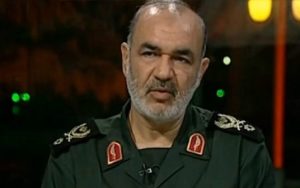 "Iran general says Tehran aims to wipe Israel off the 'global political map'"
This is part of the constant war rhetoric coming from Iran to destroy Israel. According to the Bible, Israel survives, but in the end Iran is destroyed.
"The deputy head of Iran's Islamic Revolutionary Guard Corps said Monday that Tehran's strategy was to eventually wipe Israel off the "global political map."Asked by a reporter in Tehran about Israeli threats to strike Iranian forces deployed in Syria, Brig. Gen. Hossein Salami was quoted by Iranian news outlets as saying, "Our strategy is to erase Israel from the global political map. And it seems that, considering the evil that Israel is doing, it is bringing itself closer to that."He added: "We announce that if Israel does anything to start a new war, it will obviously be the war that will end with its elimination, and the occupied territories will be returned. The Israelis will not have even a cemetery in Palestine to bury their own corpses."
TV7 Israel News

"Netanyahu: Bible is the 'foundation for Israel's eternity'"
Joel 3:20 But Judah shall dwell for ever, and Jerusalem from generation to generation.