Donald Trump Proclaims Religious Freedom Day 2020
Verse of the Day
2 Corinthians 3:17 Now the Lord is that Spirit: and where the Spirit of the Lord is, there is liberty.
Commentary
We are going to have to fight to keep this freedom. The reprobate mind can't stand our freedoms to proclaim the word of God and the gospel of Jesus Christ. They actually hate us, but right now President Trump is a buffer from the them!
Looking for the Blessed Hope
John 8:36 If the Son therefore shall make you free, ye shall be free indeed. 
AMERICAN RELIGIOUS FREEDOM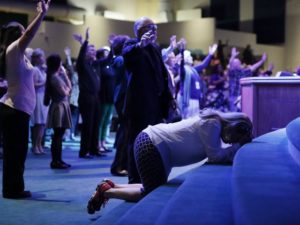 "Donald Trump Proclaims Religious Freedom Day 2020"
"President Donald J. Trump has officially proclaimed January 16, 2020, "Religious Freedom Day" to commemorate "the foundational link between freedom and faith in our country."

"From its opening pages, the story of America has been rooted in the truth that all men and women are endowed with the right to follow their conscience, worship freely, and live in accordance with their convictions," reads the proclamation, by which President Trump said he wished to "reaffirm our commitment to safeguarding the religious liberty of all Americans."
BREAKING UP OF AMERICA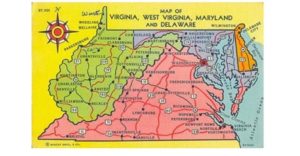 "West Virginia Lawmakers Invite Persecuted Pro-Second Amendment Counties in Virginia to Join Their State" This not a joke. The State of West Virginia just offered the counties of Virginia to join it! If the gun issue gets real ugly in Virginia, it is possible many counties might flee Virginia to remain free in West Virginia!
"The West Virginia Senate adopted a resolution to remind Virginia residents from Frederick County that they have a standing invite — from 1862 — to become part of West Virginia.

West Virginia freedom fighters broke away from Virginia Democrat slave owners during the Civil War. This week West Virginia has once again invited persecuted Virginia pro 2-A counties to come join their state. Sounds like a winning plan!"
COMING FACE OFF: HARD LEFT COMMUNISTS VS AMERICAN PATRIOTS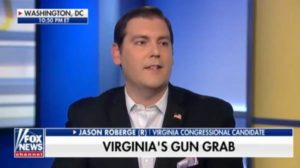 "GOP Candidate: VA Gun Ban Will Be "Resisted In The Streets" The battle line is being drawn. I think that the Hard Left ideologues will take the fight all the way and will not back down. The loath the people being armed.
Remember, the immediate cause of the American revolution was the British trying to disarm the Patriots. This triggered the Minutemen to defend their right and fight the British Army at Lexington and Concord.
"The 2nd Amendment is NON-NEGOTIABLE. Political hacks and out-of-town billionaires cannot match up to the vigor and dedication that Virginians have in preserving our rights to life, liberty and the pursuit of happiness. We will not stand for a group of jack-booted thugs that are looking to disarm and degrade our constitution. I will fight these incursions on our liberty and freedom. We will ultimately settle this at the ballot box, but we must never rule our citizen action in the streets across Virginia, even if that means supporting the brave notion of resisting government backed gun confiscation and registration. Our campaign stands ready to do whatever it takes to stop the bastardaziation of our constitutional rights. No surrender and no retreat, not now and not ever."
VIRGINIA PROTEST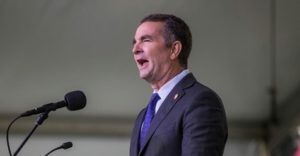 "Northam Declares 'State of Emergency' as Militias Prepare To March on Richmond" Notice how the governor is trying to say the people coming are racists and looking for violence. He is just like so many of the dems: a liar and slanderer. It is in their DNA to lie.

"For a governor who has lost the trust of a majority of his counties and many of his citizens over his gun-grabbing ways, this announcement could not have come at a worse time.

With tens of thousands of angry people now ready to flex their Second Amendment rights in a march on Richmond, labeling them as racists intent on killing will not go over well.

It appears as though Northam is truly afraid of his own constituents, and there are now reports of defenses being hardened around the capitol itself. In one image, workers can be seen erecting barricades for next week's protest. Northam is making a big gamble here, possibly a bigger one than he realizes."
HARD LEFT INSANITY GETTING WORSE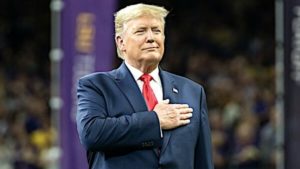 "Pelosi: Impeachment about stopping Trump collusion with Putin"  Is this fraud by Pelosi, or does she believe her own lies? Either way she and the rest of the dems are crazed liars and getting worse by the day.
""This is about the constitution of the United States. And it's important for the president to know, and for Putin to know, that the American voter should decide who our president is, not Vladimir Putin in Russia," Pelosi said at a news conference at the U.S. Capitol.

One of her appointed impeachment managers, Rep. Jerry Nadler, D-N.Y., also accused Trump of "trying to rig" the 2016 election.

"It is essential that we bring this impeachment to stop the president from trying to rig — not from trying, he tried — from rigging the next election," said Nadler, the chairman of the House Judiciary Committee."
PARODY SONG TO THE PRESIDENT
Song: Big Bad Don
There sure is lots of truth in this song.
I really enjoyed it.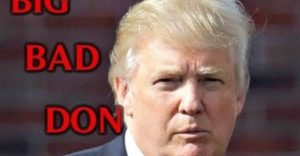 HARD LEFT LOVE OF THE AYATOLLAHS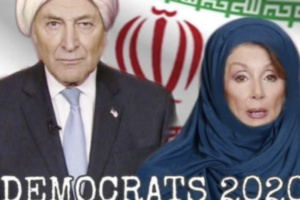 "
Schumer's bowels in an uproar over Trump for sharing edited photo of him and Pelosi"
I posted this just for the meme! It is hilarious, but yet it is the sad truth of just how deluded these two are!
"Chucky's feelings are hurt. Meanwhile, the Dems have spied, attacked, smeared, defamed, libeled and politcally persecuted @Potus since 2016. But memes cross the line!"
WAR: ISRAEL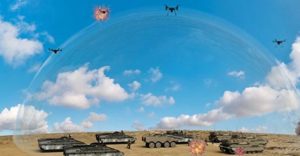 "Israel Reveals Breakthrough Laser Technology to Intercept Missiles" Just an update on Israel's military.
"Israel's Defense Ministry revealed on Wednesday it will now begin using a powerful new laser technology to intercept missiles and protect citizens from terrorism.

The Defense Ministry's Directorate of Defense Research and Development (DDR&D) said high-energy lasers can deter a variety of threats. It marks a monumental shift in how Israel will defend itself.

"We are entering a new age of energy warfare in the air, land and sea," said DDR&D Head Brig. Gen Yaniv Rotem. "The R&D investments made by the DDR&D in the last years have placed the State of Israel among the leading countries in the field of high-energy laser systems. Throughout the year 2020 we will conduct a demo of our capabilities."
Thursday Night Teaching
Jesus Christ Came to Heal the Broken Heart/Mind (Part 2) 1/16/20
Abba Father's International Fellowship
Dear pastor Dave and John. I greet you in the might name of Jesus and king of Glory

am writing to let you know that the material you sent are live transforming agent for the Glory Of God The materials i received last For OCTOBER has bared many fruits in churches and in evangelism missions in different areas , many are
receiving Christ through the teaching many new coverts received Jesus from the same material,Jesus come to heart the heart brokened, i have witnessed as people give testimonies in calling and writing back, the new life Jesus had given to them, i have been Able to reach Many By Evangelism, house to house as well Groups Evangelism ,Great work for the Soul winning is at high ,as in my regions which is interior many People are fearing to Bring Her Gospel ,but with Materials the community is being Changed and transformed
Please sent the Materials and updates for this Month

attached are the photographs of part of the seminars and evangelism missions,

Yours in Christ Love Pst F. K.
If you like our ministry, please consider making a donation to keep us going. May the Holy God of Israel bless you!
Revelation 22:20 He which testifieth these things saith, Surely I come quickly. Amen. Even so, come, Lord Jesus.