ENEMY WITHIN: Ilhan Omar to Trump: Divest from Hotels – You May Face "Worldwide" Attacks on Properties
Verse of the Day
Ephesians 6:16  Above all, taking the shield of faith, wherewith ye shall be able to quench all the fiery darts of the wicked. 
Commentary
I don't think there is any turning back for the dems. They tolerate a terrorist in their party, so this shows they are anti American and now extremely dangerous. Wow, look how fast this party has fallen into being anti American!!!
Looking for the Blessed Hope:
1 Thess 5:23  And the very God of peace sanctify you wholly; and I pray God your whole spirit and soul and body be preserved blameless unto the coming of our Lord Jesus Christ. 
HARD LEFT DEMON-DEMS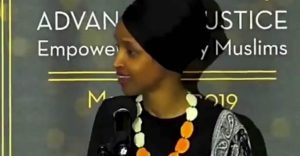 "ENEMY WITHIN: Ilhan Omar to Trump: Divest from Hotels – You May Face "Worldwide" Attacks on Properties"
"The Iranian regime is threatening retaliation against the United States following the death of their terror leader.

On Sunday the Iranian Regime offered an $80 million bounty for anyone who brings in the head of President Donald Trump for killing Qassam Soleimani. And on Monday Democrat Ilhan Omar signaled Iran on potential targets — Trump International Hotels. She truly is the enemy within."
THE CLINTONS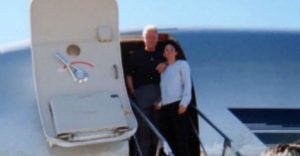 "Bill Clinton Pictured with Epstein's 'Pimp' Ghislaine Maxwell and a Sex Slave on Infamous Private Jet "Lolita Express" Will the truth ever surface on all the crime and sin the Clintons were involved in?
"We reported in 2016 before the election that Bill Clinton took numerous trips on Epstein's 'Lolita Express' to Epstein's private "Orgy Island" where underage girls as young as 14 were prostituted for Epstein's rich and famous clients like Clinton, Kevin Spacey and Prince Andrew.

Clinton's claim that his Secret Service were with him every during every trip is bogus because according to reports he simply ditched his security detail in order to stealth travel with Epstein.

In May 2016 FOX News reported that Bill Clinton traveled with Jeffrey Epstein on his famous "Lolita Express" at least 26 times and frequently ditched his secret service detail.

Last summer shortly after Epstein was arrested for sex trafficking minors, Bill Clinton released a panicked statement claiming he knows nothing about Epstein's horrific sex crimes. A month later Epstein was found dead in his prison cell and the autopsy photos released sure looks like a wire was used to strangle Epstein."
KILLING BABIES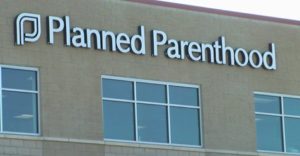 "Planned Parenthood Annual Report Shows It Killed 345,672 Babies in Abortions, More Than Ever Before" Judgment day is waiting for the people who the babies.
Numbers 35:33 So ye shall not pollute the land wherein ye are: for blood it defileth the land: and the land cannot be cleansed of the blood that is shed therein, but by the blood of him that shed it.

"It was another record year for the abortion giant Planned Parenthood. Although Planned Parenthood bills itself as a woman's health organization, in reality, it is little more than an abortion business.

Its 2019 annual report, released this week, shows it aborted 345,672 unborn babies — an increase of 3.88% over the abortions it did on unborn babies the year prior. Last year's annual report showed Planned Parenthood killed 332,757 babies in abortions, which itself was an increase of 3.51% from the year prior."
THE DAYS OF NOAH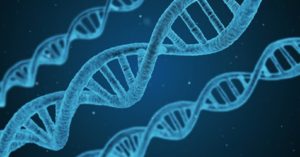 "Playing God with Our Genes: An Existential Threat" This is a sure sign of the end of the age and the Second Coming of Jesus Christ. satan is using mad scientist to alter the DNA code of man, and thus change man being created in God's image and likeness. The last time this happen God sent Noah's flood and destroyed all the genetically tampered with "humans".
This time he is sending an all burning fire and Jesus Christ to purify the earth of the corruption.
Matthew 24:37 But as the days of Noe were, so shall also the coming of the Son of man be.

"And now there's news about a new gene-editing tool called "Prime Editing." Besides free two-day shipping on most items, "Prime Editing" promises "to make it even easier to precisely and safely re-write genes."

The head of the team behind "Prime Editing" called it "a step — and potentially a significant step — towards this long-term aspiration of the field in which we are trying to be able to make just about any kind of DNA change that anyone wants at just about any site in the human genome." Did you catch that? "Any kind of DNA change." "Any site." Hey, no god-like pretensions here."
HARD LEFT BIBLE MOCKING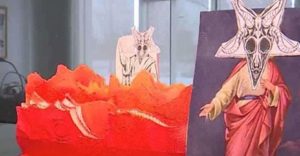 "University Supports Art Display with Desecrated Bible and Satanic Image Over the Head of Christ" Today, any attack against the Bible is alright because Christianity is hated, but one dare not do this to the Koran because the Hard Left loves it.
The Koran is against the Bible, so the Hard Left loves it. At their root, the Muslims and Hard Left are the same. They both hate the Lord and his word.
"But the university supports Harris and affirms that he is not violating any rules. "The university supports freedom of speech rights for all students, affirmed and upheld by Board of Trustee System Policy 212," the school said in a statement.

The policy indicates, "The Board of Trustees is committed to protecting the rights all University community members share to free speech, which includes free expression and assembly."

Flynn said the exhibit is not about freedom of speech and considers the piece hateful. "If I saw a Koran with pig blood on it I would certainly call someone or a Torah with unclean foods on it," he said. "This is a Bible with Satan's image put over Jesus' image and around Christmastime."
HARD LEFT MOCKING OF JESUS CHRIST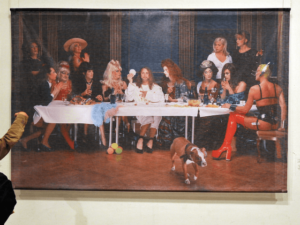 "Swedish Church to Replace LGBT Eden Painting with Jesus in High Heels Art" There has to be a special place in hell for mockers like this. I'm sure that many reprobates in America are thinking about doing something like this. These are loathsome people.
Galatians 6:7 Be not deceived; God is not mocked: for whatsoever a man soweth, that shall he also reap. (8) For he that soweth to his flesh shall of the flesh reap corruption; but he that soweth to the Spirit shall of the Spirit reap life everlasting.

"The St. Pauli church in the Swedish multicultural city of Malmo will replace a controversial pro-LGBT altarpiece with another work depicting Jesus Christ in high heels.

Swedish priest Helena Myrstener told media that the original painting, which was taken down because some claimed it depicted transgender individuals in a negative light, will be replaced by a print of another work by the same artist which depicts a transgender Jesus at the last supper, broadcaster SVT reports. The painting, entitled Paradise, is the creation of Swedish artist Elisabeth Ohlson Wallin and depicted a scene from the Garden of Eden with same-sex couples and transgender figures."
DANGEROUS SECRET SOCIETIES
"Five Secret Societies That Have Remained Shrouded in Mystery" For those who know little about the secret societies, this is a good article to give you background information. Pay close attention to the Skull and Crossbones and notice that many members of the CIA are in it!
"Secret societies have flourished throughout history and count Founding Fathers and royals among their ranks. Members (most often men) have been tapped to join The Knights Templar, the Freemasons, the Bavarian Illuminati, Skull and Bones and Bilderberg. The allure of secret societies is part mystery, part legend."

Conspiracy theories have surrounded them for centuries, with rumors of groups like the Illuminati being linked to everything from the French Revolution to the assassination of JFK. But it's important to separate fact from fiction. Here are the real stories behind history's most exclusive secret societies."
Broken Heart Teaching
Jesus Christ Came to Heal the Broken Heart/Mind (Part 1) 1/8/20
https://youtu.be/LWHxKpiqjpo
Abba Father's International Fellowship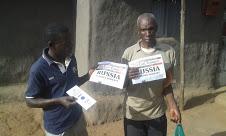 Dearest Dave and John;
Greetings Pastor and My Brother in the Lord Dave. I want to praise the Name of the Lord for His Mercies and love that has preserved all of us. My Mission of serving God was good and just saw His hand, by His Hand 41 new converts came to the Kingdom and I felt to thank God for His Love to His People. I was able distribute the
Newsletters to all people. I prayed for those was sick and God healed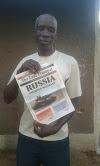 them according to his word he has said that you will lay your hands upon the Sick and they will be healed. Mathew 10;1….,I have attached pictures and other documents to you. God bless you as I look forward
for you to send me another Box .
In His Love.
Pastor M A
If you like our ministry, please consider making a donation to keep us going. May the Holy God of Israel bless you!
Revelation 22:20 He which testifieth these things saith, Surely I come quickly. Amen. Even so, come, Lord Jesus.