Erdogan's Vision: Uniting an 'Army of Islam' to Destroy Israel in 10 Days"
Verse of the Day
Zechariah 2:8 For thus saith the LORD of hosts; After the glory hath he sent me unto the nations which spoiled you: for he that toucheth you toucheth the apple of his eye.
Commentary
He wants to revive the Ottoman Empire with Jerusalem as the capital of a caliphate! When the Muslims try to destroy Israel, it will end up in their destruction.
May the Holy God of Israel bless and protect you.
Zechariah 12:9 And it shall come to pass in that day, that I will seek to destroy all the nations that come against Jerusalem.
Muslims vs Israel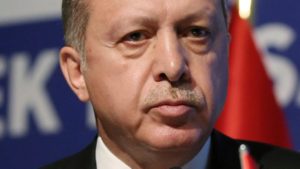 "Erdogan's Vision: Uniting an 'Army of Islam' to Destroy Israel in 10 Days"
"An article in a Turkish paper with close ties to Turkey's President Recep Tayyip Erdogan exposes the regime's desire to form an "Army of Islam" to attack and destroy the State of Israel.

The article calls on the 57 member nations of the Organization of Islamic Cooperation (OIC) throughout the Muslim world to join forces against the Israeli "occupiers" who would then be vastly outnumbered and unable to defend their country.

Translated and posted by MEMRI (Middle East Media Research Institute), the article details how combined ground, air and naval forces could defeat Israel militarily in 10 days and diplomatically in 20 days, thereby liberating "Palestine."
Terrorist Who Killed 300 Christians
"Unconfirmed reports blame Zahran Hashim for Sri Lanka attack. Who is he?" It appears that with 99% surety the mass killings in Sri Lanka were carried out by Muslim terrorists. This is all part of the on going series of violent events that Muslim terrorists are committing against Christians throughout the world.
"Shortly after bombing attacks struck Sri Lanka on Easter Sunday, right-wing reports began disseminating a name of an Islamist extremist who they said was responsible for the events that killed 290 people and wounded more than 500 others.

No terrorist or organization has yet to take responsibility for the attack.
The unconfirmed reports identified the suicide bomber and mastermind behind the attack on the Shangri La hotel as Islamic extremist Moulvi Zahran Hashim. An imam, he was a prolific lecturer for National Tawheed Jamaath.

CNN reported that Hashim also wanted to attack the Indian High Commission in Colombo earlier this month, but the attack was thwarted. According to the CNN report, that attack was planned for April 4."
USA vs Iran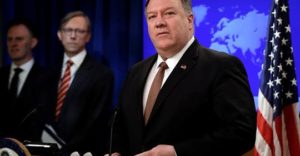 "No more waivers: The United States will try to force Iranian oil exports to zero" What is Iran going to do? The President has really put the economic pressure on Iran. Will Iran attack America is some way? Iran is running our of economic time.
"About one year after the United States decided to leave the Iran nuclear deal, the State Department is set to announce that all countries will have to completely end their imports of Iranian oil or be subject to U.S. sanctions. This is an escalation of the Trump administration's "maximum pressure" campaign, which seeks to force Tehran to end its illicit behavior around the world.

On Monday morning, Secretary of State Mike Pompeo will announce to the media that, as of May 2, the State Department will no longer grant sanctions waivers to any country that is currently importing Iranian crude or condensate, two State Department officials told me. Last November, the State Department issued 180-day waivers to eight countries to give them more time to find alternative sources of oil. Now, their time is running out."
For Good Laughs (Video)

Ventriloquist Todd Oliver's Dog LOVES Sarah Huckabee Sanders
Proverbs 17:22 A merry heart doeth good like a medicine: but a broken spirit drieth the bones.
With all the negative events, this is a great video to make you laugh. I really enjoyed this.
Abba Father's International Fellowship- East Africa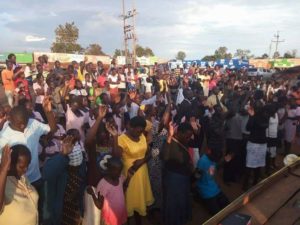 Crowd at outdoor Abba Father Internationale Fellowship. You can see many holding the brokenhearted brochure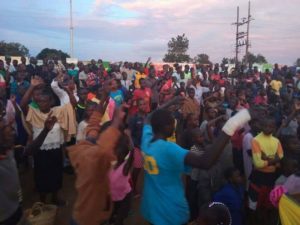 Revelation 22:20 He which testifieth these things saith, Surely I come quickly. Amen.
Even so, come, Lord Jesus.
If you like our ministry, please consider making a

donation

to keep us going.
May the Holy God of Israel
bless you