Fearless Female Christian champion: Islam conquering West
Verse of the Day
Proverbs 28:1 The wicked flee when no man pursueth: but the righteous are bold as a lion.
Commentary
We need 1000s of bold preachers like her! Where are they? I don't even see them hiding behind the pulpits. When I was at the abortion centers, there were usually no other preachers but me. This woman reminds me of Deborah from the Bible.
May the Holy God of Israel bless and protect you.
Hebrews 13:20,21 Now the God of peace, that brought again from the dead our Lord Jesus, that great shepherd of the sheep, through the blood of the everlasting covenant, Make you perfect in every good work to do his will, working in you that which is wellpleasing in his sight, through Jesus Christ; to whom be glory for ever and ever. Amen.
Real Christianity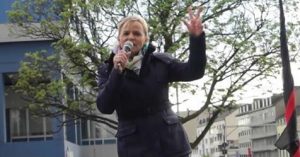 "Fearless Christian champion: Islam conquering West"
Judges 5:1,2 Then sang Deborah and Barak the son of Abinoam on that day, saying, Praise ye the LORD for the avenging of Israel, when the people willingly offered themselves. (3) Hear, O ye kings; give ear, O ye princes; I, even I, will sing unto the LORD; I will sing praise to the LORD God of Israel.

"What is it that provokes such a reaction to a German schoolteacher who grew up in communist East Germany as an atheist and a "sold-out socialist" before becoming a Christian?

In November 2013, Mund drove five hours to the historic Memorial Church of the Reformation in Speyer, Germany, when she heard the church – built to honor Martin Luther – had invited a Muslim imam to give the Islamic call to prayer.

Waving a German flag with the words "Jesus Christ is Lord," she declared from the balcony during the imam's call to prayer: "Jesus Christ alone is Lord over Germany. I break this curse." Later, explaining the "curse," she pointed out that the imam was declaring in his call to prayer that only Allah, revealed through the prophet Muhammad, is god. From the church balcony on that November evening, she repeated the words Luther famously declared in 1521, "Here I stand, I can do no other." "Save the church of Martin Luther," she shouted. Mund, who was expelled from the church, later said in an interview with CBN, "They should have thrown the imam out of the church, because I am a believer in Jesus Christ, and he serves another god."
America Blessing Israel
"Israel thanks US for 'record-breaking' missile defense aid" I believe that God raised President Trump up for things like this to bless and help protect Israel.
Genesis 12:3 And I will bless them that bless thee, and curse him that curseth thee: and in thee shall all families of the earth be blessed.
"Defense Minister Avigdor Lieberman thanked the United States on Monday for including a "record-breaking" $705 million to aid the country's missile defense in the spending bill passed last week. Lieberman said that the aid will be used for the development of Israel's multi-layered system, which is designed to shoot down short-range rockets from Gaza and Lebanon and counter long-range threats like that posed by Iran.

The US provides $3.1 billion in military aid to Israel each year under a 10-year security arrangement. The $705 million is a separate allocation, and is up from the $600 million provided for missile defense last year."
Legislation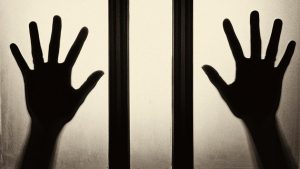 "Is the online sex trafficking era about to meet the 'delete' key?"This is very good news, and anything to stop this sexual exploitation is a blessing. These ads are all part of the moral collapse of the nation. It is like a band aid but needs to be done.
Proverbs 14:34 Righteousness exalteth a nation: but sin is a reproach to any people.
"Several websites built solely around prostitution and sex trafficking, such as Cityvibe, have begun going dark, and mainstream websites like Craigslist and Reddit are removing their "Hookers" and "Personals" sections which acted as thin veneers for sex trafficking and prostitution advertisements.

Why? This week, Congress passed a bill soon headed to the president's desk to be signed into law that will change the landscape of the internet forever. H.R. 1865, known as FOSTA-SESTA, amends the 1996 Communications Decency Act Section 230—which courts previously interpreted as granting broad immunity to websites that facilitate third party sex trafficking and prostitution ads.

This legislation was sparked by the powerful momentum of the documentary I Am Jane Doe, which spotlights the stories of sex trafficking survivors fighting for justice against these multi-million dollar websites, and it was championed by survivors, Rep. Ann Wagner, Sen. Rob Portman, Sen. Richard Blumenthal, the National Center on Sexual Exploitation, Shared Hope International, World Without Exploitation, 50 United States Attorneys General, and many more."
Christian Apostates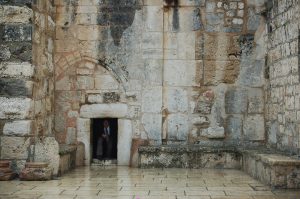 "Palestinian Christian Theologians against Israel" Many Palestinian "Christians" treat the Jews and Israel just like the Muslims; therefore, they will receive the same curses that are aimed at the Muslims. It is very sad to claim to be a Christian while being an enemy of God and his word.
Obadiah 1:15 For the day of the LORD is near upon all the heathen: as thou hast done (to Israel), it shall be done unto thee: thy reward shall return upon thine own head.
 "These beliefs, however, make it difficult to understand how the leaders of a church can advocate such intimate relations with Muslims, for whom everything Christians believe is pure blasphemy.

In the Qur'an, Jesus is regarded, not as God or the Son of God, but as a prophet inferior to Muhammad. The Qur'an is emphatic in saying that Jesus was not crucified, but that someone else was substituted for him. Therefore, Christ did not die to save mankind; this salvation is reserved only for those who believe in the God of the prophet Muhammad.

No one is suggesting that Palestinian Christians should invite their own deaths by outrightly defying the Muslim majority. It seems inexplicable, however, why these Christians prefer to join with the Islamic resistance rather than to remain silent, accept their supposedly inferior status, and refrain from overt endorsements of what Muslims view as right.

On March 3, Britain's most senior Catholic cleric, Cardinal Vincent Nichols, called for closer ties with Islam on the grounds that "the two religions have more in common than people think". What on Earth does this prelate think Muslims believe? After some 1400 years of rivalry and war, some sort of naivety and fuzzy thinking is making Christians the agents of their own destruction."
Days of Noah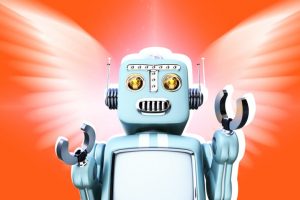 "Thinking Outside the Old Religious Box"  The devil is using transhumanism to destroy man being created in the image of God. This is all part of Satan trying to destroy God's creation. I believe that man temporarily will succeed and create the image of the beast. This image will be destroyed at the Second Coming of Jesus Christ!
Revelation 13:14 And deceiveth them that dwell on the earth by the means of those miracles which he had power to do in the sight of the beast; saying to them that dwell on the earth, that they should make an image to the beast, which had the wound by a sword, and did live. (15) And he had power to give life unto the image of the beast, that the image of the beast should both speak, and cause that as many as would not worship the image of the beast should be killed.
"Sometimes, religious language is necessary to express such a transcendent concept. But as our yearning for transcendence becomes increasingly religious, and as religion becomes conceptually divorced from God, the line between science and religion blurs. Transhumanism is disrupting the debate on science and religion by showing us a new way of framing the issue.

Transhumanism is the idea that technology should be used to extend beyond human limitations, like "aging, cognitive shortcomings, involuntary suffering, and our confinement to planet Earth." This is no small order, but some go even further by including immortality on the transhumanist agenda. There are transhumanists who expect miraculous cures and artificial superintelligence to occur in their lifetime, while others see these innovations as visions of the distant future. But regardless of your beliefs about what lies ahead, many would say that our cyborg future is already here."
Hard Left Cities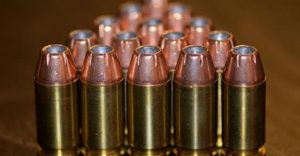 "America doesn't have a gun violence epidemic. Democrat cities do." This is the great danger of the reprobate mind. It destroys everything it touches. It is worse than Islam. It is not by accident that the leading cities for gun murder are all under Democratic control for decades.
"Democrat policies kill. America does not have a gun crime epidemic. There are, however, epidemics in many locales and cities. Who do you think runs the vast majority of those cities?
NRA-funded Republicans? No.
Lobbyists for firearm manufacturers? No.
The vast majority of those cities have been run by Democrats for decades upon decades.

Here are the top 20 cities with the highest gun murder rates in the U.S. per capita. Of these, every city except the last one, Tulsa, has a Democrat majority in the mayoralty and City Council or Board of Aldermen.

Here are the non-fatal shootings top 20 per capita. Notice the overlap of several cities; the cities on the non-fatal list absent on the murder list are also Democrat-run cities, except for the last one, Jacksonville.

Here's a sampling of five longtime Democrat empires (all days are consecutive and uninterrupted). All appear in the top 20 lists:
1. St. Louis: only Democrat mayors; 90% Democrat City Council; 15,000 days.
2. Baltimore: only Democrat mayors and only Democrat City Council; 18,000 days.
3. Philadelphia: only Democrat mayors; 90% Democrat City Council; 20,000 days.
4. Detroit: only Democrat mayors; 90% Democrat City Council; 22,000 days.
5. Chicago: only Democrat mayors; 90% Democrat City Council; 30,000 days."
Islam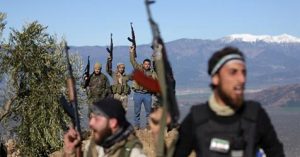 "ANALYSIS: How Turkey is working to restore the Ottoman Empire" It does appear that Turks, who want to restore the Ottoman Empire are going to clash with the Iranians, who want to destroy the Persian Empire.
"Last week the Turkish military and its ally, the Free Syrian Army, finally succeeded in capturing the city of Afrin in the most northern Kurdish autonomous canton in Syria. The Kurdish militia YPG decided to evacuate its forces after the Turks and their allies had encircled the city from three sides, dealing a severe blow to Kurdish autonomy aspirations in Syria.

Turkish dictator Recep Tayyip Erdoğan used the victory to make new threats against the Kurds in both Syria and Iraq, while vowing not to leave Afrin "before the job is done". The Turkish government claims 3747 YPG fighters have died in the illn-named 'Operation Olive Branch' which lasted for more than two months. On the Turkish side 42 soldiers died while 159 fighters of the Free Syrian Army lost their lives, according to Russian state-controlled media."
FBI: Dangerous Needs to be Cleansed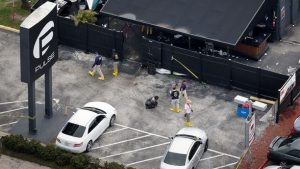 Orlando nightclub shooter's father, an FBI informant, brushed off son's terror comments, agent says" The never ending saga of the FBI missing clear signals of danger which results in a mass shooting. Does anyone believe them or in them anymore. They are corrupt at the top and incompetent below. This is real sad.
 "The Orlando nightclub shooter's dad – revealed to be an FBI informant – told authorities who were investigating Omar Mateen before the attack that pro-terror comments the would-be gunman made to coworkers were just examples of him "being stupid," an agent testified Monday.

FBI Special Agent Juvenal Martin, who was on the stand in the terrorism trial of Noor Salman, Omar Mateen's wife, said Omar's father, Seddique, had called him while his son was being investigated for the comments in 2006, a decade before the Pulse attack, and was upset.

Martin testified Seddique told him something like "if he had done those things he was being stupid," the Orlando Sentinel reported.

Martin said the FBI interviewed Omar two other times as part of that investigation, but eventually determined he wasn't a security threat. The bureau even considered turning Omar into a confidential informant himself, according to Martin's testimony."
War in the Middle East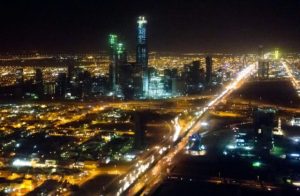 "Saudis Intercept Seven Missiles Fired by Iran-Backed Rebels in Yemen" This is very serious because the missiles are being supplied by Iran. This could start a war between Saudi Arabia and Iran.
"The Iran-backed Houthi rebels of Yemen fired a salvo of seven ballistic missiles at Saudi Arabia on Sunday night, targeting the cities of Najran, Jizan, Khamis Mushait, and the capital of Riyadh. Saudi defense forces say they were able to intercept all seven missiles. One fatality and two injuries were reported as debris from an intercepted missile fell on a home in Riyadh and killed an Egyptian resident. The death marked the first fatality on Saudi soil from a Houthi attack."
Revelation 22:20 He which testifieth these things saith, Surely I come quickly. Amen. Even so, come, Lord Jesus.