Glenn Beck Channels Mormon Prophecy in Utah for Cruz: 'Body of the Priesthood' Will 'Stand Up When the Constitution Hangs by a Thread'
         Verse of the Day
Ephesians 4:14 That we henceforth be no more children, tossed to and fro, and carried about with every wind of doctrine, by the sleight of men, and cunning craftiness, whereby they lie in wait to deceive;
Commentary
American presidential politics is now in the twilight zone! The Democrats have a Communist and a pathological liar running. The Republicans have a governor living in a delusion (Kasich) and Senator Cruz, who allowed the Mormon, Glenn Beck, to announce that Cruz was the "promised" coming Mormon Savior of America! This is about a "prophecy" that Joseph Smith made that Beck applied to Cruz, who claims to be an evangelical Christian! A Mormon anointing an evangelical Christian as the Mormon "savior of America?" I called Cruz's office at (202) 224-5922 and complained about him being anointed as the Mormon savior.
My head spinning around and around with all of this. What's next?
I've thought of a bumper sticker slogan for Hillary. Instead of saying "Hillary for the White House," how about "Hillary for the Big House!" As a former federal agent, it is clear to me that she MUST be indicted for what she did with the State Department emails, but with Obama as president, she CAN'T be indicted! This is more of the twilight zone we are now living in.
May the Holy God of Israel bless and protect you.
Isaiah 9:6  For unto us a child is born, unto us a son is given: and the government shall be upon his shoulder: and his name shall be called Wonderful, Counsellor, The mighty God, The everlasting Father, The Prince of Peace. (7) Of the increase of his government and peace there shall be no end, upon the throne of David, and upon his kingdom, to order it, and to establish it with judgment and with justice from henceforth even for ever. The zeal of the LORD of hosts will perform this.
American Politics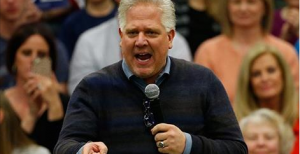 Glenn Beck Channels Mormon Prophecy in Utah for Cruz: 'Body of the Priesthood' Will 'Stand Up When the Constitution Hangs by a Thread' 03/20/16  Ted Cruz has to run as fast as he can from Glen Beck. Beck is a Mormon and is now invoking Joseph Smith's White Horse Prophecy, made in 1843.
The prophecy claims that someday the Constitution will almost be destroyed and America will be in turmoil. A Mormon savior will come forth and save the country. As a nation, Americans will convert to Mormonism and will become a theocracy under the 12 Mormon prophets. The conversion will then go world-wide and the entire world will be Mormon! This sounds just like the Muslim Mahdi.
Beck was putting this mantle on Cruz to fulfill this prophecy! Everything is now bizarre. If Cruz does not flee from Beck, he is linking himself to Mormonism and its "messiah!"
My head is spinning from trying to follow all of this.
There is no Savior but Jesus Christ. He will save the world at His Second Coming and establish His kingdom on the earth. Smith was a false prophet like so many before him.
"Radio host Glenn Beck spoke at a rally in Utah today for presidential candidate Sen. Ted Cruz (R-TX) And Utah's Sen. Mike Lee (R-UT), who is running for re-election. Beck, a Mormon convert, made an overtly religious pitch to the largely Mormon audience at the rally. "I want to speak to you about something that may be controversial. And it's not something that I have said when I have been out for Ted [Cruz] and now Mike [Lee]. But it's something that this crowd needs to hear – that Utah needs to hear. The body of the priesthood is known to stand up when the Constitution hangs by a thread," Beck said. The famous Mormon prophecy Beck was referring to is known as the "White Horse Prophesy," which was purportedly made by the Mormon founder Joseph Smith in 1843. In the prophecy, Smith allegedly told the Mormon faithful that at some point in the future: "You will go to the Rocky Mountains and you will be a great and mighty people established there, which I will call the White Horse of peace and safety." Smith then allegedly claimed that at that future date, "You will see the Constitution of the United States almost destroyed. It will hang like a thread as fine as a silk fiber." Generations of Mormons – from Brigham Young to Glenn Beck – have repeatedly used that phrase about the Constitution hanging by "a thread" to signal their belief in Smith's prophecy or some variation thereof, in which the Mormon faithful will play a key role in defending the Constitution."
Hard Left – Education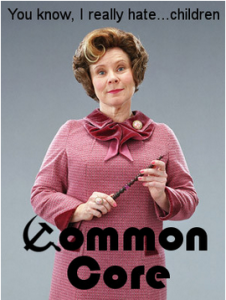 Have We Destroyed Our Future Along with Our Foundations? 03/16/16 By Georgann Ryan (Internet Pilgrim)  Has America destroyed it's future by turning it's back on God and the Bible? Does anyone even know or care anymore? Is it possible to pull our nation back from the brink, or is it too late?

This article deals with the depressing future waiting for America because of both general and biblical illiteracy. It provides a clear picture of what Millennials are and aren't being taught under Common Core, "the most destructive educational 'system' ever devised and instituted in this country" and where that's leading with the Millennial generation now able to vote.
It also covers Bill Gates' role in bringing this about, how in effect, he bought the educational system of America and pushed the dumbing-down of the nation. The only route out of this descent is through biblical instruction. Be sure to watch the embedded video, which inspired this article.

"When this country began, the rules were different. So were societal values and beliefs. One of those beliefs (and the laws based upon them) was that only property owners were eligible to vote.

There were reasons for that which we've forgotten in our rush from a republic to a democracy. But lately, I've been wondering whether we shouldn't reexamine those rules because based on what I'm seeing lately, they seem to make a great deal of sense.

We have a new generation rapidly coming of age, the Millennials, which now is able to vote. After years of socialist education, they're flocking to Bernie Sanders because he promises free tuition and more social welfare benefits, the only issues that concern them – though they don't understand the ramifications of such policies, even if those policies were fiscally feasible (which they aren't).

Although the quote is often misattributed to Alexis de Tocqueville, it actually was Elmer T. Peterson who said, "A democracy cannot exist as a permanent form of government. It can only exist until the majority discovers it can vote itself largess out of the public treasury. After that, the majority always votes for the candidate promising the most benefits with the result the democracy collapses because of the loose fiscal policy ensuing, always to be followed by a dictatorship, then a monarchy."

That's where we're heading in America – to the same place that the Roman republic eventually ended, with more people on the public dole than actually working, until it became necessary for them to pass laws punishing those who quit their jobs. In ancient Rome, when it became more advantageous to live off government welfare than to work, the system ultimately collapsed." (Continued)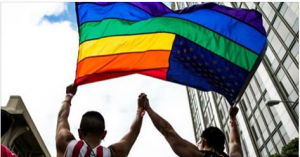 Black Lives Matter Named Grand Marshall of San Francisco Gay Pride Parade 03/18/16  Watch for this unity to grow and coalesce more and more as all of the rebellious and societal-destroying forces unite to destroy the United States as we know it.
You are looking at the spirit of the French Revolution growing before your eyes. They have reprobate minds and loathe anything or anyone associated with the Lord. Their hearts of full of hatred and violence and will act on it.
Only prayer and intercession before the Lord can hold back this horde from violence. They are judgment on America for rejecting the Lord as He is turning us over to base elements.
Proverbs 11:21  Though hand join in hand, the wicked shall not be unpunished: but the seed of the righteous shall be delivered.
"The radical anti-police activist group Black Lives Matter is being tapped to be a Grand Marshall at this year's San Francisco Gay Pride Parade. As the official announcement posted on the San Francisco Pride website makes clear, the gesture is a recognition of the leftist alliance between groups with a leftist agenda including a web of social causes including illegal immigrants and ex-convicts: An international network of more than 30 chapters working for the validity of Black life, Black Lives Matter is working to (re)build the Black liberation movement and affirm the lives of all Black people, specifically Black women, queer and trans people, people who are differently abled, and those who are undocumented and formerly incarcerated. Centering on those who are marginalized within Black liberation movements, Black Lives Matter imposes a call to action and response to state-sanctioned violence against Black people, as well as the virulent anti-Black racism that permeates our society."
World War 3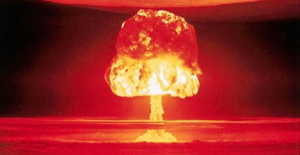 Europe is closer to using nuclear weapons than at any time since the end of the Cold War, warns former Russian foreign minister 03/20/16  Russia already has changed their military doctrine for first strike use of nuclear weapons. They made the change about two years ago. Putin already has warned that Russia will use nuclear weapons if necessary during a war.
This is another warning to the West that, if need be, Russia will use nukes. This is very serious with Russia.
Revelation 22:20  He which testifieth these things saith, Surely I come quickly. Amen. Even so, come, Lord Jesus.
"The threat of nuclear war has been brought much closer thanks to the stand-off in Ukraine warns a former Russian foreign minister. Igor Ivanov, who served from 1998 to 2004 and now leads a government backed think-tank, said on Saturday: 'The risk of confrontation with the use of nuclear weapons in Europe is higher than in the 1980s.' He said the East versus West altercation over the Ukraine crisis has meant the risk of nuclear warfare is growing despite countries cutting their arsenals. Speaking at an event in Brussels with the foreign ministers of Ukraine and Poland, Mr Ivanov said: 'We have less nuclear warheads, but the risk of them being used is growing.' His comments will alarm European and NATO diplomats who are looking for a peaceful solution to end the conflict in Ukraine, which has claimed over 9,000 lives since April 2014."
Orban's historic speech puts Hungary on war footing (Video) 03/20/16  It appears that he understands what is happening and is getting Hungary ready for war. Although the speech is in Hungarian, there are subtitles in English and it's so good that it's worth watching despite the language, as he calls upon Hungarians for courage and unity against the forces seeking to make a single entity out of Europe, eliminating all uniqueness.

Jerusalem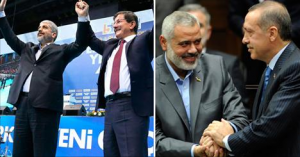 "Muslim Jerusalem": Turkey's Message of "Peace" to Israel 03/20/16  Turkey never can have good relations with Israel. Turkey wants to regain its lost Ottoman Empire, of which Jerusalem was a part. The Turks are obsessed with the Israelis controlling Jerusalem, and they want it back under Muslim control. There can never be unity because of Jerusalem!
Zechariah 12:9  And it shall come to pass in that day, that I will seek to destroy all the nations that come against Jerusalem.
"On July 1, 2010, Turkey's Prime Minister Ahmet Davutoglu addressed his parliament: "Jerusalem is our issue. Contrary to what you assume, it is not a territory of Israel. According to the international law, East Jerusalem is a part of the state of Palestine and is one of the territories under occupation. Al-Aqsa Mosque is in East Jerusalem, too. Al-Aqsa Mosque is not Israeli territory and will not be. If peace happens one day, — and that is what I mean — East Jerusalem will be the capital of Palestine and a meeting of the Arab league will be held there, as well. We are giving a message of peace here. Yes, there will be peace and East Jerusalem will be the capital of Palestine." Jerusalem, he said, was a Turkish issue because of its period of Ottoman rule: "Even the religious sites in east Jerusalem are administered according to the Ottoman precedent. There is no other practice. There is no other law. The Ottoman precedent is still valid."
Israel and the Middle East War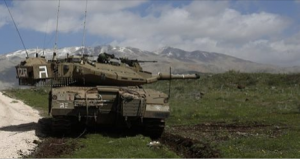 On Golan Heights, IDF fights to keep Israel safe and out of Syria 03/20/16  The border between Israel and Syria is a flashpoint for WW3. Both ISIS and Hezbollah want this border, so they can stage an attack against Israel.
Israel is not going to allow either one to gain the border, so this could end up as a flashpoint to trigger a huge war.
In the end, according to Isaiah 17 there is a huge war and Damascus and Syria are totally destroyed.
"But in the five years since the outbreak of the bloody Syrian civil war, which according to some estimates has claimed the lives of nearly half a million people, that border has become a powder-keg. Intentional and inadvertent attacks by the larger rebel groups, as well as the potential for small terror cells to take advantage of the lawlessness and mayhem in Syria to carry out attacks against the Jewish state, threaten to plunge Israel's northern border into a conflict no one would want."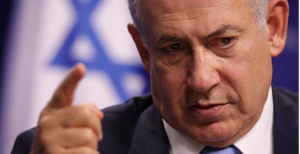 Israel Unbound 03/20/16  This article shows how Israel has become a world economic powerhouse. I believe that as time grows closer to the Day of the LORD, Israel is going to be a tremendous world economic powerhouse, and this is one of the causes for the final attack on Jerusalem.
Ezekiel 38:12  To take a spoil, and to take a prey; to turn thine hand upon the desolate places that are now inhabited, and upon the people that are gathered out of the nations, which have gotten cattle and goods, that dwell in the midst of the land. 13 Sheba, and Dedan, and the merchants of Tarshish, with all the young lions thereof, shall say unto thee, Art thou come to take a spoil? hast thou gathered thy company to take a prey? to carry away silver and gold, to take away cattle and goods, to take a great spoil?
"Israel's persistent occupation of Palestinian lands is irreparably damaging its international standing – or so the conventional wisdom goes. In fact, Israel currently enjoys a degree of global influence unprecedented in its history, as a slew of new international challenges give its foreign policy, long held hostage by the single issue of Palestine, significantly more room for maneuver. Recognizing mounting popular opposition to unequivocal support for Israel in the West, Israel has been looking elsewhere for economic, and ultimately political, partners. From 2004 to 2014, Israeli exports to Asia tripled, reaching $16.7 billion last year – one-fifth of total exports. Israel now trades more with the once implacably hostile Asian giants – China, India, and Japan – than it does with its leading global ally, the United States. Neither Japanese Prime Minister Shinzo Abe, who visited Israel a few weeks after his reelection in December 2014, nor the leaders of China, now Israel's third-largest trading partner, bother to link their economic ties with Israel to the success of peace talks with the Palestinians."
Islam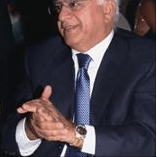 Kuwaiti Columnist: Israel Has Outdone Us In Everything – We Must Learn From It 03/20/16  Amazing article from a Muslim actually showing the curse on the Arabs and the blessing on the Jews.
Obadiah 1:15  For the day of the LORD is near upon all the heathen: as thou hast done (to Israel), it shall be done unto thee: thy reward shall return upon thine own head.
"As for Israel, many [of us] view it as a political-religious foe, as opposed to a cultural danger, and this is a serious mistake. Even though our conflict with it has never ceased, we have remained ignorant regarding everything it represents, and for 70 years we have lacked, and continue to lack, all knowledge about it, and have learned nothing from it. "Israel has outdone us in all fields – military, scientific, and cultural – but despite this we have refused to consider the reason for its obvious superiority to us, and have never stopped calling it 'the monstrous entity'… "Since its founding, Israel has been committed to democracy, while we refuse to even speak of it [i.e. democracy], let alone adopt it… "Israel has given its minorities rights that most citizens in most Arab countries do not even dream of. Furthermore, the freedom of worship there exceeds that in any Arab or Islamic country. "Israel has focused its attention on science, spending large sums on research, while we are still focused on whether drinking camel urine or using it medicinally is actually helpful. "Israel has managed to unite people emigrating to it from 50 countries, and to forge a single people from them, while we have not managed [even] to create a [joint] army out of the [Arab] people, with its deep historical roots. "Israel has known law and order since its first day, while we still try to comprehend the meaning of both these words. Two of [Israel's] senior leaders went to prison for corruption, while we still argue over how to convict the master thieves in our midst. "Israel has developed its technologies and developed its agriculture, industry, and military, becoming an advanced and respected country, while we currently occupy the bottom slot in every field. "Israel has managed to get its companies traded on the international stock market, while we consider liquidating our assets after nearing bankruptcy."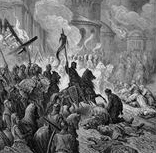 Are Judaism and Christianity as Violent as Islam? 03/20/16  This is a really good article comparing violence in Christianity, Judaism and Islam.
Acts 1:8  But ye shall receive power, after that the Holy Ghost is come upon you: and ye shall be witnesses unto me both in Jerusalem, and in all Judaea, and in Samaria, and unto the uttermost part of the earth.
"In fact, based on the sword-verses as well as countless other Qur'anic verses and oral traditions attributed to Muhammad, Islam's learned officials, sheikhs, muftis, and imams throughout the ages have all reached consensus—binding on the entire Muslim community—that Islam is to be at perpetual war with the non-Muslim world until the former subsumes the latter.Indeed, it is widely held by Muslim scholars that since the sword-verses are among the final revelations on the topic of Islam's relationship to non-Muslims, that they alone have abrogated some 200 of the Qur'an's earlier and more tolerant verses, such as "no compulsion is there in religion."[9] Famous Muslim scholar Ibn Khaldun (1332-1406) admired in the West for his "progressive" insights, also puts to rest the notion that jihad is defensive warfare: In the Muslim community, the holy war [jihad] is a religious duty, because of the universalism of the Muslim mission and the obligation to convert everybody to Islam either by persuasion or by force …The other religious groups did not have a universal mission, and the holy war was not a religious duty for them, save only for purposes of defense … They are merely required to establish their religion among their own people. That is why the Israelites after Moses and Joshua remained unconcerned with royal authority [e.g., a caliphate]. Their only concern was to establish their religion [not spread it to the nations] … But Islam is under obligation to gain power over other nations.[10]"
Islam – ISIS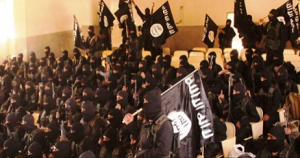 ISIS: The Latest Phase of the Jihad 03/20/16  This article shows the grand strategy of ISIS as it follows Muhammad and the early caliphates. There is a lot more bloodshed coming until Islam is crushed by the Lord.
"The result has been a new and emboldened phase of the jihad, a.k.a., ISIS. Born and entrenched in precisely those nations that U.S. leadership brought "freedom and democracy" to—Iraq, Syria, and Libya—ISIS (or al-Qaeda 2.0) is now indifferent to Western opinion.By widely broadcasting its savage triumphalism in the name of Islam, ISIS forfeits the "grievance card" but plays the "strength" card, thus inspiring millions of Muslims. According to the Pew Research Center, in 11 countries alone, at least 63 million and as many as 287 million Muslims support ISIS.[4] Yet even ISIS works in stages. When criticized by Muslims for killing fellow Muslims and not attacking Israel—the supreme enemy—ISIS responded by saying it was following the pattern of the historic caliphate founded in 632.[5] Then, Caliph Abu Bakr beheaded and crucified tens of thousands of Muslims for apostatizing. Only after the rebel tribes were brought back into the fold of Islam were they set loose to conquer European/Christian territories during history's early Muslim conquests (634–750). Indeed, it is believed that ISIS' caliph Abu Bakr al-Baghdadi took this name to signify his focus, that is, terrorizing all "hypocrites" and "apostates" until they unify under the caliphate's banner."

Isaiah 2:12  For the day of the Lord of hosts shall be upon every one that is proud and lofty, and upon every one that is lifted up; and he shall be brought low: