GOP Sen. Cramer: It's 'Past Time to Start a Transition' to Biden Administration
Verse of the Day
Luke 16:15 And he said unto them, Ye are they which justify yourselves before men; but God knoweth your hearts: for that which is highly esteemed among men is abomination in the sight of God.
Commentary
The RINOs are now manifesting right before our eyes. They give Benedict Arnold a good name. How can we stay in the Republican Party with these people? We need a purge of this party because they are loathsome creatures who I don't want any part of. I'm really concerned when all the Election 2020 corruption is revealed, they will still support Joe Biden over President Trump.
Biden is a Chinese agent owned by the Communists, and these RINOs will still vote for him! We need a political enema to rid America of these awful traitors. There is nothing inside them.
Looking for the Blessed Hope, the coming of the Lord for his bride, the real church.
Hebrews 9:28 So Christ was once offered to bear the sins of many; and unto them that look for him shall he appear the second time without sin unto salvation. 
REPUBLICAN TRAITORS TO AMERICA
"Senator Kevin Cramer (R-ND) said on NBC's "Meet the Press" that it was "past time" to begin the transition to a Joe Biden administration.Cramer said, "I agree there has to be an end. I frankly do think it's time —well, it was past time to start a transition or at least to cooperate with the transition. I would rather have a president that has more than one day to prepare should Joe Biden end up winning this. But in the meantime, again, he's just exercising his legal options."
In a statement on Saturday, Senator Pat Toomey (R-PA) said, "I congratulate President-elect Biden and Vice President-elect Kamala Harris on their victory. They are both dedicated public servants and I will be praying for them and for our country. Unsurprisingly, I have significant policy disagreements with the President-elect. However, as I have done throughout my career, I will seek to work across the aisle with him and his administration, especially on those areas where we may agree,"
CHINESE COMMUNISTS BUYING AMERICA
Chinese Communists buying off US newspapers.
"An English-language newspaper controlled by the Chinese Communist Party's propaganda department paid U.S. media companies nearly $2 million for printing and advertising expenses over the past six months, even amid heightened scrutiny over Beijing's disinformation efforts in the West.
China Daily paid The Wall Street Journal more than $85,000 and the Los Angeles Times $340,000 for advertising campaigns between May and October 2020, according to a disclosure that the propaganda mill filed this week with the Justice Department under the Foreign Agents Registration Act (FARA)."
COMMUNIST WAR AGAINST AMERICA
"New Jersey Democrat Congressman Bill Pascrell, Jr. filed bar complaints against lead Trump campaign elections attorney Rudy Giuliani and twenty-two other Trump campaign lawyers in several states where President Trump is contesting the results of the November 3 presidential election. Pascrell is calling for the disbarment of the attorneys for filing cases on behalf of Trump to "overturn the election and demolish democracy" in Arizona, Michigan, Nevada, New York and Pennsylvania. The other attorneys targeted in addition to Giuliani are local attorneys in the respective states. Giuliani is a former U.S. Attorney for the Southern District of New York and former two-term mayor of New York City."
PEOPLE UPRISING AGAINST THE TYRANTS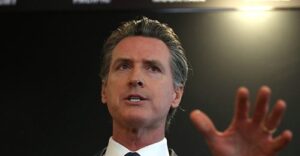 "Californians Defy Gov. Newsom Curfew Order, Flood Streets in 16 Cities"
This is absolutely wonderful! The people are rising up against these tyrant governors! This needs to go nation wide.
"Thousands of people in 16 California cities took to the streets on Saturday to protest Gov. Gavin Newsom's curfew order requiring people to stay at home after 10 p.m. Carrying Trump/Pence flags and "Open up California" banners, the crowds began to gather at 10:01 p.m., including in Huntington Beach and San Clemente."
APOSTATE CHRISTIANITY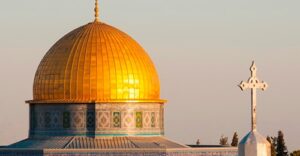 "Muslims Join Evangelical Theology Conference"
This was nothing more than propaganda for supporting the Muslims. Of course, they attacked real Christians as the cause of stirring up Americans against Muslims!
"The trimmed-down 72nd annual conference of the Evangelical Theological Society (ETS), held virtually this week, usually welcomes up to 2,000 top scholars to present on the most salient issues facing evangelical scholarship.
This year's theme: Islam and Christianity."We are called to truth, and to understanding the world around us more accurately and thoughtfully," said Mohler, president of Southern Baptist Theological Seminary (SBTS), who also served as ETS program chair."
WAR MIDDLE EAST
Update on what is happening in the Middle East.
"American B-52s, the massive strategic bombers, arrived in the Middle East on Saturday. They are part of the Fifth Bomb Wing at Minot AFB in North Dakota.These veteran, giant aircraft were last deployed in the region in May 2019 and the US Central Command says they are here to "deter aggression and reassure US partners and allies."
The B-52s have been sent to the region as the US appears to be drawing down forces in Iraq. The Pentagon has said that hundreds of troops are leaving Iraq and Afghanistan."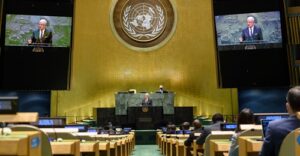 "UN panel votes 163-5 in support of Palestinian statehood, end of occupation"
This vote shows almost the entire world is against the nation of Israel. In the end, Israel survives when Christ returns to save the nation!
"The United Nations voted overwhelmingly to approve a draft resolution in favor of Palestinian self-determination, with Israel and the United States voting against. The proposal on Thursday in the UN General Assembly's Third Committee — the committee that deals with human rights and humanitarian affairs — passed 163 to 5, with 10 abstentions. Canada, which typically votes alongside Israel in such resolutions, stood with the majority.
The resolution emphasized "the right of the Palestinian people to self-determination, including the right to their independent State of Palestine" and "stressed the urgency of achieving without delay an end to the Israeli occupation that began in 1967 and a just, lasting and comprehensive peace settlement between the Palestinian and Israeli sides," based on a two-state solution."
If you like our ministry, please consider making a donation to keep us going. May the Holy God of Israel bless you!
Revelation 22:20 He which testifieth these things saith, Surely I come quickly. Amen. Even so, come, Lord Jesus.