IDF gears up for mass Gaza riots, warns Hamas plans 'massacre' Israelis
Verse of the Day
Obadiah 1:18 And the house of Jacob shall be a fire, and the house of Joseph a flame, and the house of Esau for stubble, and they shall kindle in them, and devour them; and there shall not be any remaining of the house of Esau; for the LORD hath spoken it.
Commentary
The Palestinians want to break through the fence and swam Jerusalem. They will have terrorists among them. If they break through the fence, this could get real ugly with many of them dying. This will then trigger the UN and EU to condemn Israel. This also could ignite other Muslims in Israel to riot. It is also possible that Iran might coordinate with the Palestinians with an attack on Israel.
May the Holy God of Israel bless and protect you.
Luke 21:24 And they shall fall by the edge of the sword, and shall be led away captive into all nations: and Jerusalem shall be trodden down of the Gentiles, until the times of the Gentiles be fulfilled.
Israel vs Hamas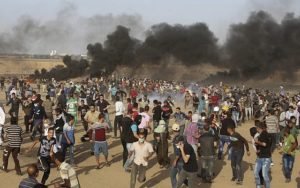 "IDF gears up for mass Gaza riots, warns that Hamas plans to 'massacre' Israelis"
"The Israeli military is gearing up for fierce "March of Return" protests along the Gaza security fence on Monday, with more than 100,000 Palestinians expected to take part, and dire warnings from the IDF that hundreds plan to try breach the fence and carry out a "massacre" of Israeli civilians.

The protests are now set for Monday, to coincide with the move of the US Embassy from Tel Aviv to Jerusalem, and not on Tuesday's Nakba Day, as was originally expected.

The Israel Defense Forces expects over 100,000 Palestinians to take part in the mass demonstrations and potentially as many as 200,000, something that would indicate a major victory for the Hamas terrorist group, which rules Gaza and has co-opted for its own ends what were originally slated to be weeks of nonviolent protests."
Jerusalem Jerusalem Jerusalem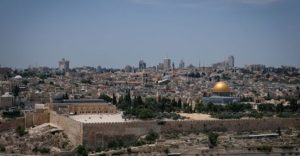 "Jerusalem is rising as Israel's enemies falter" With the current events in the Middle East, it appears that right now the situation is changing to Israel's favor. Iran looks real weak while its economy is starting to implode, and Russia has not challenged Israel.
Psalm 122:6 Pray for the peace of Jerusalem: they shall prosper that love thee.
 "While the Jewish state's stock is rising, Israel's enemies are imploding. Though Iran has expanded its reach across the Middle East—wreaking havoc on Iraq, Syria, Lebanon and Yemen—severe cracks have been exposed in the dictatorial regime of the Islamic Republic. During the past year, public protests against the regime's corruption have broken out across the country. And in the past several weeks, the value of Iran's currency, the rial, has plummeted, throwing Iran into severe economic uncertainty even before the impending onset of the "highest level of economic sanctions" about to be imposed by the United States.

At the same time, the Palestinian Authority in the West Bank and Hamas in Gaza are showing signs of collapse.

Gaza is an economic disaster, with billions of dollars of aid money for its nearly 2 million residents over the past several years diverted towards the building of terror tunnels and rockets meant to inflict damage on Israel. In the past year, Israel has destroyed most of the Hamas tunnel network and neutralized the impact of missiles through the Iron Dome defense system. With close to nothing to show for its investment in Israel's destruction, Hamas now resorts to sending "flaming kites" into Israel in the hopes of starting brush fires in Israel's south."
Jerusalem Jerusalem Jerusalem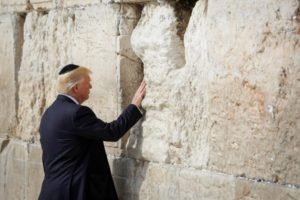 "Trump, King Darius, And Jerusalem" Here we are living in 2018 and Jerusalem is focus of world attention! This is just what the prophets said would happen. The Muslims plan on rioting, so tomorrow could be some day!
Zechariah 12:3 And in that day will I make Jerusalem a burdensome stone for all people: all that burden themselves with it shall be cut in pieces, though all the people of the earth be gathered together against it.

 "Clearly, as with so many things having to do with Jerusalem, the excitement does not revolve around a physical substance, but rather on the truly sublime historic symbolism involved.

Never in human history has there been a city like Jerusalem. It was the capital of a kingdom that gave the world true moral values; it was practically razed to the ground (twice!) by world powers; it remained desolate for nearly two millennia as its scattered people mourned it from afar, praying and vowing daily to return; and then it was rebuilt as the capital of a besieged but thriving and leading world nation – and recognized as such, against all odds, by the world's leading superpower!

And, of course, the entire cyclical process was foreseen, many, many centuries ago, by the Jewish nation's prophets!"
Hard Left Hard Hearted Killing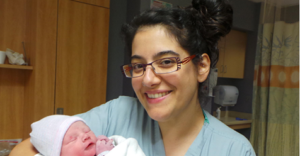 "Abortionist: I Became Better at Killing Babies After I Had One" This is a hard read, but it shows you the deluded mind of a hardcore abortionist. This is the mind that function inside of Planned Parenthood and all that promote and support the abortion industry.
These people have hardened hearts that are full of sin and delusions.
Matthew15:18 But those things which proceed out of the mouth come forth from the heart; and they defile the man. (19-20) For out of the heart proceed evil thoughts, murders, adulteries, fornications, thefts, false witness, blasphemies: These are the things which defile a man:

 "Though their attitudes may have surprised her, they displayed the very conflict that Moayedi ignored throughout her column – that an abortion kills an unborn child. That abortion work – for all the glowing, heroic terms she used to describe it – is troubling, even for most abortion workers.

What is so troubling about Moayedi is that she does not seem to feel troubled at all about killing unborn babies. Not even after becoming a mother herself.

"Holding my baby's tiny hands in my own not only strengthened my commitment to providing compassionate abortion care, but also exposed how I needed to commit to supporting all mothers in all aspects of my care," she wrote. In the same breath, though, she admitted that women who have abortions are mothers.

She wrote: There is no Mother's Day card to celebrate abortion. There are Mother's Day cards to celebrate giving hugs, wiping noses, and kissing boo-boos—actions that are seen as the core of how a mother expresses love for her children. For my patients who were not parents, and did not want to be at that moment, or who never want to be a parent, I recognize their abortions as an act of intentional motherhood. Choosing when to parent is an act of love. For my patients that were already parenting, I feel the deep love they had both for the children they had and for the pregnancies they were ending. Choosing an abortion is an act of love.
Hard Left False Teachers of Baal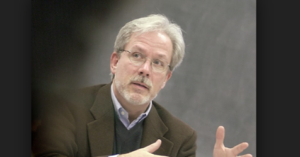 "Presbyterian Minister Blesses Planned Parenthood Abortion Clinic in God's Name, Volunteers as Its Chaplain" Why don't people like this "minister" create their pagan religion and renounce any connection with Christianity and Jesus Christ! This man is a prophet of baal and not in anyway connected to Jesus Christ.
Matthew 25:41 Then shall he say also unto them on the left hand, Depart from me, ye cursed, into everlasting fire, prepared for the devil and his angels:

 "The Rev. Marvin Ellison, a volunteer chaplain at the Planned Parenthood in Portland, Maine, wrote a column for the Press Herald this week to defend his abortion advocacy.

The Portland abortion facility aborts unborn babies up to 18 weeks and 6 days of pregnancy, long after they already have heartbeats, brain waves, fingers, toes and their own unique fingerprints. Ironically, Ellison described Planned Parenthood's work as "life-affirming."

"We're proud to be part of a highly professional and highly caring health care team," he said of himself and four other volunteer chaplains. "Along with our Planned Parenthood colleagues, we're committed to showing care and respect for the whole person, including her (or his) physical, emotional and spiritual well-being."

He made it clear that he is an abortion supporter because of his Christian faith and values. Ellison also bragged about his influence on patients' religious views.

"… I've now heard more than a few patients say to me, 'Well, I didn't expect to find a clergyperson inside the health center, but if Planned Parenthood says you're OK, then you're OK with me,'" he wrote. Recently, he and the other chaplains hosted a service to bless the Planned Parenthood abortion facility."
Hard Left Attack on President Trump (video)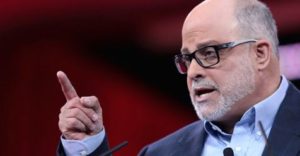 "THE COUP IS STILL UNDERWAY: Every American Must Watch This Episode of Life, Liberty & Levin" I learned so much from watching this. I highly recommend that you watch this video.
 "Former U.S. attorney and special counsel Joe DiGenova and ex-Secret Service agent Dan Bongino were both masterfully interviewed by Mark Levin last night. The result was stunning. As many of you know, I follow the dual scandals of the DOJ's exoneration of Hillary Clinton and persecution of Donald Trump, eh, rather closely.

This interview revealed new information for me, including how Robert Mueller is protecting certain Russian oligarchs from exposure by redacting or concealing their names. I simply cannot state this strongly enough: every American should watch this surgical deconstruction of, for lack of a better term, Obamagate. Please watch it and please pass it along. I am not overstating things when I say that this information is vital to saving our Republic."
Hard Left and the Hatred of God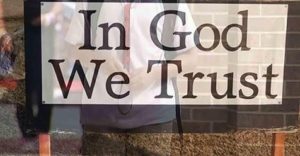 "Minnesota Democrats wage war on God, faith and American history" The Democratic Party is again the source of evil in the nation as it was during the Civil War. Whatever is against God, this party is for. They have the spirit of the French Revolution in them which will end in violence. They are very dangerous and getting worse by the week.
Psalm 33:12 Blessed is the nation whose God is the LORD; and the people whom he hath chosen for his own inheritance.
"A bill in the Minnesota Senate that would allow schools in the state to voluntarily display the national motto "In God We Trust" has state Democrats spiraling into fits of outrage, because God offends them. By waging war on God, they are showing contempt for people of faith and disregard for the history of our country.

On the floor of the Minnesota Senate, Democratic Sen. Scott Dibble suggested using "Allah" in place of "God" – as in "In Allah We Trust." Dibble wondered how the bill's sponsor, Republican Sen. Dan Hall, would react, since the words "God" and "Allah" (an Arabic word) mean the same thing.

Here's a little history lesson for Dibble."In God We Trust" was recognized as our nation's motto more than 200 years ago when Francis Scott Key penned it in "The Star Spangled Banner" as he watched the Battle of Fort McHenry during the War of 1812. He wrote: "And this be our motto – 'In God is our trust.'"
Hard Left Defiling Everything with Sin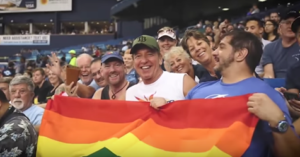 "23 Major League Baseball Teams to Promote Homosexuality at 'LGBT Pride' Nights"
Notice how this sin is promoted and protected by the reprobate mind. What ever happened to family night at the games? The Hard Left just loves this sin, and whoever promotes it, is a tip off to a reprobate mind before the Lord.
Proverbs 16:18 Pride goeth before destruction, and an haughty spirit before a fall.
"Sadly, 23 of the 30 Major League Baseball (MLB) teams are promoting homosexuality through "LGBT Pride" nights this year, reported Outsports.com. In addition, only two MLB teams — New York Yankees and Los Angeles Angels — have never held such "pride" nights.

Outsports.com co-founder Jim Buzinski wrote that the teams were continuing "to court their LGBT fan base" and that the "pride nights will be a big draw in Major League Baseball this season."

MLB Vice President Billy Bean, an openly homosexual former player, said of the "pride nights" in 2017, "I couldn't be prouder of baseball — we're really leading the way," reported LifeSiteNews.com."
Image of the Beast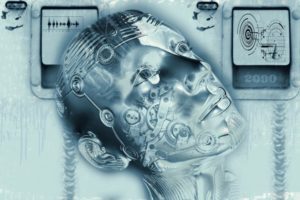 "Human merger with machines will create a hybrid race of super gods, says top expert"
I believe and have been saying this for many years that the "Image of the Beast" will be a cyborg. It will be a prototype for all mankind and a false promise of eternal life for all who follow the antichrist.
Revelation 13:14…saying to them that dwell on the earth, that they should make an image to the beast, which had the wound by a sword, and did live. (15) And he had power to give life unto the image of the beast, that the image of the beast should both speak, and cause that as many as would not worship the image of the beast should be killed.

 "Renowned author Mark O'Connell, in his book 'To Be a Machine', has revealed that the advancements in artificial intelligence (AI) will create a new hybrid race of humans which are super intelligent. According to O'Connell, this new race which will be a mix of humans and machines will be undoubtedly super gods in all aspects, and they will possess super strengths and extended lifespans.

In his book, O'Connell suggested a new theory named 'transhumanism', and he revealed that once it becomes a reality, it will change the course of the human race forever. The author revealed that 'transhumanism' is not a new concept, and humans have long been trying to improve the lives with transhuman technology tools like hearing aids, spectacles, false legs etc.

According to the Irish writer, advancements in science and technology will help humans to eradicate aging as the cause of death. Just like a plot similar to Hollywood films, humans would be able to merge with machines, thus reshaping the existing human entity completely."
 Dying Europe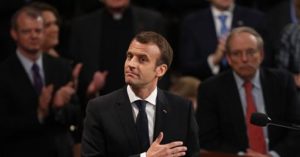 "Is France Really an Ally of the United States?" France's suicide by Muslims is accelerating. There is no way to stop this as Islam is becoming the state religion. The Hard Left in France wants Islam to rule over them, while it is being forced upon the people.
The French don't want the Lord or the Bible and always bullying Israel, so now they are getting their reward which is allah and Islam.
Psalm 9:17 The wicked shall be turned into hell, and all the nations that forget God.
 "No-go zones are growing rapidly in the suburbs of all of France's main cities. Shanty towns built by illegal migrants from Africa and the Middle East have sprung up in parts of Marseilles and Paris in the last few years. Islamization is everywhere. In hundreds of mosques, imams deliver fiery anti-Western speeches. Churches are vandalized. The number of rapes is rapidly increasing. Groups of veiled women roam the streets and insult the "immodest", unveiled, women.

Macron's most important project since he was elected has been the creation of new Islamic institutions destined to adapt France to Islam — not to adapt Islam to France. Many more mosques will be built, financed with taxpayer money; departments of Islamic culture will open in universities, and imam training centers created.

Macron's main advisor on this subject is Hakim El Karoui, the author of a book ("Islam, a French Religion") explaining that Islam is now the main religion in the country; that prejudices of non-Muslims are the source of most troubles, and that helping Muslims to have access to more important positions in French society is of the utmost urgency.

Sadly, it will also be difficult for President Macron, Prime Minister May and Chancellor Merkel to hide that they are appeasers of Islam and the weak commanders of countries they are allowing to decay."
Revelation 22:20 He which testifieth these things saith, Surely I come quickly. Amen. Even so, come, Lord Jesus.