Inspector General's Russia probe FISA report
Verse of the Day
Proverbs 28:5  Evil men understand not judgment: but they that seek the LORD understand all things. 
Commentary
I have not posted much about this because there are always delays and false information about what is happening. The report is officially going to be released December 9. I closely follow President Trump's reactions, he is very excited about this report and the criminal investigation. This makes me VERY interested in it.
No one will be indicted because of it because the report is just for information. It will be turned over to AG Barr to be used for a criminal investigation! This investigation being conducted by AG Barr and US Attorney Durham and it is being conducted separate from this report.
Maybe the Lord's judgment day is growing very close for the Hard Left, deep state, swamp monsters! God is going to have his way with this criminal cartel that was running Washington for decades! President Trump is his battle-ax of judgment.
Looking for the Blessed Hope:
1 Thessalonians 5:23  And the very God of peace sanctify you wholly; and I pray God your whole spirit and soul and body be preserved blameless unto the coming of our Lord Jesus Christ. 
AIMING AT THE DEEP STATE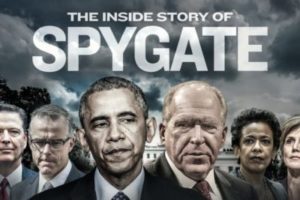 "Here's what's coming in the bombshell Inspector General's Russia probe FISA report"
"Predicted to span more than 500 pages and 100 witness interviews, Justice Department Inspector General Michael Horowitz's report Monday will provide a comprehensive catalog of what offenses, mistakes and oversights the FBI committed during one of the most politically polarizing investigations in recent history.

As such, it will serve as a non-partisan roadmap for a much longer process of holding the investigators to account, a process that now includes a criminal probe being led by U.S. Attorney John Durham and investigative hearings by Senate Judiciary Committee chairman Lindsey Graham."
2ND AMENDMENT VS HARD LEFT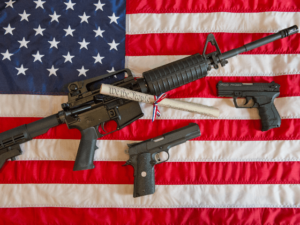 "23rd Virginia County Declares Second Amendment Sanctuary Status" The Hard Left started this with their sanctuary cities, so now the counter is sanctuary counties that will not follow state gun laws!This is all part of America dividing up.
Remember, the American Revolution started when the British army marched on Lexington and Concord to confiscate the weapons of the militia. The Minute Men responded to defend the citizens and the war was on.
"Gloucester became Virginia's 23rd Second Amendment Sanctuary county on December 3. The Gazette-Journal reported that Gloucester's Colonial Courthouse had a full house, with enough pro-gun supporters to "[cover] much of the court circle outside, standing shoulder to shoulder in support of a resolution designed to make Gloucester County a Second Amendment Sanctuary."

There was a 90 minute discussion over the matter, including input from residents who were overwhelmingly in support of adopting sanctuary status. The discussion was followed by a unanimous vote in favor the Second Amendment Sanctuary declaration."
2ND AMENDMENT VS HARD LEFT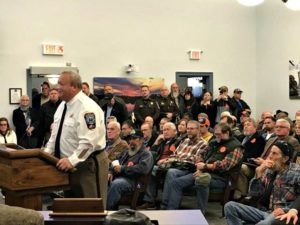 "Virginia Sheriff Vows to 'Deputize Thousands' to Defend Gun Rights" The citizens of Virginia are making plans to form militias to fight the state if laws are passed to confiscate their weapons. This is as serous as it can get.
The Hard Left is taking the fight to us, so I think they move to take the weapons. The first American Revolution started when the British army tried to disarm the militia, and the second one also might start over the government trying to disarm the public!
"I remain very optimistic that our General Assembly will not pass the proposed bills. Obviously, if passed, there are many of us willing to challenge these laws through the courts. In addition, if necessary, I plan to properly screen and deputize thousands of our law-abiding citizens to protect their constitutional right to own firearms.

Jenkins made clear he is talking about doing nothing less than calling up the militia to defend God-given rights. He quoted Richard Henry Lee from 1788, saying, "A militia, when properly formed, are in fact the people themselves…and include all men capable of bearing arms."
HARD LEFT VS PATRIOTS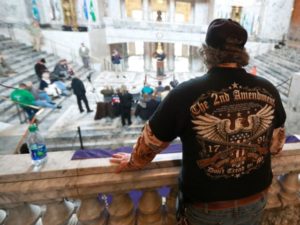 "Over 40 Virginia Counties Now Second Amendment Sanctuaries" Maybe the dems taking over Virginia was a blessing in disguise! What it did was wake up the people that the dems are fascists who want to destroy the Second Amendment to disarm the people, so they can take away all our rights!
The citizens of Virginia now are awake to the danger and are in the process of forming militias to stand against the state. If the stand is strong, it may force the state to back down, but the dems are such Hard Left ideologues, they might force the confrontations!
Wow, it looks like from many angles 2020 is going to be an incredible year!
"CNN reports the figure at over 40, citing a running tally of declarations complied by Gun Rights Watch.  Virginia Citizens Defense League's Phil Van Cleave explained the sudden resolve of gun owners:

These are people [gun owners] that were sleeping during the elections. That's the problem with a lot of gun owners, they tend to get complacent and think, "Oh okay, nothing bad is going to happen." They were sleeping and the elections then kind of eked out a margin for the democrats and they came on saying, "We want gun control." "This is all about gun control."

He suggested the post-election gun control push has rallied gun owners to the cause: "They woke up a sleeping giant, and they know it now. They've grabbed a tiger by the tail."
THE 666 SURVEILLANCE SYSTEM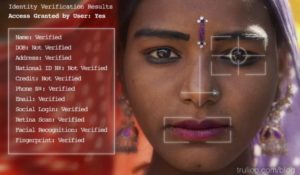 "Bill Gates Wants to Export India's National ID System Around the Globe" Bill Gates is behind this effort to set up a global national ID system! I warned when all the "bugs" were out of the India system then it would go global. I did not really hear much about this system for a few years, but now it is out in the open. Layer by layer the 666 Surveillance is coming together right before my eyes.
"One of the court filings (Mathew Thomas vs Union of India) details the rise of China's social credit system, comparing the Indian Aadhaar initiative to the Chinese program.

Perhaps the most sensational angle to this story is that the same international tech company that provides the infrastructure to Aadhaar also makes drivers licenses in the United States.

Idemia (formerly Morpho), is a billion dollar multinational corporation. It is responsible for building a significant portion of the world's biometric surveillance and security systems, operating in about 70 countries. Some American clients of the company include the Department of Defense, Homeland Security, and the FBI."
SATANISM AIMED AT CHILDREN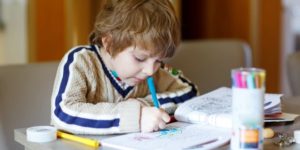 "Walmart Now Selling 'A Children's Book of Demons'" What is happening is an all-out war against our children. You must guard your children and grandchildren at all cost which means getting them out of the public schools.
"For parents looking to introduce their kids to devil worship, Walmart and Amazon are now selling a new children's book entitled: 'A Children's Book of Demons'. In the 'about' section, the publishers try to turn the act of summoning demons into a kid-friendly activity saying: "summoning demons has never been so much fun".

The site categorizes the book as a "playful guide" to conjure demons to communicate with "the spirit". The children's product is listed for children ages 5-10 and "inspires" kids to "create demons of their own". The book is a sort of coloring book whereby kids can draw demons using a system of sigils."
HARD LEFT HATRED OF AMERICA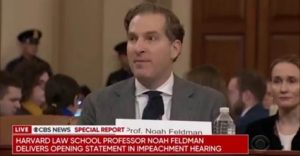 "Democrat Impeachment 'Witness' Noah Feldman Previously Claimed Sharia Law Superior, More "Humane" Than Western Laws" It is easy to see that at some point we are going to have to defend ourselves from these deranged people living in delusions. Please take the time to read this article and see what law "scholar" the demon-dems used at the impeachment hearing. These people just hate the Western world because it was based on Christianity!
"The House Judiciary Committee, chaired by Rep. Jerrold Nadler, kicked off its first impeachment circus Wednesday morning.

Noah Feldman, the first impeachment 'witness' the Dems rolled out on Wednesday not only called for Trump's impeachment shortly after Trump was sworn in, he actually argued in a NY Times op-ed titled, "Why Shariah?" that Islamic Sharia law is more humane than US law. Noah Feldman, a Harvard Law professor, bashed legal systems created by Western countries including the United States and argued Sharia law is more 'just' and 'fair' than the US Supreme Court.

Mr. Feldman actually believes that a medieval system of laws that chops off the hands of thieves, stones 'adulterous women,' blames the woman when she is raped by a man, publicly hangs and tosses homosexuals off of buildings, is more "progressive" and "humane" than Western laws."
SLANDER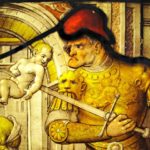 Pope Francis Compares Trump to Herod, Who Tried to Kill Jesus There is something about President Trump that exposed evil in people. They can't help but manifest their evil hearts with him. It is amazing how reprobate minds manifest over him! Lying spirits and slanderers manifest at the mere mention of his name. He truly is God's agent in these last days to expose the evil hearts of millions of people all around the world, but especially here in America. Things really are becoming black and white to discern who is evil with a reprobate mind. Wow, what times we are living in.
Hebrews 3:12 Take heed, brethren, lest there be in any of you an evil heart of unbelief, in departing from the living God.

"Pope Francis has compared U.S. President Donald Trump to the murderous King Herod who massacred innocent children in ancient Palestine while trying to kill the baby Jesus, a Jesuit journal revealed Thursday.

Speaking with his brother Jesuits during his recent visit to Thailand, the Argentinian pope minced no words in his thinly veiled condemnation of the U.S. president and his administration, suggesting that like a modern-day Herod, Mr. Trump separates families at the border while allowing drugs to freely flow into the country."
TRUTH
Meme: When Truth = Hate
This every so true: well done!!!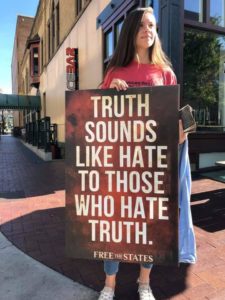 John 3:19 And this is the condemnation, that light is come into the world, and men loved darkness rather than light, because their deeds were evil. (:20z0 For every one that doeth evil hateth the light, neither cometh to the light, lest his deeds should be reproved. (21) But he that doeth truth cometh to the light, that his deeds may be made manifest, that they are wrought in God.
Healing the Broken Heart
Jesus Christ Came to Heal the Broken Heart/Mind (Part 1) 12/11/19
Abba Father's International Fellowship
My preaching through Skype last month in the Congo. Many souls came to the Jesus Christ for salvation.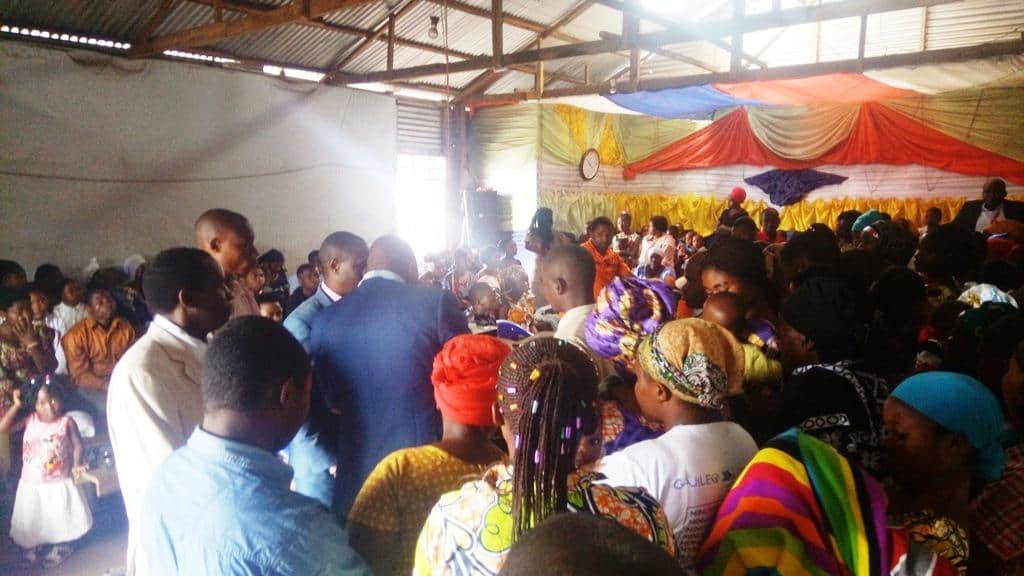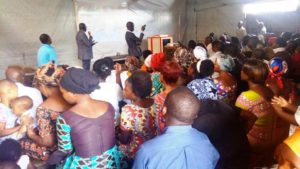 If you like our ministry, please consider making a

donation

to keep us going. May the Holy God of Israel bless you!
Revelation 22:20 He which testifieth these things saith, Surely I come quickly. Amen. Even so, come, Lord Jesus.