Is Technology Enabling Human CULLING? The Rise of Genetic Editing Suggests It Is
Verse of the Day
Genesis 6:4 There were giants in the earth in those days; and also after that, when the sons of God came in unto the daughters of men, and they bare children to them, the same became mighty men which were of old, men of renown.
Commentary
Matthew 24:37  But as the days of Noah were, so shall also the coming of the Son of man be. 
THE DAYS OF NOAH
Genome: the full complement of genetic material within an organism
"Human genetic editing has become a reality. This terrifying advance in technology comes with high risks to not only those children who are genetically modified (without their permission I might add,) but to the whole human race. The repercussions of such meddling are far-reaching and potentially devastating.

What was once science fiction has now become a confirmed scientific possibility not only within reach, but being practiced illegally in China."
STANDING FOR THE FAITH
Genesis 2:24 Therefore shall a man leave his father and his mother, and shall cleave unto his wife: and they shall be one flesh.

"McLennan County Justice of the Peace Dianne Hensley, a devout Christian, has received a public warning by Texas' State Commission on Judicial Conduct for refusing to perform same-sex marriages.

The Waco Tribune-Herald reports Hensley, who has been in office for the last five years, has said that, as a "Bible-believing" Christian, her conscience prohibited her from doing same-sex weddings so she was entitled to a "religious exemption."
RESISTING THE HARD LEFT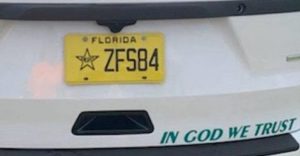 "Sheriff Won't Remove 'In God We Trust' From Patrol Cars" It just is nice to read about things like this.
"A Florida sheriff is sticking to his beliefs and has no plans to remove the motto "In God We Trust" from patrol vehicles, despite a threat from atheists. On Oct. 27, the Brevard County Sheriff's Office announced via Facebook that the department's patrol fleet would receive new patriotic graphic designs.

"While our vehicles will continue to include the iconic 'Shuttle' design in honor of our Space Center history, they will now also include new graphics of an American Flag and the phrase 'In God We Trust' that are both prominently displayed on each unit. To us there is no greater honor than to live in the greatest country in the world and serve as a law enforcement officer in Brevard County where our citizens love us, trust us and protect us just as much as we love, trust and protect them."
ISLAM IN AMERICA
"Gaza rally in Times Square: 'We'll start an Intifada in every classroom, college campus' "Israel has no right to exist" and "Palestinian resistance is not terrorism," announced speakers at a Gaza solidarity rally in Times Square.

At a pro-Gaza rally in Times Square in New York on Nov. 15, speakers called for "an intifada in every classroom" and denied Israel's right to exist.

Nerdeen Kiswani, of an organization called Within Our Lifetime, led a chant that went: "There is only one solution: intifada, revolution!"

Husam Kaid of the City College, N.Y. branch of Students for Justice in Palestine called for an intifada in every classroom and in every college campus, saying: "We are going to shut down all the Zionist events [and] start an intifada everywhere!"
EARTHQUAKE UPDATE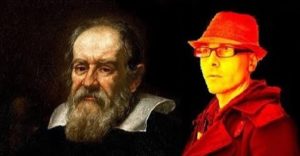 "Global Earthquake Activity — West Coast USA due" Dutchsinse earthquake update. He has a warning for the West Coast of the USA.
Psalm 104:32 He looketh on the earth, and it trembleth: he toucheth the hills, and they smoke.
ARKANCIDE STRIKES AGAIN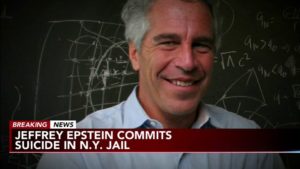 "Jeffrey Epstein's Banker at Deutsche & Citi Found Swinging from Rope in Apparent Suicide"
He knew too much about all the blackmail of powerful child molesters, so he had to be silenced.
"Jeffrey Epstein's private wealth banker, who brokered and signed off on untold multiple millions of dollars in controversial Deutsche Bank and Citibank loans spanning two decades for the convicted pedophile, has died from a reported suicide.

The news of yet another mysterious Epstein-linked death comes shortly after the FBI was seeking to interview the bank executive about loans he approved for Epstein and the indicted child trafficker's labyrinth of US-based and offshore companies."
Teachings
Bible Teaching: Mormonism 12/3/19
Abba Father's International Fellowship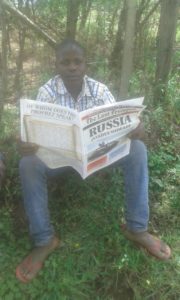 Dear in the LORD Dave and John;
Holy greetings, I pray that all is good with you. i was able to reach to Gods people and shared Materials, many of people responded to Gods Word and I was able to give out all Materials. I have attached pictures to you. God was good to bring more than 36 people in the kingdom when they heard about this Inspiring Materials. God bless you for sending Gifts of Gods Word to our people.if you can send another Box i will appreciates. Mailing Address 30131-666 Nyaru East Africa
Kenya.
God bless you ..
In Christ.
Pastor D
Bless you
If you like our ministry, please consider making a donation to keep us going. May the Holy God of Israel bless you!
Revelation 22:20 He which testifieth these things saith, Surely I come quickly. Amen. Even so, come, Lord Jesus.