ISLAM: Why We Are Afraid, A 1400 Year Secret
        Verse of the Day
Revelation 11:15 And the seventh angel sounded; and there were great voices in heaven, saying, The kingdoms of this world are become the kingdoms of our Lord, and of his Christ; and he shall reign for ever and ever.
Commentary
I want you to play close attention to the video I posted under Islam. This is a MUST watch. It is 30 minutes long, so set time aside to watch to watch it. The video is so good that you may want to watch it twice.
Right now the pressure for World War 3 is building from China. I posted information about what is going on with the Chinese military and economy. As the nations are heading towards WW3, it is like a slow moving train wreck. It is coming, but when it hits the destruction is awesome.
May the Holy God of Israel bless and protect you.
John 14:1-3 Let not your heart be troubled: ye believe in God, believe also in me. In my Father's house are many mansions: if it were not so, I would have told you. I go to prepare a place for you. And if I go and prepare a place for you, I will come again, and receive you unto myself; that where I am, there ye may be also.
Islam
Islam: Why We Are Afraid, A 1400 Year Secret (Video)  I was riveted watching this video. I knew fragmented parts of the history of Islam, but now I see the BIG picture. After watching this, you will never be the same with no compromise with Islam. This is a must watch video!!! Please send this to everyone you can.
"The history of Islam in Europe and how it effects us to this day. This is a history based on numbers and facts that you may not see anywhere else and explains why we may be afraid to see Islam for what it is based on its own doctrine and practice."
Saudi Journalist: Muslims Should Apologize For Terror, Not Condemn Trump's Call To Bar Them From U.S.  This is a real good article so make sure that you read it. I would not be surprised if she is murdered by ISIS, as she seems to be a more secular Muslim. Obama should read this.
"A Saudi journalist wrote that Muslims and Arabs should spend less time condemning Donald Trump's proposal for banning Muslims from entering the U.S. and more time apologizing to the world for the terrorism that is taking place in the name of Islam.

Writing in the Kuwaiti daily Al-Rai, Nadine Al-Budair asks how Muslims would react if western youths acting in the name of Christ blew themselves up in their midst. She also slams Muslim attempts to absolve themselves of guilt by saying that terrorists do not represent Islam, calling such disclaimers "pathetic."

Taking the largest acts of terror from the last couple of decades, Al-Budair, who today lives in Qatar, wonders what would have happened if they had been perpetrated in the Arab world. Citing terrorist groups like the Islamic states desire to impose 7th century Sharia law, Al-Budair writes."
World War 3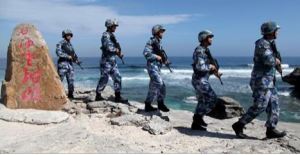 China says 'really needs' South China Sea defenses in face of United States  China is not even hiding that WW3 is FAST approaching! They are telegraphing it!
"China "really needs" its defenses in the South China Sea in the face of a militarization process being pushed by the United States, and can deploy whatever equipment it wants on its own soil, China's Defence Ministry said on Thursday.

China and the United States have sparred repeatedly over the past week following reports China is deploying advanced missiles, fighters and radar equipment on islands in the South China Sea, especially on Woody Island in the Paracels.

The United States has accused China of militarizing the disputed waters. Beijing, for its part, has been angered by "freedom of navigation" air and sea patrols the United States has conducted near islands China claims in the South China Sea."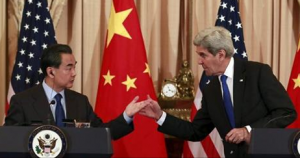 China gearing up for East Asia dominance: U.S. commander   China is not building its massive military to look at. It is building the military to confront the US and dominate Asia. I believe that in the end China is going to win and fulfill Bible prophecy.
Revelation 9:14  Saying to the sixth angel which had the trumpet, Loose the four angels which are bound in the great river Euphrates. (15) And the four angels were loosed, which were prepared for an hour, and a day, and a month, and a year, for to slay the third part of men. (16) And the number of the army of the horsemen were two hundred thousand thousand: and I heard the number of them.

Rev 16:12  And the sixth angel poured out his vial upon the great river Euphrates; and the water thereof was dried up, that the way of the kings of the east might be prepared. (13) And I saw three unclean spirits like frogs come out of the mouth of the dragon, and out of the mouth of the beast, and out of the mouth of the false prophet. (14) For they are the spirits of devils, working miracles, which go forth unto the kings of the earth and of the whole world, to gather them to the battle of that great day of God Almighty. (15) Behold, I come as a thief. Blessed is he that watcheth, and keepeth his garments, lest he walk naked, and they see his shame. (16) And he gathered them together into a place called in the Hebrew tongue Armageddon.
"China is "changing the operational landscape" in the South China Sea by deploying missiles and radar as part of an effort to militarily dominate East Asia, a senior U.S. military official said on Tuesday.
China is "clearly militarizing the South China (Sea)," said Admiral Harry Harris, head of the U.S. Pacific Command, adding: "You'd have to believe in a flat Earth to think otherwise."

Harris said he believed China's deployment of surface-to-air missiles on Woody Island in the South China Sea's Paracel chain, new radars on Cuarteron Reef in the Spratlys and its building of airstrips were "actions that are changing in my opinion the operational landscape in the South China Sea." Soon after he spoke, U.S. government sources confirmed that China recently deployed fighter jets to Woody Island. It was not the first time Beijing sent jets there but it raised new questions about its intentions.
U.S. Navy Captain Darryn James, spokesman for U.S. Pacific Command, said China's repeated deployment of advanced fighter aircraft to Woody Island continued a disturbing trend.

"These destabilizing actions are inconsistent with the commitment by China and all claimants to exercise restraint from actions that could escalate disputes," he said. "That's why we've called for all claimants to stop land reclamation, stop construction and stop militarization in the South China Sea."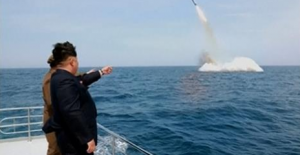 North Korea's Nuclear Missile Threat: Very Bad News  NK is working day and night for war. It could be very soon as China is also moving to war.
"A careful technical reading of the DoD report clearly confirms that North Korea can strike the U.S. mainland with nuclear missiles right now. But the casual or non-expert reader can get the false impression that President Obama was right to assert that there is no nuclear missile threat from North Korea.
Given this overwhelming evidence of North Korea's ability to strike the U.S. mainland, how strange that most major news outlets have never reported that North Korea already has nuclear-armed missiles that can strike the U.S.

The DoD report was inexplicably silent about North Korea's current nuclear and missile capability, which could kill millions of Americans in an EMP attack — as warned by both the 2004 and 2008 Congressional EMP Commission reports.

The EMP Commission and the authors of this article believe that North Korea tested what the Russians call a Super-EMP weapon.

It is time to stop wishful thinking — that everything is fine, that diplomacy will work — and to face reality.
Space-based missile defenses will offer a realistic prospect of rendering nuclear missile threats obsolete, thus neutralizing the growing nuclear missile threats to the U.S. from North Korea, Iran, China, and Russia."
HUMANITY ON THE BRINK – NATO Prepared To 'Confront And Win' Against Russia (Video)  I found the charts on this video very interesting. NATO is earnestly preparing for war with Russia.
Netanyahu: Our red lines stand, no Iranian terror state on Golan  The Golan could be a trigger to start WW3. Iran is determined to place its army on the border with Israel. This is a real hot spot to watch.
"But the Prime Minister was quick to emphasize that Israel would not allow Iran to use the ceasefire as cover to build up military assets along the Golan Heights, demanding an end to Iranian activity in the area.
"It must be clear at the same time that any agreement in Syria must include a halt to Iran's aggression toward Israel from Syrian territory."


In particular, Netanyahu noted to recent movement of heavy weapons from Iran to Hezbollah via Syria. The placement of advanced Iranian weapons along Israel's border would not be accepted by Israel, implying the Jewish state would be prepared to intervene should "the red lines" be crossed.


"We will not agree to the supply of advanced weaponry to Hezbollah from Syria and Lebanon. We will not agree to the creation of a second terror front on the Golan Heights. These are the red lines that we have set and they remain the red lines of the State of Israel."
Israel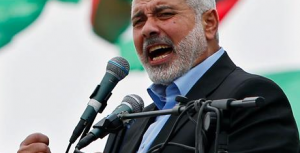 HAMAS: Nothing can stop the 'intifada  I believe that Israel's next war with Hamas will be the last. Hamas will be totally destroyed and never be a threat to Israel again.
"Also in his speech on Friday, Haniyeh declared, "The intifada will continue and is the largest strategic turning point in the history of the Palestinian issue."

"Nothing will stop the intifada," he stressed. "Not the occupying enemy nor the security cooperation with the Palestinian Authority."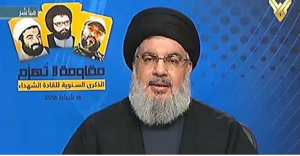 IDF preparing to meet Hezbollah's next challenge  Hezbollah and Iran want to unite to attack Israel. Hezbollah will not survive the coming war.
"The threat from Hezbollah includes the ability to launch 100,000 rockets at Israel at a rate of 1,200 a day from batteries that are spread out and carefully hidden in dozens of villages in south Lebanon.
The other step of which Nasrallah spoke was conquering the Galilee. He does not mean an operation involving divisions penetrating deep into Israeli territory, but rather taking over towns near the border fence – and there are plenty of these along the northern border.


Anyone who knows that front knows that the organization needs no tunnels in order to penetrate towns – and up until new deployments by the Northern Command, this could even be done with excessive ease.
The IDF is ready with a three-pronged strategy: precise, broad, and disproportionate firepower; building a protective obstacle along the border, and rapid redeployment of all divisions to south Lebanon."
Hard Left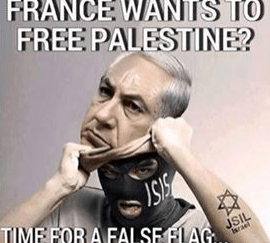 Ohio professor keeps job despite spewing anti-Semitic hate on social media  Notice how the Hard Left is getting more bold against Israel. No professor ever could speak like this against Islam. This is a one way street with these people. It will get a lot worse with them, especially if war breaks out for Israel.
"Joy Karega, an assistant professor of "rhetoric and composition" at Oberlin College, claims the Jewish state secretly planned the Sept. 11, 2001 terrorist attacks, the Charlie Hebdo attack in Paris and that its national intelligence agency, the Mossad, formed the terror group.

Critics acknowledge that she is free to cling to kooky theories, but question why a school that charges students $50,000 per year would subject them to the ravings of a crackpot.

"This is the worst kind of anti-Semitic rhetoric," said Nitsana Darshan-Leitner, director of the Shurat HaDin—Israel Law Center, an Israeli-based civil rights organization. "It is not acceptable for the dean to hide behind academic freedom and claim this is freedom of speech.

"She (Karega) is not a tenured professor," she added. "She needs to be thrown off campus immediately."

According to the college's web site, Karega focuses her research and instruction on "social justice and social change," covering a breadth of topics with her students from journalism basics, grant writing, economic and social inequity, homosexuality and gender roles.

She published a book that "draws upon archival research and oral history and historicizes the political literacy education of the Black Liberation Front International," and is working on another book project, covering in part, the backlash of "bullying" she claims on her Facebook page to have received since The Tower first published its report on her."
Financial Armageddon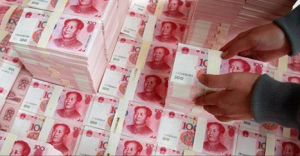 China Devalues Yuan as Stocks Crash  This article is to keep you on the cutting edge of what is happening economically.
"With China devaluing its currency, stocks crashing 3 percent and capital flight accelerating, China has cut back its bank reserve requirements to free up $100 billion in credit.

Facing pressure from huge capital flight, the Chinese allowed their yuan currency to devalue to 6.6 yuan to the dollar on Feb. 29, causing local stock markets to crash by 3 to 5 percent — to levels not seen since late 2014.

To try to stop the rout, China's central bank cut its deposit reserve requirement ratio by 50 basis points, to 17 percent, in an effort to free up about $100 billion in new credit for the world's second-largest economy. The cut marks the fifth time in the last 12 months, but the first time since October 23, that China has had to reduce bank solvency to deal with financial panic, according to Stratfor Global Intelligence."
Contraction Of Credit… Central Bankers Greatest Fear!  Make sure you look at the chart of the debt level for stocks!
"Please notice the amount of credit being used to carry stocks now is significantly larger than it was at previous market tops in 2000 and 2007. Also, the amount of credit has begun to contract, this is a classic margin call being met …so far.


The danger of course is as it always has been when margin builds like this.
As the equity market pulls back, margin calls are issued and in some cases "forced sales" are done. This can, has in the past and most likely will occur and morph into a virtual loop where forced sales weaken prices, creating new margin calls and more forced sales in a negative feedback loop…otherwise known as a market panic.


It does need to be pointed out, there will be no "white knight" this time around as there are none left. The Fed rode in and save the markets in late 2008. It was discovered after the fact they lent $16 trillion all over the world.


They have blown their balance sheet from some $600 billion in 2007 to a current $4.5 trillion. The Treasury had about $9 trillion of on books debt with a $14 trillion economy. Now the Treasury owes $19 trillion (the real number is multiples of this) supported by a $17 trillion economy (this amount is questionable)."

Matthew 24:39  And knew not until the flood came, and took them all away; so shall also the coming of the Son of man be.