It's 1950 All Over Again… Black Family Harassed, Abused by Radical Leftists While Trying to Enter Church in New York
2 Chronicles 7:14

If my people, which are called by my name, shall humble themselves, and pray, and seek my face, and turn from their wicked ways; then will I hear from heaven, and will forgive their sin, and will heal their land.
The Hard Left terrorists don't care if you are black or white! The hate and loath real Christians as much as the Nazis did the Jews. In their hatred, they don't see black and white.
America now is failing real fast. What was unthinkable in May, parts of the nation is now under Communism with terrorists ruling cities! The Demoncrat Party has now fallen to the Communists/Jihadists! They all hate America and want to destroy the nation and us!!! Can you see this?
The terrorists are at the doors of the churches. You must be prepared both spiritually and physically to defend yourself, family and the church.
I have cried out for years for a revival for survival. There is so little time left. There is no blood on my hands as I have warned.
AMERICA IS IN GREAT DANGER.
Proverbs 1:23 Turn you at my reproof: behold, I will pour out my spirit unto you, I will make known my words unto you.
HARD LEFT TERRORISTS AT THE DOORS OF THE CHURCH
"We're now witnessing the next wave of the destruction and breakdown of US society–Christian churches are the latest target by the godless left.

This is very disturbing.This past weekend the mob targeted a Troy, New York Church.The BLM mob attacked Christians on the steps of the church and interrupted the sermon screaming profanities.
The BLM mob was screaming "We're not here for violence!" as they dragged parishioners from the church steps!"
UPDATE: BLM ATTACK ON TROY, NY CHURCH
I already posted on this, but it is very good videos including the assault on the sanctuary.
WOW: TRUTH FROM BLM
The white liberals help create this monster and now it is turning on them! What irony as this monster will destroy the white liberals! I see this as a form of judgment on these evil both white and black liberals. All these Hard Left people have the same hideous minds that are very destructive.
Notice the founder is a Muslim. See the connection with the Muslims and Marxist/Communists. They work together to destroy America.
"Black Lives Matter activists in Los Angeles believe that they live in a city that is filled with "liberal white supremacists.""So it's important as we say things — like I see your sign 'fuck Donald Trump,' yeah 'fuck Donald Trump' — that we remember that we live in a city that is largely liberal white supremacists," Dr. Melina Abdullah, co-founder of Black Lives Matter LA told an enthusiastic crowd in a video posted by the People's City Council on Wednesday:
"The kind of white supremacist who will smile in your face but enact policies that kill our people," she added, calling Trump a "white supremacist terrorist" and encouraging the crowd to shout, "fuck Eric

Garcetti."
AMERICAN NAZI BROWN SHIRTS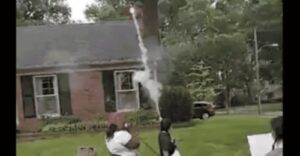 "Angry Mob Burns U.S. Flags, Shoots Fireworks at Home of Memphis D.A"
These domestic terrorists are not going to stop until force is used against them. Right now they are free roaming and terrorizing. Every American has to unite and prepare to defend our selves because we can no longer trust the government.
"An angry mob of "woke" thugs burned American flags and shot fireworks at the home of Shelby County District Attorney Amy Weirich on Independence Day. And most of the protest was live-streamed on Facebook. Click here to watch.
"This is our street mother f***ker," one of the leaders of a group called "F**k Yo. Fourth" screamed at concerned neighbors. "Call the police. This is our street."
This is an excellent video exposing the BLM movement along with the white liberals insanity.
THE DEEP STATE SWAMP STILL FREE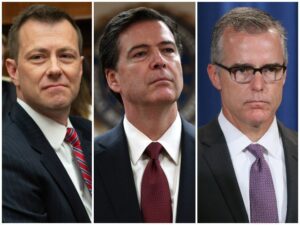 "Sen Grassley: 'The Deep State Is so Deep Its People Get Away with Political Crimes'"
Everyone one of us thinks the same. What are we going to do with President Trump if the election comes and there are no indictments! That means no rule of law the criminal element is in control even if Trump is President. He has just a few months to act until we will start losing faith in him. Remember, terrorists are running wild in America and were are the feds!!!
"In a series of tweets today, Sen.Chuck Grassley (R-Iowa) described the depth of the "Deep State" as so great that its members "get away with political crimes." In one tweet, Grassley referred to recent remarks by Attorney General Bill Barr asserting that President Donald Trump was indeed the target of an "organized effort" to remove him from office.
Grassley fears U.S .Attorney John Durham's ongoing investigation into the origins of the Russia hoax may avoid making a final determination or bringing prosecutions, so as not to influence the upcoming election."
If you like our ministry, please consider making a donation to keep us going. May the Holy God of Israel bless you!
Revelation 22:20 He which testifieth these things saith, Surely I come quickly. Amen. Even so, come, Lord Jesus.