It's Christmas, so an Elementary School Invited a Drag Queen Prostitute, Naturally
Verse of the Day
Titus 1:15  Unto the pure all things are pure: but unto them that are defiled and unbelieving is nothing pure; but even their mind and conscience is defiled. 
Commentary
Look how far satan has penetrated the school system! There now is no protection for the children. All Christians need to abandon the public schools to home school or private education. This is as serious as it can get for what they now can do with children's minds.
Jude 1:7  Even as Sodom and Gomorrha, and the cities about them in like manner, giving themselves over to fornication, and going after strange flesh, are set forth for an example, suffering the vengeance of eternal fire. 
HARD LEFT REPROBATE MINDS AND CHILDREN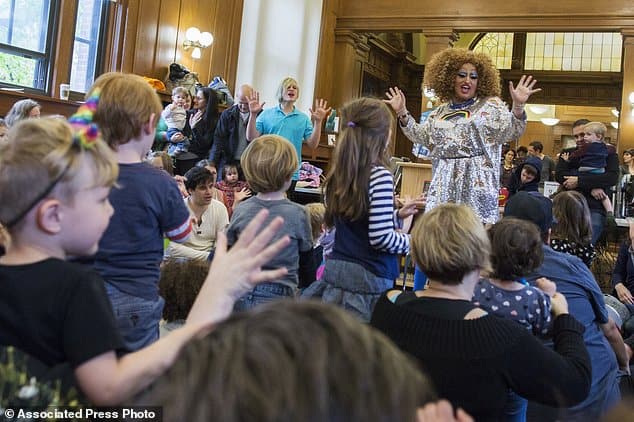 "It's Christmas, so an Elementary School Invited a Drag Queen Prostitute, Naturally"
"But it looks like 2019 will go down in the history as the year of the drag queens took over story hour at libraries across the country. Now an Austin, Texas elementary school has gone one step farther by inviting a drag queen prostitute under the school district's new radical sex education initiative. However, the school is being accused of either ignoring or failing to carry out a full background check on the person they invited.

The Family Research Council (FRC) reports the Blackshear Fine Arts Academy invited Miss Kitty Litter ATX (real name David Robinson) to spend time with the school's children even though he was reportedly charged with breaking the law as a prostitute."
JERUSALEM JERUSALEM JERUSALEM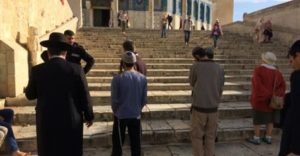 "Jewish prayer has returned to the Temple Mount" Any event regarding the Temple Mount needs to be watched because this is ground zero for Bible Prophecy.
"Jewish worshipers are able to pray on the Temple Mount with what appears to be the tacit consent of police forces at the site, The Jerusalem Post observed during a visit there on Thursday.
Despite the insistence by Israel Police that there has been no change in the decades-old policy, Jews now pray – in full view of the police – in an unobtrusive and inconspicuous manner."
BUILDING JEW HATRED IN NYC AREA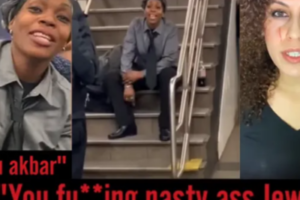 "Muslim ATTACKS Jews on NYC subway while shouting 'Allahu Akbar', "it's good they killed Jews in New Jersey, they should have killed all of you" This article is very sobering about what is happening in the NYC area to the Jews. Please make sure you watch the video.
"Hunting (for Jews) season is raging in New York City. The Leftist mayor Bill de Blasio refuses to take any significant action against those who have made New York City dangerous for Jews. That is because they are his voters and fund raisers. President Trump needs to deal with this crisis. It is just a matter of time before someone is killed.

Islamic Jew-hatred is sanctioned by the Democrats. It's why this racist supremacist is so ….. confident. And why it's like 1930s Berlin in de Blasio's New York."
HARD LEFT, DC SWAMP, MANIFESTING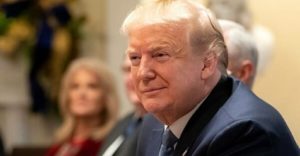 "Trump hammers Pelosi: You are 'declaring open war on American democracy'" This article is about the President's letter and it is excellent. The letter is no holds barred truth and it is so refreshing to read.
From what the demon-dems are doing, you can clearly see how they are living in delusions and are trying to justify their delusions with lies! This is spiritual warfare in the heavenly breaking out right before our eyes in the natural!
John 8:44 Ye are of your father the devil, and the lusts of your father ye will do. He was a murderer from the beginning, and abode not in the truth, because there is no truth in him. When he speaketh a lie, he speaketh of his own: for he is a liar, and the father of it.

"President Trump on Tuesday sent House Speaker Nancy Pelosi a letter charging that her impeachment agenda is "nothing more than an illegal, partisan attempted coup," and her actions are tantamount to "declaring open war on American democracy."

The House is preparing to vote on two articles of impeachment against the president, abuse of power and obstruction of Congress, based on Democrats' claim that President Trump improperly pressured Ukraine to announce an investigation of Joe and Hunter Biden."
CONFRONTING THE DC SWAMP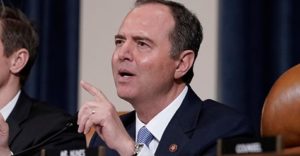 "Schiff town hall erupts into clashes amid shouts of 'liar' and 'treason'" I watched the video, and it is clear people are emotional and feed up with all his lies. I think this is needed, but there is always a chance the confrontation could turn violent. To be successful, we can't start any violence and the speech much be restrained from curses. The demon-dems have to feel pressure from us.
"A California town hall meeting featuring House Intelligence Committee Chairman Adam Schiff, D-Calif., descended into chaos after jeers led to clashes among attendees.

Schiff was discussing how recognition of the Armenian genocide was a significant bipartisan issue at the event hosted by the Armenian National Committee of America on Saturday when members of the crowd began shouting at him.

"Liar!" at least one attendee at the Glendale event yelled. The commotion escalated from there, with a number of people present bearing signs or shirts supporting President Trump and opposing the impeachment process. Schiff is one of the leaders of the impeachment inquiry, which is expected to lead to a vote by the full House later this week."
DRAINING THE HARD LEFT, DC SWAMP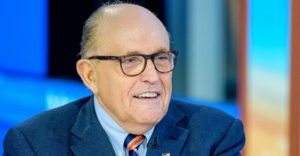 "Giuliani Returns with 'More Than You Can Imagine' After Fact-Finding Ukraine Mission" This is so exciting, and although this process is very slow, it seems like big events are right before us. Rudy is going to testify before the Senate about what criminal information he found about the Biden crime family.
"Rudy Giuliani has returned from a fact-finding mission to Ukraine, and it looks like he struck gold. Giuliani recently traveled to the Eastern European country to gather information from officials and other sources, according to The Wall Street Journal. On Dec. 7, he returned to the United States.

After touching down in New York, Giuliani says he wasn't even able to get off his plane before President Donald Trump called him. "What did you get?" the president asked, according to Giuliani, who serves as Trump's personal attorney. "More than you can imagine," Giuliani replied."
VIRGINIA FORMING MILITIAS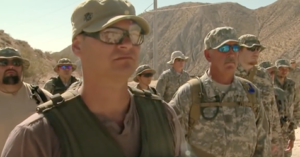 "It begins: Virginia forms active militia to protect sheriffs, citizens from unconstitutional laws" I have friends in Virginia, and I've been speaking with them. They are all saying the same thing that there is now a sense of urgency in the state. There is a feeling of war coming. One friend said she attended a citizens meeting last night with hundreds of people attending, and the sheriff declared the county a gun sanctuary zone. Other counties are activily starting the framework for a militia!
It seems like overnight the people of Virginia understand the monster of a government in Richmond and are preparing for war! How far will the Hard Left go in Virginia against citizens who are preparing to fight? The Hard Left are ideologues and may go all the way. They now are all insane as the Lord has turned them over to reprobate minds.
The situation in Virginia has been building for years. It is a dangerous mixture of Hard Left reprobate vs America Patriots. Right now Virginia is ground zero for a potential real civil war.
"Earlier in the week, we reported on how lawmakers over in Virginia were threatening to use the National Guard if members of local law enforcement refused to enforce laws passed in the state that they felt violated the second amendment.

Well, looks like Tazewell County isn't going down without a fight. On top of calling themselves a second amendment sanctuary county, they're also crafting a militia as well. The Virginia county has taken the movement that has swept across the state and added an element that is sure to trigger pro gun-grabbing politicians in the state."
CHURCHES IN DANGER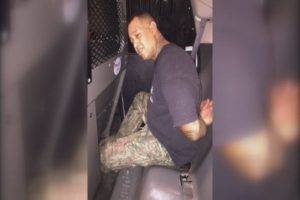 "Armed Muslim JIHAD On Mission From 'Allah' Storms Church… MEDIA SILENT"
Every pastor is responsible for the protection of the people while they are at church. This could have been a blood bath.
"Corinth Missionary Baptist Church in Bullard, Texas, had a frightening encounter with a crazed gunman. Rasheed Abdul Aziz, 40, was taken into custody Sunday for walking into the church armed with a gun and telling the people 'Allah sent him to slay the infidels.'

I see the MSM hasn't spread this everywhere and certainly hasn't called for the boycotting of Islam in America. Just sweep it under the rug like nothing happened, as usual unless it's a White guy."
Prayer
Abba Father's Prayer and Intercession 12/19/19
Abba Father's International Fellowship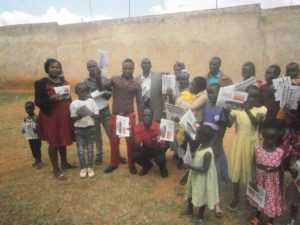 Beloved Pastor Dave and John, Holy greetings in the Precious and Holy Name of Jesus Christ. Peace and Mercies of God be with you all. I am happy of what the Lord used your Newsletters to touch,heal and revival Several People in our Region. The results was good! People are hungry of Gods word and Truth and according to what the Lord revealed to you many years ago, Your Revelations, Prophecy are true according to the Bible Prophecy and all things are coming together as the Lord just spoke to you long time ago. God bless you so much and let him continue to use you to bring more truth to this confused world. I have attached pictures to you so that you share what our King has done to us. Also consider helping us with more Materials to share this during Christmas festivals season. We have Meetings in the church and we shall rejoice to share the Message that you have with Gods people.
If you like our ministry, please consider making a donation to keep us going. May the Holy God of Israel bless you!
Revelation 22:20 He which testifieth these things saith, Surely I come quickly. Amen. Even so, come, Lord Jesus.