JEWISH LEADERS Thank President Trump In New York Times Full Page Ad – Criticize Freshman Democrats on Anti-Semitic Positions
Verse of the  Day
Obadiah 1:15 For the day of the LORD is near upon all the heathen: as thou hast done (to Israel), it shall be done unto thee: thy reward shall return upon thine own head.
Commentary
This is great news. Maybe the Jews are starting see the danger growing in Dem Party. The dems are now full of Communists and Israeli haters, which is easy to transfer to Jew hating.
President Trump is their best friend in the world!
May the Holy God of Israel bless and protect you!
Genesis 12:3 And I will bless them that bless thee, and curse him that curseth thee: and in thee shall all families of the earth be blessed.
President Trump Protecting Jews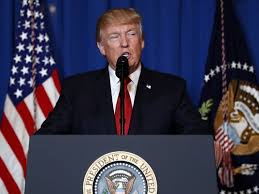 "Jewish Leaders Praise for Trump efforts to combat Anti-Semitism, criticism for Dem support for anti-Israel causes.

American Jewish leaders took out a full-page advertisement in the New York Times on Thursday to thank President Donald Trump for his efforts to combat anti-Semitism. The ad praised Donald Trump and criticizes the class of freshman Democrats and their anti-Semitic positions."
President Trump Courage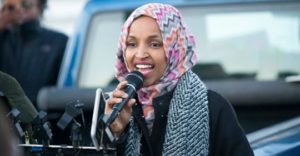 "President Trump Calls on Rep. Ilhan Omar to Resign, Says Her Apology Was 'Lame' (VIDEO)" She is a Muslim and thus a hard core Israeli hater and if you pull the cover back hates Jews. Because she is a Muslim, she believes in Taqiyya, which means she can lie to the infidels! So not matter apology no is to trust a word she says. She is an Israeli hater right to her Muslim core, and the likes of her brings God curse to the nation.
She and her fellow Muslims are at war with the Holy God of Israel.
"President Donald Trump has asserted that he believes Congresswoman Ilhan Omar (D-MN) should either resign from Congress or at least from the House Foreign Affairs Committee.

When asked about her comments on Tuesday, President Trump called for her to resign. "I think she should either resign from congress or she should certainly resign from the House Foreign Affairs Committee," President Trump told members of the White House Press Pool, adding that the hateful comments are "deep seeded in her heart." President Trump also asserted that her apology was "lame."
Hard Left and Jew Hating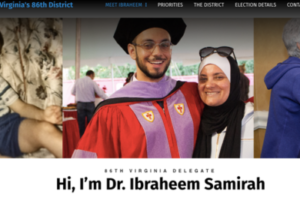 "Virginia Dems add Muslim Jew-hatred to party's troubles of blackface, KKK, and sexual assault" At the present rate of the demon-dems decline into Communism and Jew hating, it won't be long before the Jews flee the dems and flock to the Republicans where they can be protected by President Trump.
The more Muslims in the demon-dems the faster the decline.
Americans needs revival for survival and now!
Proverbs 1:23 Turn you at my reproof: behold, I will pour out my spirit unto you, I will make known my words unto you.
"Now this. A website has catalogued some of Ibraheem Samirah's posts. Samirah is the Democrats' candidate in a special election for a state House seat. The writings include him saying it was worse to send money to Israel than to the Ku Klux Klan, and wishing former Israeli Prime Minister would "burn a million times for every innocent soul you killed."
Israel vs Iran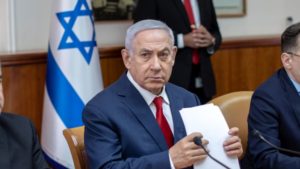 "Netanyahu Fires Back at Iran: Attack Tel Aviv and 'It'll Be the Last anniversary You Celebrate'" Just an update on the war rhetoric between Israel and Iran.
"At a rally celebrating the 40th anniversary of the Islamic revolution, a senior Iranian commander threatened to 'raze Tel Aviv to the ground' if the U.S. attacks.

Prime Minister Benjamin Netanyahu responded on Monday evening to a threat issued by an Iranian commander, saying that if Iran attacks Tel Aviv, it "would be the last anniversary of the revolution that they celebrate."
Image of the Beast
"'Superhuman' robots will outstrip mankind within 50 years, warns AI expert" The AI idea of 50 years is nonsense. At the rate of robotics and AI, I would say 10 years. Robotics is getting ready to create the image of the Beast found in Revelation 13.
"Luca De Ambroggi…that robots will be able to "support" and replace human being in several activities. Already electro-mechanical devices outperform humans in sensitiveness and reaction time." Considering the vast technological progression witnessed in the last decade, Mr Ambroggi said 50 years was "sufficient" to close several gaps with human being.

He added: "Even if our brain will still have advantages and human beings will remain more dynamic and versatile, electronics will be able to outperform humans in several specific functions, as it does today, from machine vision, to audio/speech recognition. "Humans have to prevent machines being in a position to replace us, and no one else."
Cleaning Political Corruption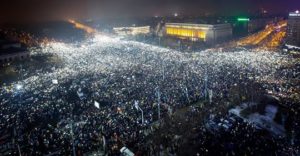 "Everything to Know About Romania's Anti-Corruption Protests" It appears that Romania is almost as corrupt as Washington, DC! I was inspired reading this article that one day soon we Americans might have to do the same thing.
If President Trump can't do it, then it might fall to We the People and exercising our Second Amendment right.
"What were the protests about? The country's ruling coalition made a decree — or executive order — on Jan. 31 to decriminalize abuse in office by officials, if the sums involved were less than around $48,500.

Ordered without any input from parliament, the decree would have stopped all investigations for pending corruption offenses, freed officials imprisoned for corruption, and blocked further investigations related to those offenses from being brought to justice."
World War 3: China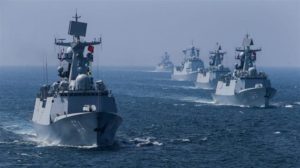 "China deploys 100 ships to disputed waters amid US buildup: Report"
This is because the Philippines is challenging China's grip on the South China Sea. This is a flashpoint for WW3.
"China has deployed some 100 ships to the South China Sea, the Asia Maritime Transparency Initiative run by the Washington-based Center for Strategic and International Studies reports.

The large armada was sent to the Thitu Island, a Philippine-held part of a large cluster of islands disputed between China, Taiwan, Malaysia, the Philippines and Vietnam, it said.

The fleet, which includes vessels from the navy, coastguard and dozens of fishing boats, is part of an effort to stop the Philippine government from continuing construction on the island, it added."
Sin in the Camp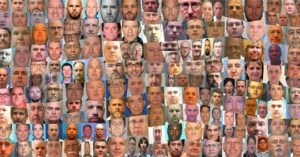 "Abuse of Faith" This is a perfect reason why the American church is so powerless. There appears to be no fear of God in this denomination as the leadership tries to coverup the crimes of the molesters!
No wonder these "pastors" and denominations can't stand against the sins of America like abortion and homosexuality because they are part of fornication. We need to fire of the Holy Spirit to burn the sin out of the church.
They ALL need to go to jail for these awful crimes, but what about the youngsters that were molested. Maybe they now hate God because of these monsters.
Before we can have a revival for survival in America, this sin and those committing it must be cleansed from the church.
1 Peter 4:17 For the time is come that judgment must begin at the house of God: and if it first begin at us, what shall the end be of them that obey not the gospel of God?

"In the decade since Vasquez's appeal for help, more than 250 people who worked or volunteered in Southern Baptist churches have been charged with sex crimes, an investigation by the Houston Chronicle and the San Antonio Express-News reveals.

It's not just a recent problem: In all, since 1998, roughly 380 Southern Baptist church leaders and volunteers have faced allegations of sexual misconduct, the newspapers found. That includes those who were convicted, credibly accused and successfully sued, and those who confessed or resigned. More of them worked in Texas than in any other state.

They left behind more than 700 victims, many of them shunned by their churches, left to themselves to rebuild their lives. Some were urged to forgive their abusers or to get abortions.

About 220 offenders have been convicted or took plea deals, and dozens of cases are pending. They were pastors. Ministers. Youth pastors. Sunday school teachers. Deacons. Church volunteers."
Abba Father's International Fellowship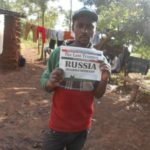 Dearest in the Lord Brother David  & John;
Peace, love and mercies of God be with you in Jesus Name. I pray that you are fine in Him. Our Lord Has been so Gracious unto us in the Church. The Ministry is fine and we are beholding His hand upon our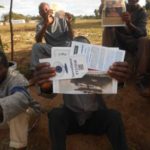 lives. The church is growing so rapidly through the Spiritual Materials you do always send to us. The church is getting read for the second Coming of our Lord Jesus Christ.
My Mission of Distributing and sharing the Materials was so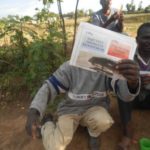 successful  and the Lord helped me to reach to 67 people we shared much about the last days and what we need to do as the church of Christ in this last Days. Nine people came to our Lord Jesus Christ as their Savior, one of them He was a Muslim and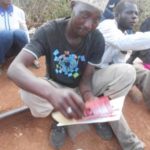 now has joined our
Christian Family! he is among the pictures i have send to you. I feel
to praise the Lord for what He is doing in your Ministry by impacting
many lives. In Mathew 24;24 the Bible states that this Gospel of the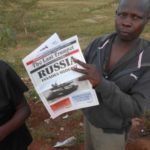 Kingdom shall be preached to every Nation ,Tribe, Creature as witness then the Shall come, So I feel we are part of what the Lord His fulfilling in this last Days. Let the Lord bless you so much for this Great Commission your doing for the Lord Around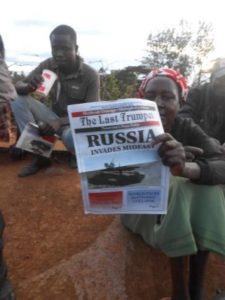 the Globe!! Mathew
28;18-20.
I have attached some pictures while I was distributing the Materials to Gods People and I felt in the Spirit to share with you, I hope you  will be blessed and encouraged.
Please send me Another Box, I need to be in the Next Village for the work of the Lord that's Awaiting me. I will be very Grateful to read from you shortly.
  Pastor S
  Amen.
Revelation 22:20 He which testifieth these things saith, Surely I come quickly. Amen. Even so, come, Lord Jesus.
If you like our ministry, please consider making a donation to keep us going. May the Holy God of Israel bless you!