John McTernans Insights Blog Post: August 28,29, 2021
Verse
1 John 5:19  And we know that we are of God, and the whole world lieth in wickedness. 
Note:
The truth is very clear that the American people are under a biological warfare attack from a totally malevolent medical institutions who lied, blocked and tried to intimidate anyone that promoted the cure for Covid-19, while at the same time promoting a dangerous genetic experiment as a vaccine! This action fits a Nazi war crime.
There is something diabolical about their fanatic zeal to get masses of people vaccinated while ignoring the cure! The death rate is very low for Covid-19, yet they use political pressure to force vaccinations on the people. Already severe side affects are manifesting, yet the Babylonians are actually trying to suppress this. What is going to happen one year from now to people who were vaccinated? The American people just can't believe the medical institutions, politicians and media could be so evil, but they are.
I want to make sure everyone watches this video about what the government did to hide research about the cure for cancer. Please watch this documentary: you will never be the same after viewing it; but everyone needs to know this information: Episode 1  "The Sordid History of the Cancer Cartel: A Century of Suppression & Censorship"
I will continue to post key articles along with information you need to know, especially articles about the Communists and Deep State making threats and moving against us. I may post articles through the day as I find them, so check a few times. The articles which I can't post on FaceBook are here: cutting edge information you need to know.
Above all, no matter what happens keep focused on the Blessed Hope, Jesus coming for his people, and this can get you through all trouble.
Daniel 7:13 I saw in the night visions, and, behold, one like the Son of man came with the clouds of heaven, and came to the Ancient of days, and they brought him near before him.

Posts and Commentary (Real outstanding articles are in red)
Watch Obama's Speech about the NWO and what they think of us!(Video) This is a must watch, and you will never be same after what you see and hear. What he says is exactly what the NWO and elites think of the American people. What arrogance.
Top U.S. Naval Officer Says Navy Chaplains Are Blocking Religious Vaccine Exemption Requests It looks everything is corrupt. The "chaplains" are as corrupt as the politicians and military leaders. This makes me think these chaplains went along and took the death shot. Soon, they will reap what they have sown into their bodies. It is supernaturally evil the way so many want everyone to get the death shot! In a real sense, it looks like the mouth of hell is open drawing the people in. There is something happening spiritually where multitudes are being drawn to the death shot for their destruction by the words of liars using fear. It is fear drawing them.
Proverbs 27:20 Hell and destruction are never full; so the eyes of man are never satisfied. 
LOCK HIM UP: Biden Regime Now Aiding and Abetting Our Worst Enemies This is the very best article I've read that details the criminal activities of the Biden regime in Afghanistan. It is shocking to the list of treasonous crime Biden and his handlers committed against the American people.
"Wellcamp: The Best Way To Keep You Safe" – Australian Health Officials Produce Creepy Dystopian Propaganda For New 'Mandatory Quarantine Camps' (Video)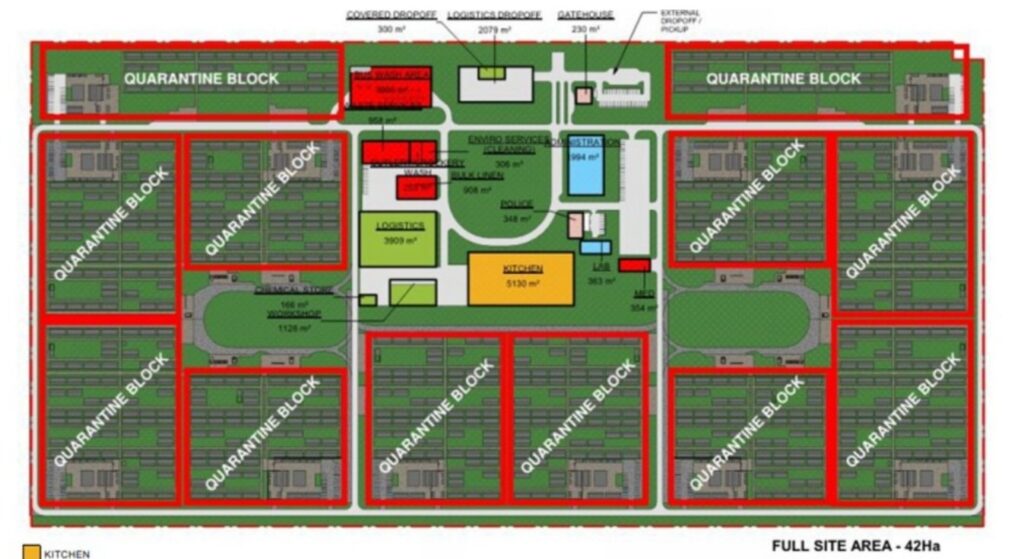 Australia is leading the way in creating death camps! This is what the Nazis did to exterminate millions of people. The NWO wants to eliminate billions of people and death camps are being setup for people who won't take the death shot! It's clear Australia plans to exterminate all who resist! This is mind boggling as it unfolds before our eyes. The Australians are rising up against these tyrants in power. Look how Covid 19 and the death shot is causing tyrants all over the world to manifest! I think the NWO is going to be halted, but will reemerge after WW3 to finish their system and goals under the Beast/antichrist! Their entire system will be crushed and destroyed at the awesome Second Coming of Jesus Christ. The Lord can't come fast enough for me.
COVID Noncompliance Now Labeled Top 'Terror Threat' This is an excellent article full of great information. The section on the psychological warfare being employed against us is tremendous.
From article:"Never mind that the Taliban is slaughtering thousands of innocent civilians or that "Israelis who have received the COVID jab are 6.72 times more likely to get infected than people who have recovered from natural infection", if you oppose vaccination or other pandemic measures, YOU have been summarily declared to be a top terror threat
Medical Articles
Dr. Roger Hodkinson: "It's all been a pack of lies" The doctor tears apart all the lies of the "science" behind Covid 19 and the death shot.
GLOBAL BOMBSHELL: Japanese Govt. Confirms COVID Vaccines Contaminated with Metal
Army Doctor Reveals More Soldiers have died from the Vaccine than died from COVID. This army doctor answered a very important question that I needed to know. The question was, how many military personal died in 2020 from Covid 19? The answer was 20! All this propaganda about forcing the death shot is one huge lie! Are these political criminals trying to kill off our soldiers with the death shot and following "boasters"?
Soaring: European Union Reports 1.9 Million Vaccine Injuries, 20,595 Deaths The politicians and Nazi doctors outright lie and say the death shot is safe. Their own records show since December 2020 over 20,500 Europeans of died from it and 15,000 Americans! Very few who died of vaccines are reported, so it possible hundreds of thousands died, not to mention those severely injured! What will the stats look like three years from now!!! Almost all the leaders of the medical institutions are pathological liars responsible for murder of probably over a million now. Remember, in the beginning these Nazis went after the elderly and murdered them wholesale! Did any of them go to jail for this: zero so far!
CHAIRMAN OF TOKYO MEDICAL ASSOCIATION TELLS DOCTORS TO PRESCRIBE IVERMECTIN FOR COVID TREATMENT!!!! Japan still has respect for its people and wants to see them healed and protected from Covid 19. Ivermectin is totally suppressed by the corrupt medical institutions in America.
Covid Will Prevail As Long As The Known Cures Are Against Protocol What we know now is the medical institutions want to keep the killing going for profit, power and pogrom (the organized killing of many helpless people). Always remember, what we are witnessing is an attempt by the NWO to begin its extermination plan of billions of people. I've decided to call it a world pogrom by many governments who are under the NWO!
New Israeli Study Finds Fully Vaccinated People are at "Greater Risk of Hospitalization" and 13 TIMES MORE LIKELY to Catch Covid-19 Than Those Who Have Recovered and Have Natural Immunity The lies of medical institutions are very powerful, but the truth can destroy all the lies. The problem is the corrupt media suppresses the truth. It is all our job to get the truth out to confront the lies.
Revelation 22:20 He which testifieth these things saith, Surely I come quickly. Amen.Even so, come, Lord Jesus.