John McTernan's Insights Blog Post: October 3,4, 2021
Verse
1 John 5:19 And we know that we are of God, and the whole world lieth in wickedness. 
Note:
The truth is very clear that the American people are under a biological warfare attack from a totally malevolent medical institutions who lied, blocked and tried to intimidate anyone that promoted the cure for Covid-19, while at the same time promoting a dangerous genetic experiment as a vaccine! This action fits a Nazi war crime.
There is something diabolical about their fanatic zeal to get masses of people vaccinated while ignoring the cure! The death rate is very low for Covid-19, yet they use political pressure to force vaccinations on the people. Already severe side affects are manifesting, yet the Babylonians are actually trying to suppress this. What is going to happen one year from now to people who were vaccinated? The American people just can't believe the medical institutions, politicians and media could be so evil, but they are.
I will continue to post key articles along with information you need to know, especially articles about the Communists and Deep State making threats and moving against us. I may post articles through the day as I find them, so check a few times. The articles which I can't post on FaceBook are here: cutting edge information you need to know.
Above all, no matter what happens keep focused on the Blessed Hope, Jesus coming for his people, and this can get you through all trouble.
Jude 1:14 And Enoch also, the seventh from Adam, prophesied of these, saying, Behold, the Lord cometh with ten thousands of his saints, 
Posts and Commentary (Real outstanding articles are in red)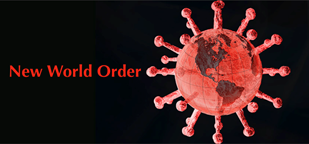 Double Vaccinated Emmy Winner Dies of Covid-19 Two Weeks After Attending Award Ceremony with Unmasked Celebrities
Coast Guard Chaplains' Memo Includes Invasive Questions for Religious Exemption Requesters
COVID-19 Detention Camps: Are Government Round-Ups of Resistors in Our Future?
Rapper's Redpilled Anthem About America Goes Viral (Video)
Science and Medicine are Now Political Weapons Used Against Americans Everything is now weaponized to be use politically and their weapons are based on lies.
I WILL NOT COMPLY: Anti-Mandate Protest (Video)
Fauci on Vax Mandates: "There Comes a Time When You Have to Give Up What You Consider Your Individual Right of Making Your Own Decision" (VIDEO)
From article:""But," Fauci said, "you are a member of society and as a member of society, reaping all the benefits of being a member of society, you have a responsibility to society, and I think each of us, particularly in the context of a pandemic that's killing millions of people, you have got to look at it and say there comes a time when you do have to give up what you consider your individual right of making your own decision for the greater good of society
Vaxx BOMB! Texas RN Reports Nurses, Doctor DEAD After Jab!
More Evidence That Vitamin D Protects Against Severe COVID-19 Disease and Death
Dr. Campbell Reveals the Reason Behind India's Ivermectin Blackout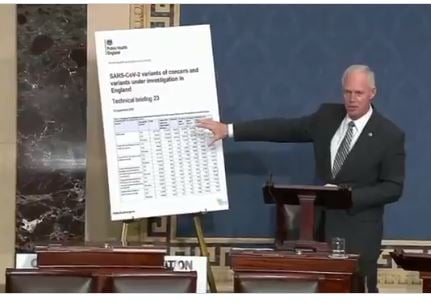 BOOM! Sen. Ron Johnson Drops Truth-Bomb on Senate Floor – 63% of UK Delta Deaths in Last 7.5 Months Were Fully Vaccinated (VIDEO) This was so wonderful the senator laid out the lying narrative of Fauci and the CDC about the death shot! It is the people who are "vaccinated" which are dying of Covid 19! The "vaccine" is a death shot that is starting to show up when examined! This is exactly what the top experts who are real scientists have predicted.
From article:"Senator Johnson makes three very important points from his chart.
1.) The total coronavirus cases and deaths had dropped significantly before the vaccine was introduced.
2.) The rate of vaccination took off early in 2021 and today stands around 60%.
3.) Despite 60% of the population being vaccinated the cases and deaths surged again this summer.
It appears from the chart that the vaccines are not working as advertised."
"I'm Vaccinated, But I Also Have Covid – And it Spread Through My Entire Family!" – CNBC Host Grills Fauci on Vaccine 'Breakthrough' Cases (VIDEO) Even the dumb MSM is starting to see how useless the "vaccine" is and it is a scam. Fauci and CDC narrative is coming apart!
From article:"Dr. Fauci, you guys have been pushing the vaccine and I understand why – I'm vaccinated, but I also have Covid and it spread through my entire family in the past few weeks," CNBC host Sara Eisen said from her home office.

She continued, "And I just wonder about the public messaging around vaccinations. Three vaccinated people got Covid in my house, two unvaccinated children got it. Are you too casual about the limitations of the vaccine? Because it does feel to me that breakthroughs are happening, they're happening regularly and we haven't really seen the government pay much attention to them or warn about them!"
CDC Director Walensky: Covid Vaccines "Cannot Prevent Transmission" of China Coronavirus (VIDEO)Right in the face of the MSM, they admit the "vaccine" doesn't stop transmission! It is useless, but maybe even the deceived will begin to see this deadly scam.
The Following is a list of doctors to contact for Covid 19 related medicine and to stay out of hospitals.
Welcome to MyFreeDoctor.com Please don't go the hospital for anything which could be connected to Covid 19 or the death shot. The hospitals have become heartless death camps where the "doctors" give medicine which destroys the kidneys, thus sending the fluid into the lungs. The next stage is the ventilator to destroy the lungs and kill the person. This link is to a real doctor group which will prescribe the real medicine for the cure.
Speak With A MD This another medical group of real doctors who can assist you obtaining the medicine needed to heal from Covid.
Medici (When all your doctors are a text away) This another medical group of real doctors who can assist you obtaining the medicine needed to heal from Covid.
I want to make sure everyone watches this video about what the government did to hide research about the cure for cancer. Please watch this documentary: you will never be the same after viewing it; but everyone needs to know this information: Episode 1  "The Sordid History of the Cancer Cartel: A Century of Suppression & Censorship"
Revelation 22:20  He which testifieth these things saith, Surely I come quickly. Amen. Even so, come, Lord Jesus.