'Kill the police!' Anti-Trump protesters chant death threats at cops as tens of thousands take to the street nationwide
                       Verse of the Day
Proverbs 8:36 But he that sinneth against me wrongeth his own soul: all they that hate me love death. 
Commentary
What is so ironic about the rioters against the Trump election is they are rioting and threatening to destroy Hard Left cities! They are actually attacking their own strongholds. They are gaining no favor with the police, military or the vast majority of the American people. They are self destructive, and their hatred of anything connected with God and America has driven them into a blind rage.
What is interesting are the groups that have formed this confederacy to overthrow the election. They are the Communists, Muslims, Black Lives Matter, anarchists, homosexuals and illegal aliens!  What a mess of rebellion against God. It will get real ugly if they stop destroying their Hard Left strongholds and move into normal America.
I believe that Soros, Clinton and the hardcore leftists are behind this, and they will not stop until they are crushed.
May the Holy God of Israel bless and protect you.
Psalm 2:1 Why do the heathen rage, and the people imagine a vain thing? The kings of the earth set themselves, and the rulers take counsel together, against the LORD, and against his anointed, saying, Let us break their bands asunder, and cast away their cords from us. He that sitteth in the heavens shall laugh: the Lord shall have them in derision. then shall he speak unto them in his wrath, and vex them in his sore displeasure.
Hard Left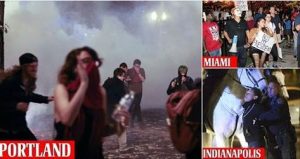 'Kill the police!' Anti-Trump protesters chant death threats at cops in Indianapolis, and demonstrators are tear-gassed in Portland as tens of thousands take to the street nationwide for fourth night of violence 11/12/16  This is a great article showing the big picture of the Hard Left riots across America. How far will they take these riots?
"Police in Portland used flash grenades to control crowds who threw burning road flares at them
Dozens were arrested in the Oregon city on the fourth night of violent protests since Trump's election win
In Los Angeles, 8000 people took to the streets and angry crowds blocked the Las Vegas strip too
Other rallies took place in Atlanta, Salt Lake City, Washington DC, New York and Phoenix
Michael Moore called on Donald Trump to step down as President-elect during protests in New York "
American Politics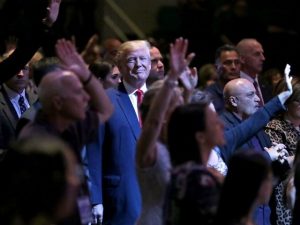 Ralph Reed: Data Show Evangelicals, Catholics Delivered Key States to Trump 11/10/16  I really enjoyed reading this because God's people turned out and defeated Hillary, who is connected with Aliester Crowley – a satanist and one of the most evil men who ever lived. The Lord gets all the glory for sparing us from the final judgment on America.
For more on Aleister Crowley's satanism, please see my [Georgann Ryan's] article on Crowley and the modern music industry: The Androgynous, Occult Age of Aleister Crowley:  How Deep is the  Rabbit Hole and How Did it Begin?
"Conservative Christians gave Donald Trump 79 percent of their votes, Ralph Reed, founder and chairman of the Faith & Freedom Coalition, told reporters Wednesday.
That split left 15 percent voting for his Democratic rival Hillary Clinton, Reed said.
Evangelical Christians and observant Catholics made up 33 percent of the electorate, according to polling by Glen Bolger and Public Opinion Strategies. "It is the highest share of the electorate made up of conservative Christians in a presidential election in the modern era," Reed said.
"If these voters had stayed home, as some observers thought they would do, Donald Trump would have lost this election by a certain Johnson-Goldwater-type margin," he said. In 1964, President Lyndon B. Johnson beat Sen. Barry Goldwater (R.-Ariz.) with 61 percent of the vote to Goldwater's 39 percent. "It's very, very significant."
In the 2016 cycle, it was a two-way street for Trump's outreach to conservative Christians, he said. No Republican nominee had ever made the consistent effort to connect with conservative Christians than Trump."
American Politics/ Israel
Don't let Trump be more pro-Israel than Israel's government 11/13/16  Trump is more pro-Israel than many of the Left wing politicians in Israel! This is a very good sign!
Obadiah 1:15  For the day of the LORD is near upon all the heathen: as thou hast done (to Israel), it shall be done unto thee: thy reward shall return upon thine own head.

"It doesn't make any sense that 500,000 people in Judea and Samaria and another 400,000 in Jerusalem should lose their rights in the land of Israel. Therefore, supporting Trump was an important step in my eyes."
Dagan said that a Trump administration is very good news for all Jewish communities in Judea and Samaria. "This is a holiday for us. It is a holiday for the citizens of Israel, particularly the residents of Judea, Samaria, and Jerusalem. The era of Obama's evil obsession with the building of kindergartens and day care centers is over."
"I know the people who are in Trump's close circle personally." Dagan added. "Some of them donated to the communities here. I met many of them on tours we gave in Samaria, including many of the ones who were involved in writing the (Republican) party's platform. We've contacted people like (Trump's Israel adviser) David Friedman, and I must say that some of them are even to the right of some of our rightist government ministers."
World War 3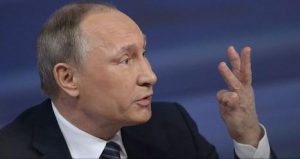 Russia 'ready to do its part' to rebuild US ties with Trump: Putin 11/09/16  Has World War 3 been avoided? It is possible that the war was delayed. It has to come, but just maybe we bought some time by God's grace. Who can trust Putin in the long run? This is such an amazing turn of events.
The Lord is so good to get Hillary out of the way with her insane policy in the Middle East and against Russia. If Trump gets us out of Syria, is will reduce a lot of pressure with Putin.
"Russian President Vladimir Putin on Wednesday said Moscow is ready to contribute to rebuilding relations with the United States with Donald Trump as president.
"We have heard the pre-election statements by then-candidate (Trump), which were directed at rebuilding relations between Russia and the US," Putin said during a speech before several ambassadors in the Kremlin.
"We understand that this will not be an easy path considering the unfortunate degradation of relations," he said. "But Russia is ready and wants to restore full-fledged relations with the US."
"We are ready to do our part and do everything to return (US-Russian) relations to the trajectory of development," he said.
"This would be in the interest of Russian and American people and would positively affect the general climate in international relations, considering the special responsibility of Russia and the US for ensuring global stability and security."
Putin earlier became one of the first world leaders to congratulate Trump via a telegram for his surprise triumph over Hillary Clinton."
Britain to deploy batteries of high precision long range missiles on Russian's border for the first time since the Cold War 11/13/16  This is the nonstop, steady build up toward WW3. Can Trump's election slow this down? Has WW3 been temporarily been postponed?
"Britain is to deploy batteries of high precision long range missiles on Russian's border for the first time since the Cold War.
The long range rockets will be moved to Estonia next year amid fears Russian President Vladimir Putin could be planning to invade the country.
The rockets are part of a huge military build-up by NATO countries in order to defend the Baltic States.
Around 800 UK troops will deploy to Estonia next year as part of a 15-nation force, including soldiers from the US, France and Denmark."
History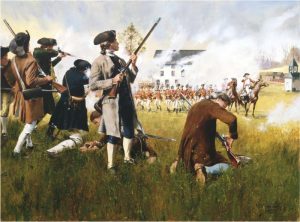 The Right of the People to Keep and Bear Arms" -Origins & History 11/10/16 
This is a wonderful article about how the American militia was created after the pattern of ancient Israel's military in the Bible. I found this as a real eye-opener because it also includes the US history of the Second Amendment which follows:
"A well regulated Militia, being necessary to the security of a free State, the right of the people to keep and bear Arms, shall not be infringed."
"This followed the example of the earliest known militia in history – Ancient Israel, where every man was armed and always ready at a moment's notice to defend his family and his community.
E.C. Wines wrote in Commentaries on the Laws of the Ancient Hebrews, with an Introductory Essay on Civil Society & Government (NY: Geo. P. Putnam & Co., 1853):
"Moses' constitution made no provision for a standing army … The whole body of citizens … formed a national guard of defense. Thus the landholders (and every Israelite was a landholder) formed the only soldiery, known to the Mosaic constitution."
Denver University Law Review, July 15, 2013 published an article Ancient Hebrew Militia Law, by David B. Kopel, in which he wrote:
" New Englanders intensely self-identified with ancient Israel – from the first days of settlement in early 17th century (Israel in the wilderness) to the days of the American Revolution, when New England's 'black regiment' of clergymen incited the Revolution as a religious duty, and described the thirteen American colonies as the modern version of the twelve confederate tribes of Israel ."
Islam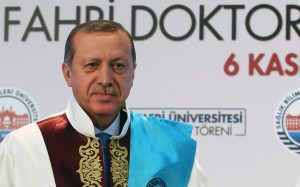 Erdogan reminds Turks of old empire, with his eye on new powers 11/09/16  I have said for many years that Erdogan wants to revive the Ottoman Empire, with the goal being Jerusalem. Shiite Iran has the same goal, so at some point very soon, they are going to collide!
"President Recep Tayyip Erdogan has started talking about Turkey's borders, hinting they should be shifted outward a bit. In Syria and Iraq, his army is involved in wars over territory once ruled from Istanbul. Maps of a Greater Turkey have circulated.
That has led to speculation that Erdogan, fresh from surviving an attempted coup, wants to crown his 14-year rule in Turkey by annexing chunks of its neighbors. But analysts see a more mundane domestic calculation behind the rhetoric: They say the president is really trying to expand his own powers, not his country's frontiers."
Earthquakes and Volcanoes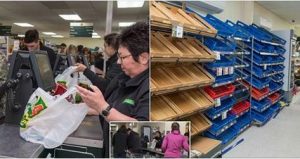 New Zealanders leave supermarket shelves bare after being rocked by a 7.8-magnitude earthquake – forcing shop owners to ration food, milk and water 11/14/16  Many times I've encouraged readers to store food and supplies. You do this as the Lord leads you. You do not want to be at the mercy of the government in a time like this. Please store food and supplies.
"Residents in New Zealand have rushed to supermarkets to stock up on food and drinks after the earthquake
One shop not far from the epicentre of the 7.8 magnitude quake said they have been forced to ration items
Bread, fruit, vegetables and meat are among the most popular items, while 3600L of water has been sold
The quake hit near Christchurch, on the South Island, in the early hours of Monday, killing two people
A two-metre tsunami at Kaikoura just before 2am on Monday local time while aftershocks were also felt"
Major unrest taking place — M7.8 earthquake + tsunami strikes New Zealand 11/13/16  Dutch Sinse called it! He warned of this earthquake two days ago! He warned Italy of the two massive quakes which just hit. God has shown him how to identify when huge earthquakes are going to hit. He calls both the magnitude and location.
I will report if he warns of a major earthquake about to hit America. Will the people listen or follow the nonsense coming out the government agencies which are trying to silence Dutch?
Psalm 104:32  He looketh on the earth, and it trembleth: he toucheth the hills, and they smoke.
Miscellaneous
This is wonderful to watch and listen to – and beautiful bagpipes also, for those of us with at Celtic heritage. It is the appropriate song after this incredible political victory we just won over the forces of hell which saved the nation. God did shed his grace and mercy on the United States of America.
Hebrews 4:16  Let us therefore come boldly unto the throne of grace, that we may obtain mercy, and find grace to help in time of need.
2 Timothy 1-3  I exhort therefore, that, first of all, supplications, prayers, intercessions, and giving of thanks, be made for all men;
For kings, and for all that are in authority; that we may lead a quiet and peaceable life in all godliness and honesty.
For this is good and acceptable in the sight of God our Saviour;