Lawsuit: 100,000 noncitizens registered to vote in Pennsylvania
Verse of the Day
Hosea 4:1 Hear the word of the LORD, ye children of Israel: for the LORD hath a controversy with the inhabitants of the land, because there is no truth, nor mercy, nor knowledge of God in the land. (2) By swearing, and lying, and killing, and stealing, and committing adultery, they break out, and blood toucheth blood.

Commentary
I knew this about Pennsylvania! I live in this state, and Philadelphia is notorious for voter fraud. There is no doubt that the overwhelming numbers of these voters are registered Democrats! I believe that 100,000 is a very low number, and it is really much higher. This was not caused by a computer glitch but on purpose.
It is very possible that President Trump won Pennsylvania by an additional 100,000 or more votes. Imagine looking at California and New York. In reality, Trump probably won the popular vote by several million. Everything about the Dems is fraud and lies. This is a political cult that the Lord is in the process of bring down.
May the Holy God of Israel bless and protect you.
1 Thess 5:23 And the very God of peace sanctify you wholly; and I pray God your whole spirit and soul and body be preserved blameless unto the coming of our Lord Jesus Christ.
American Politics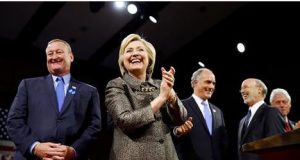 Lawsuit: 100,000 noncitizens registered to vote in Pennsylvania 02/26/18  
Zephaniah 1:4  I will also stretch out mine hand upon Judah, and upon all the inhabitants of Jerusalem; and I will cut off the remnant of Baal from this place, and the name of the Chemarims with the priests;

"More than 100,000 noncitizens are registered to vote in Pennsylvania alone, according to testimony submitted Monday in a lawsuit demanding the state come clean about the extent of its problems.
The Public Interest Legal Foundation, which has identified similar noncitizen voting problems in studies of Virginia and New Jersey, said Pennsylvania officials have admitted noncitizens have been registering and voting in the state "for decades."
But state officials have stonewalled PILF requests for access to the data that could expose the problem, the group says in a lawsuit filed in federal court in Harrisburg.
"For months, Pennsylvania bureaucrats have concealed facts about noncitizens registering and voting — that ends today," PILF President and General Counsel J. Christian Adams said.
He said Pennsylvania had already admitted to a "glitch" dating back to the 1990s that had allowed noncitizens applying to renew driver's licenses to be offered the chance to register to vote. Mr. Adams said he now wants to find out how bad the problem is overall.
Pennsylvania officials wouldn't respond to the lawsuit, nor to the 100,000 noncitizen number. "We're not going to comment on anything related to litigation," said Wanda Murren, director of communications and press at the Pennsylvania Department of State.
The 100,000 number cited in the lawsuit comes from testimony given by Philadelphia Commissioner Al Schmidt, who revealed the glitch in the state motor vehicle bureau's systems that prompted noncitizens to register to vote."
Anarchy
SILENCE! Twitter, YouTube scrubbing all content and banning all users who question the official (false) narrative on the Florida school shooting 02/27/18  We are going to need President Trump and Congress to break the back of this Hard Left control of the media. This is exactly how totalitarianism gains control.
Revelation 22:20  He which testifieth these things saith, Surely I come quickly. Amen. Even so, come, Lord Jesus.

"Anyone who questions the wisdom of the school students-turned-propagandists — who were all probably eating Tide pods a week ago — is immediately banned and silenced. Only one side of this "debate" is allowed to exist: The side that worships the lunatic Left's demands that all law-abiding Americans surrender their self-defense firearms because a group of traumatized school kids were shot at by their own lunatic classmate.
The insanity, stupidity and derangement of all this is beyond description. YouTube, Google, Twitter and even Facebook have now decided to pick a political side and silence all opposing viewpoints. Online platforms that once hosted conversations and debates are now nothing more than lunatic liberal echo chambers of cognitive illiteracy combined with demanded obedience. That's why I have now dubbed the delusional Left an "obedience cult."
This Picture Says It All!!!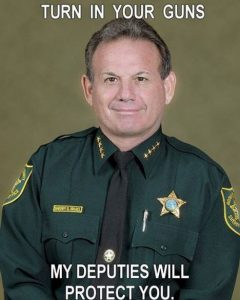 Florida school shooting: Sheriff got 18 calls about Nikolas Cruz's violence, threats, guns 02/23/18  More information is coming out about the utter failure of the government to protect the 17 children murdered at the school. The more the truth comes out, the more it is clear government did not take seriously the treats made by the killer. What a sad joke: See something, say something, while the government does nothing!
"Broward County deputies received at least 18 calls warning them about Nikolas Cruz from 2008 to 2017, including concerns that he "planned to shoot up the school" and other threats and acts of violence before he was accused of killing 17 people at a high school.
The warnings, made by concerned people close to Cruz, came in phone calls to the Broward County Sheriff's Office, records show. At least five callers mentioned concern over his access to weapons, according to the documents. None of those warnings led to direct intervention.
In February 2016, neighbors told police that they were worried he "planned to shoot up the school" after seeing alarming pictures on Instagram showing Cruz brandishing guns.
About two months later, an unidentified caller told police that Cruz had been collecting guns and knives. The caller was "concerned (Cruz) will kill himself one day and believes he could be a school shooter in the making," according to call details released by the Sheriff's Office."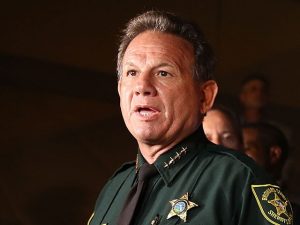 Four of Sheriff Scott Israel's Deputies Waited Outside Douglas High During School Shooting 02/24/18  This is getting worse by the day. There were four sheriff deputies at the scene while the shooting was taking place and none moved to save the children! This is after they were warned in January that Cruz was going to go into the school and shoot it up!
"A report released Friday claims four of Broward County Sheriff Scott Israel's deputies waited outside Marjory Stoneman Douglas High School while the attack was occurring.
On February 22 Breitbart News reported that one deputy resigned after it was learned that he was on scene but failed to control Nikolas Cruz. Sheriff Israel told ABC 13 that video shows the deputy, Scott Peterson, "arrive at the west side of Building 12" and "take a position" outside the school — but never go inside. The sheriff's office moved to suspend Peterson, who resigned before the suspension could take place.
Now CNN reports that the Coral Springs police officers claim three other Broward County deputies were outside the school but failed to go inside as well. They quote "Coral Springs sources" who said the three "deputies had their pistols drawn and were behind their vehicles" when Coral Springs officers arrived. They said "not one of [the deputies] had gone into the school."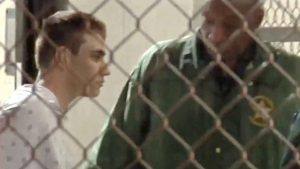 ENABLING KILLER CRUZ 02/27/18  The killer received special treatment at school because he has a Spanish background. His full name is Nikolas de Jesus Cruz. All those kids are dead because of the policy of this school system and the Sheriff's office. I'm sure in the days to come more shocking information is going to come out about what happened. Notice that Democrats were in charge of this!
"If the FBI and local law enforcement had followed established policy, the Valentine's Day murder of 17 high-school students by Nikolas Cruz could very well have been stopped. Gaining less media attention, on the other hand, is the role of educational policies in the total failure to protect the students from a known threat.
As the Sun-Sentinel of Florida's Broward County reports, Nikolas Cruz "kicked doors, cursed at teachers, fought with and threatened classmates and brought a backpack with bullets to school." In 2014, administrators transferred Cruz to an alternative school for students with "emotional and behavioral disabilities" but two years later changed course and retuned Cruz to Marjory Stoneman Douglas High School. Cruz was banished for disciplinary violations but "never expelled from Broward schools. Legally, he couldn't be."
Under federal law, the U.S. Rehabilitation Act of 1973, Nikolas Cruz had a right to a "free and appropriate" education at a public school. As special education lawyer Stephanie Langer told the Sun-Sentinel, "You can't just kick kids out of the public schools because you are afraid of them, or because they are hard to educate." In Parkland, Florida, that notion overrode the right of other students to an education free from fear, and as it turned out, deprived them of their right to life as well.
Broward County Schools superintendent Robert Runcie refused to reveal Nikolas Cruz's school records and told reporters he had no "knowledge" of Cruz's threats while a student. As Runcie told the American Prospect in 2013, he sought to close the "racial achievement" gap and noticed a "huge differential in minority students, black male students in particular, in terms of suspensions and arrests.""
Why is Sheriff Scott Israel's deputy a leader of Hamas linked CAIR? 02/27/18  More horrors about Sheriff Israel and Broward County
American Politics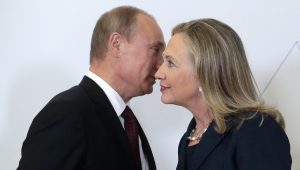 Obama Admin Official Who Helped Anti-Trump Dossier Author Was Exec at Lobbying Firm for Russians Who Bought Uranium One 02/27/18  This is yet another revolution in the never ending evidence of this crime cartel's attempted sedition. They have to go to jail as the case is being laid out before our eyes.
"Jonathan M. Winer, the Obama State Department official who acknowledged regularly interfacing with the author of the controversial, largely discredited 35-page anti-Trump dossier, served as senior vice president of a firm that did lobbying work for Tenex, the U.S. subsidiary of Rosatom, the Russian state corporation headquartered in Moscow.
In 2010, Rosatom infamously purchased a controlling stake in Uranium One, the Canadian uranium mining company with operations in the U.S. The purchase was approved by the Obama administration in a decision that is currently being probed by the House Permanent Select Committee on Intelligence.
In a statement to Breitbart News, APCO Worldwide, where Winer served as senior vice president from 2008 to 2013, denied that the firm's work for Rosatom's subsidiary Tenex was related to the purchase of Uranium One or to the acquisition of uranium in general. Instead, APCO said its work for Tenex, which took place in 2010 and 2011, focused on sales of fuel to the U.S. energy market. APCO also denied that Winer did any work related to Tenex."
World War 3
Pentagon: Russian Military Policy 'Actively Considers' Limited Use of Nukes 02/27/18  It really does look like nuclear weapons will be used during WW3. Massive amounts of people are going to die during this war. People are going to think that it is Armageddon, but it is not.
"We have been extremely concerned with what we have seen as the evolution of Russian military policy as it relates to potential use of nuclear weapons," David Trachtenberg, the deputy undersecretary of defense for policy, said at the Heritage Foundation on Monday.
"Russian nuclear doctrine seems to actively consider the possibility of limited nuclear use. Russian military exercises … in some cases have involved levels of activity involving strategic nuclear forces that we haven't seen since the heyday of the Cold War, and some of those exercises have involved the simulated use of nuclear weapons as part of what has been referred to as an 'escalate to deescalate strategy.'"
The Trump administration's Nuclear Posture Review, released earlier this month, calls for the development of new low-yield nuclear weapons, including a nuclear-armed sea-launched cruise missile and a submarine-launched ballistic missile."
Jerusalem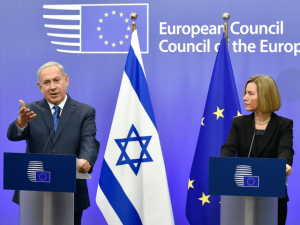 EU Sides with Arab League Against Israel and Trump in Jerusalem Dispute 02/27/18  This tension and fighting over Jerusalem will continue until the Second Coming of Jesus Christ.
Zechariah 12:2  Behold, I will make Jerusalem a cup of trembling unto all the people round about, when they shall be in the siege both against Judah and against Jerusalem.

"European Union and Arab League countries insist that Jerusalem must be the joint capital of Israel and a future Palestinian state, as the U.S. prepares to move its embassy there in a step angering the Arab world.
Speaking after talks Monday between EU and Arab League foreign ministers, EU foreign policy chief Federica Mogherini said that the "special status and character of the city must be preserved."

Ephesians 4:4-6  There is one body, and one Spirit, even as ye are called in one hope of your calling; One Lord, one faith, one baptism, One God and Father of all, who is above all, and through all, and in you all.