Looking for the Blessed Hope Brochure
Commentary
Last October, I preached this message in Karachi, Pakistan which resulted in 4,000 souls coming to the Lord. There was tremendous feedback and the pastors requested I put the message in a brochure to hand out to the masses. I haven't printed it yet, but because it had such an impact, I wanted to get the message out ASAP. The brochure is at the printer and I will have it in a week. If you want a few copies, email me [email protected] with your name and address. Let me know how many copies you want. We are printing 20,000 copies in Pakistan, and they are already all going to be distributed throughout the nation! The request is tremendous.
To see the event go to: Preaching Pakistan
God bless you.
John
Finished Brochure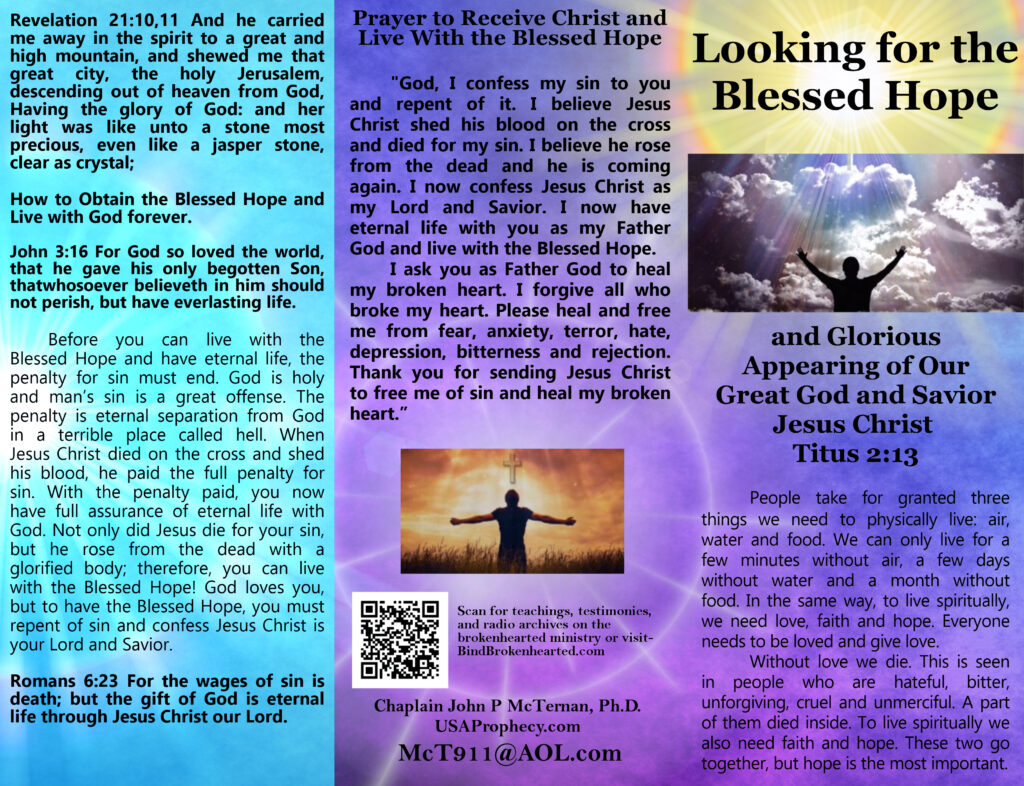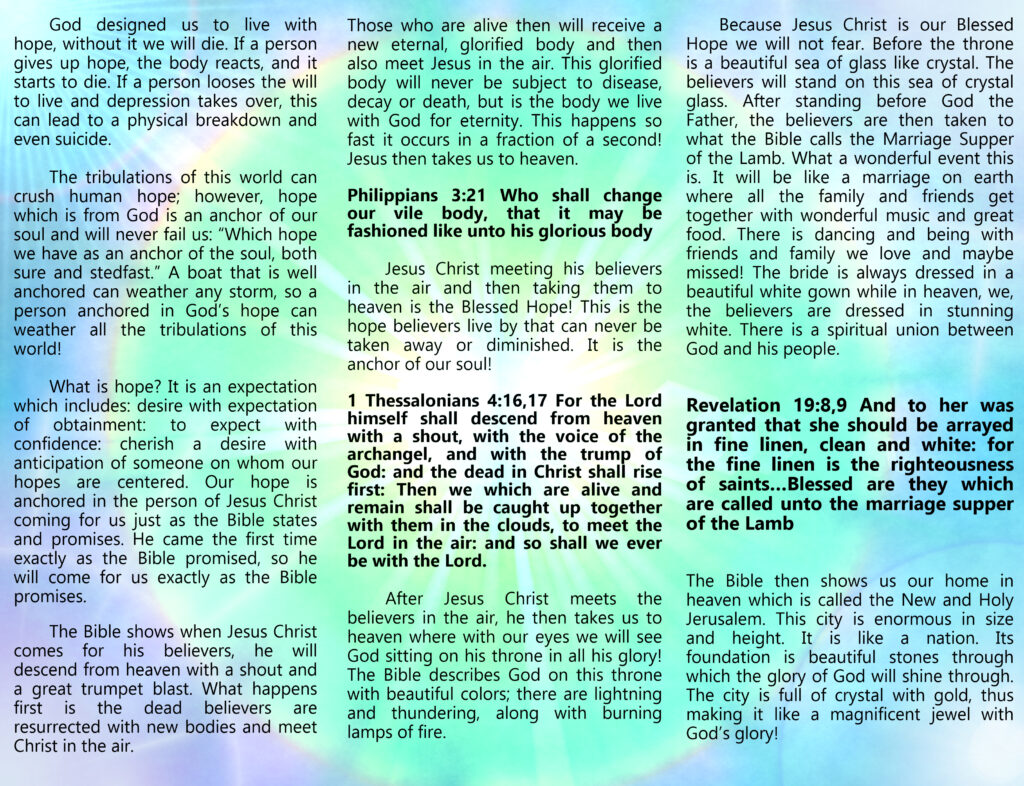 Looking for the Blessed Hope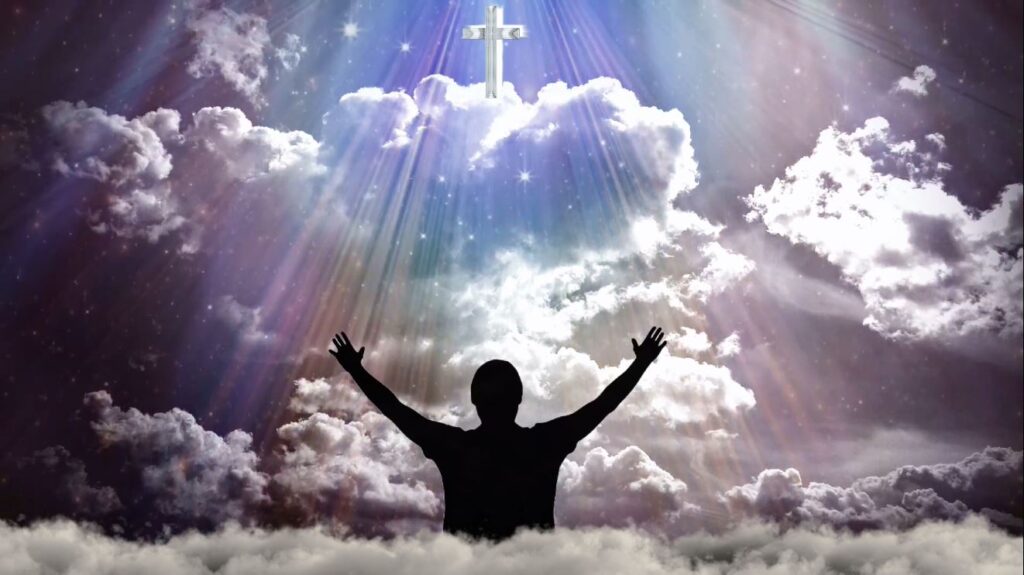 and Glorious Appearing of Our Great God and Savior Jesus Christ
of Our Great God and Savior Jesus Christ: Titus 2:13

People take for granted three things we need to physically live: air, water and food. We can only live for a few minutes without air, a few days without water and a month without food. In the same way, to live spiritually, we need love, faith and hope. Everyone needs to be loved and give love. Without love we die. This is seen in people who are hateful, bitter, unforgiving, cruel and unmerciful. A part of them died inside.
To live spiritually we also need faith and hope. These two go together, but hope is the most important. God designed us to live with hope, without it we will die. If a person gives up hope, the body reacts, and it starts to die. If a person looses the will to live and depression takes over, this can lead to a physical breakdown and even suicide. The tribulations of this world can crush human hope; however, hope which is from God is an anchor of our soul and will never fail us: "Which hope we have as an anchor of the soul, both sure and stedfast." A boat that is well anchored can weather any storm, so a person anchored in God's hope can weather all the tribulations of this world!
What is hope? It is an expectation which includes: desire with expectation of obtainment: to expect with confidence: cherish a desire with anticipation of someone on whom our hopes are centered. Our hope is anchored in the person of Jesus Christ coming for us just as the Bible states and promises. He came the first time exactly as the Bible promised, so he will come for us exactly as the Bible promises.
The Bible shows when Jesus Christ comes for his believers, he will descend from heaven with a shout and a great trumpet blast. What happens first is the dead believers are resurrected with new bodies and meet Christ in the air. Those who are alive then will receive a new eternal, glorified body and then also meet Jesus in the air. This glorified body will never be subject to disease, decay or death, but is the body we live with God for eternity. This happens so fast it occurs in a fraction of a second! Jesus then takes us to heaven.
Philippians 3:21 Who shall change our vile body, that it may be fashioned like unto his glorious body
Jesus Christ meeting his believers in the air and then taking them to heaven is the Blessed Hope! This is the hope believers live by that can never be taken away or diminished. It is the anchor of our soul!
1 Thessalonians 4:16,17 For the Lord himself shall descend from heaven with a shout, with the voice of the archangel, and with the trump of God: and the dead in Christ shall rise first: Then we which are alive and remain shall be caught up together with them in the clouds, to meet the Lord in the air: and so shall we ever be with the Lord.
After Jesus Christ meets the believers in the air, he then takes us to heaven where with our eyes we will see God sitting on his throne in all his glory! The Bible describes God on this throne with beautiful colors; there are lightnings and thundering, along with burning lamps of fire. Because Jesus Christ is our Blessed Hope we will not fear. Before the throne is a beautiful sea of glass like crystal. The believers will stand on this sea of crystal glass.
After standing before God the Father, the believers are then taken to what the Bible calls the Marriage Supper of the Lamb. What a wonderful event this is. It will be like a marriage on earth where all the family and friends get together with wonderful music and great food. There is dancing and being with friends and family we love and maybe missed! The bride is always dressed in a beautiful white gown while in heaven, we, the believers are dressed in stunning white. There is a spiritual union between God and his people.
Revelation 19:8,9 And to her was granted that she should be arrayed in fine linen, clean and white: for the fine linen is the righteousness of saints…Blessed are they which are called unto the marriage supper of the Lamb
The Bible then shows us our home in heaven which is called the New and Holy Jerusalem. This city is enormous in size and height. It is like a nation. Its foundation is beautiful stones through which the glory of God will shine through. The city is full of crystal with gold, thus making it like a magnificent jewel with God's glory!
Revelation 21:10,11 And he carried me away in the spirit to a great and high mountain, and shewed me that great city, the holy Jerusalem, descending out of heaven from God, Having the glory of God: and her light was like unto a stone most precious, even like a jasper stone, clear as crystal;
How to Obtain the Blessed Hope and Live with God forever.

John 3:16 For God so loved the world, that he gave his only begotten Son, that whosoever believeth in him should not perish, but have everlasting life.
Before you can live with the Blessed Hope and have eternal life, the penalty for sin must end. God is holy and man's sin is a great offense. The penalty is eternal separation from God in a terrible place called hell. When Jesus Christ died on the cross and shed his blood, he paid the full penalty for sin. With the penalty paid, you now have full assurance of eternal life with God. Not only did Jesus die for your sin, but he rose from the dead with a glorified body; therefore, you can live with the Blessed Hope! God loves you, but to have the Blessed Hope, you must repent of sin and confess Jesus Christ is your Lord and Savior.
Romans 6:23 For the wages of sin is death; but the gift of God is eternal life through Jesus Christ our Lord.
Prayer to Receive Christ and Live With the Blessed Hope
God, I confess my sin to you and repent of it. I believe Jesus Christ shed his blood on the cross and died for my sin. I believe he rose from the dead and he is coming again. I now confess Jesus Christ as my Lord and Savior. I now have eternal life with you as my Father God and live with the Blessed Hope.
I ask you as Father God to heal my broken heart. I forgive all who broke my heart. Please heal and free me from fear, anxiety, terror, hate, depression, bitterness and rejection. Thank you for sending Jesus Christ to free me of sin and heal my broken heart.