Louisiana Flooding; Evacuations and Rescues Ongoing as Rivers Rise Toward Record Crests
   Verse of the Day
Romans 8:38-39 For I am persuaded, that neither death, nor life, nor angels, nor principalities, nor powers, nor things present, nor things to come, Nor height, nor depth, nor any other creature, shall be able to separate us from the love of God, which is in Christ Jesus our Lord.
Commentary
An awesome flood has hit Louisiana with incredible destruction. These type of floods are hitting America on a regular basis. There are massive fires in the west along with severe droughts. I believe that this is all part of the slow but steady process of God's judgment on America for its national sin.
It is very possible that the judgment might accelerate, with diseases such as the Zika virus and many other diseases overwhelming the nation.
Please keep the people of Louisiana in prayer as they need mercy, and it may cause many to turn the Lord.
May the Holy God of Israel bless and protect you.
Hebrews 9:28 So Christ was once offered to bear the sins of many; and unto them that look for him shall he appear the second time without sin unto salvation.
Floods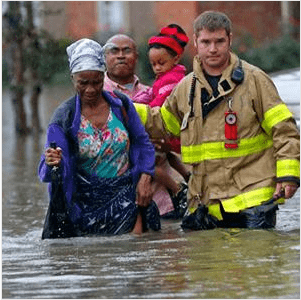 Louisiana Flooding; Evacuations and Rescues Ongoing as Rivers Rise Toward Record Crests 08/14/16  Once again we see a record disaster hitting the United States. Right now we have record heat, droughts and floods hitting all at the same time. I don't see a direct connection to this flooding with national sin, but we are under a general curse for legalizing homosexual marriage in June 2015.
Please, please, please pay attention to this warning. Everyone needs supplies and survival equipment as the Lord leads you. You never know when a disaster is going to hit your area!
"Two people have died and one remains missing as torrential rains continue to inundate both Louisiana and southern Mississippi, flooding homes and forcing evacuations and water rescues.
More than 24 inches of rain have fallen in Livingston, Louisiana, according to observations relayed to the National Weather Service, and Gov. John Bel Edwards declared a state of emergency for the entire state. Edwards is heading back to Louisiana, cutting short a trip to Colorado for a meeting of the Democratic Governors Association, according to the Associated Press.
The downpours have also been sending area rivers rising quickly toward historic crests, with the Amite River in Denham Springs, Louisiana, already reaching historic levels and expected to rise 4 1/2 feet above the record."
World War 3
Ukraine joining NATO would be trigger for war with Russia 08/14/16  This article is loaded with great information. The author sees nuclear war in Europe within one year! I believe that when war breaks out in Europe, it will turn nuclear.
With long range missiles, there is a great likelihood that nuclear weapons would be used against America. Why isn't the American church on its knees before the Lord?
"In his warning, General Shirreff's said Europe could be locked in nuclear war with Russia "within a year" triggered by a Russian incursion into Baltic States; Latvia, Lithuania and Estonia.
The retired general said he had an "awful vision of the Baltic States being seized" and NATO being unable to respond due to Russia having nuclear weapons.
His prediction" is the basis for his book War With Russia, which is a fictional account of how a nuclear war in the continent could unfold."
Russia Building Dozens of Underground Nuclear Command Bunkers 08/15/16  This article is an update on Russia getting ready for war.
"American intelligence officials say the building of dozens of underground bunkers has been proceeding for years and is a clear sign that the West should be concerned about the nuclear use doctrine Moscow is adopting.
Recently, NATO's Supreme Allied Commander Europe Gen. Curtis Scaparrotti warned that Moscow is considering using low-yield nuclear weapons in a future conflict in order to conclude it to its advantage, confident that the West would not respond with nuclear weapons of its own.
The general said this is why he insists that the West's nuclear deterrence must be enhanced and taken seriously, especially as the Obama administration has been considering a declaration that it would not use nuclear weapons to stop aggression by conventional forces."
Hard Left/ Islam
UN Admits Migrant Crisis Plan To Overthrow West (Video) 08/14/16  This is a great video laying out before you what is happening in Europe and why it is happening. It does not mention George Soros, but he is also one of the Key players in destroying Europe.
It appears that the Lord has turned the Europeans over to evil men to be destroyed. The Hard Left has combined with the Muslims to destroy Europe. What is going to take the place of current-day Europe?
"Alex Jones breaks down how Goldman Sachs and the UN are using a wave of Islamic migrants to destroy the sovereignty of Western Nations."
Hard Left/ Israel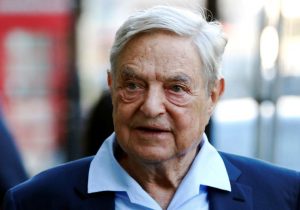 Hacked Soros e-mails reveal plans to fight Israel's 'racist' policies 08/15/16  I have said many times through the years that George Soros is one of the most evil men in the world.
Whatever is evil he flocks to it and gives millions of dollars. It is not shocking that he was involved in attacking Israel.
"Hacked emails show that the Open Society Foundations, led by George Soros, has as an objective "challenging Israel's racist and anti-democratic policies" in international forums, in part by questioning Israel's reputation as a democracy.
The documents are available on a website, reportedly backed by Russia, that uses anti-Semitic stereotypes to attack Soros.
They reveal that Open Society, which was founded and is chaired by the hedge fund billionaire and philanthropist, gave close to $10 million since 2001 to groups advancing the rights of Arab Israelis, with an emphasis in recent years on countering what one document says are Israel's "restrictive measures" against minorities."
Christian Apostasy
Evangelical Lutherans to US: End Israel aid if settlements stay 08/15/16  There is no end to the wickedness coming from the mainline churches. Whatever is against the Bible they are for.
We need a clean break from the apostates so the world can see the truth and especially Israel. I do not want to be connected in any way with the Evangelical Lutheran Church.
1 Timothy 4:1-2 Now the Spirit speaketh expressly, that in the latter times some shall depart from the faith, giving heed to seducing spirits, and doctrines of devils; Speaking lies in hypocrisy; having their conscience seared with a hot iron;

"[T]he Evangelical Lutheran Church in America approved a resolution calling on the US government to end all aid to Israel if Israel does not stop building settlements and "enable an independent Palestinian state."
The aid vote, which passed 751-162, urged church members to "call on their US Representatives, Senators and the Administration to take action requiring that to continue receiving US financial and military aid, Israel must comply with internationally recognized human rights standards as specified in existing US law, stop settlement building and the expansion of existing settlements in East Jerusalem and the West Bank, end its occupation of Palestinian territory, and enable an independent Palestinian state."
The resolution also called on Obama not to prevent the application of the State of Palestine for full membership in the United Nations and, in coordination with the United Nations Security Council, to "offer a new, comprehensive and time-bound agreement to the governments of Israel and Palestine, resulting in a negotiated final status agreement between Israel and Palestine leading to two viable and secure states with a shared Jerusalem."
Jerusalem – Temple Mount

King of Jordan: Jews taking over Al Aqsa mosque 08/15/16  The Temple Mount remains in the headlines. This is ground zero for a possible all-out war between Israel and the surrounding Muslim nations.
"King Abdullah of Jordan has expressed outrage that 400 Jews visited the site of the two Holy Temples on the Temple Mount yesterday. His statement of fury ignored the simultaneous Moslem provocations and violence.
Yesterday, the 9th day of the month of Av – the date on which both Holy Temples were destroyed some 2,500 and 2,000 years ago, respectively – a relatively large number of Jews visited the site: some 400.
"We continuously struggle with repeated strikes carried out by Israel and extremist organizations in Jerusalem," the king stated, "as well as with the attempts to change the status quo in the city. We will stand fast against any attempt to harm our holy places or to divide the Al-Aqsa mosque [in terms of] area or prayer times."
We're not embarrassed to say it: We want to rebuild the Temple 08/14/16  Again, we see the Temple Mount headlined in the news. There is a stirring among the Israelis to rebuild the temple. This is ground zero of prophecy, and the Muslims will do everything possible, including war, to stop Israel from building it. In the end, Islam will be destroyed and the Israelis will build this temple.
"Rabbi Ben-Dahan added that the rebuilding of Jerusalem would not be complete until the Temple too is rebuilt and the Temple Mount redeemed.
"We are all here to declare that we have returned to Jerusalem and God-willing we will prepare the hearts [of the people] to return to the Temple Mount as well and to rebuild the Temple. We aren't embarrassed to say it: We want to rebuild the Temple on the Temple Mount."
MK Glick, a notable Temple Mount activist, said the time had come to replace mourning with action.
"For 2,000 years we lived out the verse [in the Book of Lamentations] 'you shall surely weep at night'. No more! We must stop weeping and start to take action. The founders of the Zionist movement taught us that the Exile was not just a punishment but a sin as well."
"Today we are in a different place. Anyone who reads the Book of Lamentations cannot possibly think we are still there [in that situation]. We are not under siege and we are not isolated."
The Coming Middle East War
This Is Why The Syrian Rebels' Takeover Of Aleppo Matters So Much 08/15/16  This is an excellent article that gives tremendous information about what is happening in Syria and the Battle of Aleppo. This battle shows how weak the Syria army is and even with Iranian and Hezbollah help they could not defeat the rebels.
I still believe that the Sunnis are going to win and form a caliphate to attack Israel and Jerusalem.
"A ferocious ground offensive quickly followed, punctuated by artillery strikes and even a tank offensive that appeared to catch regime forces off guard. Within hours on Saturday, Syrian rebel forces, including US-backed fighters and jihadi extremists, had punched a hole through the blockade around eastern Aleppo.
It took the rebels — many of them were equipped with new weapons — less than 24 hours to break a siege that the regime, backed by Russian airstrikes and Iranian-backed militias, had taken nearly a year to assemble.
The rebels not only secured the precarious Ramouseh route to opposition-held eastern Aleppo, they also cut the main supply route for the western half of the city, which is controlled by the regime and is now itself in danger of being besieged. One Syrian expert called the tangle of troops and territory a "kind of Mexican standoff."
The fight over Aleppo is a crucial, symbolic, and strategic battle for all of the regional and global powers tied up in the Syrian conflict. Regime victory over rebels in Aleppo could spell the end of the rebellion against Bashar al-Assad, while rebel control over the city's center and its eastern surroundings keeps them as major players in any potential settlement of the conflict."

Psalm 29:10  The Lord sitteth upon the flood; yea, the Lord sitteth King for ever.