Media Trying to Turn a Biden Scandal into a Trump Scandal
Verse of the Day
Isaiah 9:7 Of the increase of his government and peace there shall be no end, upon the throne of David, and upon his kingdom, to order it, and to establish it with judgment and with justice from henceforth even for ever. The zeal of the LORD of hosts will perform this.
Commentary
Finally, the information about the corrupt Biden family is making it into the public! God is getting all the information out into the open, so we can see the fullness of how corrupt Washington is. Now we need to pray that these criminals are brought to justice!
Joe Biden is totally corrupt and like the Clintons he is a big part of selling out America! This corrupt will totally end at the Second Coming of Jesus Christ.
May the Holy God of Israel bless and protect you.
Luke 12:3 Therefore whatsoever ye have spoken in darkness shall be heard in the light; and that which ye have spoken in the ear in closets shall be proclaimed upon the housetops.
Hard Left Corruption: Biden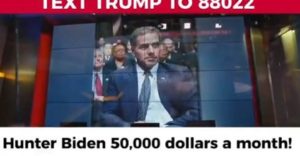 "Peter Schweizer on Whistleblower: Media Trying to Turn a Biden Scandal into a Trump Scandal"
"In April John Solomon revealed what Biden did not tell his audience. Joe Biden had Shokin fired because he was investigating Joe Biden's son Hunter.

Poroshenko was investigating $3 million in funds that were being transferred out of Ukraine and into accounts in the United States at that time. Joe Biden had him fired.

In May President Trump attorney Rudy Giuliani said in an interview that he plans to travel to Ukraine to push the country's leadership on several probes that may prove "very, very helpful" to President Trump, as Republicans continue looking to turn the tables on Democrats and prove that they — not the GOP — were the party that improperly conspired with foreign actors.

Rudy Giuliani later joined Sean Hannity to discuss this international scandal involving Joe Biden and his drug addict son, Hunter Biden.Rudy told Sean that Joe Biden will be investigated no matter what.

Three days later Rep. Adam Schiff told ABC that President Trump should not be allowed to investigate Joe Biden's criminal dealings in Ukraine. Joe Biden and his son also secured a billion-dollar China deal just days after former Vice President Joe Biden visited China in 2013."
The 666 Surveillance  System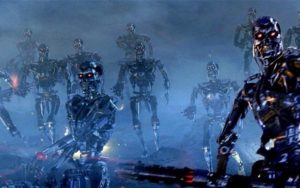 "Microsoft chief Brad Smith says rise of killer robots is 'unstoppable'" What was science fiction is now becoming reality! This now is coming together right before our eyes!
It is possible that robots like this will make the antichrist invincible, and all nations will come under his control. His empire will be destroyed at the Second Coming of Jesus Christ.
Revelation 13:7 And it was given unto him to make war with the saints, and to overcome them: and power was given him over all kindreds, and tongues, and nations.

"He said the rapidly advancing technology, in which flying, swimming or walking drones can be equipped with lethal weapons systems – missiles, bombs or guns – which could be programmed to operate entirely or partially autonomously, "ultimately will spread… to many countries".

The US, China, Israel, South Korea, Russia and the UK are all developing weapon systems with a significant degree of autonomy in the critical functions of selecting and attacking targets."
Hard Left Paganism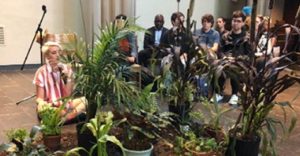 "CLIMATE CHANGE RELIGION: Seminary Students Offer Confessions To Plants In Ritual" What they did is right out of the Bible as they turned from the living God to paganism by worshiping the creation rather than the Creator! Because the Hard Left rejects the Creator, I expect that they will fully worship the creation. Homosexuality is all part of rejecting God and turning to the creation!
Romans 1:25 Who changed the truth of God into a lie, and worshipped and served the creature more than the Creator, who is blessed for ever. Amen. (26) For this cause God gave them up unto vile affections: for even their women did change the natural use into that which is against nature:

"Seminary defends confessing sins to plants: 'Beautiful, moving ritual' Students at a seminary in New York City recently confessed their sins to plants during a chapel service, an experience that drew nationwide ridicule but that a campus spokesman defended as a "beautiful, moving ritual" in a statement to The College Fix.

On Tuesday, Union Theological Seminary in Manhattan shared on its Twitter account a photo of a group of students speaking to an arrangement of house plants. "Today in chapel, we confessed to plants. Together, we held our grief, joy, regret, hope, guilt and sorrow in prayer; offering them to the beings who sustain us but whose gift we too often fail to honor…

According to its website, Union Theological Seminary was founded in 1836 by nine Presbyterian ministers, who were seeking a "new vision for theological education." Long known as a center of progressive Christian theology, it has graduated and hosted liberal thinkers from Harry Fosdick to Cornel West. Elsewhere on its website it states that "the fragility of our planet" is one of "the most profoundly challenging issues of our contemporary experience."
Pedophile Epstein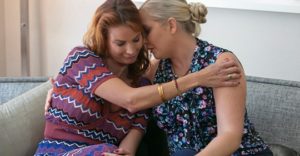 'When you are in, you can't get out.' Women describe how Jeffrey Epstein controlled them This is a very in depth article about Epstein's pedophile empire.
He had all types of "professions" working with him, and I guess no one knew anything! He had lots of money and could buy or buy-off people to keep his pedophile empire going.
What I found interesting was that he had women in their 20s around him just as a cover for the his pedophilia. Truly the love of money is the root of all evil.
1 Timothy 6:10 For the love of money is the root of all evil: which while some coveted after, they have erred from the faith, and pierced themselves through with many sorrows.

"For two decades, Jeffrey Epstein built a sex trafficking enterprise that reached across state borders and spanned the globe. Using an almost bottomless quarry of wealth and connections, he not only employed recruiters around the world, but enlisted the help of an array of seemingly legitimate people — from hairdressers to psychiatrists to immigration lawyers and dentists. Even doctors who prescribed his victims birth control and screened them for sexually transmitted diseases.

But a closer look at Epstein's sex trafficking operation sheds new light on how the multimillionaire and his accomplices perfected a process to sexually exploit and abuse young women that was so organized — and so apparently acceptable to many of those around Epstein — that his victims, even those above the age of consent, came to believe that it was almost normal."
https://youtu.be/u_pCkjyIGDo
Abba Father's  International Fellowship
Dearest loving servant of God, Dave and John. Greetings and love to you in the honor and Awesome name of Jesus Our Lord and Savior ,who is, who was and who will be king our lord and savior and for his mercies and grace that endures forever in our life's.
Am very much appreciative to the work you are doing in the kingdom of the lord, your work is Good and Promising in the kingdom of God, I also want apologies for coming to you late and after sometimes i had a lot to do here and there to ensure that the lord Gains the Greatest Glory ever which will never Be shared with any body,
The lord has truly helped me and i have been busy both in my ministry and the ministry outside Kenya, i have been to Uganda ministering there and Congo as well for last last weeks, a Lot has been done of Discipleship, evangelism,seminars, crusades and church planting ,through the last mission .
The material reached was distributed to crowd, People were very many, leaders collected for their churches, Others for the families and other to their fellow workers, so in general the work was fine. People enjoyed the work and the updates of the last trumpet which I believe releases there heart and minds for Jesus and even more need addition material was a great demand , my speaking engagements is also gaining a great demand to everyone wanting the me to reach to the congregations and leaders as well. I believe that the crown will continue increasing as the Anointing of God Increase them by the material renewal of there minds.
Am very much Happy for the what the lord is continuing to do in our midst and this the Great Assurance that the lord wants to use us to great vessel of the Kingdom, the Demand for the Last Trumpet message is Going High and High and everybody now wants to be Part of This Spiritual
Family of the kingdom and sharing them of God And the kingdom minded people ,Many are testifying on what the Lord is Doing in their Lives and How the Message is Changing them completely as the Understand the Prophesy much of What is Taking Place in the Entire world.
Am also happy that things are well and the work is Coming up well in the Regions of Kenya and its Border as i mentioned, the work in Kenya and in regions are much and need many who can be used as witness of Christ to reach others in there regions
Jesus is reminding me always as i labor for the kingdom that the time has come JOHN 5;25 ,and the time s now When the dead shall hear the voice of the son of God and all that hear it shall live,Halleluiah!
Am requesting that you SENT me another box immediately for the the next month week one mission work and revival meetings in  Zambia
Please attached are the photos of the mission work With love and Blessings
Rev R
If you like our ministry, please consider making a donation to keep us going. May the Holy God of Israel bless you!
Revelation 22:20 He which testifieth these things saith, Surely I come quickly.Amen. Even so, come, Lord Jesus.