Military Faces a Sweeping Turnover Among Upper Commanders
Verse of the Day
Exodus 15:3 The LORD is a man of war: the LORD is his name.
Commentary
This is wonderful news because the military is replacing many military leaders appointed by Obama. I don't trust anyone appointed by Obama because of who Obama is. Obama is a hard core American hating ideologue who hates America as we know it, so anyone he appoints is suspicious!
I have been concerned about the leadership in the military especially the Air Force, but now I feel more settled. With so much prayer for the President, the Lord can bless his decisions!
May the Holy God of Israel bless and protect you. (This is what happens when the Lord blesses a nation)
Deuteronomy 28:7 The LORD shall cause thine enemies that rise up against thee to be smitten before thy face: they shall come out against thee one way, and flee before thee seven ways.
Purging the Hard Left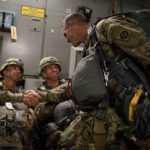 "Military Faces a Sweeping Turnover Among Upper Commanders"
Proverbs 21:1 The king's heart is in the hand of the LORD, as the rivers of water: he turneth it whithersoever he will.

"President Trump is expected to nominate a former operations officer who played a critical role in the 2011 raid targeting Osama bin Laden to head of the U.S. Special Operations Command as part of a series of military promotions in coming months, according to U.S. officials.

The changes, which include commanders for the Middle East and Europe, will mark the administration's largest imprint on military leadership thus far. The personnel moves stand to affect top officers overseeing conflicts in the Middle East, U.S. policy to counter Russia, the detention center on Guantanamo Bay, Cuba, as well as stealth operations globally."
Hard Left vs Christianity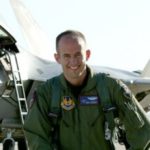 "Atheists Want General Behind Bars for Praying for the US" This is a perfect example of what awaits us if there is no outpouring of the Spirit on America. The reprobate mind hates God, and therefore, it hates us. These people want to destroy Christians, with murder in their hearts for God and us.
Romans 8:6,7 For to be carnally minded is death; but to be spiritually minded is life and peace. Because the carnal mind is enmity against God: for it is not subject to the law of God, neither indeed can be.
"I was a bit puzzled and surprised to see someone of Col. Teichert's stature standing in my hospital room—seeing how I did not know the man. I was particularly moved by the colonel's kindness and his compassion—a brother in the Lord who took time out of his very busy schedule to pray at the bedside of a stranger.

So you can imagine my surprise when I received a press release from the Military Religious Freedom Foundation calling for the arrest of now Brigadier General Teichert—the new wing commander at Edwards Air Force Base in California. The Military Religious Freedom Foundation is an organization that trolls military bases in search of any public display of the Christian faith. They are typically triggered by nativity scenes and Bibles placed on Missing Man tables."
Hard Left Promoting Violence Against Us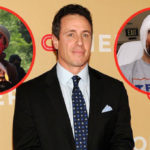 "CNN: Antifa Violence Against Trump Supporters is 'Right'" It is really out in open that Antifa is the new KKK of the Democrat Party. CNN's Cuomo is justifying Antifa's violence because they are fighting hatred!
A mind like his can justify and rationalize anything. He speaks for the entire Left. He just said what they are thinking. They are taking the fight to us and the mettle of real Americans is going to be severely tested.
Genesis 6:11 The earth also was corrupt before God, and the earth was filled with violence.
"CNN's Chris Cuomo announced that the news network will not condemn violence against President Trump's supporters, but rather justified physical attacks. According to Cuomo, violent attacks by Antifa and Black Bloc are "right" because those who back their president are "bigots."

CNN legitimized political violence, with Cuomo saying, "All punches are not equal morally… "Drawing a moral equivalency between those espousing hate and those fighting it, because they both resort to violence emboldens hate, legitimized hateful belief and elevates what should be stamped out."
Hard Left vs Real Americans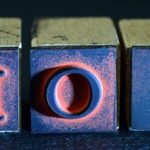 "And They Wonder Why We're Angry" This is a very good article laying out the divide between real Americans and the Left. It is good article showing the sharp divide with no way to reconcile it.
"America is experiencing a major culture war between its interpreters and the people. It is less a war of political parties: Democrat versus Republican. It is less a war of ideologies: conservative versus liberal. The rapidly escalating censorship of the internet giants against Dennis Prager and an array of conventionally American advocates is a symptom of an interpretive class gone mad with their own power. In many respects, it pits the secular against the religious and the higher economic class against the lower class.
666 Surveillance System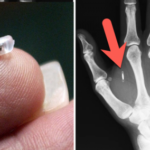 "Wisconsin Company Injecting RFID Microchips Into Hands Of Employees" This article is just an update to the advancement of the 666 System. People seem to like being chipped in their hand, so it is natural to them. The next step is receiving the real make to join the 666 System and eternal damnation.
Revelation 13:16,17 And he causeth all, both small and great, rich and poor, free and bond, to receive a mark in their right hand, or in their foreheads: And that no man might buy or sell, save he that had the mark, or the name of the beast, or the number of his name. (18) Here is wisdom. Let him that hath understanding count the number of the beast: for it is the number of a man; and his number is Six hundred threescore and six.

"Wisconsin technology firm Three Square Market has injected 80 employees with their own brand of RFID microchips over the last year, and according to MIT Technology Review, "they love it."

The implant, which is about the size of a grain of rice, utilizes Near Field Communication (NFC) technology, also found in credit cards, debit cards, key fobs, and smartphones. This technology is considered "passive," meaning the microchip stores data that can be read by other devices but cannot read data themselves.

"It's just become such a part of my routine," says VP of finance Steve Kassekert, who says he was miffed when the RFID reader on the vending machine went down a couple of months ago. And sure, buried towards the end of the MTR article are concerns over security – such as the fact that anyone with an RFID reader can cozy up to a chipped individual and ping their implant to glean personal information. But hey – CEO Patrick McMullan points out that "similar personal information could be stolen from his wallet, too."

"You can sniff it if you're at a bus stop," he says."
Hard Left Killing Babies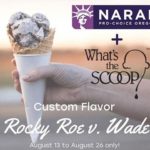 "NARAL Pro-Abortion Group Screams for 'Rocky Roe v. Wade' Ice Cream" I looked at this headline and was confused. This article shows the depth of depravity of the reprobate mind. They made an ice cream celebrating the death of babies and want to make money off it!
There really is no bottom to the reprobate mind.
Romans 1:28 And even as they did not like to retain God in their knowledge, God gave them over to a reprobate mind, to do those things which are not convenient;

"Abortion political advocacy group affiliate NARAL Pro-Choice Oregon has partnered with Portland ice cream vendor What's the Scoop on a new ice cream flavor that celebrates the 1973 Supreme Court decision that created a right to abortion.

"We've partnered with @WhatstheScoopdx by offering ice cream pints for sale for a limited time only, including a new custom flavor made exclusively for NARAL Pro-Choice Oregon: Rocky Roe v. Wade!" NARAL announced on Twitter. "Order yours now & help defend reproductive freedom!"
Hard Left:Their Modern KKK has to be Stopped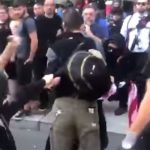 "Bernie Sanders supporter protesting right-wing rally with American flag beaten up by Antifa" Antifa is getting more dangerous as time goes on because the police are not breaking it up and the courts are not putting them away when they are arrested.
Many people can get hurt by Antifa if they are not stopped.
"A registered Democrat and Bernie Sanders supporter protesting a right-wing rally in Oregon earlier this month says he was viciously beaten by militant members of his own movement because he possessed a "fascist symbol" — an American flag.

Paul Welch told The Oregonian/Oregon Live he took the flag with him when he went to Portland Aug. 4 to oppose a right-wing rally being held at the Tom McCall Waterfront Park. Though the American flag is more commonly associated with the conservative movement, Welch, an Oregon man who voted for Sanders during the 2016 Democratic presidential primary, said he wanted to "take it back."

"The right, and certainly a lot of smaller groups like Patriot Prayer, might rush to things like the flag and try to take it up as, 'This is our symbol exclusively,'" Welch told The Oregonian/Oregon Live. "Part of my thinking was to take it back."
Revelation 22:20 He which testifieth these things saith, Surely I come quickly. Amen. Even so, come, Lord Jesus.