Muslim spies fired by Congress in DC
Verse of the Day
Revelation 1:7  Behold, he cometh with clouds; and every eye shall see him, and they also which pierced him: and all kindreds of the earth shall wail because of him. Even so, Amen.

Commentary
Three Muslims were caught accessing protected Congressional information. These Muslims all worked for Democrats! They were probably all part of the Muslim Brotherhood. These three were 25 foot alligators in the DC swamp. This is a good start, but there is a long way to go.
There was nothing about this in the main stream news. They will cover for the Muslims at all times.
May the Holy God of Israel bless and protect you.
Revelation 22:20  He which testifieth these things saith, Surely I come quickly. Amen. Even so, come, Lord Jesus.
American Politics/ Islam
Muslim spies fired by Congress in DC 02/05/17
"Three brothers who managed office information technology for members of the House Permanent Select Committee on Intelligence and other lawmakers were abruptly relieved of their duties on suspicion that they accessed congressional computers without permission.
Brothers Abid, Imran, and Jamal Awan were barred from computer networks at the House of Representatives Thursday, The Daily Caller News Foundation Investigative Group has learned.
Three members of the intelligence panel and five members of the House Committee on Foreign Affairs were among the dozens of members who employed the suspects on a shared basis. The two committees deal with many of the nation's most sensitive issues and documents, including those related to the war on terrorism."
Muslim Brotherhood Front Organizations, U.S. and Canada 02/05/17  It is very important for Congress to identify the Muslim Brotherhood as a terrorist organization. This way federal law enforcement can zero in on it, and prosecute everyone associated with it. Obama loved this group and invited them into the White House.
These people are a great danger to America, because they want Americans to submit to an Islamic caliphate!
"U.S. Senator Ted Cruz last week submitted legislation to designated the Muslim Brotherhood as a Terrorist Organization.
Cruz (R-TX) earlier had a bill in the Senate which would not only ban the Muslim Brotherhood in the U.S. but also three of its front groups: Council for American Islamic Relations (CAIR) USA, Islamic Society of North America (ISNA) and the North American Islamic Trust (NAIT). These American-based front groups have corresponding chapters or organizations in Canada as well.
Muslim Brotherhood front organizations and their members have an ongoing problem with criminal activity, terrorism-funding activities and overall negative relations with legal authorities. These problems range from being listed as terrorist groups, being charged for weapons possession and an even an arrest for alleged sexual charges involving a 12-year-old girl.
Several of the charges are consistent with the extremist nature of the Muslim Brotherhood itself, given its commitment to violent political change. Both criminal investigations and terrorism listings in North America, for instance, have been directly related to terrorism funding for Hamas, itself a branch of the Muslim Brotherhood."
Hard Left/ Islam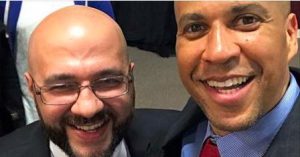 Mayor Mohamed Khairullah Wins Kudos for Sanctuary City Exec Order 02/06/17  Wow, it looks like New Jersey is dying like California. This is a really liberal state that is pro-homosexual and pro-abortion. They love their sin. Well, God has a remedy for this, and it is called Islam. States in America are being turned over to Islam for judgment, just as the nations of Europe!
The next stage for New Jersey is Muslim Sharia law zones; thus there will be Islamic states sprinkled throughout the state. Then they will grow like cancers. This is America's last chance before we suffer the same fate as Europe. You can see the judgment developing before your eyes. America is really starting to break up, because how can we function as a nation with states like California and New Jersey? America is dying under the weight of its own sin.
It really looks like God has given us a short reprieve with Trump as President. You can see the forces of hell are ready to move, but right now they are stymied.
Revelation 15:4  Who shall not fear thee, O Lord, and glorify thy name? for thou only art holy: for all nations shall come and worship before thee; for thy judgments are made manifest.

"According to the order, "No department, committee, agency, commission, officer or employee of the Borough of Prospect Park shall use any Borough funds or resources to assist in the enforcement of Federal Immigration Law."
Khairullah directly refers to his own past in explaining why he signed the order: "It is important to me as a person who came to the U.S as an immigrant, that we uphold our laws and values," he said Saturday, according to NJ.com. "The U.S is the land of opportunity and dreams for many people all over the world."
The heightened profile for Khairullah, a former teacher in the Paterson public schools who worked at Office Depot, represents growing political power for Muslims in New Jersey politics."
American Politics/ Iran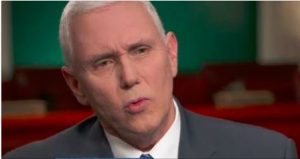 Pence: Iran Would Do Well Not to 'Test' Trump Administration, 'We're Watching' 02/06/17  Wow, there is a new sheriff in town! Obama was going to allow Iran to build nuclear weapons along with the missiles to deliver them. President Trump is going to confront Iran, and I think this is about to come to a huge showdown.
Revelation 22:20  He which testifieth these things saith, Surely I come quickly. Amen. Even so, come, Lord Jesus.

"Partial transcript as follows:
STEPHANOPOULOS: President took executive action on Iran yesterday. Imposed those new sanctions. And we saw General Flynn say, "Iran is on notice." What does that mean, exactly?
PENCE: It means, We're watching.
STEPHANOPOULOS: What are we watching for?
PENCE: It means there's– Iran would do well to look at the calendar and realize there's a new president in the Oval Office. And Iran would do well not to test the resolve of this new president.
STEPHANOPOULOS: What would testing the resolve be?
PENCE: Well, we– the– the ballistic missile tests that were done in the last week were in direct violation of U.N. Security Council resolutions dealing with limiting them in that regard. That's the reason why the president took the decisive action that he took to impose economic sanctions on their supply chain for their missile program.
But also, let's recognize that, the Houthi rebels in Yemen are fully subsidized by Iran. And the attack that the Houthis leveled using Iranian arms against a Saudi Arabian– ship this last week, all represent the kind of hostile and belligerent actions that are simply not going to be tolerated– by this administration–
STEPHANOPOULOS: That might require military action? President said, 'Everything's on the table.'
PENCE: President said, 'Everything's on the table.'"
Iran/ Israel
Iran: 'Only seven minutes needed for the Iranian missile to hit Tel Aviv' 02/06/17  Will 2017 see war between Iran and Israel? President Trump has Israel's back, so this is an entirely new ballgame for Iran. In the coming war Iran is defeated but not destroyed.
Jeremiah 51:20  Thou art my battle axe and weapons of war: for with thee will I break in pieces the nations, and with thee will I destroy kingdoms; And with thee will I break in pieces the horse and his rider; and with thee will I break in pieces the chariot and his rider; With thee also will I break in pieces man and woman; and with thee will I break in pieces old and young; and with thee"

"Only seven minutes is needed for the Iranian missile to hit Tel Aviv," senior member of the Iranian parliament's National Security and Foreign Policy Commission and former Revolutionary Guard official, Majtaba Zonour, told semi-official Fars News Agency Saturday.
His comments follow days of heated exchanges between US and Iranian officials.
Days of turning a 'blind eye' to Iran's hostility 'are over,' White House says. US Jewish groups applaud Trump's new Iran sanctions
Tensions between Washington and Tehran have intensified after the Trump administration announced new sanctions targeting Iran's ballistic-missile program.
The US issued the new penalties in response to several Iranian missile launches that international powers say are in violation of Iran's obligations."
American Politics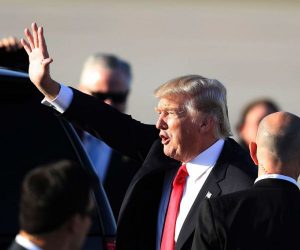 Trump on Voter Fraud: 'People Say I'm Right' 02/05/17  This is so needed because the power of the Democrats is illegal aliens and voter fraud. This could really hurt them badly, and I'm sure they are going to fight this and say it is voter intimidation.
This is really exciting because it is part of draining the DC swamp.
"Trump also repeated his promise to investigate voter fraud, saying he would put Vice President Mike Pence in charge of a commission to look at the issue carefully.
Trump has repeatedly said that 3 million people voted illegally in the November 8 presidential election.
Trump, who was spending the weekend at his Mar-a-Lago resort in Palm Beach, Florida, captured the presidency by winning enough of the state-by-state Electoral College votes to defeat Democrat Hillary Clinton.
Still, Clinton won the popular vote by nearly 3 million votes, piling up an overwhelming majority in deeply Democratic states like California."
Hard Left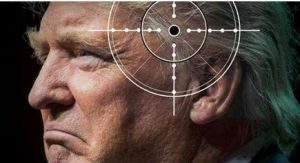 Why not: The ethical and practical calculus says don't do it 02/06/17  I am 100 percent Irish and took this personally. I was so upset that I called the Irish Embassy to complain. They have been receiving calls about this. This article is from Ireland, and it is about assassinating President Trump.
I am asking all the Irish, or anyone, to call the Irish Embassy and complain. I am calling the Irish Department of Justice tomorrow.
Irish Embassy (5 hrs ahead of EST)
Hours: 9AM–1PM, 2–4PM
Phone: (202) 462-3939
Irish Department of Justice in Dublin to make a criminal complaint at 011-353-1602-8202.
The article obviously was written by the hardest of the Hard Left.
"Kill Him?
Tyrannicide has had support from various philosophers and theologians through the centuries, including the ancient Greeks and Romans, most notably Cicero; Catholics, most notably John of Salisbury (d. 1180); and Protestants, most notably, Luther, Zwingli, and Calvin.
On the other hand, Trump's impulses are not democratic. If he pushes towards curtailing freedoms and minority rights it may legitimate for Christians to think about removing him. A tyrant by oppression is one who has come to power legitimately, but rules unjustly, oppressively, and arbitrarily. Here Aquinas believed the community had a duty to confront the tyrant, and if necessary, depose him, according to the course of law available. If he does not go, he becomes a tyrant by usurpation and thereby may be eliminated by an act of justifiable tyrannicide in accord with principles of necessity and proportionality and provided the common good is served."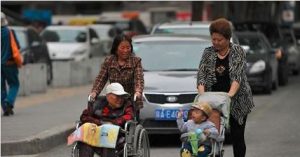 Death Spiral Demographics: The Countries Shrinking The Fastest 02/06/17  Many cultures are dying because they don't want children. What happens is that the old continually outnumber the young and this drains the economy. When a nation's population starts declining like this, there is no way to turn it around. This nation is doomed, unless women are forced to have children.
These nations are dying by abortion and birth control; in addition, the marriage institution is being rejected. In Europe, the Muslims are filling this void, so it is just a matter of time until the Europeans succumb to the Muslims. There is no hope for Europe because it is dying.
Proverbs 14:28  In the multitude of people is the king's honour: but in the want of people is the destruction of the prince.

"For most of recent history, the world has worried about the curse of overpopulation. But in many countries, the problem may soon be too few people, and of those, too many old ones. In 1995 only one country, Italy, had more people over 65 than under 15; today there are 30 and by 2020 that number will hit 35. Demographers estimate that global population growth will end this century.
Rapid aging is already reshaping the politics and economies of many of the most important high-income countries. The demands of older voters are shifting the political paradigm in many places, including the United States, at least temporarily to the right. More importantly, aging populations, with fewer young workers and families, threaten weaker economic growth, as both labor and consumption begin to decline."
Christian Apostasy/ Islam
Muslim group CAIR finds new home at Bethany Lutheran Church in Mpls. 02/05/17  We are looking at the collapse of the mainstream denominations as they openly merge with Islam. They are surrendering, and it is as if the Muslims conquered them without firing a shot!
Remember, these denominations are against Israel, for homosexuality and support killing babies in the womb. See now how God is giving them over to the Muslims for judgment! They are one with the Muslims in their hatred of the Lord and his word!
Psalm 34:21  Evil shall slay the wicked: and they that hate the righteous shall be desolate.

"Jaylani Hussein knew the cramped Minneapolis office of the Council on American-Islamic Relations wasn't big enough to hold the growing staff much longer.
But it was the threats, hate-filled letters and menacing phone calls directed at the organization that sent him in search of something more than extra square footage.
CAIR held an open house last week to celebrate its new office in Bethany Lutheran Church in Minneapolis' Seward neighborhood, a location that offers more space, is closer to clients and, CAIR staff members hope, serves as a sanctuary.
The alliance comes amid heightened fear and uncertainty for local Muslims, as hate crimes against them rise. On Friday, President Donald Trump issued an order temporarily barring refugees from entering the country. Officials with the civil rights organization and the church hope they can work together to undercut discrimination.
"These are our allies," said Hussein, CAIR's local executive director. "These are the people that stood with us when we were challenging Islamophobia."
World War 3
State-of-the-art Chinese ballistic missile appears in military drills 02/06/17
"A highly accurate Chinese ballistic missile capable of threatening U.S. and Japanese bases in Asia has made its latest appearance at recent Rocket Force drills.
The medium-range DF-16 featured in a video posted last week on the Defense Ministry's website showing the missiles aboard their 10-wheeled mobile launch vehicles being deployed in deep forest during exercises over the just-concluded Lunar New Year holiday."
Genesis 42:9  And Joseph remembered the dreams which he dreamed of them, and said unto them, Ye are spies; to see the nakedness of the land ye are come.