MUST SEE: Democracy Protesters Adopt Christian Song 'Sing Hallelujah to the Lord' as Battle Cry Against Communist Regime
Verse of the Day
Psalm 144:15 Happy is that people, that is in such a case: yea, happy is that people, whose God is the LORD.

Commentary
This is really touching and you must watch the three videos as you will hear 10s of thousands of Chinese singing to the Lord in this mass protest against the Communists!
We need a mass gathering like this in America as our nation is being taken over reprobates who hate God and everything he stands for. The social situation in America has become volatile because the Hard Left is getting more aggressive and more blood thirsty.
Looking for the Blessed Hope:
Psalm 33:12 Blessed is the nation whose God is the LORD; and the people whom he hath chosen for his own inheritance.
Chinese Christians vs the Communists
"MUST SEE: Democracy Protesters Adopt Christian Song 'Sing Hallelujah to the Lord' as Battle Cry Against Communist Regime"

"Over the past week huge numbers of protestors have gathered in Hong Kong to take a stand against another change in Hong Kong law moving the tiny country further under Mainland China's grip.

Now it's being reported that the protesters have adopted a Christian song as their anthem –"
The 666 Surveillance System
"China: The Perfect High-Tech Totalitarian State" We can clearly see the trap getting closer to completion not only in China bust also for America. What is happening in China also is happening in America but in a less obvious way. We can see this in social media.
If this can been done in China, it easily can be done in the rest of the world. The 666 Surveillance System is on the way.
Revelation 22:20 He which testifieth these things saith, Surely I come quickly. Amen. Even so, come, Lord Jesus.

"In China, censorship, now largely automated, has reached "unprecedented levels of accuracy, aided by machine learning and voice and image recognition."

In 2018, China had an estimated 200 million surveillance cameras, with plans for 626 million surveillance cameras by 2020. China's aim is apparently an "Integrated Joint Operations Platform" which will integrate and coordinate data from surveillance cameras with facial recognition technology, citizen ID card numbers, biometric data, license plate numbers and information about vehicle ownership, health, family planning, banking, and legal records, "unusual activity", and any other relevant data that can be gathered about citizens, such as religious practice, travels abroad, and so on, according to reports of local officials and police.

At the moment, China is in the process of fulfilling what Stalin, Hitler and Mao could only dream about: The flawless totalitarian state, powered by digital technology, where the individual has nowhere to flee from the all-seeing eye of the Communist state."
Destroying the Hard Left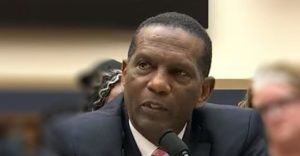 "WATCH: NFL Legend Burgess Owens Says Democrats Should Pay Reparations" I was so happy listen to Owens speaking the truth about the history of the demon-dems and slavery! This was so refreshing to hear.
John 8:32 And ye shall know the truth, and the truth shall make you free.

"NFL legend and Super Bowl Champion Burgess Owens, does not agree with the Democrats about much. However, he does agree with them about reparations, except he believes the Democrats should be the only ones who have to pay them.

During stirring testimony in front of the House Judiciary Subcommittee on Reparations, Owens blasted the Democratic Party "for all the misery" they've brought to blacks; citing everything from the party's support of slavery, the KKK, Jim Crow laws, and abortion."
America's Mass Mental Breakdown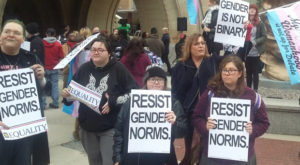 "School Proposes 'Menstrual Equity for All Act' to Make Tampons Available for Men"
John 18:37…To this end was I born, and for this cause came I into the world, that I should bear witness unto the truth. Every one that is of the truth heareth my voice.
This thinking is not limited to a few kooks, but a huge section of college students who have rejected reality and are living in massive delusions. Their delusions are growing until their lives are fantasy. When we speak the truth to them, they get angry and even violent. These people can't accept one ounce of truth. Their minds are closed to reality and now are living in a world of sin which hates God and his truth.
John 8:32 And ye shall know the truth, and the truth shall make you free.

"Students at the University of Arkansas are demanding that tampons and other menstrual products are made available to all students, including men.

The proposed "Menstrual Equity for All Act" aims to add free tampon dispensers in all school bathrooms, including male facilities, for men that apparently have periods too. University officials say they have "a duty" to give students "equal access to education," which includes offering menstrual products to all to protect their "human rights."

The student government is requesting that menstrual pads and tampons are made available to all students, and placed even in places such as the men's room."
Diversity
The prefect Barbie Doll for San Francisco!
The Hard Left loves diversity and even has a doll with a burka, so why not a doll for their street people!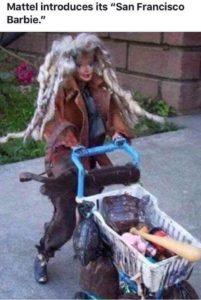 Depth of Reprobate Mind Being Exposed
"New York City to Directly Fund Abortion" This is flaunting the murder of the babies right in the face of God. NYC now is so hardened in the sin of murder that this is not going to end good. It might be time for the godly people to leave NYC, because God's judgment is building. The reprobate mind now is full throttle for killing babies! There is no restraint on them and blood lust has taken over their reprobate minds.
Revelation 18:4 And I heard another voice from heaven, saying, Come out of her, my people, that ye be not partakers of her sins, and that ye receive not of her plagues.

"New York City will put up $250,000 to allow women who travel from states that restrict abortion to terminate their pregnancies in the city.

"We heard the news on the abortion bans across the country," City Councilwoman Carlina Rivera said, reported the New York Times. "Many of us in New York felt helpless. We wanted to do more."

According to the news report, the allocated money will go into an abortion access fund that could allow about 500 women to end their pregnancies. Some abortion rights activists say New York is the first city to directly fund the procedure.

Aziza Ahmed, a Northeastern University law professor, told the Times a "culture war" is taking place. "There haven't been that many city and state public officials to say we should publicly fund abortions," she said. "It's a big statement."
Reprobate Mind Takes Over Another State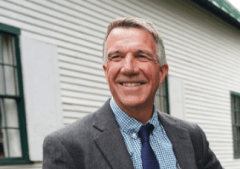 VT's GOP Gov. Signs Law Making Abortion a 'Fundamental Human Right,' Abortion Up To Birth" Yet, another state totally given over to murdering babies. The nation continues to divide like before the Civil War. Just like the first Civil War, it is once again the dems that are wicked. Once again they violate the rights of people. First it was slavery. and now it is murdering in the womb. Once again 160 years later, it is the dems vs the Republicans. Something just never change.
Psalm 94:20 Shall the throne of iniquity have fellowship with thee, which frameth mischief by a law?

"Vermont Governor Phil Scott signed H. 57, a bill affirming abortion as a "fundamental human right," and which would allow abortion up to the moment of birth.

The bill states, "The State of Vermont recognizes the fundamental right of every individual who becomes pregnant to choose to carry a pregnancy to term, to give birth to a child, or to have an abortion." It also states, "A fertilized egg, embryo, or fetus shall not have independent rights under Vermont law."
Israel at War

"'Next war will be worst in Israel's history'" There is a possibility that in the next war the USA might have to come to the aid of Israel. This might be one of the main reasons that God moved to have President Trump elected. If Israel can't quickly stop the rockets from hitting it cities, the nation might be in grave danger. There is no doubt President Trump would come to the aid of Israel.
Zechariah 12:6 In that day will I make the governors of Judah like an hearth of fire among the wood, and like a torch of fire in a sheaf; and they shall devour all the people round about, on the right hand and on the left: and Jerusalem shall be inhabited again in her own place, even in Jerusalem.

""The next war will be the worst in the history of Israel. Every day 1,000 to 2,000 missiles will fall, weighing as much as 100 kilograms per missile and with precision targeting capabilities," Brick warned, adding that Judea and Samaria would also become a front with thousands of armed Tanzim who will leave the Palestinian villages and shoot in all directions. "We will need infantry units on several fronts and at the moment we don't have such capabilities," concluded Brick."
USA in Middle East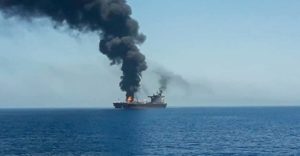 "Who is targeting U.S. forces and foreign oil companies in Iraq?" There are tensions building towards war in many areas of the Middle East. No matter what happens, Israel is going to left standing and the Muslim nations smashed.
"For three days in a row, rockets have been fired at areas where US forces are present and near foreign oil workers in Iraq. They come as US-Iran tensions rise and may pose a serious threat to US policy in Iraq as well as the functioning of oil facilities if they increase.

A rocket struck near an area used by ExxonMobile, wounding three people on Wednesday in southern Iraq. It is one of at least three attacks over the last week, one of which targeted an area near US forces in Mosul on Tuesday, and another struck Camp Taji – where US forces are based – on Monday. The US-led anti-ISIS coalition, which is based in Taji and conducts training of Iraqi forces, says that Iraqi security forces are investigating the incident.
The attacks paint a disturbing picture of what may be happening in Iraq."
Man's Best Friend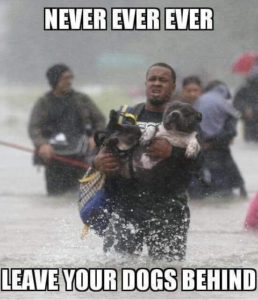 This photo really touched my heart. Last month I had to put down Samson my Pitt Bull. I looked at the dog in the picture and could see Samson. He truly loved me and his whole life was me. He wanted to be with me all the time.
I dearly miss him, and there is a big hole in my life right now. I would call him lover boy because he loved me so much. I attached a picture of Samson when he was younger.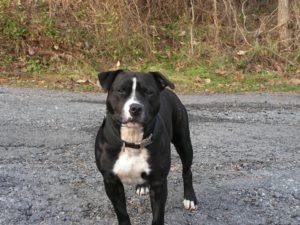 Abba Father's International Fellowship
Dear pastor Hauser and John my brother in Christ,
praise the name of Jesus Lord and i name above all name,
Am very much glad to reach again to you with the good new of the work of the lord here. I appreciate so much for the kind of the work you are doing in the Lord Vineyard's Just want to testified to you that all you are doing is well and the prophesy is actual, fully of truth in the kingdom of God,
Your prophesy is. actual a parable fully of heavenly, meaning, I have been ministering unto the lord But Haven't come across such a mighty. Teachings of the Glory and Kingdom, I have personal loved the teachings,In Revelations Chapter 4 God Spoked to John in the Island of Patmos over the Kingdom And the Throne of the High most God
so much, for sure the spirit of the Lord Spoked to you in the same way God Soked to John, and you given the fully prophesy of what is taking Place now and to the church and the world and now days church have no such a teachings to Equip and Put the church on the Rightful Direction, Many people and believers has been put on the Wrong foundations of prophesy and they have, lost the direction for ways of God forgotten a true teachings of the Church of Christ, I therefore recommend that your teachings are good and need to reach many, I was also able to teach the teachings in the past leaders seminar, village evangelism and prayer groups, I personal studied the teaching and found them so worthy and that's why many enjoyed and loved the teachings ,Everyone asked met such a wonderful teachings they have never Had, At the same time I was able to distribute the material and taken pictures so that I may share what exactly took place here, many are now sending me their testimony of the teachings and how it has changed their lives, as you can see from the photos am sending, God Will do mighty work through the teachings and therefore will need more and more to reach many with this true Gospel and Prophesy of Jesus. please sent me the other Box for the July week one Conference and revival meetings see the attached pictures

Pastor F.A.
If you like our ministry, please consider making a

donation

to keep us going. May the Holy God of Israel bless you!
Revelation 22:20 He which testifieth these things saith, Surely I come quickly. Amen. Even so, come, Lord Jesus.