Netanyahu in charge of Israeli Government
Verse of the Day
Exodus 15:3 The LORD is a man of war: the LORD is his name.
Commentary
It is amazing how Netanyahu and Trump are tracking together. Netanyahu survived in Israel and now Trump is crushing another coup attempt. This time by the dems with an attempt at impeachment.
It looks like many dems are going down in flames as they attempt to destroy President Trump. I'm really starting to enjoy how God is using the President to thwart the demon-dems and turn things on them! This is exciting as the Lord is arising in our midst!
Looking for the Blessed Hope:
Philippians 3:20 For our (citizenship) is in heaven; from whence also we look for the Saviour, the Lord Jesus Christ: 
Israel Politics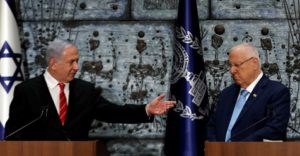 "Netanyahu mandate to form government"
"Prime Minister Benjamin Netanyahu has been given the chance to form a government for the sixth time on Wednesday, after succeeding in his five terms in office but not having the opportunity to do so following the April election.

President Reuven Rivlin formally gave Netanyahu four weeks to form the government, after a meeting at the President's Residence with Blue and White leader Benny Gantz failed to bring about a breakthrough. The deadline will be October 24.
"Netanyahu had the best chance to form a government," Rivlin said in a speech alongside the prime minister."
Hard Left Deep State vs President Trump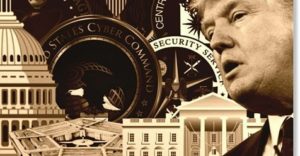 "THE TIDE TURNS: Democrats FREAK OUT After Transcript Reveals POTUS Trump Is on Crowdstrike Trail — He's Going After Origins of Russia Hoax!" Please read this article because it touches on Crowdstrike which means the President is going after the deep state. It really seems that something huge has happened in a big way, and the tide has turned against the deep state. The President is moving against them!

"In the transcript released today President Zelensky brought up Rudy Giuliani and his investigations with President Trump. It was Zelensky who brought up the Biden investigation and NOT PRESIDENT TRUMP! President Trump then asked Zelensky to look into the 2016 election including information on Crowdstrike."
Mind Boggling
"Democrats Wrote to Ukraine in May, Demanding It Investigate Trump" Is the time near for the President to declare a national emergency because the demon-dems are attempting a coup to remove Trump and overthrow the government?
"It got almost no attention, but in May, CNN reported that Sens. Robert Menendez (D-N.J.), Richard J. Durbin (D-Ill.) and Patrick J. Leahy (D-Vt.) wrote a letter to Ukraine's prosecutor general, Yuriy Lutsenko, expressing concern at the closing of four investigations they said were critical to the Mueller probe.

In the letter, they implied that their support for U.S. assistance to Ukraine was at stake. Describing themselves as "strong advocates for a robust and close relationship with Ukraine," the Democratic senators declared, "We have supported [the] capacity-building process and are disappointed that some in Kyiv appear to have cast aside these [democratic] principles to avoid the ire of President Trump," before demanding Lutsenko "reverse course and halt any efforts to impede cooperation with this important investigation."
President Trump vs the Deep State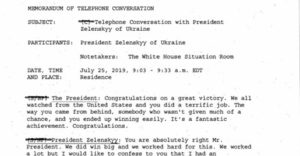 "Transcript of his conversation with the Ukraine President"The demon-dems have just hung themselves. This is almost to good to be true. It looks like the Bidens are in big trouble. It is so out in the open that I don't think the DOJ can cover it up.
All the horror of the deep state is being uncovered by the Lord!
They had their way for decades, but now the Lord is having his way and using President Trump as his battering ram! These are precious moments to enjoy because it is very rare.
War: USA vs Iran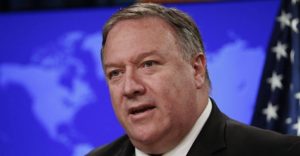 "Pompeo announces new Iran sanctions in UN speech, targeting Chinese entities" The USA just cut all sources of funds to Iran, and will have to live on reserves until these funds run out. They are now on an economic death watch. Iran is either going to war, or their economy will totally collapse into looking like Venezuela's!
"The U.S. will impose sanctions on some Chinese entities for knowingly transporting oil from Iran, Secretary of State Mike Pompeo said, the latest attempt from Washington to ratchet up pressure on Iran.

"The more Iran lashes out, the greater our pressure will be," Pompeo said Wednesday morning, during a speech on the sidelines of the United Nations General Assembly.

The Trump administration ordered a fresh round of sanctions against Tehran last week, in response to an earlier attack on Saudi Arabia's oil production facilities. Those sanctions targeted Iran's central bank, which Treasury Secretary Steven Mnuchin said was the nation's last source of funds. "This is very big," Mnuchin said at the time. "We've now cut off all source of funds to Iran."
Abba Father's International Fellowship
If you like our ministry, please consider making a

donation

to keep us going. May the Holy God of Israel bless you!
Revelation 22:20 He which testifieth these things saith, Surely I come quickly.Amen. Even so, come, Lord Jesus.