New Health Blog Post: Raspberries: Berry Good for Your Heart, Blood Sugar, and Bones
3 John 1:2  Beloved, I wish above all things that thou mayest prosper and be in health, even as thy soul prospereth.
For anyone first reading the Health and Nutrition Update, please read this first: Your Health.
Also, please go to God's Health System and subscribe to receive the updates.
Always remember that you are in charge of your health and not the doctors. Do not put your life in their hands without first seeking God and His health system.
Commentary
The goal of this blog now is to build up your health and especially the immune system to withstand the coming pestilences that are now rampant in America and the world. God gave the knowledge to prepare for pestilences, so take advantage of this information. The focus is posting articles with great information that can immediately help your health and quality of life.
God bless you.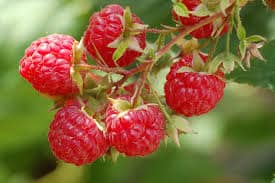 There are 11 new articles and 2 videos posted; four articles and one video have links and descriptions below.
Health and Nutrition
Raspberries: Berry Good for Your Heart, Blood Sugar, and Bones  In addition to the benefits listed below, raspberries also can have a significant impact on liver, diabetes, inflammation and bone health.
"A flurry of studies recently released at the 2016 Experimental Biology conference in San Diego points to raspberries as a superfood. In general, the studies found that red raspberries have multiple health benefits ranging from fighting inflammation and boosting cardiovascular and liver function to keeping glucose levels in check. Here are the highlights:

Cardiovascular: Research from the University of Michigan studied the effects of a raspberry-rich diet on cardiac risk factors in mice. Rats prone to obesity were fed a high-fat diet that contained either 2 percent freeze-dried whole raspberry powder or added sugars equal to the same number of calories.

The rats fed raspberry powder showed reduced levels of triglycerides and glucose. In addition, the rats fed raspberries showed a significant reduction in the left ventricular enlargement of the heart together with reduced wall thickening. Enlargement and thickening of the left ventricle and a thickening of the heart wall are known risk factors for heart failure. The animals also showed an increase in liver function.

The study authors concluded that red raspberries could be an excellent addition to the diet to help manage cardiometabolic risk, including risk for Type 2 diabetes. They also stated that eating red raspberries could reduce cardiovascular problems like heart failure, which is the main diagnosis in people over the age of 65.

Metabolic syndrome: Research published in The FASEB Journal studied the effect of raspberries in mice fed a typical Western diet high in fat and sugar. Groups of mice were fed either low-fat or high-fat diets with and without various forms of raspberries — either juice concentrate, freeze-dried powder, or raspberry phytochemicals."
Energy drinks trigger abnormal heart rhythm, rise in blood pressure 
"A clinical trial led by researchers from University of the Pacific and David Grant Medical Center adds to the evidence that energy drinks may be bad for your heart.

"Our findings suggest certain energy drinks may increase the risk of having an abnormal heart rhythm when consumed in high volumes," said primary investigator Sachin A Shah, an associate professor of pharmacy practice at Pacific's Thomas J. Long School of Pharmacy and Health Sciences. "While we wait for more data, some consumers should exercise caution and not blindly follow the buzz."
Pet Health
Fourteen Dogs Perish In Heat-Related Accident In Indiana  August is traditionally the hottest month of the year, and we'd like to remind everyone to keep their pets out of the car because the temperature can rise quickly. Even if you leave the air on, there is no way to guarantee your pet's safety. If you must take your dog, be certain that the air is on high and working correctly, then check on them every 10 minutes because an accident like this is tragic.
Audie is especially upset and angry about this news, since all of the dogs were golden retrievers. For more information on this topic, see our earlier post, PET HEALTH: Dogs and Cars
"Northwest Indiana police are calling it a tragic accident: Fourteen competition show dogs die from heat inside a truck after the air conditioner malfunctions. CBS 2's Charlie De Mar reports a kennel is now under investigation.

St. Joseph County Humane Society Executive Director Genny Carlson loves dogs. That's why what happened at a South Bend Quality Inn parking lot last Friday upsets her. "It is absolutely a first for me. I've been here for 10 years," she says.

The tragedy occurred when an Ohio woman tasked with hauling 14 golden retrievers to a dog show being held in South Bend. She took a nap in her motel room. She left the dogs in an air-conditioned truck, as the sun beat down. Two and half hours later she woke up.

"That's when they discovered that something had gone terribly wrong," Carlson says. The A/C in the truck had gone out, killing the dogs."
How to Treat Your Pet's Summer Bug Bites, Stings  This is a very good article, one worth downloading and saving for future reference because it gives good, practical advice about when to use ice, what type of over-the-counter medications can be used, etc.
"Insect bites and stings are not only a nuisance for humans; they can be devastating for your pet this summer.

Insects such as bees, wasps, fleas, ticks, and ants can inflict pain and also transmit dreaded diseases such as heartworm and the deadly Chagas disease. Keeping your pets safe and protected this summer is crucial, experts say.

"Dogs tend to chase bees and wasps, which increases their risk for potentially deadly insect attacks," Dr. Stacey West, DVM, of the Boca Veterinary Clinic in Florida tells Newsmax Health. "The fur on your pets provides some protection against this pesky problem but it can also conceal bites and stings."

Experts note that paws, tummies with minimal fur, and mouths are at a greater risk. Here are some do-it-yourself treatments that can help alleviate the pain and possible infection from insect wounds.

"But please, if your pet shows any signs of distress such as trembling, weakness, diarrhea, vomiting, extreme facial swelling, hives, or trouble breathing, bring it to your vet or emergency clinic immediately as these can be signs of an anaphylactic reaction," says West."