New Image of the Beast Blog Post – Obama's legacy: Human-animal hybrids from your tax dollars
The Image of the Beast
Revelation 13:14 And deceiveth them that dwell on the earth by the means of those miracles which he had power to do in the sight of the beast; saying to them that dwell on the earth, that they should make an image to the beast, which had the wound by a sword, and did live. (15) And he had power to give life unto the image of the beast, that the image of the beast should both speak, and cause that as many as would not worship the image of the beast should be killed.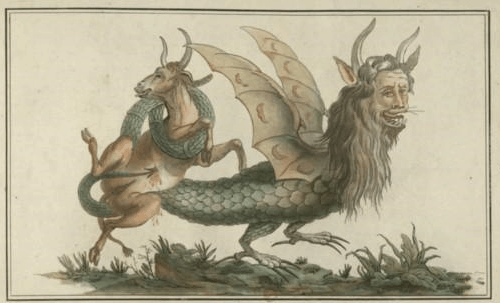 There are 5 new articles and 3 videos in the most recent Image of the Beast blog. Two articles and two videos are below, along with the Commentary. Go to the blog post to see/read everything.
Commentary
In his rush to turn everything we've ever believed in or lived under, as far as moral, ethical, spiritual or physical laws, upside down before he leaves office, once again new regulations have come down from on high in the Obama administration. It has been noted that his goal is to so thoroughly transform every bureaucratic agency that there is no going back, no matter who is elected after him.
If that is in fact the goal, then the announcement by the National Institute of Health lifting the ban on the creation and funding of chimeras fits the bill for fulfillment. Once these hybrid creatures exist and experiments are underway, there will be no turning back the clock. It's not enough that the ban on creating beings which are part human/part animal is being done away with; what's even worse is that the experiments to create them will be funded by taxpayers.
Naturally the press is falling in line by noting that there could be great medical cures which might arise from this tampering with creation. But does anyone mention the ethical or moral concerns involved in creating beings which may have human intelligence and thought processes, yet be trapped inside freakish, part-animal bodies? Have empathy and compassion become lost characteristics to those who promote this "science?"
There are many good reasons to prohibit this practice. We don't know what we'll unleash even by growing human organs inside animals which aren't fully animals any longer. For instance, there has been talk about people who receive transplants from other humans suddenly having feelings and memories associated with the organ donor. What will be the result of this mixing of humans with animals? DNA isn't specifically limited to a single cell; part of the identity of the overall host is carried in every cell of the body.
God drew lines around species and forbid the mixing of them for good reasons. One of those reasons surely was the suffering of the beings created through such tampering. Another was the effects that will be unleashed which we're not able to foresee. Obama's legacy may well be that he unleashed Genetic Armageddon on us all – while requiring us to fund it.
Genesis 1:25  And God made the beast of the earth after his kind, and cattle after their kind, and every thing that creepeth upon the earth after his kind: and God saw that it was good.
Chimera/ Genetic Armageddon
Obama greenlights human-animal 'hybrid' monsters 
"A plan to mix human stem cells with animal embryos to create chimeras – those creatures that have part animal and part human elements – soon will be getting taxpayer funding, under a new proposal from the U.S. Department of Health and Human Services.

The federal agency said Thursday that it is requesting public comment on its plans to open the door to public funding of the concept that could result in "animal models with human tissues or organs for studying human development, disease pathology, and eventually organ transplantation."

The National Institutes of Health had announced a moratorium on the funding last year, but the change now is being proposed due to the interest in mixing human and non-human cells, and seeing the results.

National Public Radio said there have been concerns over the potential work.

"One issue is that scientists might inadvertently create animals that have partly human brains, endowing them with some semblance of human consciousness or human thinking abilities. Another is that they could develop into animals with human sperm and eggs and breed, producing human embryos or fetuses inside animals or hybrid creatures," the report said.

But NPR said scientists argue they could prevent those outcomes…

Christian author and filmmaker Tom Horn has warned scientists are redefining what it means to be human, with the goal of "transcending" humanity.

"Right here in North Carolina at your university, they have what is called a transgenic lab, which means they have mice that have human genetic material, for testing to see if the human parts in that animal are responding," he told TV host Sid Roth in an interview at the time.

Using the CRISPR gene-editing technique, one university lab cured cancer in a group of rats, but the rats started aging quickly and died at half-life, "and nobody knows why that happened," Horn said. "There is a danger in playing God because you're not God and you don't know."
HYBRIDS CONFIRMED: NPR Reports Chimera Embryo's Grown in Pigs (As in the Days of Noah) 
"Some suggest that Jesus' words "As in the days of Noah," in Matthew 24, is not about the Nephilim, or the abomination or cross breeding between God's created kinds. However, the more we enter into this age of genetic and biological tampering, the more it becomes difficult to ignore Jesus. NPR reported a story of a professor growing human-animal chimera's in the wombs of pigs in hopes to produce organs, and other bodily objects to "help humanity." As the old saying goes, "the road to hell is paved with good intentions."
Days of Noah
Wanted: 'Adventurous woman' to give birth to Neanderthal man – Harvard professor seeks mother for cloned cave baby  While this shows the lengths to which certain scientists are going in attempts to alter creation, it also shows the misplaced belief in evolution which is guiding their efforts.
And assume that Neanderthals actually did exist; how cruel would it be to have one born into this modern world? Is there any thought in this for the creature they'd be bringing to life?
"They're usually thought of as a brutish, primitive species. So what woman would want to give birth to a Neanderthal baby?

Yet this incredible scenario is the plan of one of the world's leading geneticists, who is seeking a volunteer to help bring man's long-extinct close relative back to life.

Professor George Church of Harvard Medical School believes he can reconstruct Neanderthal DNA and resurrect the species which became extinct 33,000 years ago.

His scheme is reminiscent of Jurassic Park but, while in the film dinosaurs were created in a laboratory, Professor Church's ambitious plan requires a human volunteer.

He said his analysis of Neanderthal genetic code using samples from bones is complete enough to reconstruct their DNA. He said: 'Now I need an adventurous female human. 'It depends on a hell of a lot of things, but I think it can be done.'

Professor Church's plan would begin by artificially creating Neanderthal DNA based on genetic code found in fossil remains. He would put this DNA into stem cells. These would be injected into cells from a human embryo in the early stages of life.

It is thought that the stem cells would steer the development of the hybrid embryo on Neanderthal lines, rather than human ones.

After growing in the lab for a few days, the 'neo-Neanderthal' embryo would be implanted in the womb of a surrogate mother – the volunteer. Professor Church, 58, is a pioneer in synthetic biology who helped initiate the Human Genome Project that mapped our DNA."
Chimera/ Prophecy
Watchers 10 – The FAIRY REVEALED!  It appears that scientists aren't the only ones tampering with creation. This program by LA Marzulli on the discovery they made in Mexico is jaw-dropping. It has been DNA-tested and analyzed through x-rays, and the results are incredible – and reveal where we may be on the prophetic timeline.
While it isn't discussed in the video below, after analysis by a vet, it appears that the shining spots seen in the X-ray are birdshot, and that the creature was mistaken for a bird and shot down.
While this appears to be genuine, there always is the possibility that something could develop later to bring its authenticity into doubt. If something does occur along those lines, we'll let you know; but this is a topic to follow closely, and we'll do so.