New 'Squad' talking point: Boycotting Israel like boycotting Nazi Germany
Verse of the Day
Obadiah 1:15 For the day of the LORD is near upon all the heathen: as thou hast done (to Israel), it shall be done unto thee: thy reward shall return upon thine own head.
Commentary
It seems the "Four Horsewomen of the Apocalypse" are determined to attack Israel without letup. They loath Israel and the Jewish people and seem not to able to control themselves when it comes to Israel. The have caused the President to boldly defend Israel against their attacks, and I think cause the people to rally behind Israel and the Jewish people.
Their attack is the REAL spirit behind wanting to destroy Israel and kill the Jews. They are extremely dangerous, and this shows what is going on in the districts that voted for them! Are there now anti Semitic hot spots across America?
This is not going to end well for the Four Horsewomen and their supporters as the curse of God is hovering over them.
May the Holy God of Israel bless and protect you.
Zechariah 2:8 For thus saith the LORD of hosts; After the glory hath he sent me unto the nations which spoiled you: for he that toucheth you toucheth the apple (pupil) of his eye.
The 4 Horsewomen vs Israel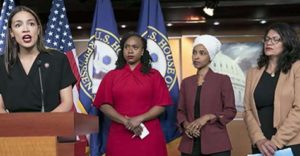 "New 'Squad' talking point: Boycotting Israel like boycotting Nazi Germany"
"The tight-knit "Squad" of freshman progressive lawmakers has started to adopt a curious new talking point — defending Israel boycotts by likening them to boycotts against Nazi Germany.

Rep. Rashida Tlaib, D-Mich., was the latest to make this comparison, speaking on the House floor Tuesday in opposition to a bipartisan resolution against the movement known as BDS — which calls for boycotts, divestment, and sanctions against Israel.

"The right to boycott is deeply rooted in the fabric of our country," said Tlaib, the daughter of Palestinian immigrants, before noting, "Americans boycotted Nazi Germany in response to dehumanization, imprisonment, and genocide of Jewish people." She also made reference to boycotts against apartheid South Africa. The anti-BDS bill passed by a vote of 398-17."
The Four Horsewomen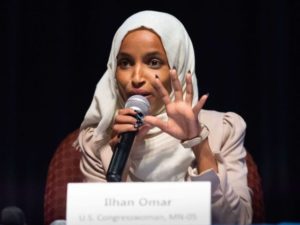 "Ilhan Omar Trashes America — Again — In New York Times Op-ed" I just sense that the nation is starting to coalesce against the The Four Horsewomen of the Apocalypse. The hard core will not budge from their support of them, but it appears the patriots are drawing a line in the sand.
"Rep. Ilhan Omar (D-MN) has published an op-ed in the New York Times on Thursday in which she urges readers to go beyond condemning President Donald Trump as a racist, and "confront" his policies. Along the way, she confirms Trump's basic criticism of her: namely, that she does not like the United States of America, at least as she finds it.

In the op-ed, "It Is Not Enough to Condemn Trump's Racism," Omar repeats a set of familiar — and discredited — attacks on Trump. The most egregious of these is her claim that Trump "tacitly accepted" the white supremacists in Charlottesville, Virginia, who chanted "Jews will not replace us" at a rally in August 2017."
The Four Horsewomen of the Apocalypse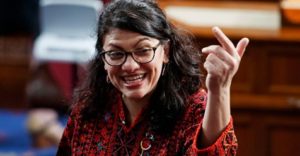 "Video surfaces of shouting Rashida Tlaib being dragged out of Trump event" She is the real deal and a true believer to her cause. This is going to be a real drawn out battle with these people.
We need a revival for survival and NOW.
Proverbs 1:23 Turn you at my reproof: behold, I will pour out my spirit unto you, I will make known my words unto you.

"Years before Rep. Rashida Tlaib was speaking out against President Trump in Congress, she was shouting at him as security dragged her out of a meeting at the Detroit Economic Club.

Video of the August 2016 incident, which has gone viral since resurfacing over the weekend, shows the current congresswoman shouting as then-candidate Trump delivered a speech before business leaders. While being escorted out of the room, she continued to jump and yell at those in attendance."
Fifth Column in America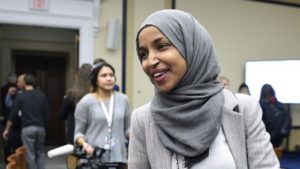 "Ilhan Omar Compares Anti-Israel BDS Resolution to Boston Tea Party, Gets Shut Down by Angry Congressman" The dems have been exposed by the Jew/Israel hating my the "four horsewomen of the Apocalypse!" This is going to be exciting watching the dem party fight each other. The Communist/Jihadists are going to win.
"Her colleague, Rep. Lee Zeldin (R-NY) disagrees and forcefully condemned Omar's actions after she spoke before the House.

"My colleague, who just spoke, used the frequent use of the words 'honesty' and 'honest.' Let's just get to a lot of what is left out," Zeldin began.

"The BDS movement has not distanced itself from Hamas, a designated foreign terrorist organization. BDS supporters individually are not distancing themselves from Hamas either," he continued. "It is wrong to be blaming all Israeli and Palestinian violence 'as being due to an occupation.'"
Hard Left Jew Hating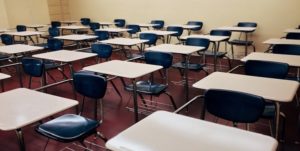 "Teacher's union accused of 'trafficking anti-Semitic hatred'" The Jew and Israel hating is slowly spreading across all Hard Left strongholds in America. It is spreading like a malignant cancer and it is death to America.
We need revival for survival: NOW. The handwriting is on the wall.
"The nation's largest teachers union is being accused of "trafficking in anti-Semitic hatred" over a faction of its members pushing an anti-Israel agenda.

That segment of the National Education Association membership is trying to establish "an anti-Semitic BDS/Israel Apartheid agenda into the bylaws" of the group, according to Laurie Cardoza-Moore, president of Proclaiming Justice to the Nations.

"While Americans are busy planning summer get-aways during their children's school break, the union representing America's teachers has regrettably been engaged with a growing faction within their ranks attempting to use the NEA as a means of trafficking anti-Semitic hatred to our children's educators, and ultimately to their students," she said in a statement."
Israel vs Iran/Hezbollah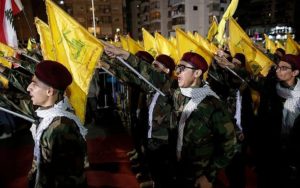 "As sanctions choke Iran, Hezbollah reportedly deploying for war on Israel border" This is going to be a short but brutal war. When it is over, Hezbollah will cease to exist.
"As tensions rose in the Persian Gulf over the weekend with Iran's seizure of a British-flagged tanker, several commanders of Lebanese terror group Hezbollah, an Iranian proxy, said they were deploying forces for possible war with Israel, warning that the growing pressure from sanctions on Tehran could trigger such a conflict sooner rather than later.

Officers in the organization told the Daily Beast in a report published Friday that its forces were setting up for war on both Lebanon's and Syria's border with Israel.

"We will fire the first shot this time," said "Samir," identified as a Hezbollah officer commanding 800 fighters on the border with Israel. He did not give his real name as he is not allowed to speak to the media. "The sanctions now have us preparing for dealing with the Israeli front," he told the US publication."
Abba Father's International Fellowship
Dear pastor David and John
Greetings in the mighty name of our Lord Jesus Christ.Thank you for sending me your newsletters it have been of blessing to my family members and church It have brought revival in my church and community they have learned through your newsletters that we are living end times. I have distributed all the newsletters and we have those who want newsletters and i told them that i don't have another newsletters .Kindly servant of God i request another newsletters.
I have attach few pictures
Yours in the Lord
Evangelist N N
If you like our ministry, please consider making a

donation

to keep us going. May the Holy God of Israel bless you!
Revelation 22:20 He which testifieth these things saith, Surely I come quickly. Amen. Even so, come, Lord Jesus.