Ohio House Passes 'Heartbeat' Bill Again After John Kasich Veto
Verse of the Day
Psalm 127:3 Lo, children are an heritage of the LORD: and the fruit of the womb is his reward.
Commentary
This is very exciting news! This will be challenged and head to the Supreme Court along with Alabama finding that life begins at conception. There is now hope that Rove v Wade can be overturned.
Looking for the Blessed Hope:
1 Thess 1:10 And to wait for his Son from heaven, whom he raised from the dead, even Jesus, which delivered us from the wrath to come.
Pro Life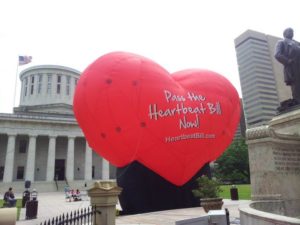 "Ohio House Passes 'Heartbeat' Bill Again After John Kasich Veto"
"Ohio lawmakers have once again passed a measure that bans abortion once a fetal heartbeat can be detected – approximately the sixth or seventh week of pregnancy.
Thursday's vote in the state House that approved the heartbeat bill echoed that of the last legislative session when it passed as well. In December 2016, both the Ohio House and Senate approved the measure, but Republican Gov. John Kasich vetoed it. According to the Columbus Dispatch, GOP Governor-elect Mike DeWine said he will sign it into law.

"It gives a more consistent and reliable marker for the courts to use to determine the validity of a human baby," said Republican state Rep. Christina Hagan, a sponsor of the bill. "We know that when a heartbeat stops, we've lost a human life."

The state House voted 59-35 to approve the legislation and send it to the Senate."
World War 3: North Korea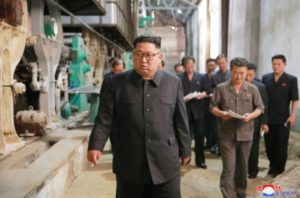 "Kim Jong-Un Inspects North Korea's 'Newly-Developed Ultramodern' Mystery Weapon"
What now?
"North Korea's state-run KCNA news agency reported on Friday that dictator Kim Jong-un inspected a "newly-developed ultramodern" tactical weapon system at an undisclosed location.

North Korean media clearly intended the report to be provocative, but South Korean analysts shrugged it off as testing for a battlefield rocket launcher that would have little impact on arms control negotiations.

"The state-of-the-art weapon that has been long developed under the leadership of our party's dynamic leadership has a meaning of completely safeguarding our territory and significantly improving the combat power of our people's army," North Korean media reported breathlessly on Friday.

"The testing of the high-tech tactical weapon has been carried out successfully, meeting all superior and powerful designing indicators," the report added."
World War 3: USA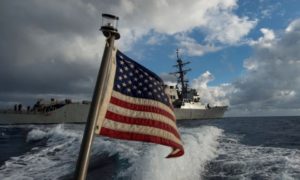 "US drops the gauntlet on the South China Sea" There is tremendous activity taking place with the US regarding Chinese aggression in the South China Sea. Most of it is under the radio, but the tension is really building. This is a powder keg ready to blow.
"While Asean and China continue to negotiate a "code of conduct" in the disputed areas, talks that have been ongoing since 2002, President Donald Trump's administration has made clear through toughened rhetoric and action that it won't accept any final agreement that undermines or infringes on its interests in the area.

In recent months, the US Navy has upped the frequency of its Freedom of Navigation Operations (FONOPs) in the South China Sea. Earlier this month, for the first time, the US openly called on China to reverse its recent deployment of missiles and other advanced military assets to the area.

The South China Sea disputes were front and center at the recently concluded US-China Diplomatic and Security Dialogue in Washington, where US Secretary of State Mike Pompeo and Defense Secretary Jim Mattis held "frank and open" discussions with China's senior Politburo member Yang Jiechi and Defense Minister Wei Fenghe."
Hard Left Protecting Sin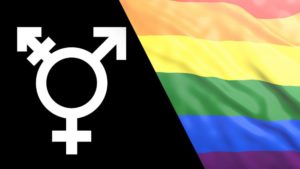 "Tampa Gay Therapy Ban Under Legal Fire for Blocking Minors from 'Getting the Help They Seek'" The reprobate mind loves this sin and does everything possible to protect it. Now it is the cities moving to protect it to keep the people in bondage to it.
This is sin and the Bible is very clear about it.
"Young people battling unwanted same-sex attraction are fighting back against a Tampa, Florida, ordinance that bans licensed counselors from providing talk therapy to minors seeking to reduce or eliminate those attractions.

Liberty Counsel, which is representing counselors Robert Vazzo and David Pickup and their minor clients, went to court Thursday seeking a preliminary injunction to suspend the ordinance.

The conservative advocacy group filed a lawsuit last December after the Tampa City Council voted unanimously to approve the ban. Therapists found to be in violation would be fined up to $1,000, while repeat offenders could face a $5,000 penalty."
Israel vs Hamas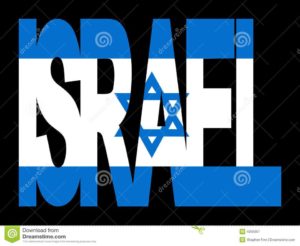 "Israel: No Surrender – No Peace" This is a great article laying out what Israel faces in the north against Syria/Iran/Russia. It is very sobering, but Israel needs to fight this war on its terms.
The big war is on the way because Iran, Syria and it looks like Russia are taking to Israel. There is no way to stop it because these nations want Israel destroyed, and they want Jerusalem.
They are not going to win but suffer tremendous destruction. God will see Israel through what is coming.
Isaiah 34:1 Come near, ye nations, to hear; and hearken, ye people: let the earth hear, and all that is therein; the world, and all things that come forth of it. (2) For the indignation of the LORD is upon all nations, and his fury upon all their armies: he hath utterly destroyed them, he hath delivered them to the slaughter.

"So why did Netanyahu accept a ceasefire instead of finishing off the terror organization. I've been praying about this and after placing yourself in his position and realizing what he is up against you begin to feel sorry for the guy.

There are over 200,000 missiles set in place by Iran loaded and ready to be fired at Israel from Lebanon and Syria. Iran is pouring troops into Syria near the Israeli border backed up with Russian airplanes tanks, weapons and troops giving them an army of several hundred thousand ready to cross over into Israel.

In the meantime Hamas has been supplied with missiles capable of hitting Tel-Aviv and Jerusalem. The reason they sent 500 missiles into Israel this time is that they really wanted the IDF to get bogged down in Gaza so the war in the north with the Iran and Russian proxies Hezbollah and others could begin in an attempt to destroy Israel. Or so they think.

Netanyahu is faced with the heaviest burden any Prime Minister has ever faced. He knows or believes Israel can and will win the war, but the Jewish causalities in Israel will be very high, nothing like any of the other wars.

These numbers according to several Israeli Generals will be in the tens of thousands. Not something Netanyahu is willing at this time to accept. Not the legacy he wants to leave behind. Yet more importantly. he really loves Israel and is willing to face the reality that Hamas must be dealt with but maybe next time."
Abba Father's International Fellowship – East Africa
These pictures are about Muslims in Uganda being baptized who just received Jesus Christ through hearing the healing of the broken heart message! Huge numbers of Muslims are coming to the Lord through this ministry!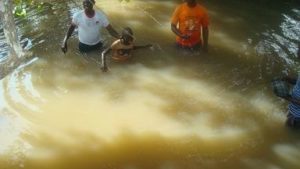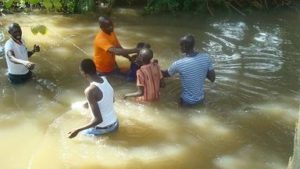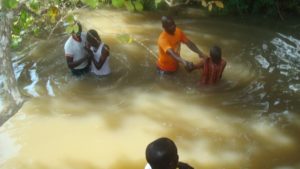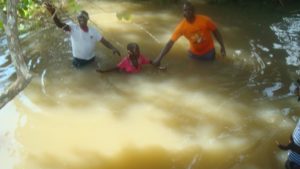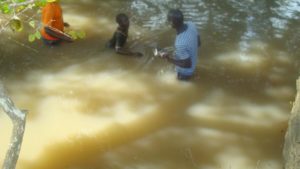 Revelation 22:20 He which testifieth these things saith, Surely I come quickly. Amen. Even so, come, Lord Jesus.
If you like our ministry, please consider making a donation to keep us going. May the Holy God of Israel bless you!