Palestinians Claim Status of Jerusalem is Key to Their Rejection of Trump Peace Plan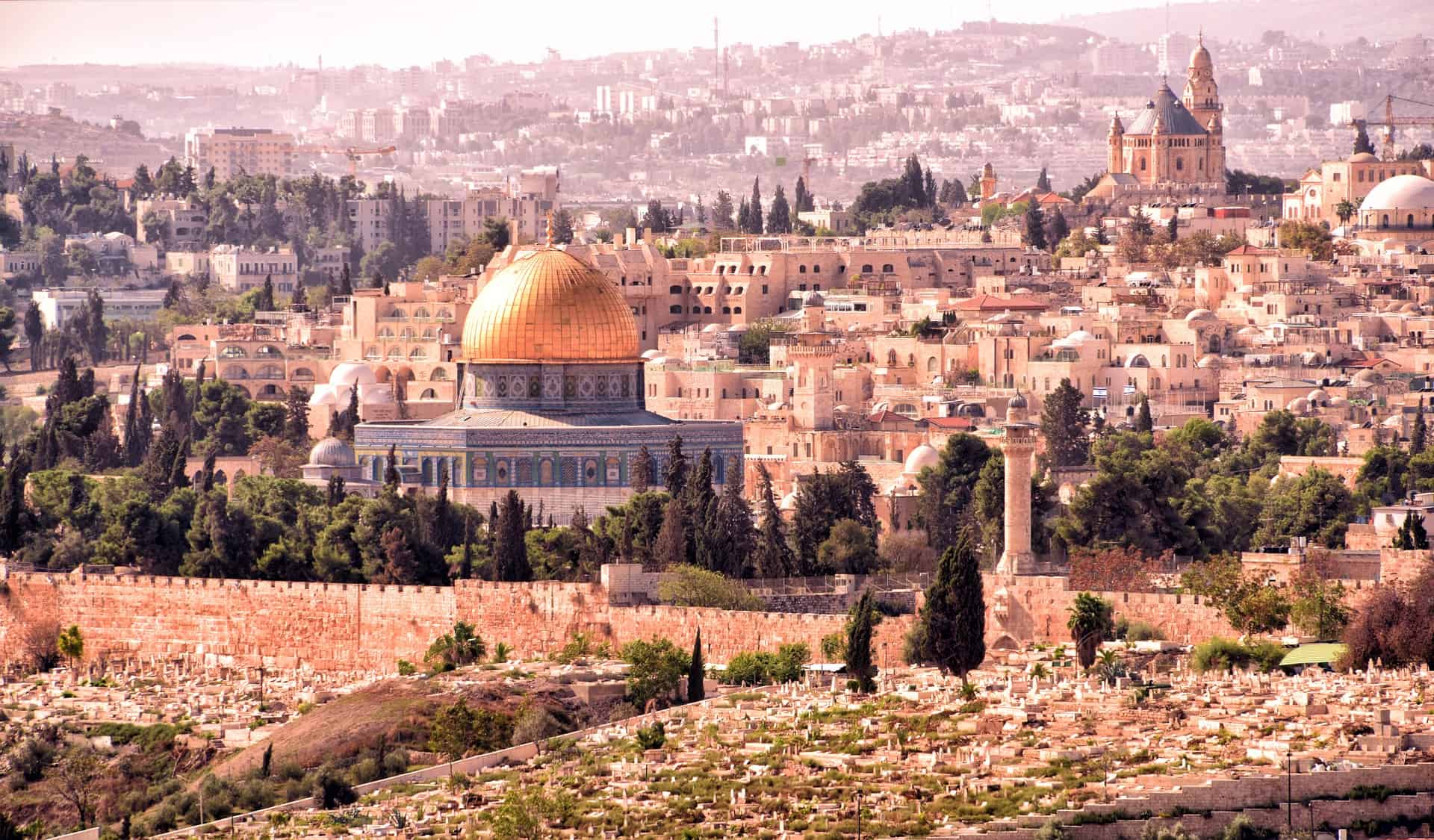 Verse of the Day
Zechariah 12:3 And in that day will I make Jerusalem a burdensome stone for all people: all that burden themselves with it shall be cut in pieces, though all the people of the earth be gathered together against it.
Commentary
The rejection by Abbas of Trump's peace plan was over Jerusalem! This is no surprise because Jerusalem is going to be fought over until the Second Coming of Jesus Christ.
May the Holy God of Israel bless and protect you.
Luke 21:24 And they shall fall by the edge of the sword, and shall be led away captive into all nations: and Jerusalem shall be trodden down of the Gentiles, until the times of the Gentiles be fulfilled. 
JERUSALEM JERUSALEM JERUSALEM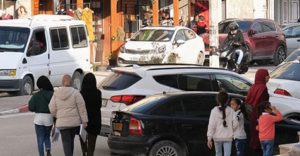 "Palestinians Claim Status of Jerusalem is Key to Their Rejection of Trump Peace Plan"
"Jerusalem has always been the most contentious issue in Israeli-Palestinian negotiations and it's no different now with President Trump's 'Deal of the Century.'

Palestinian Authority President Mahmoud Abbas rejected Jerusalem as the undivided capital of Israel. "Shortly after it (the US Middle East peace plan) was unveiled saying a Palestinian state without Jerusalem I immediately rejected this solution. I will not have it recorded in my history, and the history of the country, that I sold Jerusalem," Abbas told an emergency session of the Arab League."
HARD LEFT COUP ATTEMPT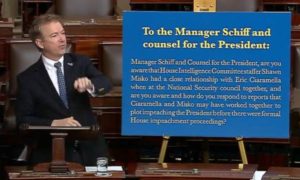 "RAND PAUL Drops MOAB on Senate Floor — Reads Aloud His Question Naming Anti-Trump CIA Operative Eric Ciaramella and Sean Misko (VIDEO) All I can say is WOW. Please watch Senator Paul's speech. I was cheering while watching it.
"Last week Supreme Court Chief Justice Roberts played politics and REFUSED TO READ SENATOR RAND PAUL'S QUESTION on the Anti-Trump whistleblower during the Senate impeachment trial!

There is NO LAW that prevents this anti-Trump CIA leaker's name from being revealed in the impeachment investigation! On Tuesday during his closing comments Senator Rand Paul read out his question on the floor of the US Senate. And Rand Paul named the anti-Trump CIA operative Eric Ciaramella on the senate floor. This was an AMAZING SPEECH by Rand Paul!"
HEATH OF RUSH LIMBAUGH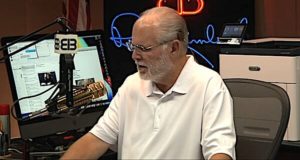 "Rush Limbaugh: I have 'advanced lung cancer'" This was very shocking. I've heard him mention a few times about his relationship with Jesus Christ, and it appears this sickness is bringing him closer to the Lord. Please keep him in your prayers.
""So this has happened, and my intention is to come here every day I can and to do this program as normally and as competently and as expertly as I do each and every day, because that is the source of my greatest satisfaction professionally, personally."

"I told the staff today that I have a deeply personal relationship with God that I do not proselytize about and I have been working that relationship tremendously, which I do regularly anyway, but I've been focused on it intensely for the past couple of weeks."
HONORING RUSH LIMBAUGH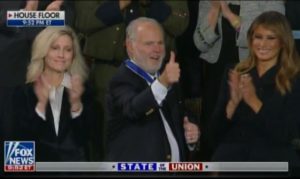 "Melania Trump Awards Rush Limbaugh with the Presidential Medal of Freedom at State of the Union Address (VIDEO)" I recommend that everyone watch the video as it is very touching. I watched it twice. I could not help watching Pelosi because she was directly behind the President. She never once clapped or even looked in Rush's direction.
"What a beautiful moment! President Trump invited Rush Limbaugh to his 2020 State of the Union Address on Tuesday night. This was the day after Rush Limbaugh told his massive audience to pray for him as he faces stage four lung cancer.

During the State of the Union Address President Trump honored Rush Limbaugh and then Melania Trump awarded Rush Limbaugh with the highest civilian honor the Presidential Medal of Freedom. What an amazing moment! Congratulations Rush Limbaugh!"
HARD LEFT ATTEMPT OF TAKING OVER AMERICA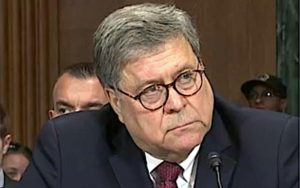 Barr: 'Militant secularists' trying to impose values on believers This an excellent article and shows why we need a revival for survival or a Nazi style government. In this government, we are the Jews. The loath and hate us because we stand for the Lord and his word.
"Militant secularists" across America long have charged that religious people are "imposing" their views on them. But it's actually the other way around, contended Attorney General William Barr in an interview with Cardinal Timothy Dolan on Sirius XM.

"I feel today religion is being driven out of the marketplace of ideas and there's a organized militant secular effort to drive religion out of our lives," Barr told Dolan, the Federalist reported.

"To me the problem today is not that religious people are trying to impose their views on nonreligious people, it's the opposite — it's that militant secularists are trying to impose their values on religious people and they're not accommodating the freedom of religion of people of faith."
COMMUNISM SATIRE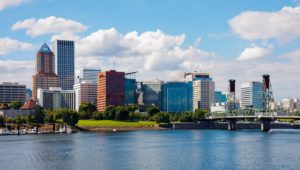 "Breaking: Health Officials Quarantine Portland To Prevent Spread Of Communism" This is so good that I had to share it with you. What truth is in this satire!
"Although there is no known cure for communism, there are preventative measures that experts recommend, such as reading history books. Signs that someone you love may have communism already include wearing ski masks, sporting Che Guevara shirts, and not showering regularly.

"If you see something that indicates someone you know may be infected with communism, say something."In a shocking turn of events, all Democratic candidates were found to be carriers of the disease, though they assured everyone it was actually a democratic version of the virus."
Tuesday Night Bible Teaching
Bible Teaching: The 666 Surveillance System 2/4/20
Abba Father's International Fellowship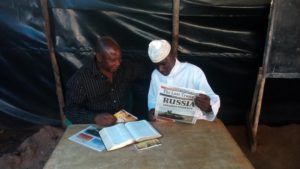 Shalom Brother Dave and John
In the pictures one young Moslem boy and one young Moslem Lady accepted Jesus Christ through the message of Broken Hearted & Last Trumpet. I'm expecting to conduct one seminary at coastal region. This coastal region is almost occupied by Moslems. Due to this I need many materials of Broken Hearted and Last trumpet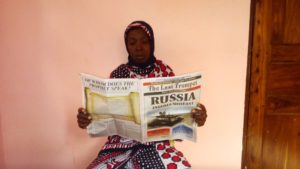 magazines.
Yours
Brother in Christ
Pst. A
If you like our ministry, please consider making a donation to keep us going.
May the Holy God of Israel bless you!
Revelation 22:20 He which testifieth these things saith, Surely I come quickly. Amen. Even so, come, Lord Jesus.