Prophecy Packet: Update
        

Acts 1:8
But ye shall receive power, after that the Holy Ghost is come upon you: and ye shall be witnesses unto me both in Jerusalem, and in all Judaea, and in Samaria, and unto the uttermost part of the earth.
PROPHECY PACKET: Update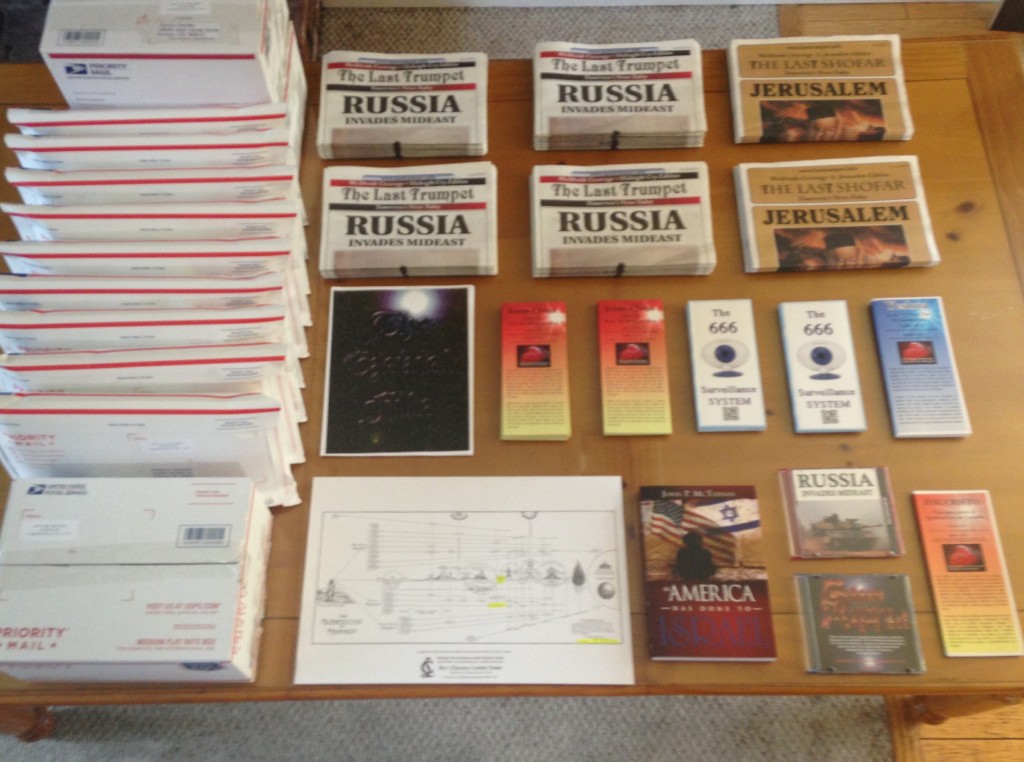 The Prophecy Packet continues to have a big impact for the Lord in many countries throughout the world. The Last Trumpet prophetic newspaper is opening the spiritual eyes of many people to the hour we are living in. Pastors are starting to preach the coming of the Lord Jesus for His bride, and its message is winning souls to Jesus Christ.
The ministry in Pakistan and India are also being greatly blessed by God. Right now 1,300,000 brokenhearted brochures were printed and distributed in India and 1,000,000 in Pakistan! It seems this is the hour of God's visitation to these nations.
When you are reading this, please remember that all this happened because pastors received a copy of the Prophecy Packet! The Prophecy Packet is touching lives and ministries all over the world!
End-Time Witness for the Lord Jesus -Time is Running Out!



As events in the Middle East with Israel are exploding right before our eyes, now is the time to use God's prophetic scriptures to win souls to Jesus. World events are opening hearts to God. It is now easy to use God's prophetic word to share the gospel. Please do not miss this opportunity to witness for the Lord.
We offer the Prophecy Packet  free of charge. If you want one, email Dave at: [email protected]  Make sure to give your name and mailing address.
The packet contains The Last Trumpet Newspaper, 666 Surveillance System brochure, Jesus Came to Heal the Brokenhearted brochure, prophecy timeline chart, CD about the Last Trumpet and a CD titled: Sinners in the Hands of an Angry God.
If you are involved in a prison ministry, we will provide a copy of the book When Jesus Sets You Free.
God is opening doors for the Prophecy Packet all over the world. The request for our information is now staggering and we thank the Lord for this. Most of the foreign contacts are very poor and cannot afford to pay. If we do not send the material free, then it will never be sent. Sending the Prophecy Packet free to Pakistan is what opened this tremendous door.
To continue to send the material, we need your help. It cost $65.00 to send a box overseas. Please consider sponsoring one box a month on a regular basis.
God is opening Pakistan and many other countries. NOW is the time to act. If we get the material in their hands, they use it!
Daniel 12:3 And they that be wise shall shine as the brightness of the firmament; and they that turn many to righteousness as the stars for ever and ever.
Africa: Kenya
The following picture and letter are from Pastor Nathan Sifuna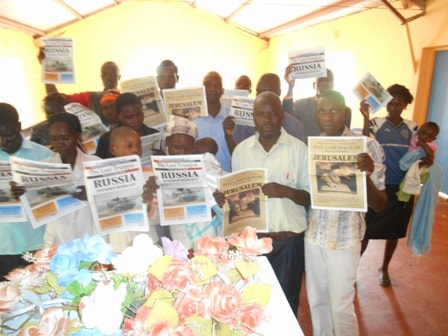 Dearest in the Lord Pastor Dave;

Greetings in the Precious Mighty Name of our Lord Jesus Christ.Here we are fine in the Lord. We Pray that all is well with you all and you are still prospering in the things our Lord Jesus Christ. It's great Joy to partner with you in the Ministry of Jesus Christ by reaching out to many souls across the globe. We have seen great things happening in the kingdom of God through the Materials that you been regularly sending us. My trip was successful . Thank you for your support , The
conference was good . We saw the Mighty hand of God ministering to people . People responded well to the word of God . Eight people gave their life to Jesus .When i was distributing the newsletters they were very happy and they competitively collected the newsletters . Glory to God! We also prayed for one patient Peter (has been sick for 20 yrs) ;he had difficulty in brain ; he was healed and we gave him newsletters to read . He was very happy.

God bless all of you for the good work you are doing.

Pastor Nathan Sifuna
The following pictures and letters are from Pastor Zephaniah
Let me thank the lord for his great love and care ,from Sunday we have seen God doing great and might things in our ministry , and i have been asking my self Who really knows the depth, height and width of God's love for you? His love for you never fails, it never runs out, and it never gives up on you. He will on ever leave you or forsake you, He will never give you more than He can't handle and there is nothing bigger than Him and His love for you. So jump in and soak it up let it flow around you and fill all those empty and hurting spots inside of you as His love is the only thing that can. Be blessed you're worth it! that was my pray for you this week,
"Last week it was very busy for the work of the lord , i started my journey to Malindi on Thursday Night i traveled 13 hours sited until i got my legs swollen i worried what was happening to my legs after i reached malindi town i got my host waiting for me it was 9 .35 am in the morning , so he bought for me sleepers to wear because i was wearing closed shoes and it was difficult for me to walk But i prayed God for healing me quickly because i was going to teach pastors after three hours i was OK so i wearied my shoes as normal  The same same day on Friday i hard to teach more than 30 pastors and the minster of agriculture came in and 1500 kids and distributed Bibles and Swahili brochures What great love of Jesus to share the gospel and give pastor hope that don't have hope The second day also i hard wonderful and powerful pastors conference more than 84 pastor attended but now the main challenge now we have is that some pastors need kiswahili Bibles That we don't have surely God has blessed us to share and distribute Bibles let us also pray that God to provide those who don't know how to read English also we help them they were requesting but i told them we are going to pray about it and wait from the lord if he will provide they will get."

The Philippines
We just received a letter from the Philippines requesting 1000 copies of the Last Trumpet! God is opening doors all over the world for this ministry.

Can I request a thousand copies of The Last Trumpet for wide distribution in my country? Hope you can me regularly so that everyone here will be aware of the Last days. I am also willing to start a Philippine Distribution Center here in my place located at Central Philippines, a very strategic place for fast distribution nationwide.