Prophecy Packet Update: Kenya, India and Pakistan
                         

  Acts 1:8
But ye shall receive power, after that the Holy Ghost is come upon you: and ye shall be witnesses unto me both in Jerusalem, and in all Judaea, and in Samaria, and unto the uttermost part of the earth.
PROPHECY PACKET: Update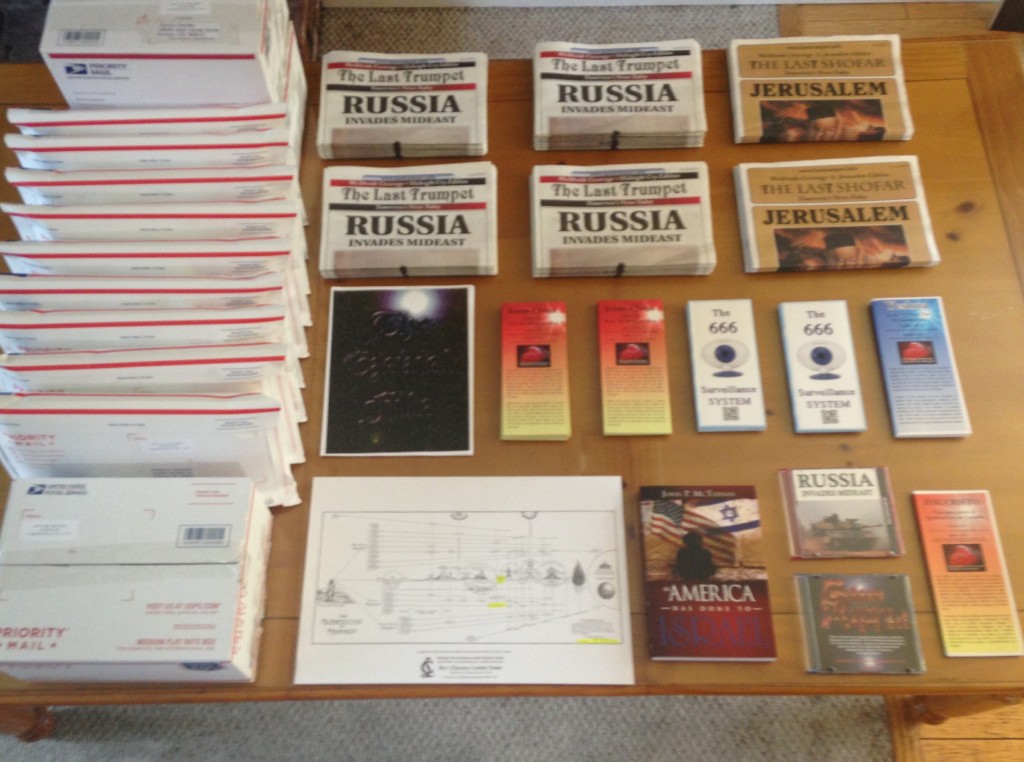 The Prophecy Packet continues to have a big impact for the Lord in Kenya and Malawi. The Last Trumpet prophetic newspaper is opening the spiritual eyes of many people to the hour we are living in. Pastors are starting to preach the coming of the Lord Jesus for His bride, and its message is winning souls to Jesus Christ.
The ministry in Pakistan and India are also being greatly blessed by God. Right now 400,000 brokenhearted brochures were printed and distributed in India and hundred of thousands in Pakistan. It seems this is the hour of God's visitation to these nations.
When you are reading this, please remember that all this happened because Pastor Jamil received a copy of the Prophecy Packet! The Prophecy Packet is touching lives and ministries all over the world!
End-Time Witness for the Lord Jesus -Time is Running Out!



As events in the Middle East with Israel are exploding right before our eyes, now is the time to use God's prophetic scriptures to win souls to Jesus. World events are opening hearts to God. It is now easy to use God's prophetic word to share the gospel. Please do not miss this opportunity to witness for the Lord.
We offer the Prophecy Packet free of charge. If you want one, email Dave at: [email protected]  Make sure to give your name and mailing address.
The packet contains The Last Trumpet Newspaper, 666 Surveillance System brochure, Jesus Came to Heal the Brokenhearted brochure, prophecy timeline chart, CD about the Last Trumpet and a CD titled: Sinners in the Hands of an Angry God.
If you are involved in a prison ministry, we will provide a copy of the book When Jesus Sets You Free.
God is opening doors for the Prophecy Packet all over the world. The request for our information is now staggering and we thank the Lord for this. Most of the foreign contacts are very poor and cannot afford to pay. If we do not send the material free, then it will never be sent. Sending the Prophecy Packet free to Pakistan is what opened this tremendous door.
To continue to send the material, we need your help. It cost $65.00 to send a box overseas. Please consider sponsoring one box a month on a regular basis.
God is opening Pakistan and many other countries. NOW is the time to act. If we get the material in their hands, they use it!
Daniel 12:3 And they that be wise shall shine as the brightness of the firmament; and they that turn many to righteousness as the stars for ever and ever.
Kenya
Pastor Zaphania just translated and had printed 10,000 copies the brokenhearted brochure into the Swahili language. He already has dozens of pastors waiting for the brochures to start handing out. Pastor Zaphania has a vision to cover Kenya and Tanzania with the brochures as these countries speak Swahili.
He has used the brochure in English with a great response but this is limited in Kenya. He preached the message in Swahili with a tremendous response. He is very excited about having it in Swahili so all rural areas can be reached. He is overwhelmed with the response to the brochure and requests for them.
The following is a picture of Zaphania with the first printing of 10,000 brochures. He just received them today!
India
The following is an email Pastor David received requesting 48,000 brokenhearted brochures.
G. David Karunakar Jesus Media Network
Praise the Lord thank you I have received 48,000 Brochures of "Jesus Christ Came to Heal the Brokenhearted" in Telugu through Navata Road Transport tracts those are more useful to me in ministries we are praying for your ministries I am touch with you regularly God be with You Pastor Yatham Jeevaratnam

Pastor. Yatham Jeevaratnam
Pastor David mailed 400,000 brochures in one day! The brokenhearted brochure has gone viral in India with a backlog of 1,100,000 requests for copies and growing every day!
We need help to print the 1,100,000 brochures. The churches are ready, but they need help to finance this vast printing.
Pakistan
Email from Pastor Jamil:
Dear people of God.
Immense to pleasure, that Lord provide us 2 million 10 thousand Tracts for St, Mary festival , where gentiles are coming every year for worship of St, Mary, and every one came in the festival with lot of Desires, and they believe that through St Mary we and entire the world will be get salvation and through St ,Mary we can go to haven and to God. But we mention them and clear them, Book of John,( Cahpter,1 :18)
then people were confused, that if Jesus is son of God and we will be get salvation through him, then why we are all stupid coming here for St,Mary festival, also so many magicians did question with us, and they confuse and leave every thing that was from devil and worship of Idols and to graves, about salvation those people with Broken hearts tracts and 666 Tracts, those people got true Awareness, that Jesus Christ is Great savior and Redeemer, we were listen the bad news, that in the festival people using Drugs, and Child Abuse and many prostitution, our hearts were crying for those souls who have need Jesus Christ and salvation, but during Tracts Distribution lot of young people left the drugs and Crawling for idols, and thousands ladies accept that next time they will be worship to Jesus not Idol of Mary. We have wonderful testimonies of Magicians and Hindus and Sikh, and Muslims and Catholics believers who had broken hearts , they heal and accept to Jesus Christ , Praise the lord..

We are so thankful to Pastor John Chaplin and all (ABBA FATHER'S FELLOWSHIP MEMBERS) who have great kindness and awesome passion for the lost souls, and helping us for lost wining souls for his kingdom, through broken hearts and 666 tracts that people got salvation and batter life in Jesus Christ , hallelujah.
The following are pictures of the brochures that Pastor Jamil and his team handed out over the three day event.
The following pictures are new believers being baptized after reading the brokenhearted brochure.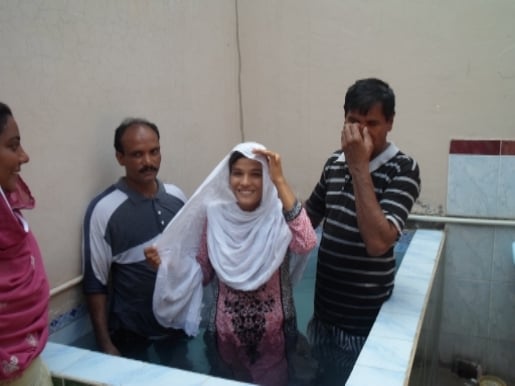 Acts 1:8 But ye shall receive power, after that the Holy Ghost is come upon you: and ye shall be witnesses unto me both in Jerusalem, and in all Judaea, and in Samaria, and unto the uttermost part of the earth.