Puerto Rico Faces Hurricane Maria After Irma's $1 Billion Damage: What is going on?
Verse of the Day
Jonah 1:4 But the LORD sent out a great wind into the sea, and there was a mighty tempest in the sea, so that the ship was like to be broken.
 Commentary
What is going on with all the powerful hurricanes, massive fires and now super earthquakes? It appears that God's judgment on the nations has started in a real way. It also appears that Puerto Rico could be destroyed as a nation as Hurricane Marie is scheduled to make a direct hit as a Cat 5! This hurricane could literally destroy Puerto Rico as a functioning state. What will happen to the 3 million people who live on it?
This is a warning to America that the sin of America has God's attention. Now is the time to call for national repentance of all the sin and cry out for God's mercy on the nation. It has to be done now. We are out of time.
May the Holy God of Israel bless and protect you.
2Chronicles 7:13,14 If I shut up heaven that there be no rain, or if I command the locusts to devour the land, or if I send pestilence among my people; If my people, which are called by my name, shall humble themselves, and pray, and seek my face, and turn from their wicked ways; then will I hear from heaven, and will forgive their sin, and will heal their land.
Floods, Famines, Fires/ God's Final Warning
Hurricane Maria slams Caribbean as 'potentially catastrophic' Category 5 storm 09/18/19 This hurricane was just upgraded to Category 5 and is heading right to Puerto Rico! This nation also is being crushed by a debt load that it can't pay back. This hurricane could totally destroy Puerto Rico if it is a direct hit by a Cat 5. There is something going on with this nation and God's judgment.
It seems like the Lord is systematically destroying Puerto Rico and many of the Caribbean Islands. What is happening? Puerto Rico is in bankruptcy with over $100 billion in debt. A direct Cat 5 hit could finish off the nation. Where are the funds to rebuild? Who will give them credit? Will the US do it? This hurricane could completely destroy the economy.
(Note from Georgann Ryan: I want to thank everyone who has been praying while I've been so ill. I spent last night in the ER and was on IV's for hours for a bad infection and dehydration but I'm starting to feel better now and hope to be working regularly again. God bless all of you.)
May the Holy God of Israel bless and protect you.
Obadiah 1:15  For the day of the LORD is near upon all the heathen: as thou hast done (to Israel), it shall be done unto thee: thy reward shall return upon thine own head.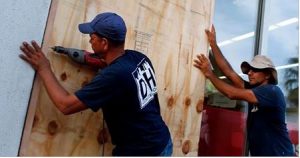 Puerto Rico Faces Hurricane Maria After Irma's $1 Billion Damage 09/19/17
"Two weeks ago, Puerto Rico was spared a devastating hit when Hurricane Irma ripped up the Caribbean. This time, it may not be so lucky.
The bankrupt island, already contending with the aftermath of a storm that left as much as $1 billion of damage and hundreds of thousands still without power, faces even more upheaval with Hurricane Maria set to hit as soon as Tuesday night. The government ordered rationing of basic necessities, including water and batteries, although those items were already gone from some San Juan store shelves as residents prepared for what could be the worst storm for the U.S. territory in decades.
"If you are in a flood zone or in a wood house, your life is in danger," Governor Ricardo Rossello said during a press conference Monday in San Juan. "There has never been an event like this in our history in the last 100 years. Our call is for all citizens to move to a safe place."
UPDATE: Hurricane Maria upgraded to 'potentially catastrophic' Category 5 storm 09/18/17
"Hurricane Maria slammed the Caribbean Monday night as a quickly intensifying Category 5 storm, which the National Hurricane Center warned was "potentially catastrophic."
The eye wall of the storm was moving onshore over Dominica, packing 160-mph winds. Forecasters say the hurricane will likely travel over the Leeward Islands and the extreme northeast Caribbean through Monday night and Tuesday.
Maria had started the day as a Category 3 hurricane before growing in strength.
A hurricane warning has been issued for Puerto Rico, Culebra and Vieques, in addition to previous warnings in effect for Guadeloupe, Dominica, St. Kitts, Nevis and Montserrat, Martinique, the U.S. Virgin Islands and the British Virgin Islands.
Maria's path is forecast to move northward for the next couple days. It's unclear if Hurricane Maria's path will directly hit the continental U.S."
Major Hurricane Maria to lash Irma-battered Caribbean islands with flooding, damaging winds 09/18/17  I am watching this very closely to see how it tracts toward the US. Today's headlines were this hurricane, along with President Trump meeting with Israeli Prime Minister Netanyahu over dividing the land of Israel.
"Major Hurricane Maria poses a significant threat to Irma-devastated areas in the northern Caribbean into midweek.
On Monday morning, Maria strengthened into a major hurricane on its way toward the northeastern Caribbean Sea. Power outages and structural damage are likely. Small craft should remain in port and cruise and cargo ships should avoid the area. Puerto Rico Gov. Ricardo Rossello tweeted that the government is working to finalize plans for Maria."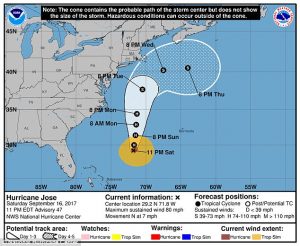 Hurricane Jose could SLINGSHOT back into the Jersey Shore after being supercharged by Tropical storm Maria in rare 'Fujiwara Effect' 09/18/17  This is a very good article. There are other hurricanes on the way! (Notice: Sometimes on this website there are vulgar pictures.)
"Hurricane Jose could threaten the Atlantic seaboard by Wednesday
Based off a European mode, there is a possibility of the Fujiwara Effect developing
This is where Hurricane Jose and Tropical Storm Maria would react together
The storms could slam into New Jersey where Hurricane Sandy hit in 2012
At this point the maximum sustained winds are at 80 mph
Track now shows possibility that storm could come near Long Island"
As America Has Done to Israel/ American Politics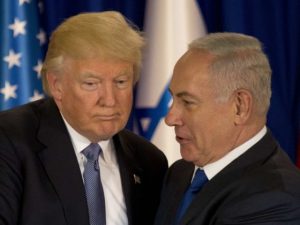 'I Say it Can Happen' — Donald Trump Meets with Netanyahu on Israeli–Palestinian Peace 09/18/17  For the sake of President Trump and America, I hope this "peace deal" is a monumental failure, and it stops Trump from this nonsense. The Palestinians don't want peace; they want to destroy Israel.
Is the President willing to pressure Israel to divide Jerusalem? This is all nonsense and it is DOA: I hope. Also, see the article about Hurricane Maria growing into a Cat 3 and threatening the US.
Joel 3:1  For, behold, in those days, and in that time, when I shall bring again the captivity of Judah and Jerusalem, (2) I will also gather all nations, and will bring them down into the valley of Jehoshaphat, and will plead with them there for my people and for my heritage Israel, whom they have scattered among the nations, and parted my land.

"President Donald Trump met with Israeli Prime Minister Bibi Netanyahu on Monday in New York City, focusing intently on peace in the Middle East.
"We're working very hard on it. We'll see what happens. Historically, people say it can't happen," Trump said during his remarks before the meeting. "I say it can happen."
Peace in the region was the only topic that Trump brought up in his brief remarks to reporters. When asked if he believed in a two-state solution between Israel and Palestine, Trump would only say "we'll see."
Netanyahu agreed that peace was a goal for Israel, but pointedly mentioned the threat of Iran and the continued nuclear deal."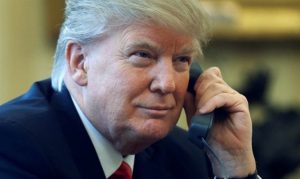 Trump to Jewish leaders: I love Israel 09/17/17  This is great news. Now all that the President has to do is to stop getting America involved in dividing the land of Israel. He must stop interfering with God's prophetic plan for Israel, but it is so good to hear that he loves Israel. In the end, this could turn out very good for America that he really loves Israel.
Genesis 12:3 And I will bless them that bless thee, and curse him that curseth thee: and in thee shall all families of the earth be blessed.

"U.S. President Donald Trump told American Jewish leaders in the traditional pre-Jewish New Year phone call on Friday that he loves Israel and condemns anti-Semitism.
In the nine-minute call, which comes ahead of the Jewish High Holy Days, Trump expressed his strong support for Israel, and promised to fight back against attempts to hurt Israel at the United Nations.
He also expressed his hope to see progress on the Israeli-Palestinian Authority peace process during the coming year, according to Haaretz.
The call began with brief remarks by Jared Kushner, the President's Jewish son-in-law and senior adviser, who said that this is the most important time of year for the Jewish people, and added that Trump is proud to hold the call
Trump then spoke to the participants and said that under his leadership, "the United States will always support Israel. Not just because of security, but because of shared values."
"On a personal level, and I just returned from Israel not too long ago, I can tell you that I love Israel," he added."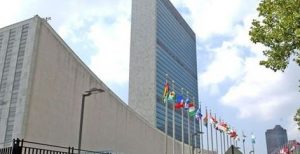 Listen up, UN — Trump means what he's telling you 09/17/17  The UN is not used to hearing the truth. It is going to be very interesting to watch what the President says and how the UN reacts.
The key is for China and Russia to go along with what the President proposes to do with North Korea. They may say yes, but will they follow through? We are very close to war with NK, and this seems to be the last chance. If you want to see the full speech, it is embedded below and is very powerful and well worth watching.

1 Thessalonians 5:23  And the very God of peace sanctify you wholly; and I pray God your whole spirit and soul and body be preserved blameless unto the coming of our Lord Jesus Christ.
"To all you besuited, bespectacled, and soon-to-be bewildered diplomats slogging around the United Nations General Assembly this week, try to understand this: Donald Trump means every word of what he's going to tell you. Which is: the United States is done with being blamed for everything that goes wrong in the world, and then paying to fix it.
For decades since the UN's founding in 1945, ambassadors and their ever-sprawling staffs have lived, eaten and parked at taxpayer expense, enjoying a life far beyond the means most of them could ever hope to afford in their homelands.
The UN has become a symbol of globalist elitism, of willful ignorance about real world conditions. It has passed resolutions condemning Israel for its policies toward Palestinians, while failing to note that Palestinian terror is still an everyday threat to Israelis. It has given lip-service to condemning North Korea's escalating nuclear ambitions, but been unable even to agree on a way to freeze the millions in assets of its unhinged boy-king, Kim Jong Un.
It has chided the United States — a democracy whether far-left Democrats think so or not — for voting irregularities in some of its elections, but failed to inquire how Vladimir Putin got twice as many votes as his nearest rival in a country whose economy is tanking or how Venezuela's Nicolas Maduro just neutered his country's national legislature."
UN Speech: Trump Says 'Rocket Man' Kim Jong Un on 'Suicide Mission,' in Broadside at 'Rogue Regimes' 09/19/17  The video on this page is an excerpt of the President's speech (in full, above) before the United Nations. It is about his warning the world that North Korea has to be stopped or the United States will obliterate it.
World War 3 – China
I believe that China is in the economic and technological position it is in because of American corruption. Both the Republicans and Democrats sold the country out through their business deals, to give China all it needed to become the power it is right now. There is now no doubt there are traitors who sold high tech to the Chinese. The Chinese now might have all they need to destroy us. We gave them to the rope to hang us.
I really do despise the Republican establishment as they sold out America. I expect to be sold out by Bill Clinton and Obama, but the Republicans went along with it and probably made millions in blood money. The corrupt American political system is judgment from the Lord because the Church lost its power and evil filled the vacuum. President Trump is 100% correct about the terrible business deals made with China. This was done by design.
Proverbs 29:4  The king by judgment establisheth the land: but he that receiveth gifts (bribes) overthroweth it.

"That is, the U.S. won the space race, and the overall technology race, against Moscow. And yet now we face a new and greater threat—from Beijing. Yes, 60 years after Sputnik, we see that China, with quadruple our population, is on the move. It has plenty of orbiting satellites, of course, as well as a whole class of satellite-killers that we might not be ready for. To top it off, China's plans to go to Mars, the next place in the space race, are well far along—possibly exceeding those of the U.S.
These strategic Chinese developments are finally getting the attention of the Washington Establishment. Just the other day, two think-tankers at the D.C.-based Center for a New American Security (CNAS), Daniel Kliman and Harry Krejsa, raised a warning in Politico, "Is China leaping past us? With little notice in Washington, Beijing has quietly become an innovation superpower. How should the U.S. respond?"
As the authors observed, China's super-technology reaches far and wide: This August, China successfully tested the world's first quantum satellite communication—relying on the physics of quantum entanglement to send and receive provably secure messages. While the United States faces a regulatory morass around the world-shaking potential of CRISPR gene-editing technologies, China last year announced seven human trials to treat cancer and other ailments."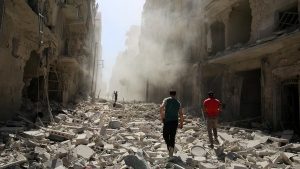 Russia Unveils Massive Military Force: 'The Enemy Has No Chance' 09/17/17  All we hear now is war, war and war.
"Russia has begun its biggest war game in years on land, in the air, and on the sea bordering NATO's smallest and weakest member states. No fewer than 12,000 troops, 70 warplanes, 250 tanks, and 10 warships are officially scheduled to wage mock warfare from Sept. 14 to Sept. 20 in Belarus and Russia and on the Baltic and Barents Seas.
The "Zapad 2017" training exercise, a joint effort between the Russian and Belarusian militaries, involves some of the latest Russian-made weaponry. But the war game is equally notable for the weapons that aren't involved.
Zapad 2017 is the latest edition of a long-running war game meant to "train troops for combat in isolated areas against the actions of illegal armed formations," according to the Belarusian defense ministry. Putin was scheduled to personally observe the training on Russian soil."

1 Chronicles 22:13  Then shalt thou prosper, if thou takest heed to fulfil the statutes and judgments which the Lord charged Moses with concerning Israel: be strong, and of good courage; dread not, nor be dismayed.